Abstract
Contextual characteristics influence infant mortality above and beyond family-level factors. The widespread practice of polygyny is one feature of many sub-Saharan African contexts that may be relevant to understanding patterns of infant mortality. Building on evidence that the prevalence of polygyny reflects broader economic, social, and cultural features and that it has implications for how families engage in the practice, we investigate whether and how the prevalence of polygyny (1) spills over to elevate infant mortality for all families, and (2) conditions the survival disadvantage for children living in polygynous families (i.e., compared with monogamous families). We use data from Demographic and Health Surveys to estimate multilevel hazard models that identify associations between infant mortality and region-level prevalence of polygyny for 236,336 children in 260 subnational regions across 29 sub-Saharan African countries. We find little evidence that the prevalence of polygyny influences mortality for infants in nonpolygynous households net of region-level socioeconomic factors and gender inequality. However, the prevalence of polygyny significantly amplifies the survival disadvantage for infants in polygynous families. Our findings demonstrate that considering the broader marital context reveals important insights into the relationship between family structure and child well-being.
This is a preview of subscription content, log in to check access.
Access options
Buy single article
Instant access to the full article PDF.
US$ 39.95
Price includes VAT for USA
Subscribe to journal
Immediate online access to all issues from 2019. Subscription will auto renew annually.
US$ 99
This is the net price. Taxes to be calculated in checkout.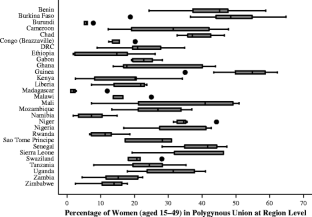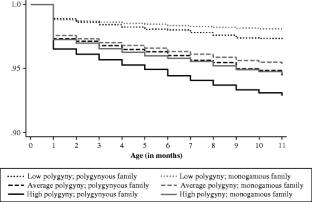 Notes
1.

One study using the 1990 Nigerian Demographic and Health Survey shows that although polygyny is not associated with survival during the neonatal and childhood periods, it is positively associated with child survival during the postneonatal period (Ukwuani et al. 2002).

2.

Some anthropologists (notably, Goody 1973) have refuted that economic factors motivate widespread polygyny and point to the importance of social and cultural features. Although we do not discuss this disagreement, we describe the social and cultural elements of polygyny.

3.

Of the 48 countries in sub-Saharan Africa, we exclude 13 countries from our study because the DHS did not operate in these countries between 2000 and 2010 (Angola, Botswana, Central African Republic, Comoros, Côte D'Ivoire, Djibouti, Equatorial Guinea, Guinea-Bissau, Mauritius, Seychelles, Somalia, South Sudan, and Togo). Furthermore, we exclude five countries because the data are not publically available (Cape Verde, Eritrea, The Gambia, Mauritania, South Africa) and one country (Lesotho) because polygyny data were not collected, resulting in a final sample of 29 countries.

4.

Response rates are published in the survey documentation reports for each country, which are available online (http://www.measuredhs.com/).

5.

Although the DHS does include smaller aggregate units (i.e., "clusters"), they are not intended for contextually focused analyses but instead are enumeration areas that are drawn only for the purpose of sampling.

6.

Samples for each region are large—on average, containing 964 households (ranging from 266 to 7,091), 1,145 women (ranging from 306 to 7,297), and 488 men (ranging from 80 to 3,358). As a result, the inclusion versus omission of the index household from the aggregate analyses makes no difference. For instance, in the Kigal region of Mali—the smallest sample of women (N = 306) for any of our regions—7.19 % of women are in polygynous unions. If we omitted the index family when creating this index, the value would vary across families by less than one-third of 1 %. Given that it makes little difference, we include the index family because (1) we prefer having a uniform value for each region, and (2) removing the index family alters but does not fully eliminate the correlation between the aggregate level and individual level (Raudenbush and Bryk 2002).

7.

The cross-sectional nature of the data prohibits us from accounting for changes in family structure between a child's birth and the time of the survey or, in the case of deceased children, the time of their death. Thus, it is possible that monogamous unions became polygynous after the child's birth and/or death. In fact, entry into a polygynous family could be a direct response to the death of a child. We reduce the likelihood of misclassifying families' structure by limiting the analyses to births that occurred in the five years prior to the survey; however, this bias is still possible and should be kept in mind when interpreting results.

8.

A limitation of the female-to-male education ratio is that it reflects only one dimension of gender inequality (i.e., educational attainment). However, because education is a central determinant of individuals' income, occupation, and health, it is an ideal measure for capturing inequalities between women's and men's life chances more broadly. The DHS also measures gender inequality through a series of questions about women's involvement in household decision-making; however, these questions are asked in only two-thirds of the countries in our study, and are similarly limited by their focus on a single dimension of inequality.

9.

A country-level fixed-effects approach allows us to control for constant, unobserved factors that vary across sub-Saharan African countries. Because a fixed-effects approach is less efficient, our analyses will yield more conservative estimates.
References
Agadjanian, V., & Ezeh, A. C. (2000). Polygyny, gender relations, and reproduction in Ghana. Journal of Comparative Family Studies, 31, 427–442.

Amankwaa, A. A. (1996). Prior and proximate causes of infant survival in Ghana, with special attention to polygyny. Journal of Biosocial Science, 28, 281–295.

Amankwaa, A. A., Eberstein, I. W., & Schmertmann, C. P. (2001). Polygyny and infant morality in western Africa: Evidence from Ghana. African Population Studies, 16, 1–13.

Amey, F. K. (2002). Polygyny and child survival in West Africa. Social Biology, 49, 74–89.

Bachrach, C. (Forthcoming). Culture and demography: From reluctant bedfellows to committed partners. Demography.

Bledsoe, C. (1990). Transformations in sub-Saharan African marriage and fertility. The Annals of the American Academy of Political and Social Science, 510, 115–125.

Bledsoe, C. (1995). Marginal members: Children of previous unions in Mende households in Sierra Leone. Situating fertility, anthropology and demographic inquiry (pp. 130–153). Cambridge, UK: Cambridge University Press.

Bose, S. (2011). The effect of women's status and community on the gender differential in children's nutrition in India. Journal of Biosocial Science, 43, 513–533.

Boserup, E. (1985). Economic and demographic interrelationships in sub-Saharan Africa. Population and Development Review, 11, 383–397.

Bove, R., & Valeggia, C. (2009). Polygyny and women's health in sub-Saharan Africa. Social Science & Medicine, 68, 21–29.

Bradley, M. (2004). Cultural configurations of Mormon fundamentalist polygamous communities. Nova Religio, 8, 5–19.

Cahu, P., Falilou, F., & Pongou, R. (Forthcoming). Demographic transition in Africa: The polygamy and fertility nexus. In S. Agyei-Mensah & A. J. Mturi (Eds.), Fertility diversity and its future prospects in Africa.

Caldwell, J. C., & Caldwell, P. (2002). Africa: The new family planning frontier. Studies in Family Planning, 33, 76–86.

Curtis, S. L., Diamond, I., & McDonald, J. W. (1993). Birth interval and family effects on postneonatal mortality in Brazil. Demography, 30, 33–43.

Desai, S. (1992). Children at risk: The role of family structure in Latin America and West Africa. The Population and Development Review, 689–717.

Dorjahn, V. R. (1959). The factor of polygyny in African demography. In W. R. Bascom & M. J. Herskovitz (Eds.), Continuity and change in African cultures (pp. 87–112). Chicago, IL: Phoenix Books.

Ezeh, A. C. (1997). Polygyny and reproductive behavior in Sub-Saharan Africa: A contextual analysis. Demography, 34, 355–368.

Fotso, J. C. (2006). Urban-rural differentials in child malnutrition: Trends and socioeconomic correlates in sub-Saharan Africa. International Journal for Equity in Health, 5, 9–19.

Furuta, M., & Salway, S. (2006). Women's position within the household as a determinant of maternal health care use in Nepal. International Family Planning Perspectives, 32, 17–27.

Gage, A. J. (1997). Familial and socioeconomic influences on children's well-being: An examination of preschool children in Kenya. Social Science & Medicine, 45, 1811–1828.

Gibson, M. A., & Mace, R. (2007). Polygyny, reproductive success and child health in rural Ethiopia: Why marry a married man? Journal of Biosocial Science, 39, 287–300.

Goody, J. (1973). Polygyny, economy, and the role of women. In The character of kinship (pp. 175–190). Cambridge, UK: Cambridge University Press.

Gwako, E. L. M. (1998). Polygyny among the Logoli of western Kenya. Anthropos, 93, 331–348.

Gyimah, S. O. (2003). Interaction effects of maternal education and household facilities on childhood diarrhea in sub-Saharan Africa: The case of Ghana. Journal of Health & Population in Developing Countries, 5, 1–17.

Gyimah, S. O. (2009). Polygynous marital structure and child survivorship in sub-Saharan Africa: Some empirical evidence from Ghana. Social Science & Medicine, 68, 334–342.

Hadley, C. (2005). Is polygyny a risk factor for poor growth performance among Tanzanian agropastoralists? American Journal of Physical Anthropology, 126, 471–480.

Hayase, Y., & Liaw, K. L. (1997). Factors on polygamy in sub-Saharan Africa: Findings based on the Demographic and Health Surveys. The Developing Economies, 35, 293–327.

Hobcraft, J. (2006). The ABC of demographic behaviour: How the interplays of alleles, brains, and contexts over the life course should shape research aimed at understanding population processes. Population studies, 60, 153–187.

Jacoby, H. G. (1995). The economics of polygyny in sub-Saharan Africa: Female productivity and the demand for wives in Côte d'Ivoire. Journal of Political Economy, 103, 938–971.

Kilbride, P. L., & Kilbride, J. C. (1990). Changing family life in East Africa: Women and children at risk. University Park: Pennsylvania State University Press.

Kravdal, Ø. (2002). Education and fertility in sub-Saharan Africa: Individual and community effects. Demography, 39, 233–250.

Kravdal, Ø. (2004). Child mortality in India: The community-level effect of education. Population Studies, 58, 177–192.

Kravdal, Ø., & Kodzi, I. (2011). Children's stunting in sub-Saharan Africa: Is there an externality effect of high fertility? Demographic Research, 25(article 18), 565–594. doi:10.4054/DemRes.2011.25.18

Lamb, M. E. (2004). The role of the father in child development. Hoboken, NJ: John Wiley & Sons.

Lesthaeghe, R. J. (1989). Reproduction and social organization in sub-Saharan Africa (Vol. 4). Berkeley: University of California Press.

Lesthaeghe, R. J., Kaufmann, G., & Meekers, D. (1986). The nuptiality regimes in sub-Saharan Africa (IPD Working Paper No. 1986–3). Brussels, Belgium: Interuniversity Programme in Demography, Vrije Universiteit Brussel.

McBride, B. A., & Rane, T. R. (1998). Parenting alliance as a predictor of father involvement: An exploratory study. Family Relations, 47, 229–236.

Muhsam, H. V. (1956). Fertility of polygamous marriages. Population Studies, 10, 3–16.

Murdock, G. P. (1967). Ethnographic atlas: A summary. Ethnology, 6, 109–236.

Nyblade, L., & Menken, J. (1993). Husband-wife communication: Mediating the relationship of household structure and polygyny to contraceptive knowledge, attitudes and use. Proceedings of the IUSSP General Conference, Montreal, August 1993 (Vol. 1, pp. 109–120). Liege: IUSSP. Liege, Belgium: IUSSP.

Omariba, D. W. R., Beaujot, R., & Rajulton, F. (2007). Determinants of infant and child mortality in Kenya: An analysis controlling for frailty effects. Population Research and Policy Review, 26, 299–321.

Omariba, D. W. R., & Boyle, M. H. (2007). Family structure and child mortality in sub-Saharan Africa: Cross-national effects of polygyny. Journal of Marriage and Family, 69, 528–543.

Pong, S., Dronkers, J., & Hampden-Thompson, G. (2004). Family policies and children's school achievement in single-versus two-parent families. Journal of Marriage and Family, 65, 681–699.

Raudenbush, S. W., & Bryk, A. S. (2002). Hierarchical linear models: Applications and data analysis methods (Vol. 1). Thousand Oaks, CA: Sage Publications, Inc.

Reniers, G., & Watkins, S. (2010). Polygyny and the spread of HIV in sub-Saharan Africa: A case of benign concurrency. AIDS, 24, 299–307.

Sastry, N. (1996). Community characteristics, individual and household attributes, and child survival in Brazil. Demography, 33, 211–229.

Sastry, N. (1997). Family-level clustering of childhood mortality risk in northeast Brazil. Population Studies, 51, 245–261.

Sellen, D. W. (1999). Polygyny and child growth in a traditional pastoral society. Human Nature, 10, 329–371.

Solway, J. S. (1990). Affines and spouses, friends and lovers: The passing of polygny in Botswana. Journal of Anthropological Research, 46, 41–66.

Stephenson, R., Baschieri, A., Clements, S., Hennink, M., & Madise, N. (2006). Contextual influences on the use of health facilities for childbirth in Africa. American Journal of Public Health, 96, 84–93.

Strassman, B. I. (1997). Polygyny as a risk factor for child mortality among the Dogon. Current Anthropology, 38, 688–695.

Timæus, I. M., & Reynar, A. (1998). Polygynists and their wives in sub-Saharan Africa: An analysis of five Demographic and Health Surveys. Population Studies, 52, 145–162.

Tobias, B. Q. (2001). A descriptive study of the cultural mores and beliefs toward HIV/AIDS in Swaziland, Southern Africa. International Journal for the Advancement of Counselling, 23, 99–113.

Ukwuani, F. A., Cornwell, G. T., & Suchindran, C. M. (2002). Polygyny and child survival in Nigeria: Age-dependent effects. Journal of Population Research, 19, 155–171.

Van de Poel, E., O'Donnell, O., & Van Doorslaer, E. (2007). Are urban children really healthier? Social Science & Medicine, 65, 1986–2003.

Van de Walle, É. (2006). African households: Censuses and surveys. Armonk, NY: ME Sharpe.

Wang, L. (2003). Determinants of child mortality in LDCs: Empirical findings from Demographic and Health Surveys. Health Policy, 65, 277–299.

White, D. R., & Burton, M. L. (1988). Causes of polygyny: Ecology, economy, kinship, and warfare. American Anthropologist, 90, 871–887.

Zeitzen, M. K. (2008). Polygamy: A cross-cultural analysis. Oxford, UK: Berg Publishers.
Acknowledgments
Emily Smith-Greenaway wishes to acknowledge the support of the Predoctoral Traineeship in Family Demography (No. T-32HD 007514) by the Eunice Kennedy Shriver National Institute of Child Health and Human Development to the Pennsylvania State University Population Research Institute. We acknowledge assistance provided by the Population Research Center at Penn State University, which is supported by an infrastructure grant by the National Institutes of Health (2R24HD041025-11). We also wish to thank three anonymous reviewers for their comments, and several colleagues for providing us feedback on earlier versions of the manuscript: Lauren Bachan, Michelle Frisco, Monica Grant, Adam Lippert, Wayne Osgood, Jenny Van Hook, and the participants of the International Perspectives on Family Structures and Child Well-being at McGill University (November 30–December 1, 2012).
Appendix
Appendix
About this article
Cite this article
Smith-Greenaway, E., Trinitapoli, J. Polygynous Contexts, Family Structure, and Infant Mortality in Sub-Saharan Africa. Demography 51, 341–366 (2014). https://doi.org/10.1007/s13524-013-0262-9
Keywords
Family structure

Context

Polygyny

Infant mortality

Sub-Saharan Africa