Abstract
Self-reported race is generally considered the basis for racial classification in social surveys, including the U.S. census. Drawing on recent advances in human molecular genetics and social science perspectives of socially constructed race, our study takes into account both genetic bio-ancestry and social context in understanding racial classification. This article accomplishes two objectives. First, our research establishes geographic genetic bio-ancestry as a component of racial classification. Second, it shows how social forces trump biology in racial classification and/or how social context interacts with bio-ancestry in shaping racial classification. The findings were replicated in two racially and ethnically diverse data sets: the College Roommate Study (N = 2,065) and the National Longitudinal Study of Adolescent Health (N = 2,281).
Access options
Buy single article
Instant access to the full article PDF.
USD 39.95
Price excludes VAT (USA)
Tax calculation will be finalised during checkout.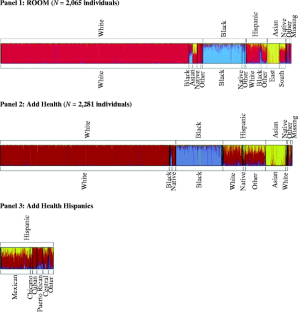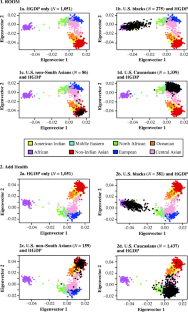 Notes
See Rosenberg et al. (2003) for a technical justification.
References
Bamshad, M., Wooding, S., Salisbury, B. A., & Stephens, J. C. (2004). Deconstructing the relationship between genetics and race. Nature Reviews Genetics, 5, 598–609.

Bean, F. D., Feliciano, C., Lee, J., & Van Hook, J. (2009). The new US immigrants: How do they affect our understanding of the African American experience? Annals of the American Academy of Political and Social Science, 621, 202–220.

Berry, B., & Tischler, H. L. (1978). Race and ethnic relations. Boston, MA: Houghton Mifflin Co.

Bonilla-Silva, E. (2001). White supremacy and racism in the post-civil rights era. London, UK: Lynne Rienner Publishers, Inc.

Brown, T. N. (1992). Predictors of racial label preference in Detroit: Examining trends from 1971 to 1992. Sociological Spectrum, 19, 421–442.

Brubaker, R., & Cooper, F. (2000). Beyond "identity." Theory and Society, 29, 1–47.

Brunsma, D. L. (2006). Public categories, private identities: Exploring regional differences in the biracial experience. Social Science Research, 35, 555–576.

Campbell, M. E., & Troyer, L. (2007). The implications of racial misclassification by observers. American Sociological Review, 72, 750–765.

Cann, H. M., de Toma, C., Cazes, L., Legrand, M. F., Morel, V., Piouffre, L., & Cavalli-Sforza, L. L. (2002). A human genome diversity cell line panel. Science, 296, 261–262.

Cavalli-Sforza, L. L., Menozzi, P., & Piazza, A. (1994). The history and geography of human genes. Princeton, NJ: Princeton University Press.

Cooley, C. H. (1902). Human nature and the social order. New York: Schocken.

Davis, F. J. (1991). Who is black?: One nation's definition. University Park, PA: The Pennsylvania State University Press.

Duster, T. (2005). Medicine. Race and reification in science. Science, 307, 1050–1051.

Efron, B., & Tbshirani, R. (1993). An introduction to the bootstrap. Boca Raton, FL: Chapman & Hall.

Enoch, M., Shen, P., Xu, K., Hodgkinson, C., & Goldman, D. (2006). Using ancestry-informative markers to define populations and detect population stratification. Journal of Psychopharmacology, 20, 19–26.

Eschbach, K. (1993). Changing identification among American Indians and Alaska natives. Demography, 30, 635–652.

Fairlie, R. W. (2009). Can the "one-drop rule" tell us anything about racial discrimination? New evidence from the multiple race question on the 2000 census. Labour Economics, 16, 451–460.

Farley, R. (1991). The new census question about ancestry: What did it tell us. Demography, 28, 411–429.

Frayling, T. M., Timpson, N. J., Weedon, M. N., Zeggini, E., Freathy, R. M., Lindgren, C. M., & McCarthy, M. I. (2007). A common variant in the FTO gene is associated with body mass index and predisposes to childhood and adult obesity. Science, 316, 889–894.

Friedlaender, J. S., Friedlaender, F. R., Reed, F. A., Kidd, K. K., Kidd, J. R., Chambers, G. K., . . . Weber, J. L. (2008). The genetic structure of Pacific Islanders. PLoS Genetics, 4, e19. doi:10.1371/journal.pgen.0040019

Frudakis, T., Venkateswarlu, K., Thomas, M. J., Gaskin, Z., Ginjupalli, S., Gunturi, S., & Nachimuthu, P. K. (2003). A classifier for the SNP-Based inference of ancestry. Journal of Forensic Sciences, 48, 771–782.

Fyr, C. L. W., Kanaya, A. M., Cummings, S. R., Reich, D., Hsueh, W. C., Reiner, A. P., & Ziv, E. (2007). Genetic admixture, adipocytokines, and adiposity in black Americans: The health, aging, and body composition study. Human Genetics, 121, 615–624.

Gould, S. J. (1981). The mismeasure of man. New York: W.W. Norton & Co.

Guthrie, R. D. (1996). The mammoth steppe and the origin of Mongoloids and their dispersal. In T. Akazawa & E. Szathmary (Eds.), Prehistoric Mongoloid dispersals (pp. 172–186). New York: Oxford University Press.

Hahn, R. A., Mulinare, J., & Teutsch, S. M. (1992). Inconsistencies in coding of race and ethnicity between birth and death in US infants. A new look at infant mortality, 1983 through 1985. Journal of the American Medical Association, 267, 259–263.

Halder, I., Shriver, M., Thomas, M., Fernandez, J. R., & Frudakis, T. (2008). A panel of ancestry informative markers for estimating individual biogeographical ancestry and admixture from four continents: Utility and applications. Human Mutation, 29, 648–658.

Harris, D. R., & Sim, J. J. (2002). Who is multiracial? Assessing the complexity of lived race. American Sociological Review, 67, 614–627.

Harris, K. M., Florey F., Tabor J., Bearman P. S., Jones J., & Udry J. R. (2003). The national longitudinal study of adolescent health: research design. Retrieved from http://www.cpc.unc.edu/projects/addhealth/design

Herman, M. R. (2010). Do you see what I am? How observers' backgrounds affect their perceptions of multiracial faces. Social Psychology Quarterly, 73, 58–78.

Hill, M. (2002). Skin color and the perception of attractiveness among African Americans: Does gender make a difference? Social Pyschology Quarterly, 65, 77–91.

Hirschman, C., Alba, R., & Farley, R. (2000). The meaning and measurement of race in the US census: Glimpses into the future. Demography, 37, 381–393.

Hitlin, S., Brown, J. S., & Elder, G. H. (2006). Racial self-categorization in adolescence: Multiracial development and social pathways. Child Development, 77, 1298–1308.

International HapMap Consortium. (2005). A haplotype map of the human genome. Nature, 437, 1299–1320.

Kelly, M. E., & Ngel, J. (2002). Ethnic re-identification: Lithuanian Americans and Native Americans. Journal of Ethnic and Migration Studies, 28, 275–289.

Khanna, N. (2004). The role of reflected appraisals in racial identity: The case of multiracial Asians. Social Psychology Quarterly, 67, 115–131.

Khanna, N. (2010). If you're half black, you're just black": Reflected appraisals and the persistence of the one-drop rule. Sociological Quarterly, 51, 96–121.

Kimura, M. (1968). Evolutionary rate at the molecular level. Nature, 217, 624–626.

Kimura, M. (1983). The neutral theory of molecular evolution. Cambridge, UK: Cambridge University Press.

Lee, J., & Bean, F. D. (2007). Reinventing the color line immigration and America's new racial/ethnic divide. Social Forces, 86, 561–586.

Lewontin, R. C. (1972). The apportionment of human diversity. Evolutionary Biology, 6, 391–398.

Li, J. Z., Absher, D. M., Tang, H., Southwick, A. M., Casto, A. M., Ramachandran, S., & Myers, R. M. (2008). Worldwide human relationships inferred from genome-wide patterns of variation. Science, 319, 1100–1104.

López, I. H. (1996). White by law: The legal construction of race. New York: New York University Press.

Myrdal, G., assisted by Sterner, R., & Rose, A. M. (1944). An American dilemma. New York: Harper & Bros.

Nagel, J. (1994). Constructing ethnicity: Creating and recreating ethnic-identity and culture. Social Problems, 41, 152–176.

Nagel, J. (1995). American Indian ethnic renewal: Politics and the resurgence of identity. American Sociological Review, 60, 947–965.

Novembre, J., Johnson, T., Bryc, K., Kutalik, Z., Boyko, A. R., Auton, A., . . . Bustamante, C. D. (2008). Genes mirror geography within Europe. Nature, 456, 98–101.

Omi, M., & Winant, H. (1994). Racial formations in the United States. New York: Routledge.

Parra, E. J., Marcini, A., Akey, L., Martinson, J., Batzer, M. A., Cooper, R., & Shriver, M. D. (1998). Estimating African American admixture proportions by use of population-specific alleles. American Journal of Human Genetics, 63, 1839–1851.

Penner, A. M., & Saperstein, A. (2008). How social status shapes race. Proceedings of the National Academy of Sciences of the United States of America, 105, 19628–19630.

Perez, A. D., & Hirschman, C. (2009). The changing racial and ethnic composition of the US population: Emerging American identities. Population and Development Review, 35, 1–51.

Perlmann, J., & Waters, M. C. (2002). Introduction. In J. Perlmann & M. C. Waters (Eds.), The new race question: How the census counts multiracial individuals (pp. 1–32). New York: Russell Sage Foundation.

Price, A. L., Patterson, N. J., Plenge, R. M., Weinblatt, M. E., Shadick, N. A., & Reich, D. (2006). Principal components analysis corrects for stratification in genome-wide association studies. Nature Genetics, 38, 904–909.

Pritchard, J. K., Stephens, M., & Donnelly, P. (2000). Inference of population structure using multilocus genotype data. Genetics, 155, 945–959.

Purcell, S., Neale, B., Todd-Brown, K., Thomas, L., Ferreira, M. A. R., Bender, D., & Sham, P. C. (2007). PLINK: A tool set for whole-genome association and population-based linkage analyses. American Journal of Human Genetics, 81, 559–575.

Reiner, A. P., Ziv, E., Lind, D. L., Nievergelt, C. M., Schork, N. J., Cummings, S. R., & Kwok, P. Y. (2005). Population structure, admixture, and aging-related phenotypes in African American adults: The cardiovascular health study. American Journal of Human Genetics, 76, 463–477.

Rockquemore, K. A., & Brunsma, D. L. (2001). Beyond black: Biracial identity in America. Thousand Oaks, CA: Sage Publications.

Rosenberg, N. A., Li, L. M., Ward, R., & Pritchard, J. K. (2003). Informativeness of genetic markers for inference of ancestry. American Journal of Human Genetics, 73, 1402–1422.

Rosenberg, N. A., Pritchard, J. K., Weber, J. L., Cann, H. M., Kidd, K. K., Zhivotovsky, L. A., & Feldman, M. W. (2002). Genetic structure of human populations. Science, 298, 2381–2385.

Roth, W. D. (2005). The end of the one-drop rule? Labeling of multiracial children in black intermarriages. Sociological Forum, 20, 35–67.

Rotimi, C. N. (2003). Genetic ancestry tracing and the African identity: A double-ediged sword? Developing World Bioethics, 3, 151–158.

Rotimi, C. N. (2004). Are medical and nonmedical uses of large-scale genomic markers conflating genetics and "race?". Nature Genetics, 36, S43–S47.

Saperstein, A. (2006). Double-checking the race box: Examining inconsistency between survey measures of observed and self-reported race. Social Forces, 85, 57–74.

Shriver, M. D., Smith, M. W., Jin, L., Marcini, A., Akey, J. M., Deka, R., & Ferrell, R. E. (1997). Ethnic-affiliation estimation by use of population-specific DNA markers. American Journal of Human Genetics, 60, 957–964.

Smith, M. W., Lautenberger, J. A., Shin, H. D., Chretien, J. P., Shrestha, S., Gilbert, D. A., & O'Brien, S. J. (2001). Markers for mapping by admixture linkage disequilibrium in African American and Hispanic populations. American Journal of Human Genetics, 69, 1080–1094.

Surratt, H. L., & Inciardi, J. A. (1998). Unraveling the concept of race in Brazil: Issues for the Rio de Janeiro Cooperative Agreement site. Journal of Psychoactive Drugs, 30, 255–260.

Tang, H., Quertermous, T., Rodriguez, B., Kardia, S. L. R., Zhu, X. F., Brown, A., & Risch, N. J. (2005). Genetic structure, self-identified race/ethnicity, and confounding in case-control association studies. American Journal of Human Genetics, 76, 268–275.

Tashiro, C. J. (2002). Considering the significance of ancestry through the prism of mixed-race identity. Advances in Nursing Science, 25(2), 1–21.

Telles, E. E. (2006). Race in another America: The significance of skin color in Brazil. Princeton, NJ: Princeton University Press.

Thornton, M. C., Taylor, R. J., & Brown, T. N. (2000). Correlates of racial label use among Americans of African descent: Colored, Negro, black, and African American. Race and Society, 2, 149–164.

Tishkoff, S. A., Reed, F. A., Friedlaender, F. R., Ehret, C., Ranciaro, A., Froment, A., & Williams, S. M. (2009). The genetic structure and history of Africans and African Americans. Science, 324, 1035–1044.

Wang, S., Lewis, C. M., Jakobsson, M., Ramachandran, S., Ray, N., Bedoya, G., & Ruiz-Linares, A. (2007). Genetic variation and population structure in Native Americans. PLoS Genetics, 3, 2049–2067.

Waters, M. C. (1990). Ethnic options: Choosing identities in America. Los Angeles: University of California Press.

Williamson, J. (1980). New people: Miscegenation and mulattoes in the United States. New York: The Free Press.

Yaeger, R., Avila-Bront, A., Abdul, K., Nolan, P. C., Grann, V. R., Birchette, M. G., & Joe, A. K. (2008). Comparing genetic ancestry and self-described race in African Americans born in the United States and in Africa. Cancer Epidemiology, Biomarkers & Prevention, 17, 1329–1338.

Yang, N., Li, H. Z., Criswell, L. A., Gregersen, P. K., Alarcon-Riquelme, M. E., Kittles, R., & Seldin, M. F. (2005). Examination of ancestry and ethnic affiliation using highly informative diallelic DNA markers: Application to diverse and admixed populations and implications for clinical epidemiology and forensic medicine. Human Genetics, 118, 382–392.
Acknowledgements
Two grants to Guang Guo supported the College Roommate Study (the William T. Grant Foundation) and the Illumina 1536 genotyping in Add Health (NSF's Human and Social Dynamics program BCS-0826913). Data from Add Health were funded by the National Institute of Child Health and Human Development, with cooperative funding from 17 other agencies (www.cpc.unc.edu/addhealth/contract.html) to Kathleen Mullan Harris (P01-HD31921). Special acknowledgment is due Rick Bradley of the Housing Department, Kirk Wilhelmsen of the Genetics Department, Patricia Basta of the Bio-Specimen Process Center, Jason Luo of the Mammalian Genotyping Center, and the Odum Institute at the University of North Carolina, Chapel Hill. We received important assistance in SNP selection and the analysis of HGDP data from David Goldman and his Neurogenetics lab at NIAAA. Many hearty thanks go to Greg Duncan for his important role in the project and his helpful comments on the manuscript. We are grateful to the Carolina Population Center (R24 HD050924) for general support.
About this article
Cite this article
Guo, G., Fu, Y., Lee, H. et al. Genetic Bio-Ancestry and Social Construction of Racial Classification in Social Surveys in the Contemporary United States. Demography 51, 141–172 (2014). https://doi.org/10.1007/s13524-013-0242-0
Published:

Issue Date:

DOI: https://doi.org/10.1007/s13524-013-0242-0
Keywords