Abstract
Previous work based on conjectural responses of minors predicted that the 2003 Texas requirement for parental consent for state-funded birth control to minors would lead to a large increase in underage pregnancies. We use state- and county-level data to test this prediction. The latter allow us to compare the impact of parental consent in counties with and without state-funded family planning clinics. We control for characteristics systematically correlated with the presence of state-funded clinics by combining difference-in-difference estimation with propensity score–weighted regressions. The evidence suggests that the parental consent mandate led to a large decrease in attendance at family planning clinics among teens but did not lead to an increase in underage pregnancies.
Access options
Buy single article
Instant access to the full article PDF.
USD 39.95
Price excludes VAT (USA)
Tax calculation will be finalised during checkout.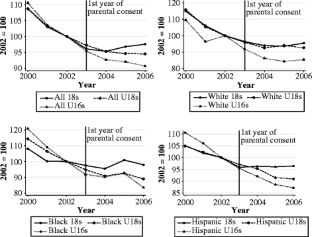 Notes
The Texas law was passed in 1999 but enforced only in 2003. Utah has had a similar restriction in place for a number of years. Joyce et al (2006) discussed the effects of the earlier Texas parental involvement law for abortion, which was enacted in 2000.

We also experimented with including changes to the independent variables in the X matrix. The results are very similar to those reported here.

There are likely still to be some abortions on Texas residents (e.g., those carried out in states without reporting requirements) that are not included in the data.

A potential further source of information on the behavioral response of teenagers in Texas to the parental consent law would have been the Youth Risk Behavior Surveillance System (YRBSS). In principal, YRBSS data on sexual behavior are available biannually for 2001, 2003, 2005, and so on. Unfortunately, YRBSS data for Texas are not available for the key year of 2003, while the data for 2001 used sampling frame that is radically different from that for subsequent surveys, making comparisons over time difficult. See www.dshs.state.tx.us/chs/yrbs/pages/yrbs_faq.shtm for details.

See Blank et al. (2006) for an earlier treatment of the issue of traveling across state borders to obtain abortions.

An alternative specification would be to use the population classified by the AGI as being in need of publicly funded contraception. The results (available from the authors) using this approach are very similar to those reported.

The decrease in clinic attendance by Texas teenagers over the period also contrasts with an increase in the rate of attendance by teenagers in other states in the region. For example, in the rest of Federal Region 6 (Arkansas, Louisiana, New Mexico, and Oklahoma), the clinic attendance rate by teenagers increased by 4.8 % over the same period.

Given that the law was originally passed in 1999, it is possible that some teens may have changed their behavior prior even to 2001, not realizing that the new law had not yet been enforced. In other words, our identification strategy is reliant on the enforcement of the law in 2003 having an additional effect on teen behavior.

The regression results here are robust to the inclusion of preexisting trends in the set of matching variables.

These (and subsequent results) are robust to the use of alternative sets of variables in the probit model. We also investigated the difference-in-difference-in-difference estimator, analyzing the change for U18s (and U16s) relative to the change for 18-year-olds. These estimates also varied in sign and were generally statistically nonsignificant. However, large standard errors mean the tests may be of low power. These results are available from the authors on request.

The results are robust to alternative cutoff points for defining small counties. Note that it is not possible to combine population weights with the propensity score weights.
References
Akerlof, G. A., Yellen, J. L., & Katz, M. L. (1996). An analysis of out-of-wedlock childbearing in the United States. Quarterly Journal of Economics, 111, 277–317.

Arcidiacono, P., Khwaja, A., & Ouyang, L. (2012). Habit persistence and teen sex: Could increased access to contraception have unintended consequences for teen pregnancies? Journal of Business and Economic Statistics, 30, 312–325.

Becker, G. S. (1963). A treatise on the family. Cambridge: Harvard University Press.

Bersamin, M., Todd, M., & Remer, L. (2011). Does distance matter? Access to family planning clinics and adolescent sexual behaviors. Maternal and Child Health Journal, 16, 652–659.

Blank, R. M., George, C. C., & London, R. A. (2006). State abortion rates: The impact of policies, providers, politics, demographics, and economic environment. Journal of Health Economics, 15, 513–553.

Busso, M., DiNardo, J., & McCrary, J. (2009). New evidence on the finite sample properties of propensity score matching and reweighting estimators (IZA Discussion Paper, No. 3998). Bonn, Germany: Institute for the Study of Labor.

Colman, S., Joyce, T., & Kaestner, R. (2008). Misclassification bias and the estimated effect of parental involvement laws on adolescents' reproductive outcomes. American Journal of Public Health, 98, 1881–1885.

Evans, W. N., Oates, W. E., & Schwab, R. M. (1992). Measuring peer group effects: A study of teenage behavior. Journal of Political Economy, 100, 966–991.

Franzini, L., Marks, E., Cromwell, P. F., Risser, J., McGill, L., Markham, C., & Shapiro, C. (2004). Projected economic costs due to health consequences of teenagers' loss of confidentiality in obtaining reproductive health care services in Texas. Archives of Pediatrics & Adolescent Medicine, 158, 1140–1146.

Frost, J. J., Finer, L. L., & Tapales, A. (2008). The impact of publicly funded family planning clinic services on unintended pregnancies and government cost savings. Journal of Health Care for the Poor and Underserved, 19, 778–796.

Girma, S., & Paton, D. (2006). Matching estimates of the impact of over-the-counter emergency birth control on teenage pregnancy. Health Economics, 15, 1021–1032.

Girma, S., & Paton, D. (2011). The impact of emergency birth control on teen pregnancy and STIs. Journal of Health Economics, 30, 373–380.

Goodman, D. C., Klerman, L. V., Johnson, A., Chang, C., & Marth, N. (2007). Geographic access to family planning facilities and the risk of unintended and teenage pregnancy. Maternal and Child Health Journal, 11, 145–152.

Grady, W. R., Klepinger, D. H., & Billy, J. O. G. (1993). The influence of community characteristics on the practice of effective contraception. Family Planning Perspectives, 25, 4–11.

Guldi, M. (2008). Fertility effects of abortion and birth control pill access for minors. Demography, 45, 817–827.

Harper, C., Callegari, L., Raine, T., Blum, M., & Darney, P. (2004). Adolescent clinic visits for contraception: Support from mothers, male partners and friends. Perspectives on Sexual and Reproductive Health, 36, 20–26.

Hirano, K., Imbens, G. W., & Ridder, G. (2003). Efficient estimation of average treatment effects using the estimated propensity score. Econometrica, 71, 1161–1189.

Jones, R. K., Purcell, A., Singh, S., & Finer, L. B. (2005). Adolescents' reports of parental knowledge of adolescents' use of sexual health services and their reactions to mandated parental notification for prescription contraception. Journal of the American Medical Association, 293, 340–348.

Joyce, T., Kaestner, R., & Colman, S. (2006). Changes in abortions and births and the Texas parental notification law. The New England Journal of Medicine, 354, 1031–1038.

Kearney, M. S., & Levine, P. B. (2009). Subsidized contraception, fertility and sexual behavior. The Review of Economics and Statistics, 9, 137–151.

Klick, J., & Stratmann, T. (2008). Abortion access and risky sex among teens: Parental involvement laws and sexually transmitted diseases. Journal of Law, Economics, & Organization, 24, 2–21.

Levine, P. B. (2003). Parental involvement laws and fertility behavior. Journal of Health Economics, 22, 861–867.

Levine, P. B. (2004). Sex and consequences: Abortion, public policy and the economics of fertility. Princeton: Princeton University Press.

New, M. J. (2011). Analyzing the effect of anti-abortion U.S. state legislation in the post-Casey era. State Politics & Policy Quarterly, 11, 28–47.

Oettinger, G. S. (1999). The effects of sex education on teen sexual activity and teen pregnancy. Journal of Political Economy, 107, 606–644.

Paton, D. (2002). The economics of abortion, family planning and underage conceptions. Journal of Health Economics, 21, 27–45.

Raymond, E. G., Trussell, J., & Polis, C. B. (2007). Population effect of increased access to emergency contraception pills: A systematic review. Obstetrics and Gynecology, 109, 181–188.

Reddy, D. M., Fleming, R., & Swain, C. (2002). Effect of mandatory parental notification on adolescent girls' use of sexual health care services. Journal of the American Medical Association, 288, 710–714.

Rosenbaum, P. R., & Rubin, D. B. (1983). The central role of the propensity score in observational studies for causal effects. Biometrika, 70, 41–55.

Zavodny, M. (2004). Fertility and parental consent for minors to receive contraceptives. American Journal of Public Health, 94, 1347–1351.

Zavodny, M. (2005). Erratum in: Fertility and parental consent for minors to receive contraceptives. American Journal of Public Health, 95, 192.
Acknowledgments
We are very grateful to Janice Jackson, Travis Duke, and Bill Sorenson at the Texas Department of State Health Services for their assistance with county-level data. Thanks are due to Pat Paluzzi of the Healthy Teen Network and Sarah Wheat of Planned Parenthood for helpful observations. We also thank participants at staff seminars at the Universities of Kent, Surrey, Nottingham Trent and Sheffield, at the Centre for Health Innovation, Leadership & Learning at Nottingham University Business School as well as the Editor of the journal and two anonymous referees for many useful comments and suggestions.
Appendix
Appendix
About this article
Cite this article
Girma, S., Paton, D. Does Parental Consent for Birth Control Affect Underage Pregnancy Rates? The Case of Texas. Demography 50, 2105–2128 (2013). https://doi.org/10.1007/s13524-013-0225-1
Published:

Issue Date:

DOI: https://doi.org/10.1007/s13524-013-0225-1
Keywords
Propensity score weights

Parental consent

Birth control

Teen pregnancy

Abortion