Abstract
Single motherhood in sub-Saharan Africa has received surprisingly little attention, although it is widespread and has critical implications for children's well-being. Using survival analysis techniques, we estimate the probability of becoming a single mother over women's life course and investigate the relationship between single motherhood and child mortality in 11 countries in sub-Saharan Africa. Although a mere 5 % of women in Ethiopia have a premarital birth, one in three women in Liberia will become mothers before first marriage. Compared with children whose parents were married, children born to never-married single mothers were significantly more likely to die before age 5 in six countries (odds ratios range from 1.36 in Nigeria to 2.61 in Zimbabwe). In addition, up to 50 % of women will become single mothers as a consequence of divorce or widowhood. In nine countries, having a formerly married mother was associated with a significantly higher risk of dying (odds ratios range from 1.29 in Zambia to 1.75 in Kenya) relative to having married parents. Children of divorced women typically had the poorest outcomes. These results highlight the vulnerability of children with single mothers and suggest that policies aimed at supporting single mothers could help to further reduce child mortality in sub-Saharan Africa.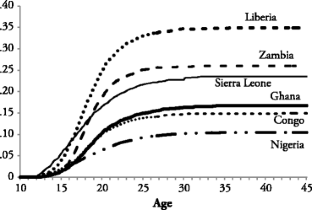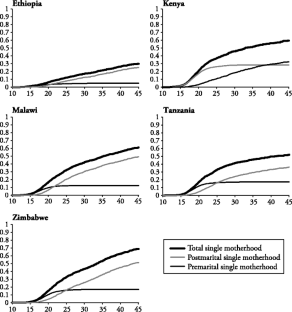 Notes
1.

We refer to all union dissolutions that are not a consequence of a spousal death as "divorces," although this term does not necessarily indicate a formal or legal divorce.

2.

The countries covered are the Democratic Republic of the Congo (DRC), Ethiopia, Ghana, Kenya, Liberia, Malawi, Nigeria, Sierra Leone, Tanzania, Zambia, and Zimbabwe.

3.

In the Ethiopian survey, the Ethiopian calendar is used, which corresponds to a start date of September 12, 1999, in the Gregorian calendar.

4.

For missing dates, we use values imputed by DHS. The DHS imputation procedures first identify an initial logical range for the missing date based on other relevant dates (such as the age of first marriage, age of first sexual intercourse, and children's birth dates) and then randomly assign a date within this range.

5.

Women who delivered their first child or got married before age 10 are dropped from the analysis (N = 37 in Nigeria; 19 in Ethiopia; 17 in Zambia; 11 in Zimbabwe; 5 in Tanzania; 1 in Malawi, Ghana, and Sierra Leone; and 0 in Kenya, DRC, and Liberia).

6.

Additional analyses (not shown) also included a dummy variable for whether fathers resided in the household at the time of the survey. This variable was not significant in any country after controlling for mother's marital status.

7.

The percentage of children with missing information on their breast-feeding status ranges from only 12 % in Kenya to 31 % in Sierra Leone, which partly reflects differential levels of birth date displacement across surveys.

8.

The percentages presented in Table 1 are lower than true under-5 mortality rates (5 q 0) because they do not take into account right-censoring of children below age 5.

9.

Unlike our estimates using standard DHS questions, continuously married mothers in countries with marital history calendars are not restricted to women in their first marriage.
References
Adhikari, R., & Podhisita, C. (2010). Household headship and child death: Evidence from Nepal. BMC International Health and Human Rights, 10(13). doi:10.1186/1472-698X-10-13

Amato, P. R. (2000). The consequences of divorce for adults and children. Journal of Marriage and the Family, 62, 1269–1287.

Bhuiya, A., & Chowdhury, M. (1997). The effect of divorce on child survival in a rural area of Bangladesh. Population Studies, 51, 57–61.

Bicego, G., & Ties, B. (1993). Maternal education and child survivial: A comparative study of survey data from 17 countries. Social Science & Medicine, 36, 1207–1227.

Bledsoe, C. (1995). Marginal members: Children of previous unions in Mende households in Sierra Leone. In S. Greenhalgh (Ed.), Situating fertility (pp. 130–153). Cambridge, UK: Cambridge University Press.

Bracher, M., Santow, G., & Watkins, S. (2003). Moving and marrying: Modeling HIV infection among newly-weds in Malawi. Demographic Research, Special Collection 1(article 7), 207–246. doi:10.4054/DemRes.2003.S1.7

Budlender, D. (2003). The debate about household headship. Social Dynamics, 29(2), 48–72.

Buvinic, M., & Gupta, G. R. (1997). Female-headed households and female-maintained families: Are they worth targeting to reduce poverty in developing countries? Economic Development & Cultural Change, 45, 259–280.

Case, A., Paxson, C., & Ableidinger, J. (2004). Orphans in Africa: Parental death, poverty, and school enrollment. Demography, 41, 483–508.

Chant, S. (2008). The "feminisation of poverty" and the "feminisation" of anti-poverty programmes: Room for revision? Journal of Development Studies, 44, 165–197.

Coviello, V., & Boggess, M. (2004). Cumulative incidence estimation in the presence of competing risk. The Stata Journal, 4, 103–112.

Das Gupta, M. (1997). Socio-economic status and clustering of child deaths in rural Punjab. Population Studies, 51, 191–202.

de Walque, D., & Kline, R. (2012). The association between remarriage and HIV infection in 13 sub-Saharan African countries. Studies in Family Planning, 43, 1–10.

Dungumaro, E. W. (2008). Gender differentials in household structure and socioeconomic characteristics in South Africa. Journal of Comparative Family Studies, 39, 429–451.

Fortes, M. (1958). Introduction. In J. Goody (Ed.), The development cycle in domestic groups (pp. 1–14). Cambridge, UK: Cambridge University Press.

Gage, A. (1997). Familial and socioeconomic influences on children's well-being: An examination of preschool children in Kenya. Social Science & Medicine, 45, 1811–1828.

Gage, A., & Njogu, W. (1994). Gender inequalities and demographic behavior. New York: Population Council.

Gakidou, E., Cowling, K., Lozano, R., & Murray, C. (2010). Increased educational attainment and its effect on child mortality in 175 countries between 1970 and 2009: A systematic analysis. Lancet, 376, 959–974.

Garenne, M., Tollman, S., & Kahn, K. (2000). Premarital fertility in rural South Africa: A challenge to existing population policy. Studies in Family Planning, 31, 47–54.

Gennetian, L. A. (2005). One or two parents? Half or step siblings? The effect of family structure on young children's achievement. Journal of Population Economics, 18, 415–436.

Grant, M., & Yeatman, S. (Forthcoming). The impact of family transitions on child fostering in rural Malawi. Demography.

Gyimah, S. O. (2009). Polygynous marital structure and child survivorship in sub-Saharan Africa: Some empirical evidence from Ghana. Social Science & Medicine, 68, 334–342.

Hallett, T. B., Gregson, S., Kurwa, F., Garnett, G. P., Dube, S., Chawira, G., … Nyamukapa, C. (2010). Measuring and correcting biased child mortality statistics in countries with generalized epidemics of HIV infection. Bulletin of the World Health Organization, 88, 761–768.

Hargreaves, J. R., Collinson, M. A., Kahn, K., Clark, S. J., & Tollman, S. M. (2004). Childhood mortality among former Mozambican refugees and their hosts in rural South Africa. International Journal of Epidemiology, 33, 1271–1278.

Harwood-Lejeune, A. (2001). Rising age at marriage and fertility in southern and eastern Africa. European Journal of Population, 17, 261–280.

Hattori, M. K., & Larsen, U. (2007). Motherhood status and union formation in Moshi, Tanzania 2002–2003. Population Studies, 61, 185–199.

Katapa, R. S. (2006). A comparison of female- and male-headed households in Tanzania and poverty implications. Journal of Biosocial Science, 38, 327–339.

Kennedy, E., & Haddad, L. (1994). Are pre-schoolers from female-headed households less malnourished? A comparative analysis of results from Ghana and Kenya. Journal of Development Studies, 30, 680–695.

Kennedy, E., & Peters, P. (1992). Household food security and child nutrition: The interaction of income and gender of household head. World Development, 20, 1077–1085.

Kim, H. (2011). Consequences of parental divorce for child development. American Sociological Review, 76, 487–511.

Lloyd, C. B., & Mensch, B. S. (2008). Marriage and childbirth as factors in dropping out of school: An analysis of DHS data from sub-Saharan Africa. Population Studies, 62, 1–13.

Locoh, T., & Thiriat, M.-P. (1995). Divorce et remariage des femmes en Afrique de l'ouest. Le cas du Togo [Divorce and remarriage of women in west Africa: The case of Togo]. Population (French ed.), 50(1), 61–93.

London, R. (1998). Trends in single mothers' living arrangements from 1970 to 1995: Correcting the Current Population Survey. Demography, 35, 125–131.

Luginaah, I., Elkins, D., Maticka-Tyndale, E., Landry, T., & Mathui, M. (2005). Challenges of a pandemic: HIV/AIDS-related problems affecting Kenyan widows. Social Science & Medicine, 60, 1219–1228.

Luo, Z.-C., Wilkins, R., Kramer, M. S., & The Fetal and Infant Health Study Group of the Canadian Perinatal Surveillance System. (2004). Disparities in pregnancy outcomes according to marital and cohabitation status. Obstetrics & Gynecology, 103, 1300–1307.

Madhavan, S., & Townsend, N. (2007). The social context of children's nutritional status in rural South Africa. Scandinavian Journal of Public Health, 35, 107–117.

Magnuson, K., & Berger, L. M. (2009). Family structure states and transitions: Associations with children's well-being during middle childhood. Journal of Marriage and Family, 71, 575–591.

Mtika, M. (2001). The AIDS epidemic in Malawi and its threat to household food security. Human Organization, 60, 178–188.

Omariba, W., & Boyle, M. (2007). Family structure and child mortality in sub-Saharan Africa: Cross-national effects of polygyny. Journal of Marriage and Family, 69, 528–543.

Onyango, A., Tucker, K., & Eisemon, T. (1994). Household headship and child nutrition: A case study in western Kenya. Social Science & Medicine, 39, 1633–1639.

Oya, C., & Sender, J. (2009). Divorced, separated, and widowed women workers in rural Mozambique. Feminist Economics, 15(2), 1–31.

Parr, N. J. (1995). Pre-marital fertility in Liberia. Journal of Biosocial Science, 27(2), 1–10.

Posel, D. R. (2001). Who are the heads of household, what do they do, and is the concept of headship useful? An analysis of headship in South Africa. Development Southern Africa, 18, 651–670.

Quisumbing, A. R., Haddad, L., & Peña, C. (2001). Are women overrepresented among the poor? An analysis of poverty in ten developing countries (FCND Discussion Paper No. 115). Washington, DC: International Food Policy Research Institute.

Reniers, G. (2003). Divorce and remarriage in rural Malawi. Demographic Research, Special Collection 1(article 6), 175–206. doi:10.4054/DemRes.0.S6.1

Schoumaker, B. (2011, April). Omission of births in DHS birth histories in sub-Saharan Africa: Measures and determinants. Paper presented at the annual meeting of the Population Association of America, Washington, DC.

Sear, R., Steele, F., McGregor, I., & Mace, R. (2002). The effects of kin on child mortality in rural Gambia. Demography, 39, 43–63.

Singer, J. D., & Willlet, J. B. (2003). Applied longitudinal data analysis: Modeling change and event occurrance. New York: Oxford University Press.

Steele, F., Sigle-Rushton, W., & Kravdal, Ø. (2009). Consequences of family disruption on children's educational outcomes in Norway. Demography, 46, 553–574.

Takyi, B. K., & Gyimah, S. O. (2007). Matrilineal family ties and marital dissolution in Ghana. Journal of Family Issues, 28, 682–705.

Tilson, D., & Larsen, U. (2000). Divorce in Ethiopia: The impact of early marriage and childlessness. Journal of Biosocial Science, 32, 355–372.

Townsend, N., Madhavan, S., Tollman, S., Garenne, M., & Kahn, K. (2002). Children's residence patterns and educational attainment in rural South Africa, 1997. Population Studies: A Journal of Demography, 56, 215–225.

United Nations. (2010). Demographic yearbook 2008. New York: United Nations.

United Nations. (2011). The Millenium Development Goals report 2011. New York: United Nations, Department of Economic and Social Affairs.

van de Walle, D. (2011). Welfare effects of widowhood in a poor country. Washington, DC: World Bank, Center for the Studies of African Economies.

Villarreal, A., & Shin, H. (2008). Unraveling the economic paradox of female-headed households in Mexico: The role of family networks. The Sociological Quarterly, 49, 565–595.

Zaba, B., Whitworth, J., Marston, M., Nakiyingi, J., Ruberantwari, A., Urassa, M., . . . Crampin, A. (2005). HIV and mortality of mothers and children: Evidence from cohort studies of Uganda, Tanzania, and Malawi. Epidemiology, 16, 275–280.
Acknowledgements
Funding to support this work was generously provided by the Nike Foundation. We wish to thank Judith Bruce at the Population Council and Kathleen Beegle at the World Bank for their valuable comments and insights.
About this article
Cite this article
Clark, S., Hamplová, D. Single Motherhood and Child Mortality in Sub-Saharan Africa: A Life Course Perspective. Demography 50, 1521–1549 (2013). https://doi.org/10.1007/s13524-013-0220-6
Keywords
Child mortality

Family structures

Single motherhood

Sub-Saharan Africa