Abstract
Racial distinctions in the United States have long been characterized as uniquely rigid and governed by strict rules of descent, particularly along the black-white boundary. This is often contrasted with countries, such as Brazil, that recognize "mixed" or intermediate racial categories and allow for more fluidity or ambiguity in racial classification. Recently released longitudinal data from the IPUMS Linked Representative Samples, and the brief inclusion of a "mulatto" category in the U.S. Census, allow us to subject this generally accepted wisdom to empirical test for the 1870–1920 period. We find substantial fluidity in black-mulatto classification between censuses—including notable "downward" racial mobility. Using person fixed-effects models, we also find evidence that among Southern men, the likelihood of being classified as mulatto was related to intercensal changes in occupational status. These findings have implications for studies of race and inequality in the United States, cross-national research on racial classification schemes in the Americas, and for how demographers collect and interpret racial data.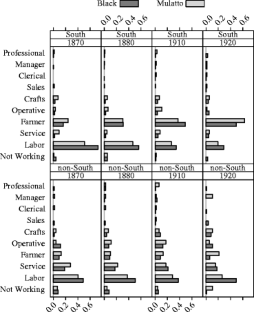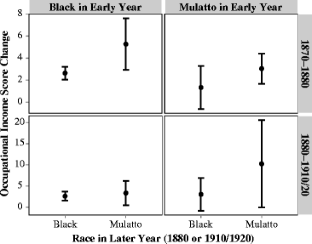 Notes
1.

Jim Crow laws were the various legal mechanisms used to support white supremacy in the South, most notably the "separate but equal" statutes that enforced racial segregation. The name "Jim Crow" itself comes from a popular black caricature performed in minstrel shows during this time period. Under the one-drop rule anyone with known African ancestry would be considered exclusively black, regardless of physical appearance or any other known ancestry.

2.

We use the term "whitening" throughout this article, as Degler (1971) did, to signal the direction of change in racial perceptions, not necessarily the ultimate categorization. According to this definition, classification changes from black to mulatto, mulatto to white, or black to white would all count as "whitening," although we can capture only the first type of racial fluidity in our data.

3.

We tested models using a woman's own occupational status or her husband's occupational status as the independent variable, and neither produced statistically significant results.

4.

We also experimented with coding service workers, craftsman, and operatives as separate categories. The resulting models fit poorly and did not change our conclusions. Most importantly, the categories of craftsman and operative, which comprise the vast majority of skilled laborers, had similar effects on racial reclassification. These findings support our decision to use a single category of skilled labor.

5.

Results for the non-South sample are available upon request. All models fit poorly with no statistically significant coefficients and with inconclusive substantive results in terms of the direction of the estimated coefficients.

6.

This restriction results in a loss of 2 % to 5 % of Southern men for each of our time periods because of their outmigration between censuses. We do not drop more than 30 total cases because of migration in either time period. As a sensitivity analysis, we also estimated models in which anyone who moved between counties between time periods was excluded, and the results are similar, although the statistical power is reduced because of the smaller sample size.

7.

We exclude already married individuals from this analysis to reduce endogenous explanations for any observed changes. Shifts in racial classification among previously married couples could be prompted by changes in either spouse's characteristics, or by unobserved household characteristics that triggered the reclassification of both spouses.

8.

Recently, scholars have suggested that the two countries may be moving closer to one another, at least along the dimension of continuous versus categorical distinction, with Brazil adopting a dichotomous categorization of whites and negros for its affirmative action policies and the United States beginning to recognize multiraciality and becoming increasingly diverse through immigration (Bonilla-Silva 2004; Skidmore 1993).

9.

This overall lightening of the Brazilian population—above and beyond the effects of birth, death, and immigration—can be seen in the changing census racial distribution between 1950 and 1980 (de Carvalho et al. 2004). However, there is evidence that the "whitening" trend has been reversing, especially among highly educated Afro-Brazilians (Marteleto 2012; Schwartzman 2007).
References
Alba, R. (2005). Bright vs. blurred boundaries: Second-generation assimilation and exclusion in France, Germany and the United States. Ethnic and Racial Studies, 28, 20–49.

Anderson, M. (1988). The American census: A social history. New Haven, CT: Yale University Press.

Berlin, I. (1974). Slaves without masters: The free Negro in the antebellum South. New York: The New Press.

Bodenhorn, H., & Ruebeck, C. S. (2007). Colourism and African-American wealth: Evidence from the 19th century South. Journal of Population Economics, 20, 599–620.

Bonilla-Silva, E. (2004). From bi-racial to tri-racial: Towards a new system of racial stratification in the USA. Ethnic and Racial Studies, 27, 931–950.

Brubaker, R., Loveman, M., & Stamatov, P. (2004). Ethnicity as cognition. Theory and Society, 33, 31–64.

Burma, J. H. (1946). The measurement of Negro "passing." The American Journal of Sociology, 52, 18–22.

Census Bureau, U. S. (2002). Measuring America: The decennial censuses from 1790 to 2000. Washington, DC: U.S. Department of Commerce.

Christen, P. (2008). Febrl—A Freely available record linkage system with a graphical user interface. Proceedings of the Second Australasian Workshop on Health Data and Knowledge Management, 80, 17–25.

Davis, F. J. (2001). Who is black? One nation's definition (10th anniversary ed.). University Park: Pennsylvania State University Press.

de Carvalho, J. A. M., Wood, C. H., Cristina, F., & Andrade, D. (2004). Estimating the stability of census-based racial/ethnic classifications: The case of Brazil. Population Studies, 58, 331–343.

Degler, C. N. (1971). Neither black nor white: Slavery and race relations in Brazil and the United States. New York: Macmillan.

Eckard, E. W. (1947). How many Negroes "pass." The American Journal of Sociology, 52, 498–500.

Featherman, D. L., & Hauser, R. M. (1978). Opportunity and change. New York: Academic Press.

Gates, H. L., Jr. (1997). The passing of Anatole Broyard. In Thirteen ways of looking at a black man (pp. 180–214). New York: Random House.

Goeken, R., Huynh, L., Lynch, T. A., & Vick, R. (2011). New methods of census record linking. Historical Methods, 44, 7–14.

Gross, A. J. (2008). What blood won't tell: A history of race on trial in America. Cambridge, MA: Harvard University Press.

Gullickson, A. (2010). Racial boundary formation at the dawn of Jim Crow: The determinants and effects of black/mulatto occupational differences in the United States, 1880. The American Journal of Sociology, 116, 187–231.

Harris, M. (1964). Racial identity in Brazil. Luso-Brazilian Review, 1, 21–28.

Hodes, M. (1997). White women, black men: Illicit sex in the nineteenth-century South. New Haven, CT: Yale University Press.

Hout, M., & DiPrete, T. A. (2006). What we have learned: RC28's contributions to knowledge about social stratification. Research in Social Stratification and Mobility, 24, 1–20.

Humes, K., & Hogan, H. (2009). Measurement of race and ethnicity in a changing multicultural America. Race and Social Problems, 1, 111–131.

Johnson, C. S. (1925). The vanishing mulatto. Opportunity, 3, 291.

Lofgren, C. A. (1988). The Plessy case: A legal-historical interpretation. New York: Oxford University Press.

Loveman, M. (2009). The race to progress: Census-taking and nation-making in Brazil 1870–1920. Hispanic American Historical Review, 89, 435–470.

Loveman, M., Bailey, S. R., & Muniz, J. O. (2012). Brazil in black and white? Race categories, the census and the study of inequality. Ethnic and Racial Studies, 35, 1466–1483.

Loveman, M., & Muniz, J. O. (2007). How Puerto Rico became white: Boundary dynamics and intercensal racial reclassification. American Sociological Review, 72, 915–939.

Magnuson, D. L. (1995). The making of a modern census: The United States Census of Population, 1790–1940 (Unpublished doctoral dissertation). Department of History, University of Minnesota.

Marteleto, L. J. (2012). Educational inequality by race in Brazil, 1982–2007: Structural changes and shifts in racial classification. Demography, 49, 337–358.

Medley, K. (2003). We as freemen: Plessy v. Ferguson. Gretna, LA: Pelican Publishing.

Nobles, M. (2000). Shades of citizenship: Race and the census in modern politics. Stanford, CA: Stanford University Press.

Reuter, E. B. (1918). The mulatto in the United States. Boston, MA: Badger.

Ronnander, C. (1999). The classification of work: Applying 1950 census occupation and industry codes to 1920 responses. Historical Methods, 32, 151–155.

Roth, W. (2010). Racial mismatch: The divergence between form and function in data for monitoring racial discrimination of Hispanics. Social Science Quarterly, 91, 1288–1311.

Ruef, M., & Fletcher, B. (2003). Legacies of American slavery: Status attainment among Southern blacks after emancipation. Social Forces, 82, 445–480.

Ruggles, S., Alexander, J. T., Genadek, K., Goeken, R., Schroeder, M. B., & Sobek, M. (2010). Integrated Public Use Microdata Series: Version 5.0 [Machine-readable database]. Minneapolis, MN: Minnesota Population Center.

Russell, K., Wilson, M., & Hall, R. (1992). The color complex: The politics of skin color among African Americans. New York: Harcourt.

Saperstein, A. (2008). (Re)modeling race: Moving from intrinsic characteristic to multidimensional marker of status. In C. Gallagher (Ed.), Racism in post-race America: New theories, new directions (pp. 335–350). Chapel Hill, NC: Social Forces Publishing.

Saperstein, A., & Penner, A. M. (2012). Racial fluidity and inequality in the United States. The American Journal of Sociology, 118, 676–727.

Schwartzman, L. F. (2007). Does money whiten? Intergenerational changes in racial classification in Brazil. American Sociological Review, 72, 940–963.

Sheriff, R. E. (2001). Dreaming equality: Color, race, and racism in urban Brazil. Piscataway, NJ: Rutgers University Press.

Skidmore, T. E. (1974). Black into white: Race and nationality in Brazilian thought. New York: Oxford University Press.

Skidmore, T. E. (1993). Bi-racial U.S.A. vs. multi-racial Brazil: Is the contrast still valid? Journal of Latin American Studies, 25, 373–386.

Sowell, T. (1978). Three black histories. In T. Sowell (Ed.), Essays and data on American ethnic groups (pp. 7–64). New York: Urban Institute.

Telles, E. E. (2004). Race in another America: The significance of skin color in Brazil. Princeton, NJ: Princeton University Press.

Telles, E. E., & Sue, C. A. (2009). Race mixture: Boundary crossing in comparative perspective. Annual Review of Sociology, 35, 129–146.

Williamson, J. (1995). New people: Miscegenation and mulattoes in the United States (2nd ed.). Baton Rouge: Louisiana State University Press.

Wimmer, A. (2008). The making and unmaking of ethnic boundaries: A multilevel process theory. The American Journal of Sociology, 113, 970–1022.
Acknowledgments
A previous version of this paper was presented at the 2011 annual meeting of the Population Association of America, Washington, DC. We are grateful to Ann Morning and Roy Mill for their helpful comments and suggestions, and to Krystale Littlejohn for research assistance.
Electronic supplementary material
Below is the link to the electronic supplementary material.
About this article
Cite this article
Saperstein, A., Gullickson, A. A "Mulatto Escape Hatch" in the United States? Examining Evidence of Racial and Social Mobility During the Jim Crow Era. Demography 50, 1921–1942 (2013). https://doi.org/10.1007/s13524-013-0210-8
Keywords
Race

Racial boundaries

Stratification

Occupational mobility

Survey measurement