Abstract
Mother's formal schooling—even at the primary level—is associated with lower risk of child mortality, although the reasons why remain unclear. This study examines whether mother's reading skills help to explain the association in Nigeria. Using data from the Demographic and Health Survey, the analysis demonstrates that women's reading skills increase linearly with years of primary school; however, many women with several years of formal school are unable to read at all. The results further show that mother's reading skills help to explain the relationship between mother's formal schooling and child mortality, and that mother's reading skills are highly associated with child mortality. The study highlights the need for more data on literacy and for more research on whether and how mother's reading skills lower child mortality in other contexts.
Access options
Buy single article
Instant access to the full article PDF.
USD 39.95
Price excludes VAT (USA)
Tax calculation will be finalised during checkout.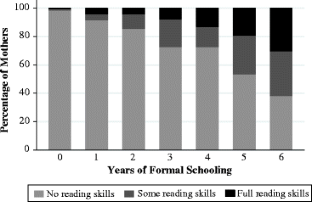 Notes
The results using imputed data are consistent with results using listwise deletion.

In supplementary analyses, I exclude children who died before 1 month of age because these deaths may be the result of complications that are less closely associated with maternal behaviors. These results (N = 8,843) show that the association between mother's reading skills and child mortality is larger and stronger when early child deaths are omitted, suggesting that the results shown here downwardly bias the influence of mother's reading skills on mortality risk in later childhood.

Briefly, the proportional hazards models assume that for an individual with a vector of covariates x, the hazard rate (death rate) at time t is , where is the hazard function at time t, and is a vector of unknown coefficients. The hazards model assumes the proportionality of the risk of child mortality. In other words, the outcome measure is time to death in the specified interval (0–59 months).
References
Abadzi, H., Crouch, L., Echegaray, M., Pasco, C., & Sampe, J. (2005). Monitoring basic skills acquisition through rapid learning assessments: A case study from Perú. Prospects, 35, 137–156.

Adekola, O. A. (2007). Language, literacy and learning in primary schools: Implications for teacher development programs in Nigeria. Washington, DC: World Bank.

Baker, D. P., Leon, J., Smith Greenaway, E. G., Collins, J., & Movit, M. (2011). The education effect on population health: A reassessment. Population and Development Review, 37, 307–332.

Glewwe, P. (1999). Why does mother's schooling raise child health in developing countries? Evidence from Morocco. Journal of Human Resources, 34, 124–159.

LeVine, R. A., & LeVine, S. E. (2001). The schooling of women: Maternal behavior and child environments. Ethos, 29, 259–270.

LeVine, R. A., LeVine, S. E., Rowe, M. L., & Schnell-Anzola, B. (2004). Maternal literacy and health behavior: A Nepalese case study. Social Science & Medicine, 58, 863–877.

LeVine, R. A., LeVine, S., Schnell-Anzola, B., Rowe, M. L., & Dexter, E. (2012). Literacy and mothering: How women's schooling changes the lives of the world's children. New York: Oxford University Press.

Mosley, W. H., & Chen, L. C. (1984). An analytical framework for the study of child survival in developing countries. Population and Development Review, 10, 25–45.

Nicolopoulou, A., & Cole, M. (1999). Literacy and cognition. In D. A. Wagner, R. L. Venezky, & B. V. Street (Eds.), Literacy: An international handbook (pp. 81–86). Boulder, CO: Westview Press.

National Population Commission (NPC) [Nigeria] and ORC Macro. (2004). Nigeria Demographic and Health Survey 2003. Calverton, MD: National Population Commission and ORC Macro.

Royston, P. (2004). Multiple imputation of missing values. The Stata Journal, 4, 227–241.

Schnell-Anzola, B., Rowe, M. L., & LeVine, R. A. (2005). Literacy as a pathway between schooling and health-related communication skills: A study of Venezuelan mothers. International Journal of Educational Development, 25, 19–37.

Thomas, D. (1999). Fertility, education, and resources in South Africa. In C. H. Bledsoe, J. B. Casterline, J. A. Johnson-Kuhn, & J. G. Haaga (Eds.), Critical perspectives on schooling and fertility in the developing world (pp. 138–180). Washington, DC: National Acadmies Press.

Uhry, J. K., & Ehri, L. C. (1999). Ease of segmenting two- and three-phoneme words in kindergarten: Rime cohesion or vowel salience? Journal of Educational Psychology, 91, 594–603.

You, D., Jones, G., & Wardlaw, T. (2010). Levels and trends in child mortality. New York: United Nations Children's Fund.
Acknowledgments
A previous version of this article was presented at the 2010 annual meeting of the Population Association of America in Dallas, Texas. I thank Jenny Trinitapoli and Michelle Frisco for their mentoring as I prepared this manuscript; and I thank three anonymous reviewers, Lauren Bachan, David Baker, Adam Lippert, and Molly Martin for their comments on earlier versions. I also acknowledge the support of the Predoctoral Traineeship in Family Demography (No. T-32HD 007514) by the Eunice Kennedy Shriver National Institute of Child Health and Human Development to the Pennsylvania State University Population Research Institute and assistance provided by the Population Research Center at Penn State University, which is supported by an infrastructure grant by the National Institutes of Health (R-24HD041025).
Appendix
Appendix
About this article
Cite this article
Smith-Greenaway, E. Maternal Reading Skills and Child Mortality in Nigeria: A Reassessment of Why Education Matters. Demography 50, 1551–1561 (2013). https://doi.org/10.1007/s13524-013-0209-1
Published:

Issue Date:

DOI: https://doi.org/10.1007/s13524-013-0209-1
Keywords