Abstract
Using data from the 1967–2009 years of the March Current Population Surveys (CPS), we examine two important resources for children's well-being: time and money. We document trends in parental employment, from the perspective of children, and show what underlies these trends. We find that increases in family work hours mainly reflect movements into jobs by parents—particularly mothers, who in prior decades would have remained at home. This increase in market work has raised incomes for children in the typical two-parent family but not for those in lone-parent households. Time use data from 1975 and 2003–2008 reveal that working parents spend less time engaged in primary childcare than their counterparts without jobs but more than employed peers in previous cohorts. Analysis of 2004 work schedule data suggests that non-daytime work provides an alternative method of coordinating employment schedules for some dual-earner families.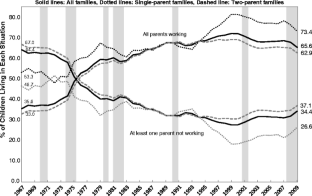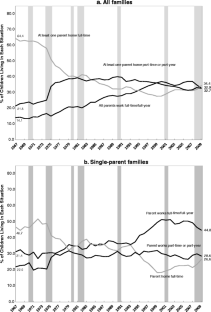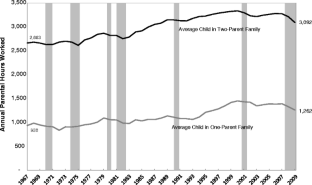 Notes
1.

2.

Children are grouped into the category that represents the maximum amount of time they could be spending with their parents. For example, a child in a family with one parent home full-time and one parent home part-time would fall into the third category of "one or more parents home full-time and full-year."

3.

Sayer et al. (2004) found that the time spent by mothers in routine childcare declined between 1965 and 1975 and then rebounded between 1975 and 1998. Aguiar and Hurst (2007) uncovered a slight decrease in childcare between 1965 and 1993, followed by an increase between 1993 and 2003. Bianchi et al. (2006) provided evidence that time in childcare was relatively flat between 1965 and 1995 and then increased for both mothers and fathers from 1995 to 2000. Conversely, Ramey and Ramey (2010) indicated that childcare time declined from 1965 to 1995, increased dramatically through 2000–2003, and flattened out between 2000–2003 and 2008. The somewhat disparate results occur primarily because of differences in survey years examined and the small sample sizes in early surveys (which reduce precision of the estimated effects).

4.

Incomes, work hours, and employment status refer to the preceding year (e.g., results in the 2010 March CPS are for 2009). For simplicity, we refer to the data year (i.e., 2009) throughout, not the calendar year (i.e., 2010).

5.

Hispanic ethnicity was not collected by the CPS until 1971, so the only race categories examined are black, white, and other. However, in years when Hispanic ethnicity was available, we found no noticeable differences in our regression-adjusted results by including Hispanic ethnicity.

6.

The March CPS records usual hours worked per week in the preceding year. The monthly CPS separately asks about hours on primary and secondary jobs but contains smaller samples and less detail on child and family characteristics. We experimented with merging the monthly and March CPS and found that work estimates from the latter were systematically an hour or two lower per week less than those from the former; however, this slight discrepancy did not differ over time or across demographic groups.

7.

Prior to 1975, respondents were asked about actual hours worked last week, not usual weekly hours. However, they were also separately asked whether they worked full-time, part-time, or not at all in the previous year. For classification into an employment category, we used the latter variable for 1967–1974. For analyses that required annual hours worked, we imputed usual hours from actual hours, weeks per year worked, education, number of children, marital status, and age.

8.

Prior to 1995, we identify unmarried partners based on census recommendations for persons of opposite sex sharing living quarters (adjusted POSSLQ), defined to include unrelated, unmarried, opposite-sex individuals living together in a household without other adults, other than related adult children (Casper et al. 1999). After 1995, the CPS contains an explicit category identifying unmarried partners. This change in definition creates a break in the data, with 1.5 million unmarried parent families in 1994 using the adjusted POSSLQ and 1.1 million in 1995 using the explicit "unmarried partner" designation. However, in a weighted sample of 35 million families annually, this difference was not noticeable in the results.

9.

The CPI-U-RS is the price deflator used by the Census Bureau to adjust historical income statistics (Steward and Reed 1999), and the series begins in 1977. For earlier years, we created predicted CPI-U-RS series by regressing the CPI-U-RS on the CPI-U, for 1977–2009, and then backcasting values of the CPI-U-RS based on CPI-U changes between the specified year and 1977.

10.

See http://www.bls.gov/tus/ for further information on the ATUS. The ATUS sampled more than 20,000 individuals in 2003, its first year; it was reduced (for budgetary reasons) to between 12,000 and 14,000 in subsequent years but remains nationally representative.

11.

12.

13.

In results not shown, we found that after controlling for family structure and parental employment status, there was virtually no change over the past 40 years in average or median weekly work hours.

14.

We also conducted this decomposition in the reverse way—predicting 1967 values using 2009 data—and obtained consistent findings.

15.

We use multiple years to reduce the effects of economic conditions in a single year. Both time periods experienced similar economic cycles, with 27 recession months occurring during 1967–1976 and 26 months occurring during 2000–2009.

16.

When transforming logged values obtained from a regression back into nonlogged values, a smearing factor is necessary to correct for the nonnormal distribution of residuals (as would likely be the case with log-normally distributed income) (Duan 1983). Specifically, the expected value of the error term in the log-linear regressions does not equal 0, and the smearing factor adjusts for this by adding to the predicted values the expected value of the exponentiated error term.

17.

Table 4 also displays counterfactual estimates that account for changes in family characteristics. These results do not change the overall story. For example, for children in single-parent families with a nonworking parent, if characteristics had remained at their 1967–1978 levels, 2000–2009 income would have averaged $9,487, which is a 35 % decline from the actual value in 1967–1978 ($14,651). Alternatively, actual incomes in 2000-2009 were 37 % lower than they would have been in 1967–1976 had family characteristics remained constant at 2000–2009 values ($7,958 vs. $12,730).

18.

19.

About 20 % of married families with one parent home full-time in 2003–2008 had "reversed" gender roles, with mothers working full-time and fathers not working; this represents approximately 7 % of all children in married families.

20.

Age-specific results are not shown for single mothers because of the very small sample sizes in 1975, but the trends are consistent with those displayed on the table. We also do not show results disaggregated by parental education because of the small sample sizes in 1975, but prior research has found that hours in childcare have increased more over time for more-educated mothers than for their less-educated peers.

21.

Work schedule supplements have been conducted in 1985, 1991, 1997, 2001, and 2004, but the survey questions have frequently changed, making it difficult to provide comparisons over time. An in-depth analysis that attempts to do so would be an interesting topic for future research.
References
Aguiar, M., & Hurst, E. (2007). Measuring trends in leisure: The allocation of time over five decades. Quarterly Journal of Economics, 122, 969–1006.

Allard, M. D., Bianchi, S., Stewart, J., White, V. R. (2007). Comparing childcare measures in the ATUS and earlier time diary studies. Monthly Labor Review, May, 27–36.

Becker, G. (1981). A treatise on the family. Cambridge, MA: Harvard University Press.

Bianchi, S. M. (2000). Maternal employment and time with children: Dramatic change or surprising continuity? Demography, 37, 401–414.

Bianchi, S. M. (2011). Changing families, changing workplaces. The Future of Children, 21(2), 15–36.

Bianchi, S. M., & Wight, V. R. (2010). The long reach of the job: Employment and time for family life. In K. Christensen & B. Schneider (Eds.), Workplace flexibility: Realigning 20th-century jobs for a 21st-century workforce (pp. 17–42). Ithaca, NY: Cornell University Press.

Bianchi, S. M., Robinson, J. P., & Milkie, M. A. (2006). Changing rhythms of American family life. New York: Russell Sage.

Blank, R. (2002). Evaluating welfare reform in the United States. Journal of Economic Literature, 40, 1105–1166.

Blau, D. M., & Currie, J. (2006). Pre-school, day care, and after school care: Who's minding the kids? In E. Hanushek & F. Welch (Eds.), Handbook of the Economics of Education (pp. 1163–1278). Amsterdam, The Netherlands: Elsevier.

Blau, D. M., Guilkey, D. K., & Popkin, B. M. (1996). Infant health and the labor supply of mothers. Journal of Human Resources, 31, 90–139.

Boushey, H. (2008). "Opting out?" The effect of children on women's employment in the United States. Feminist Economics, 14, 1–36.

Bryant, W. K., & Zick, C. D. (1996). Are we investing less in the next generation? Historical trends in time spent caring for children. Journal of Family and Economic Issues, 17, 365–391.

Casper, L. M., Cohen, P. N., & Simmons, T. (1999). How does POSSLQ measure up? Historical estimates of cohabitation (Census Bureau Population Division Working Paper No. 36). Washington, DC: U.S. Census Bureau.

Coltrane, S. (1996). Family man: Fatherhood, housework and gender equity. New York: Oxford University Press.

Cotter, D. A., Hermsen, J. M., & Vanneman, R. (2010). The end of the gender revolution? Gender role attitudes from 1977 to 2008. The American Journal of Sociology, 116, 1–31.

Duan, N. (1983). Smearing estimate: A nonparametric retransformation method. Journal of the American Statistical Association, 78, 605–610.

Galinksy, E. (1999). Ask the children: What America's children really think about working parents. New York: William Morrow & Company.

Gauthier, A. H., Smeeding, T. M., & Furstenberg, F. F. (2004). Are parents investing less time in children? Trends in selected industrialized countries. Population and Development Review, 30, 647–671.

Grogger, J., & Karoly, L. A. (2005). Welfare reform: Effects of a decade of change. Cambridge, MA: Harvard University Press.

Jacobs, J. A., & Gerson, K. (2004). The time divide: Work, family, and gender inequality. Cambridge, MA: Harvard University Press.

Lareau, A. (2003). Unequal childhoods: Class, race and family life. Berkeley: University of California Press.

Lareau, A., & Weninger, E. B. (2008). Time, work and family life: Reconceptualizing gendered time patterns through the case of children's organized activities. Sociological Forum, 23, 419–454.

Meyer, B. D., & Rosenbaum, D. T. (2001). Welfare, the Earned Income Tax Credit, and the labor supply of single mothers. Quarterly Journal of Economics, 116, 1063–1114.

Presser, H. B. (2003). Working in a 24/7 economy: Challenges for American families. New York: Russell Sage.

Presser, H. B., & Cox, A. G. (1997). The work schedules of low-educated American women and welfare reform. Monthly Labor Review, April, 25–34.

Ramey, G., & Ramey, V. A. (2010). The rug rat race. Brookings Papers on Economic Activity, Spring, 129–176.

Ruhm, C. J. (2004). Parental employment and child cognitive development. Journal of Human Resources, 39, 155–192.

Ruhm, C. J. (2011). Policies to assist parents with young children. The Future of Children, 21(2), 37–68.

Sandberg, J. F., & Hofferth, S. L. (2001). Changes in children's time with parents: United States, 1981–1997. Demography, 38, 423–436.

Sayer, L., Bianchi, S., & Robinson, J. (2004). Are parents investing less in children? Trends in mothers' and fathers' time with children. The American Journal of Sociology, 110, 1–43.

Smolensky, E., & Gootman, J. A. (Eds.). (2003). Working families and growing kids: Caring for children and adolescents. Washington, DC: National Academies Press.

Steward, K. J., & Reed, S. B. (1999). CPI research series using current methods, 1978–98. Monthly Labor Review, June, 29–38.

Stone, P. (2007). Opting out? Why women really quit careers and head home. Berkeley: University of California Press.

Waldfogel, J. (2006). What children need. Cambridge, MA: Harvard University Press.

Zick, C. D., & Bryant, W. K. (1996). A new look at parents' time spent in child care: Primary and secondary time use. Social Science Research, 25, 260–280.
Acknowledgments
The authors gratefully acknowledge funding support from the Eunice Kennedy Shriver National Institute of Child Health & Human Development (NICHD) through R01HD047215 as well as R24HD058486. The content is solely the responsibility of the authors and does not necessarily represent the official views of NICHD or the National Institutes of Health. We are also grateful for helpful comments from seminar participants at the Population Association of America Annual Meeting and the University of Virginia.
Appendix
Appendix
About this article
Cite this article
Fox, L., Han, WJ., Ruhm, C. et al. Time for Children: Trends in the Employment Patterns of Parents, 1967–2009. Demography 50, 25–49 (2013). https://doi.org/10.1007/s13524-012-0138-4
Keywords
Parental employment

Time use

Tag-team parenting