Abstract
The purpose of this study is to develop a new educational approach responding to the needs of new areas of knowledge, skills, and attitudes in maritime education and training (MET) as set forth in the recently published Global Maritime Professional initiative (IAMU 2019). In particular, this study explores the development of a collaborative e-learning approach targeting young maritime professionals coming together from different MET institutions. An action research process has been employed, where faculty, administrators, and students from four MET institutions participated to understand evolving educational needs and the need for new educational approaches. Based on the outcome, a new collaborative e-learning approach was tested and evaluated with students from the MET institutions. The findings give evidence of new educational needs in MET concerning leadership, teamwork, communication, cultural awareness, and new technology applications. The results point toward how collaboration is needed to infuse new topical expertise to MET institutions and to enable students (and instructors) to increase collaboration, including the importance of socialization between students from different MET institutions; how it is possible to develop new dynamic e-learning materials to give students access to new topic expertise; and the provisions of application and analytical learning activities with an e-learning educational approach. MET institutions are under pressure to develop new educational topics and approaches. At the same time, they are experiencing resource constraints and tend to operate in isolation. The results of this study provide a route forward as to how MET institutions can come together to develop new forms of education using the latest e-learning educational methods and technologies.
Access options
Buy single article
Instant access to the full article PDF.
US$ 39.95
Tax calculation will be finalised during checkout.
Subscribe to journal
Immediate online access to all issues from 2019. Subscription will auto renew annually.
US$ 79
Tax calculation will be finalised during checkout.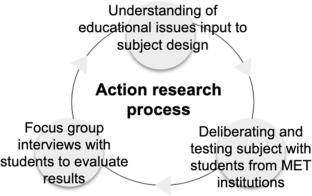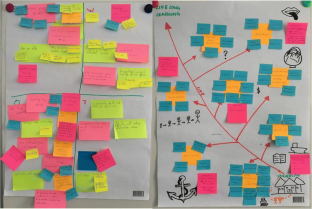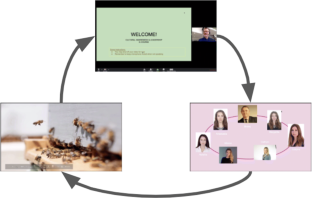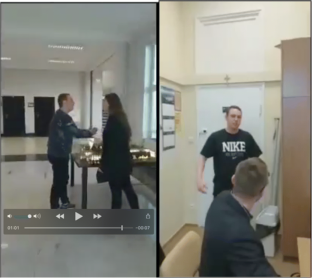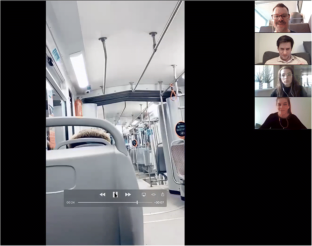 Notes
1.

Studies related to the GMP initiative concerning how to sustain MET and the competencies of maritime professionals in light of the rapid development of the maritime industry (such as the opportunities and challenges that new technologies bring) include the METHAR (Maritime Education and Training Harmonisation) (Zade 2003; Leggate et al. 2004) and the subsequent METNET (The Thematic Network on Maritime Education, Training and Mobility of Seafarers) projects, as well as the European Union SKILLFUL (http://skillfulproject.eu) project.

2.

The World Maritime University is unique in this group. It offers only post-graduate educational offerings and does not directly train seafarers but educates, among others, administrators and policy makers who influence seafarer educational policies at the national and international levels.

3.

With reference to a participatory design approach (Bødker et al. 2004, p.198), workshops are positioned to build up a relevant understanding of present work practices and to design new visions and proposals, based on principles of developing a coherent vision and getting genuine user participation.

4.

The e-lessons were developed as part of the MARIWEL distance learning program (mariwel.wmu.se), a joint program on seafarers' welfare issues developed by the International Transport Workers' Federation (ITF) in collaboration with the World Maritime University. Three academic and industry experts lectured in the e-lessons: Dr. Momoko Kitada (WMU); Dr. Bjarne Vandeskog (Western Norway University of Applied Sciences); Dr. Jason Zuidema (North American Maritime Ministry Association).

5.

6.

Some of the students had experience from participatory workshops organized by external organizations but not as part of the course curricula at their respective institutions. One of the students, for example, described a workshop organized by ITF where MET students had been invited to develop concepts using a participatory approach and present to a plenum. She described it as a positive experience, although she was surprised that such an approach was "acceptable" when presenting to high-level international stakeholders.

7.

8.

The students participating in this study were studying on a bachelor and master level at their respective MET institutions, which links to tiers B and C in the GMP taxonomy (see IAMU 2019, p. 12).

9.
References
Agar MH (1996) The professional stranger: an informal introduction to ethnography. Academic Press, San Diego

Bates AT (2018) Teaching in a digital age: guidelines for designing teaching and learning. Tony Bates Associates LTD, Vancouver

Berthoin Antal A, Friedman VJ (2008) Learning to negotiate reality: a strategy for teaching intercultural competencies. J Manag Educ 32(3):363–386

Biggs JB, Tang C (2011) Teaching for quality learning at university: what the student does, 4th edn. Open University Press, Berkshire

Bloom BS, Engelhart MD, Furst EJ, Hill WH, Krathwohl DR (1956) Taxonomy of educational objectives: the classification of educational goals. In: Handbook I: cognitive domain. David McKay, New York

Boulougouris E, Mizythras P, Chrysinas L, Vavourakis G, Theotokatos G, Aymelek M, Kurt I (2019) Developing multidisciplinary blended learning courses for maritime education with cross-European collaboration. WMU J Marit Aff 18:319–340

Bødker K, Kensing F, Simonsen J (2004) Participatory IT design: designing for business and workplace realities. MIT Press, London

Checkland P, Holwell S (1998) Action research: its nature and validity. Syst Pract Action Res 11(1):9–21

Cubric M (2013) An agile method for teaching agile in business schools. Int J Manag Educ 11(3):119–131

Dittrich Y, Rönkkö K, Eriksson J, Hansson C, Lindeberg O (2008) Cooperative method development. Empir Softw Eng 13:231–260

Dittrich Y, Bolmsten J, Eriksson J (2017) End user development and infrastructuring—sustaining organizational innovation capabilities. In: Paternò F, Wulf V (eds) New perspectives in end-user development. Springer International Publishing, Berlin

Etzkowitz H, Zhou C (2017) The triple helix: university–industry–government innovation and entrepreneurship. Routledge, New York

Fjeld GP, Tvedt SD, Oltedal H (2018) Bridge officers' non-technical skills: a literature review. WMU J Marit Aff 17:475–495

Harasim L (2012) Learning theory and online technologies. Routledge, New York/London

International Association of Maritime Universities (IAMU) (2019) Global maritime professional body of knowledge. International Association of Maritime Universities (IAMU), Tokyo

Ircha MC, Balsom MG (2005) Educational technology: enhancing port training. WMU J Marit Aff 4:211–225

James AJ, Schriever UG, Jahangiri S, Girgin SC (2018) Improving maritime English competence as the cornerstone of safety at sea: a focus on teaching practices to improve maritime communication. WMU J Marit Aff 17:293–310

John P, Noble A, Björkroth P (2016) Low-fi simulation of bridge team communication. WMU J Marit Aff 15(2):337–351

Klein HK, Myers MD (1999) A set of principles for conducting and evaluating interpretive field studies in information systems. Mis Quarterly 23:67–93.

Krathwohl DR (2002) A revision of Bloom's taxonomy: an overview. Theory Pract 41(4):212–218

Lau Y, Ng AKY (2015) The motivations and expectations of students pursuing maritime education. WMU J Marit Aff 14:313–331

Leggate H, McConville J, Morvillo A (2004) International maritime transport: perspectives. Taylor & Francis, London

López-Alcarria A, Olivares-Vicente A, Poza-Vilches F (2019) A systematic review of the use of agile methodologies in education to foster sustainability competencies. Sustainability 11:2915

Manuel ME (2011) Maritime risk and organizational learning. Routledge, London

Mathiassen L (2002) Collaborative practice research. Inf Technol People 15(4):321–345

Muirhead PMP (2004) New technology and maritime training in the 21st century: implications and solutions for MET institutions. WMU J Marit Aff 3:139–158

Noguera I, Guerrero-Roldán A-E, Masó R (2018) Collaborative agile learning in online environments: strategies for improving team regulation and project management. Comput Educ 116:110–129

Nikitakos N, Sirris I, Dalaklis D, Papachristos D, Tsoukalas VD (2017) Game-based learning for maritime education and training: the case of Trader of the World. WMU J Marit Aff 16(2):265–291

Rogers C (1969) In: Charles E (ed) Freedom to learn Columbus. Merrill Publishing Co, Hong Kong

Salza P, Musmarra P, Ferrucci F (2019) Agile methodologies in education: a review. In: Agile and lean concepts for teaching and learning. Springer, Berlin, pp 25–45

Simpson EJ (1966) The classification of educational objectives, psychomotor domain. University of Illinois, Illinois

Schinas O (2013) The X-Posse project. WMU J Marit Aff 12:255–257

Teka D, Dittrich Y, Kifle M (2018) Adapting lightweight user-centered design with the scrum-based development process. https://doi.org/10.1145/3195528.3195530

Tyler RW (1949) Basic principles of curriculum and instruction. University of Chicago Press, London

Yin RK (2009) Case study research: design and methods. SAGE Publications, Newbury

Vincent-Lancrin S et al (2019) Fostering students' creativity and critical thinking: what it means in school, educational research and innovation. OECD Publishing, Paris

Vygotsky L (1978) Mind in society: development of higher psychological processes. Harvard University Press, Cambridge

Wibawa B, Situmorang R (2020) A conceptual model of problem-based learning in software modeling course in information technology higher education. In: Gaol FL, Hutagalung F, Peng CF (eds) The Social Sciences Empowered: Proceedings of the 7th International Congress on Interdisciplinary Behavior and Social Sciences 2018 (ICIBSoS 2018). Taylor & Francis, London

Zade G (2003) Thematic Network on Maritime Education, Training and Mobility of Seafarers, METNET: final report for publication. WMU World Maritime University, Malmö
Acknowledgements
The authors wish to express their gratitude to the staff and students from the Estonian Maritime Academy, Gdynia Maritime University, and Odessa Maritime Academy that participated in the research. We would also like to thank the Swedish Institute for supporting the research. Finally, we thank the reviewers for their constructive feedback and guidance throughout the review process.
Ethics declarations
Conflict of interest
The authors declare that they have no conflict of interest.
Additional information
Publisher's note
Springer Nature remains neutral with regard to jurisdictional claims in published maps and institutional affiliations.
About this article
Cite this article
Bolmsten, J., Manuel, M.E., Kaizer, A. et al. Educating the Global Maritime Professional—a case of collaborative e-learning. WMU J Marit Affairs (2021). https://doi.org/10.1007/s13437-020-00224-w
Received:

Accepted:

Published:
Keywords
Collaborative e-learning

Maritime education and training

Higher education

The Global Maritime Professional

Maritime innovation management