Abstract
This paper provides an estimation of air emissions (CO2, NOX, SOX and PM) released by cruise vessels at the port level. The methodology is based on the "full bottom-up" approach and starts by evaluating the fuel consumed by each vessel on the basis of its individual port activities (manoeuvring, berthing and hoteling). The Port of Barcelona was selected as the site at which to perform the analysis, in which 125 calls of 30 cruise vessels were monitored. Real-time data from the automatic identification system (AIS), factor emissions from engine certificates and vessel characteristics from IHS Sea-web database were also collected for the analysis. The research findings show that the most appropriate indicators are inventory emissions per "port-time gross tonnage", "port-time passenger" and "port time". These emission indicators improve our understanding of cruise emissions and will facilitate the work that aims to estimate reliably and quickly the in-port ship emission inventories of cruise ports.
This is a preview of subscription content, log in to check access.
Access options
Buy single article
Instant access to the full article PDF.
US$ 39.95
Price includes VAT for USA
Subscribe to journal
Immediate online access to all issues from 2019. Subscription will auto renew annually.
US$ 99
This is the net price. Taxes to be calculated in checkout.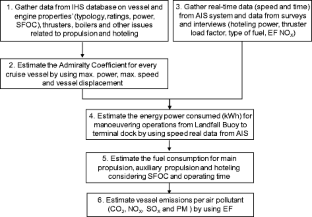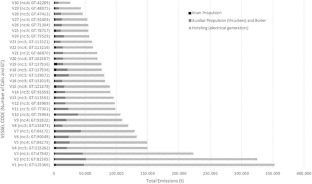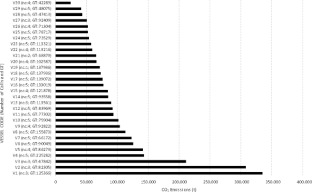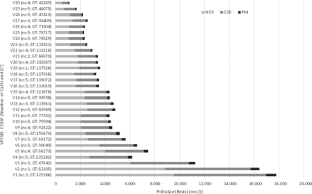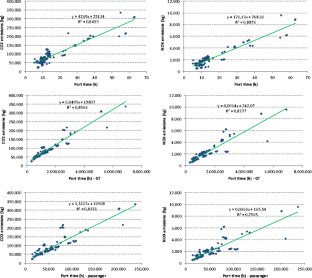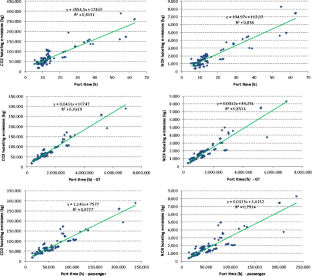 References
Berechman J, Tseng P-H (2012) Estimating the environmental costs of port related emissions: the case of Kaohsiung. Transport. Res. Part D 17:35–38

Corbett JJ, Kohler H (2003) Updated emissions from ocean shipping. J Geophys Res 108(D20):4650–4666

Corbett JJ , Wang C, Firestone J (2007) Allocation and forecasting of the global ship emission. In: Proceedings of the Paper presented at Clean Air Task Force and Friends at the Earth International, Boston, MA, USA

Dalsoren SB, Eide MS, Endresen O, Mjelde A, Gravir G, Isaksen ISA (2009) Update on emissions and environmental impacts from the international fleet of ships: the contribution from major ship types and ports. Atmos Chem Phys 9:2171–2194

De Meyer P, Maes F, Volckaer A (2008) Emissions from international shipping in the Belgian part of the North Sea and the Belgian seaports. Atmos Environ 42:196–206

Dragovic B, Tzannatos E, Tselentis V, Mestrovic R, Skuric M (2015) Ship emissions and their externalities in cruise ports. Transport Res Part D 18(2). doi:10.1016/j.trd.2015.11.007

Endresen O, Sorgard E, Bakke J, Isaksen ISA (2004) Substantiation of a lower estimate for the bunker inventory: comment on "Updated emissions from ocean shipping" by James J. Corbett and Horst W. Koehler. J Geophys Res 109:D23302

Endresen O, Sorgard E, Behrens HL, Brett PO, Isaksen ISA (2007) A historical reconstruction of ships' fuel consumption and emissions. J Geophys Res 112:D12301

Endresen O, Sorgard E, Sundet JK, Dalsoren SB, Isaksen ISA, Berglen TF, Gravir G (2003) Emission from international sea transportation and environmental impact. J Geophys Res 108(D17):4560 D17

ENTEC (2002). Quantification of emissions from ships associated with ship movements between ports in the European Community. UK: Report prepared for the European Commission

ESPO (2003). Environmental code of practice. ESPO, Brussels, Belgium

Eyring V, Koehler HW, van Aardenne J, Lauer A (2005) Emission from international shipping: 1. The last 50 years. J Geophys Res 110(D17305):D17305

Gibbs D, Rigot-Muller P, Mangan J, Lalwani C (2014) The role of sea ports in end-to end maritime transport chain emissions. Energy Pol. 64:613–622

IAPH (2007). Resolution on clean air programs for ports. Second plenary session. 25th World Ports Conference of IAPH. Houston, Texas, USA

ICF (2006) Current methodologies and best practices in preparing port emission inventories. EPA, Fairfax, Virginia, USA. Final report for U.S

IMO (2009) IMO GHG Study 2009. Micropress Printers, Suffolk

IMO (2014) Third IMO GHG Study 2014. Micropress Printers, Suffolk

Maragkogianni A, Papaefthimiou S (2015) Evaluating the social cost of cruise ships air emissions in major ports of Greece. Transport. Res. Part D 36:10–17

McArthur DP, Osland L (2013) Ships in a city harbor: an economic valuation of atmospheric emissions. Transport Res Part D 21:4752

Merk O (2014) Shipping emissions in ports. International Transport Forum Discussion Papers, No. 2014-20. OECD Publishing, Paris

Miola A, Ciuffo B, Giovine E, Marra M (2010) Regulating air emissions from ships: the state of the art on methodologies, technologies and policy options. European Commission, Joint Research Centre, Institute for Environment and Sustainability. JRC Reference Reports 60732, Luxembourg

Moreno-Gutiérrez J, Calderay F, Saborido N, Boile M, Rodríguez Valero R, Durán-Grados V (2015) Methodologies for estimating shipping emissions and energy consumption: a comparative analysis of current methods. Energy 86:603–616

Ng SK, Loh C, Lin C, Booth V, Chan JW, Yip AC, Lau AK (2012) Policy change driven by an AIS-assisted marine emissions inventory in Hong Kong and the Pearl River Delta. Atmos Environ 76:102–112

Pallis T (2015) Cruise shipping and urban development: State of the art of the industry and cruise ports. International Transport Forum Discussion Papers 2015-14. OECD Publishing, Paris

Prati MV, Costagliola MA, Quaranta F, Murena F (2015) Assessment of ambient air quality in the port of Naples. J Air Manage Ass 65(8) 970.979

Saxe H, Larsen T (2004) Air pollution from ships in three Danish ports. Atmos Environ 38:4057–4067

Schneekluth H, Bertram V (1998) Ship design for efficiency and economy. 2nd edition. Elsevier Ltd., Oxford

Song S (2014) Ship emissions inventory, social cost and eco-efficiency in Shanghai Yangshan port. Atmos Environ 82:288–297

Taylor DA (1996) Introduction to marine engineering. Elsevier Ltd., Oxford

Tichavska M, Tovar B (2015) Environmental cost and eco-efficiency from vessel emissions in Las Palmas Port. Transport Res Part E 83:126–140

Tupper EC (2013) Introduction to naval architecture. Fifth Edition. Elsevier Ltd, USA

Tzannatos E (2010a) Ship emissions and their externalities for the port of Piraeus–Greece. Atmos Environ 44:400–407

Tzannatos E (2010b) Cost assessment of ship emission reduction methods at berth: the case of the Port of Piraeus, Greece. Marit Pol Manage 37(4):427–445

Villalba G, Gemechu ED (2011) Estimating GHG emissions of marine ports—the case of Barcelona. Energy Pol 39:1363–1368

Wang C, Corbett JJ, Firestone J (2007) Modelling energy use and emissions from North American shipping: application of the ship traffic, energy, and environmental model. Environ Sci Technol 41(9):3226–3232

Watson D (1998) Practical ship design. Elsevier Ocean Engineering Book Series, Vol 1. Oxford, Oxford

Whall, C., Stavrakaki, A., Ritchie, A., Green, C., Shialis, T., Minchin, W., Cohen, A., Stokes, R. (2007). Concawe. Ship emissions inventory: Mediterranean Sea. Entec UK Limited 47: 2007–7160.
About this article
Cite this article
De Melo Rodríguez, G., Martin-Alcalde, E., Murcia-González, J. et al. Evaluating air emission inventories and indicators from cruise vessels at ports. WMU J Marit Affairs 16, 405–420 (2017). https://doi.org/10.1007/s13437-016-0122-8
Received:

Accepted:

Published:

Issue Date:
Keywords
Cruise vessel emissions

Port-level

Air pollution

Emission inventories

Emission indicators