Abstract
A questionnaire survey was conducted to find out how pilotage organisations in different countries assess and measure the quality, efficiency and safety of their operations. An e-mail survey was sent to 54 pilotage organisations in Australia, Canada, and Western and Northern Europe. All International Standard for Maritime Pilot Organizations (ISPO) members were also included. The survey yielded 13 answers from eight countries. The organisations were questioned about their standards and management systems, standard operating procedures and measuring tools. According to the query, most of the pilotage organisations use standard-based management systems such as ISO 9001 or the ISPO. The main measuring tools for pilotage comprise of statistical information concerning pilotage and the organisations, customer feedback surveys and financial results. The results of the survey were used as a guideline for developing a pilotage process model and indicators for measuring the effectiveness and quality of the pilotage process for the Finnish pilotage company Finnpilot Pilotage Ltd.
Access options
Buy single article
Instant access to the full article PDF.
USD 39.95
Price includes VAT (USA)
Tax calculation will be finalised during checkout.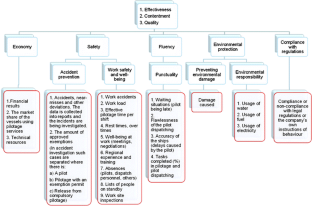 References
Brisbane Marine Pilots. 2011. Safety. http://www.brisbanepilots.com.au/safetyenvironment.php. Accessed 25 August 2011.

Darbra RM, Crawford JFE, Haley CW, Morrison RJ (2007) Safety culture and hazard risk perception of Australian and New Zealand maritime pilots. Marine Policy 31(6):736–745

Davenport TH (1993) Innovation: reengineering work through information technology. Harvard Business School Press, Boston, MA

Drouin, P. and Robin, H. 2009. The pilotage paradigm—the need for a paradigm shift. Seaways October 2009.

EFQM. 2011. The EFQM Excellence Model. http://www.efqm.org/en/tabid/132/default.aspx. Accessed 25 August 2011.

EMPA. 1997. Charter on Pilotage. 32nd EMPA General Meeting. European Maritime Pilots Association.

EMPA. 1998. Code of Best Practice for European Maritime Pilots. 33rd EMPA General Meeting. European Maritime Pilots Association.

Faisal A, Ayman A (2012) A business process modelling-based approach to investigate complex processes: software development case study. Business Process Management Journal 18(1):122–137

Government Decree on Pilotage 246/2011.

IALA. 2007. Recommendation P-137 On Quality management for competent pilotage authorities and pilotage service providers. International Association of Marine Aids to Navigation and Lighthouse Authorities.

IMO. 2000. Guidelines for voyage planning. Resolution A.893(21). International Maritime Organization.

IMO. 2004. Recommendations on training and certification and on operational procedures for maritime pilots other than deep-sea pilots. Resolution A.960(23). International Maritime Organization.

ISM. 2010. International Safety Management (ISM) Code. IMO Resolution A.741(18) as amended by MSC.104(73), MSC.179(79), MSC.195(80) and MSC.273(85). International Maritime Organization.

ISO. 2008a. ISO 9000 Introduction and support package: guidance on the concept and use of the process approach for management systems. Secretariat of ISO/TC 176/SC 2.

ISO. 2008b. ISO 9001:2008 Quality management systems—requirements.

ISPO. 2009. International Standard for Maritime Pilot Organizations. Part A. ISPO International Users Group.

ISPO. 2010. Guidelines to the International Standard for Maritime Pilot Organizations. Part B. ISPO International Users Group.

ISPO. 2011. Background to ISPO. http://www.ispo-standard.com/home/Background-to-ISPO/. Accessed 8 June 2011.

Kujala P, Hänninen M, Arola T, Ylitalo J (2009) analysis of the marine traffic safety in the Gulf of Finland. Reliability Engineering and System Safety 94(8):1349–1357

Kuronen J, Tapaninen U (2010) Evaluation of maritime safety policy instruments. WMU Journal of Maritime Affairs 9(1):45–61

Larjo K, Loveson K, Lehtosalo J (2010) Practices in pilotage—past, present and future. Safety Study S1/2004M b. Safety Investigation Authority, Helsinki

Lützhöft MH, Nyce JM (2006) Piloting by heart and by chart. Journal of Navigation 59:221–237

Marine Board of the National Research Council (1994) Minding the helm—marine navigation and piloting. Committee on Advances in Navigation and Piloting National Academic Press, Washington, D.C

Norros L, Nuutinen M, Larjo K (2006) Piloting practices and culture in the light of accidents. Safety Study S 1/2004M. Safety Investigation Authority, Helsinki

Office of the Auditor General of Canada. 2008. Special examination report. Pacific Pilotage Authority. Report presented to the Board of Directors 27 November 2008. Canada.

Pacific Pilotage Authority. 2009. Annual Report 2009. Canada.

Pilotage Act 940/21.11.2003.

Port Skills and Safety. 2000a. National Occupational Standards for Marine Pilots. Approved version July 2000.

Port Skills and Safety. 2000b. Syllabus for Marine Pilot Training. http://www.portskillsandsafety.co.uk/sites/default/files/documents/Marine_Pilot_Training_Full_syllabus.pdf. Accessed 25 August 2011.

Tari JJ (2008) Self-assessment exercises: a comparison between a private sector organisation and higher education institutions. International Journal of Production Economics 114:105–118

Ulusçu ÖS, Özbaş B, Altıok T, Or İ (2009) Risk analysis of the vessel traffic in the Strait of Istanbul. Risk Analysis 29(10):1454–1472

van Erve P, Bonnor N (2006) Can the shipping–aviation analogy be used as an argument to decrease the need for maritime pilotage? Journal of Navigation 59:359–363
Acknowledgements
The e-mail survey was carried out as a part of a research project called Effectiveness of Pilotage that was supported by Finnpilot Pilotage Ltd. We would like to thank all the participating pilotage organisations for participating in our survey and sharing their insight.
About this article
Cite this article
Kunnaala, V., Lappalainen, J. & Tapaninen, U. Review of pilotage processes and indicators in pilotage organisations. WMU J Marit Affairs 12, 99–114 (2013). https://doi.org/10.1007/s13437-012-0033-2
Received:

Accepted:

Published:

Issue Date:
Keywords
Pilotage

Pilotage organisations

Pilotage process

Indicators