Abstract
The level of ecological culture of the population is a significant element of environmental safety. The paper presents the results of a survey among residents of Yakutsk and Zhatay urban districts of the Russian Federation on environmental safety in these localities. Subsequent to this, the degree of environmental safety of interviewees was determined. The survey covered 527 respondents, the reliability of the data obtained was 95%, the sampling error in the various regulations varied between 2.87 and 4.98. Responses to all 14 questions in the questionnaire were analyzed. The cognitive component (environmental awareness of the situation across the region) was pronounced more than other components. It is highly typical for most residents in all settlements, comprising 65.9%. The second place (42.3%) belongs to the axiological component (motivation to ensure a stable environment), and the most challenging was the activity-based component (active measures to ensure environmental safety). The findings of this study are essential primarily to public servants at various levels of legislative and executive authorities, as well as employees of environmental safety services, in identifying effective measures for improving general environmental literacy. Research has shown gaps and white spots in the ecological culture of the inhabitants of Yakutsk and Zhatay of various ages. Further corrective measures by the responsible authorities are required for sustainable ecosystem development.
Access options
Buy single article
Instant access to the full article PDF.
USD 39.95
Price excludes VAT (USA)
Tax calculation will be finalised during checkout.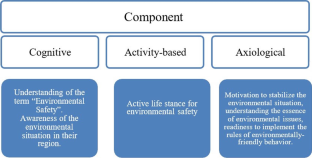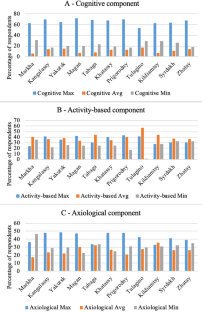 Data availability
Data will be available on request.
References
Abdimanapov B, Sabdenalieva G, Muzdybayeva K, Tastanova B, Kaimuldinova K (2014) Conceptual framework for ensuring security of the territory and the management of natural risks. World Appl Sci J 30(5):592–596. https://doi.org/10.5829/idosi.wasj.2014.30.05.14057

Alkaher I, Goldman D (2018) Characterizing the motives and environmental literacy of undergraduate and graduate students who elect environmental programs–a comparison between teaching-oriented and other students. Environ Educ Res 24(7):969–999. https://doi.org/10.1080/13504622.2017.1362372

Bolisetty S, Peydayesh M, Mezzenga R (2019) Sustainable technologies for water purification from heavy metals: review and analysis. Chem Soc Rev 48(2):463–487. https://doi.org/10.1039/C8CS00493E

Bulat PV, Volkov KN (2016) Detonation jet engine. Part II – construction features. Int J Environ Sci Educ 11(12):5020–5033

Cepeda M, Schoufour J, Freak-Poli R, Koolhaas CM, Dhana K, Bramer WM, Franco OH (2017) Levels of ambient air pollution according to mode of transport: a systematic review. Lancet Public Health 2(1):e23–e34. https://doi.org/10.1016/S2468-2667(16)30021-4

Dronov AA (2009) The formation of life safety culture of students of secondary vocational education institutions. Ph. Candidate Dissertation. Voronezh State Pedagogical University, Voronezh

Durnev RA, Ponomarev AI, Grishchenko AA (2010) On the foundations of the formation of environmental safety culture of the Russian Federation population. Civil Sec Tech 7(3):40–51

Elena VA (2015) The development of ecological culture of students in the design and creative activity. Procedia-Soc Behav Sci 191:2329–2333. https://doi.org/10.1016/j.sbspro.2015.04.247

Golubeva IA (2011) Educational and game activities as a means of forming life safety in university students. Ph. Candidate Dissertation. Federal State Budget Educational Institution of Higher Professional Education "Stavropol State University", Stavropol

Grinko OI, Grigorieva OI (2020a) Impact of forest fires on public health. In: Improving the efficiency of the forest complex. Proceedings of the Sixth All-Russian National Scientific and Practical Conference with International Participation, Petrozavodsk, pp 49–50

Grinko OI, Grigorieva OI (2020b) Lightning as a cause of forest fires. In: Improving the efficiency of the forest complex. Proceedings of the Sixth All-Russian National Scientific and Practical Conference with International Participation, Petrozavodsk, pp 50–52

He M, Yang S, Zhao J, Collins C, Xu J, Liu X (2019) Reduction in the exposure risk of farmer from e-waste recycling site following environmental policy adjustment: a regional scale view of PAHs in paddy fields. Environ Int 133:105136. https://doi.org/10.1016/j.envint.2019.105136

Hryhoruk P, Khrushch N, Grygoruk S (2021) Environmental safety assessment: a regional dimension. In: IOP Conference Series: Earth and Environmental Science (Vol. 628, No. 1), IOP Publishing, Bristol, p 012026

Huber F, Herrmann A, Morgan RE (2001) Gaining competitive advantage through customer value oriented management. J Consum Mark 18(1):41–53. https://doi.org/10.1108/07363760110365796

Ivanova TA (2008) Pedagogical conditions of the formation of a culture of safe living activities of orphans in a boarding school. Ph. Candidate Dissertation. Stavropol State University, Vladikavkaz

Jiang Y, Xia Q, Zhou P, Jiang S, Diwan VK, Xu B (2021) Environmental hazards increase the fall risk among residents of long-term care facilities: a prospective study in Shanghai, China. Age Aging 50(3):875–881. https://doi.org/10.1093/ageing/afaa218

Karimova BZ (2018) The problems of ecological culture formation, healthy and safe lifestyle. Web Scholar 1(2):89–96

Karimova BZ, Alimbekova SK, Mukhatova AD (2018) Ecological problems in mass media in Kazakhstan. J Pharm Sci Res 10(6):1422–1427

Korotta-Gamage SM, Sathasivan A (2017) A review: Potential and challenges of biologically activated carbon to remove natural organic matter in drinking water purification processes. Chemosphere 167:120–138. https://doi.org/10.1016/j.chemosphere.2016.09.097

Koval V, Mikhno I (2019) Ecological sustainability preservation of national economy by waste management methods. Econ Ecol Socium 3(2):30–40. https://doi.org/10.31520/2616-7107/2019.3.2-4

Kuthe A, Keller L, Körfgen A, Stötter H, Oberrauch A, Höferl KM (2019) How many young generations are there?–A typology of teenagers' climate change awareness in Germany and Austria. J Environ Educ 50(3):172–182. https://doi.org/10.1080/00958964.2019.1598927

Mazzeo A, Huneeus N, Ordoñez C, Orfanoz-Cheuquelaf A, Menut L, Mailler S, Ordoñez C, Orfanoz-Cheuquelaf A, Menut L, Mailler S, Valari M, Denier van der Gon H, Gallardo L, Muñoz R, Donoso R, Galleguillos M, Osses M, Tolvett S (2018) Impact of residential combustion and transport emissions on air pollution in Santiago during winter. Atmos Environ 190:195–208. https://doi.org/10.1016/j.atmosenv.2018.06.043

Mishra AR, Rani P, Mardani A, Pardasani KR, Govindan K, Alrasheedi M (2020) Healthcare evaluation in hazardous waste recycling using novel interval-valued intuitionistic fuzzy information based on complex proportional evaluation method. Comput Ind Eng 139:106140. https://doi.org/10.1016/j.cie.2019.106140

Nesgovorova NP, Saveliev VG, Bogdanova EP (2015) Methodology for assessing the components of environmental safety culture in university students. Modern Problems Sci Ed 6:1–8

Pauli BJ (2019) Flint fights back: environmental justice and democracy in the Flint water crisis. MIT Press, Cambridge

Puspita WA, Sulistyorini MP, Wibowo B (2020) Learning clean, healthy and safe life behavior in inclusive early childhood education. In: International Conference on Early Childhood Education and Parenting 2009 (ECEP 2019), Atlantis Press, pp. 270–274

Richer AR, Bil JN, Cant JP, Osborne VR (2017) The potential relationship between the incidence of neurodegenerative disease and trace mineral composition in the drinking water of rural residents of Ontario. J Water Resour Prot 9(08):77376. https://doi.org/10.4236/jwarp.2017.98059

Saltan F, Divarci OF (2017) Using blogs to improve elementary school students' environmental literacy in science class. Eur J Educ Res 6(3):347–355. https://doi.org/10.12973/eu-jer.6.3.347

Samburova M, Safonov V, Avdushko S (2021) Ecological and biological features of the primrose distribution in Transbaikalia as the model territory of Eastern Siberia. Bot Rev 88:50–62. https://doi.org/10.1007/s12229-021-09264-0

Schedy A, Oetken M (2020) Comprehensive elimination of oil spills on water surfaces by a graphene-oil vacuum cleaner. CHEMKON 27(8):384–387. https://doi.org/10.1002/ckon.20190005

Sheldon TL, Sankaran C (2017) The impact of Indonesian forest fires on Singaporean pollution and health. Am Econ Rev 107(5):526–529. https://doi.org/10.1257/aer.p20171134

Si Z, Regnier-Davies J, Scott S (2018) Food safety in urban China: perceptions and coping strategies of residents in Nanjing. China Inform 32(3):377–399. https://doi.org/10.1177/0920203X17742887

Singh M, Thind PS, John S (2018) Health risk assessment of the workers exposed to the heavy metals in e-waste recycling sites of Chandigarh and Ludhiana, Punjab, India. Chemosphere 203:426–433. https://doi.org/10.1016/j.chemosphere.2018.03.138

Srigboh RK, Basu N, Stephens J, Asampong E, Perkins M, Neitzel RL, Fobil J (2016) Multiple elemental exposures amongst workers at the Agbogbloshie electronic waste (e- waste) site in Ghana. Chemosphere 164:68–74. https://doi.org/10.1016/j.chemosphere.2016.08.089

State Council-Khase of the Republic of Adygea (2013) The results of the survey to study the opinion of the population "About the state of ecological safety in the Republic of Adygea". https://gshra.ru/socially/socially_51.html. Accessed 12 Nov 2021

Szczytko R, Stevenson K, Peterson MN, Nietfeld J, Strnad RL (2019) Development and validation of the environmental literacy instrument for adolescents. Environ Educ Res 25(2):193–210. https://doi.org/10.1080/13504622.2018.1487035

Tripathy S, Khan A (2020) Efficiency of organic farming to maintain the food security and doubling farmer's income in India. Int J Sci Adv Res Tech 6(2):324–327

Vertakova Y, Plotnikov V (2017) Problems of sustainable development worldwide and public policies for green economy. Econ An-XXI 166(7–8):4–10

Yakubu OH (2018) Particle (soot) pollution in Port Harcourt Rivers State, Nigeria-double air pollution burden? Understanding and tackling potential environmental public health impacts. Environments 5(1):2. https://doi.org/10.3390/environments5010002

Yu Y, Li L, Yu L, Lin B, Chen X, Li H, Han Q, Ge Q, yan Li H, (2017) Effect of exposure to decabromodiphenyl ether and tetrabromobisphenol A in combination with lead and cadmium on soil enzyme activity. Int Biodeterior Biodegrad 117:45–51. https://doi.org/10.1016/j.ibiod.2016.10.032

Yu Y, Zhu X, Li L, Lin B, Xiang M, Zhang X, Chen X, Yu Z, Wang Z, Wan Y (2019) Health implication of heavy metals exposure via multiple pathways for residents living near a former e-waste recycling area in China: a comparative study. Ecotoxicol Environ Saf 169:178–184. https://doi.org/10.1016/j.ecoenv.2018.10.115

Yuan J, Lu Y, Wang C, Cao X, Chen C, Cui H, Zhang M, Wang C, Li X, Johnson AC, Sweetmane AJ, Du D (2020) Ecology of industrial pollution in China. EHS 6(1):1779010. https://doi.org/10.1080/20964129.2020.1779010

Zhang X, Dai R, Sun H, Zhang Y, Liu D, Wang M, Sun M, Yu H (2020) Mandelic acid- derived organogelators: applications of their solid form in rapid and efficient remediation of marine oil spills. Mat Chem Front 4(1):222–230. https://doi.org/10.1039/C9QM00603F

Zhao X, Li Z, Wang D, Li J, Zou B, Tao Y, Lei L, Qiao F, Huang J (2019) Assessment of residents' total environmental exposure to heavy metals in China. Sci Rep 9(1):16386. https://doi.org/10.1038/s41598-019-52649-w

Zhu Q, Liu Y, Jia R, Hua S, Shao T, Wang B (2018) A numerical simulation study on the impact of smoke aerosols from Russian forest fires on the air pollution over Asia. Atmos Environ 182:263–274. https://doi.org/10.1016/j.atmosenv.2018.03.052
Acknowledgements
The work was carried out within the confines of the scientific school "Advances in lumber industry and forestry."
Ethics declarations
Ethics approval
The authors declare that the work is written with due consideration of ethical standards. The study was conducted in accordance with the ethical principles approved by the North-Eastern Federal University in Yakutsk (Protocol No 1 of 12.03.2013).
Consent to participate
All the respondents have given their written informed consent for participation in the research.
Consent for publication
All the respondents have given their consent for publication of the research results.
Competing interests
The authors declare no competing interests.
Additional information
Publisher's note
Springer Nature remains neutral with regard to jurisdictional claims in published maps and institutional affiliations.
Appendix. Survey participants' questionnaire
Appendix. Survey participants' questionnaire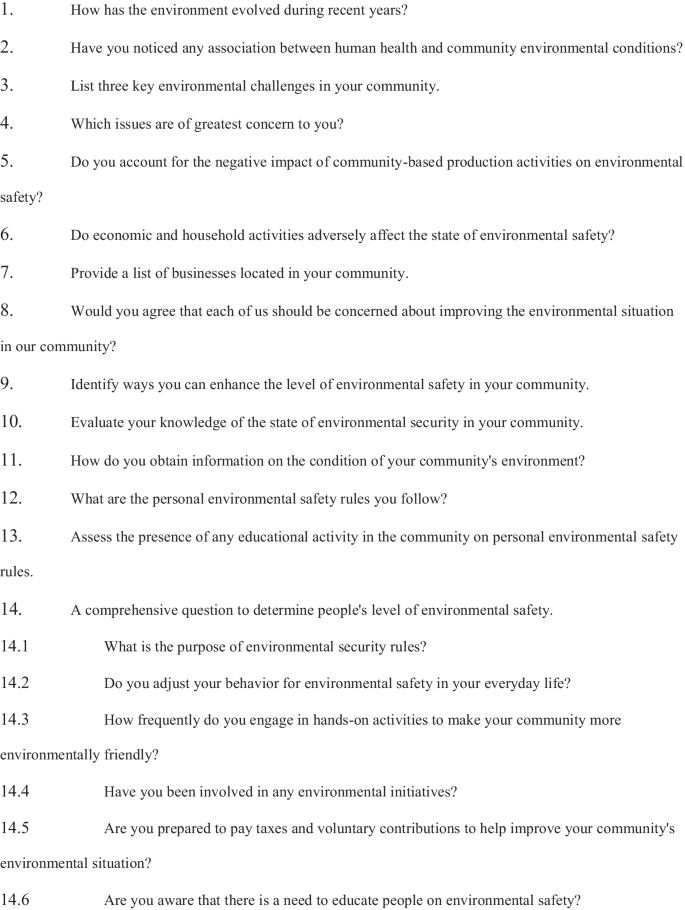 About this article
Cite this article
Krivoshapkina, O., Yakovleva, A., Pavlova, A. et al. Environmental safety of residents of Yakutsk and Zhatay: evidence from sociological research. J Environ Stud Sci 12, 566–576 (2022). https://doi.org/10.1007/s13412-022-00764-y
Accepted:

Published:

Issue Date:

DOI: https://doi.org/10.1007/s13412-022-00764-y
Keywords
Sociological research

Personal environmental safety

Cognitive

Activity-based

Axiological components