Abstract
The 'Greening of Religion' (GoR) hypothesis purports that, through some combination of critical momentum and ecological necessity, faith communities have undergone a transformation towards ecologically friendly thought and practice. To date, this claim has primarily been tested using attitudinal data, with less regard for tangible actions occurring within places of worship. This research analyzes environmental activism in places of worship across the Greater Toronto Area (GTA), based on self-published web content. The project catalogues the depth and extent of faith-based environmentalism among each group, thereby facilitating comparative analysis and establishing a baseline for longitudinal evaluation of the 'Greening of Religion' hypothesis. A new dataset was created by gathering environmental content shared online by places of worship belonging to major faiths in the GTA (n = 1806). The raw data was coded into 4 overarching categories of environmental activity: Worship, Community, Operations, and Environmental Justice — each containing numerous action types. The data was subjected to tabulation and chi-square analysis to assess differences between and within each community. The analysis shows substantive interfaith differences in the extent, depth, and focus(es) of environmental action. Though a diverse range of action was observed, only 23.5% of places of worship were observed undertaking these initiatives. Though not negligible, environmentalism is clearly not yet a primary concern of the region's faith communities. However, the diversity and extent of environmentalism documented provides valuable insights in its own right, while faith-specific analyses suggest points of departure for targeted research. Notably, Mainline Protestant, Jewish, and Buddhist communities all showed extensive environmental activity compared to other faiths. This research develops a novel approach to evaluating faith-based environmental action at a large scale, and establishes a necessary baseline for evaluating the GoR hypothesis. Capturing both explicit and implicit environmentalism likewise advances a more complete approach to evaluating environmental action. The study's findings are revealing, but also stimulate discussion of confounding factors that content analysis cannot capture — socioeconomic, theological, and otherwise — as topics for further research.
Access options
Buy single article
Instant access to the full article PDF.
USD 39.95
Price excludes VAT (USA)
Tax calculation will be finalised during checkout.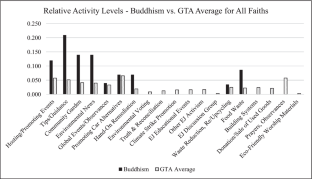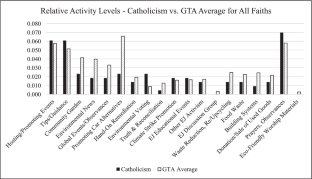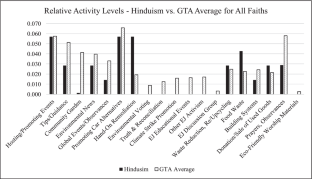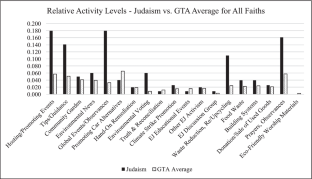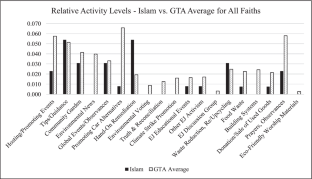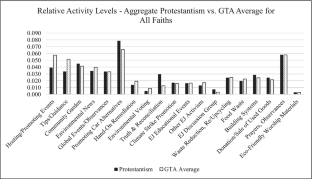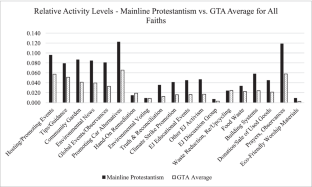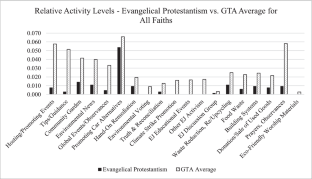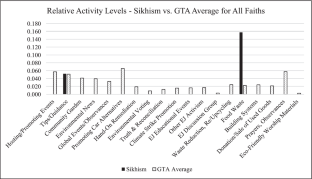 References
Allison E (2019) The reincarnation of waste: a case study of spiritual ecology activism for household solid waste management: the Samdrup Jongkhar Initiative of Rural Bhutan. Religions 10(9):514

Appolloni S, Eaton H (2016) The ecology of religion: faith leaders are raising sustainability concerns. Alternatives Journal 42(1):44–47

Arbuckle M, Konisky D (2015) The role of religion in environmental attitudes. Soc Sci Q 96(5):1244–1263

Artinian-Kaiser, Rebecca G (2015) The resurrection and the restoration of nature: towards a theological framework for Christian environmental action through ecological restoration. Dissertation, University of Chester.

Bauck W (2019) The dominant theological issue: environmentalist Bill McKibben wants your pastor at the global climate strike. Washington Post. https://www.washingtonpost.com/religion/2019/09/19/dominant-theological-issue-environmentalist-bill-mckibben-wants-your-pastor-global-climate-strike/ Accessed 22 November 2020

Baugh A (2019) Explicit and embedded environmentalism: challenging normativities in the greening of religion. Worldviews Glob Religions Cult Ecol 23(2):93–112

Biviano E (2012) Worldviews on fire: understanding the inspiration for congregational religious environmentalism. Cross Currents 62(4):495–511

Bomberg E, Hague A (2018) Faith-based climate action in the Christian congregations: mobilization and spiritual resources. Local Environ 23(5):582–596

Bryant M, Gilliat-Ray S (2011) Are British Muslims "Green"? An overview of environmental activism among muslims in Britain. J Study Religion Nat Cult 5(3):284–306

Buddhist.ca. n.d. Buddhist centres in Ontario. http://www.buddhist.ca/buddhism_religion_canada_links.html#ontario Accessed 12 November 2018

Chauhan S, das Rama S, Haigh M, Rita N (2012) Awareness vs intentionality: exploring education for sustainable development in a British Hindu community. Sustain Dev 20:361–371

Chung M, Kang H, Dietz T, Jaimes P, Liu J (2019) Activating values for encouraging pro-environmental behavior: the role of religious fundamentalism and willingness to sacrifice. J Environ Stud Sci 9(4):371–385

Chuvieco E, Burgui M, Gallego-Álvarez I (2016) Impacts of religious beliefs on environmental indicators. Worldviews : Environ Cult, Religion 20(3):251–271

City of Burlington (2018) Places of worship. https://www.burlington.ca/en/live-and-play/places-of-worship.asp Accessed 26 October 2018

City of Pickering (2021) Business directory. https://opendata.pickering.ca/datasets/DurhamRegion::business-directory?geometry=-81.521%2C43.806%2C-76.248%2C44.496 Accessed 26 October 2018

City of Toronto. n.d. Toronto history museums – spiritual Toronto. https://www.toronto.ca/explore-enjoy/history-art-culture/museums/virtual-exhibits/textures-of-a-lost-toronto/spiritual-toronto/ Accessed 22 March 2021

City of Toronto (2013) 2011national household survey backgrounder. https://www.toronto.ca/wp-content/uploads/2017/10/9793-2011-NHS-Backgrounder-Immigration-Citizenship-Place-of-Birth-Ethnicity-Visible-Minorities-Religion-and-Aboriginal-Peoples-.pdf Accessed 22 March 2021

City of Toronto (2020) Places of worship. https://open.toronto.ca/dataset/places-of-worship/ Accessed 26 October 2018

Coalition on the Environment and Jewish Life (2014) The Jewish environmental and energy imperative. https://web.archive.org/web/20150408083421/http://www.coejl.org/jecc/declaration/ Accessed 15 May 2021

Cranston C (2019) Eco churches, eco synagogues, eco Hollywood: 21st-century practical responses to Lynn White, Jr.'s and Andrew Furman's 20th-century readings of environments in crisis. In: Slovic S, Rangarajan S, Sarveswaran V (eds) Routledge Handbook of Ecocriticism and Environmental Communication, 1st edn. Routledge, London, pp 36-53

Darlington S (2018) Environmental buddhism across borders. J Glob Buddhism 19:77–93

Dekker P, Ester P, Nas M (1997) Religion, culture and environmental concern: an empirical cross-national analysis. Social Compass 44(3):443–458

Desjardins M, Desjardins E (2009) Food that builds community: the Sikh Langar in Canada. Cuizine: The Journal of Canadian Food Studies 1(2). https://doi.org/10.7202/037851ar

Dicastery for Promoting Integral Human Development (2021) About Laudato Si' Action Platform. https://laudatosiactionplatform.org/about/. Accessed 20 Feb 2022

Eckberg D, Blocker T (1989) Varieties of religious involvement and environmental concerns: testing the Lynn White thesis. J Sci Study Relig 28(4):509–517

EcoSikh (2014) EcoSikh issues first Sikh statement on climate change. http://www.ecosikh.org/first-sikh-statement-on-climate-change-presented-by-ecosikh/. Accessed 15 May 2021

Edwards C (2011) Milton Ontario churches, places of worship, temples, mosques. http://www.miltonweb.ca/local-information/milton-ontario-churches-places-of-worship-temples-mosques.html. Accessed 28 Nov 2018

Ester P, Seuren B (1992) Religious beliefs and environmental attitudes: an empirical test of the Lynn White hypothesis in fourteen nations. Sociale Wetenschappen 35(1):20–39

Farrell J (2013) Environmental activism and moral schemas: cultural components of differential participation. Environ Behav 45(3):399–423

Faith and the Common Good (2015) Extreme weather resilience hub case studies fall 2015. https://d3n8a8pro7vhmx.cloudfront.net/faithcommongood/pages/229/attachments/original/1519967856/Resilience-Hub-Case-Studies-Oct-5-FINAL.pdf?1519967856. Accessed 23 Aug 2020

Faith and the Common Good (2018) Greening Sacred Spaces certification program. https://d3n8a8pro7vhmx.cloudfront.net/faithcommongood/pages/31/attachments/original/1516047403/GSS_certification_2018_printable.pdf?1516047403. Accessed 23 Aug 2020

Frascaroli F, Fjeldsted T (2017) From abstractions to actions: re-embodying the religion and conservation nexus. J Study Religion Nat Cult 11(4):511–534

GaramChai (n.d.) Indian temples in the Greater Toronto Area. http://www.garamchai.com/canada/GTATemples.htm. Accessed 22 Oct 2018

GaramChai (n.d.a) Gurdwara in GTA. http://www.garamchai.com/canada/GTAgurudwara.htm. Accessed 22 Oct 2018

GaramChai (n.d.b) Mosques. http://www.garamchai.com/canada/mosques.htm. Accessed 22 Oct 2018

Gateway to Sikhism Foundation (n.d.) Gurudwaras in Ontario, Canada. https://www.allaboutsikhs.com/gurudwaras/world-gurudwaras/gurudwaras-in-ontariocanada/. Accessed 22 Oct 2018

Gibson-Wood H, Wakefield S (2013) "Participation", White Privilege and environmental justice: understanding environmentalism among Hispanics in Toronto. Antipode 45(3):641–662

Gottlieb R (2006) A greener faith: religious environmentalism and our planet's future. Oxford University Press

Gottlieb R (2009) Religion and the environment. In: Hinnells J (ed) The Routledge Companion to the Study of Religion, 2nd edn. Routledge, London, pp 492–508

Graham M (2020) Thomas Berry and the reshaping of catholic environmentalism. Worldviews : Environment, Culture, Religion 24(2):156–183

Hackett C, Smith G, Gecewicz C, Schwadel P, Sciupac E (2018) Choose the method for aggregating religious identities that is most appropriate for your research. J Sci Study Relig 57(4):807–816

Hancock R (2019) Muslim environmentalists, activism, and religious duty. In: Peucker M, Kayikci MR (eds) Muslim volunteering in the West: between Islamic ethos and citizenship. Palgrave Macmillan, Cham, Switzerland, pp 141–160. https://doi.org/10.1007/978-3-030-26057-6

Hancock R (2020) Environmental conversions and Muslim activists: constructing knowledge at the intersection of religion and politics. Soc Mov Stud 19(3):287–302

Haluza-DeLay R (2014) Religion and climate change: varieties in viewpoints and practices: Religion and climate change. Wiley Interdis Rev Clim Change 5(2):261–279

Hiltz F, Farris S, Pettipas G, Paterson G, Bisson P (2015) Response of the churches to the Truth and Reconciliation Commission of Canada [Press Release]. https://www.anglican.ca/tr/response-of-the-churches-to-the-truth-and-reconciliation-commission-of-canada/. Accessed 22 March 2021

Hitzhusen GE (2007) Judeo-Christian theology and the environment: moving beyond scepticism to new sources for environmental education in the United States. Environmental Education Research 13(1):55–74

Immigration Peel (2018) Faith and worship. https://www.immigrationpeel.ca/en/living/faith-and-worship.aspx. Accessed 26 Oct 2018

Islam MS (2012) Old philosophy, new movement: the rise of the Islamic Ecological Paradigm in the Discourse of Environmentalism. Nat Cult 7(1):72–94

Jain P (2011) Dharma and ecology of Hindu communities: sustenance and sustainability, 1st edn. Routledge, New York

Javanaud K (2020) The world on fire: a Buddhist response to the environmental crisis. Religions 11(8):381

Jenkins W, Berry E, Kreider L (2018) Religion and climate change. Annu Rev Environ Resour 43(1):85–108

Koehrsen J (2021) Muslims and climate change: how Islam, Muslim organizations, and religious leaders influence climate change perceptions and mitigation activities. Wiley Interdisciplinary Reviews. Climate Change 12(3):e702. https://doi.org/10.1002/wcc.702

Li J, Wang D, Yin H, Zhaxi D, Jiagong Z, Schaller GB, Mishra C, McCarthy TM, Wang H, Wu L, Xiao L, Basang L, Zhang Y, Zhou Y, Lu Z (2014) Role of Tibetan Buddhist Monasteries in Snow Leopard Conservation. Conserv Biol 28(1):87–94

LocalWiki n.d.. Buddhist temples: Toronto. https://localwiki.org/toronto/Buddhist_Temples. Accessed 12 Nov 2018

Loy D, Bodhi B, Stanley J (2015) The time to act is now: a Buddhist declaration on climate change. https://oneearthsangha.org/articles/buddhist-declaration-on-climate-change/. Accessed 15 May 2021

Luthy T (2019) Bhajan on the Banks of the Ganga: increasing environmental awareness via devotional practice. J Dharma Stud 1(2):229–240

Mangunjaya FM, Praharawati G (2019) Fatwas on boosting environmental conservation in Indonesia. Religions 10(10):570

McKay JE, Mangunjaya FM, Dinata Y, Harrop SR, Khalid F (2014) Practise what you preach: a faith-based approach to conservation in Indonesia. Oryx 48(1):23–29

Mooney N (2018) Sikh millennials engaging the earth: Sikhi, environmental activism, and eco-enchantment. Sikh Formations 14(3–4):315–338

Nche G (2020) The church climate action: identifying the barriers and the bridges. Transformation 37(3):222–241

Nir D (2006) A critical examination of the Jewish environmental law of bal tashchit, "do not destroy." Georgetown Int Environ Law Rev 18(2):335–353

Ontario Heritage Trust (n.d) Places of worship inventory. https://www.heritagetrust.on.ca/en/places-of-worship/places-of-worship-database/inventory. Accessed 25 Jan 2019

Oxford Centre for Hindu Studies (2015) Hindu declaration on climate change. http://www.hinduclimatedeclaration2015.org/english. Accessed 15 May 2021

Perin R (2017) The many rooms of this house: diversity in Toronto's places of worship since 1840. University of Toronto Press, Toronto

Pew Research Group (2015) America's changing religious landscape [Report]. https://www.pewforum.org/wp-content/uploads/sites/7/2015/05/RLS-08-26-full-report.pdf. Accessed 18 Jan 2021

Prill SE (2015) Sikhi and sustainability: Sikh approaches to environmental advocacy. Sikh Formations 11(1–2):223–242

Qadeer M, Chaudhry M (2000) The Planning system and the development of mosques in the Greater Toronto area. Plan Canada 40(20):17–21

Regional Municipality of York (2020) York Region 2017 Business Directory. https://insights-york.opendata.arcgis.com/datasets/york-region-2017-business-directory. Accessed 26 Oct 2018

Sahota PS, Sajeva M, Lemon M, Brar M (2016) Learning from the Sikh Gurus: improved decision making for more sustainable futures. Philosophy Manage 15(1):21–34

Schwadel P, Johnson E (2017) The religious and political origins of Evangelical Protestants' opposition to environmental spending. J Sci Study Relig 56:179–198

Shaiko RG (1987) Religion, politics, and environmental concern: a powerful mix of passions. Soc Sci Q 68(2):244–262

Sherkat D, Ellison C (2007) Structuring the religion-environment connection: identifying religious influences on environmental concern and activism. J Sci Study Relig 46(1):71–85

Statistics Canada (2011) NHS Profile, Toronto, CMA, Ontario, 2011. https://www12.statcan.gc.ca/nhs-enm/2011/dp-pd/prof/details/page.cfm?Lang=E&Geo1=CMA&Code1=535&Data=Count&SearchText=Toronto&SearchType=Begins&SearchPR=01&A1=Religion&B1=All&Custom=&TABID=1. Accessed 12 March 2021

Statistics Canada (2016) Census profile, 2016 census Toronto [Census metropolitan area], Ontario and Canada [Country]. https://www12.statcan.gc.ca/census-recensement/2016/dp-pd/prof/details/page.cfm?Lang=E&Geo1=CMACA&Code1=535&Geo2=PR&Code2=01&SearchText=Canada&SearchType=Begins&SearchPR=01&B1=All&TABID=1&type=1 Accessed 12 March 2021

Steensland B, Park JZ, Regnerus MD, Robinson LD, Wilcox WB, Woodberry RD (2000) The measure of American religion: toward improving the state of the art. Social Forces 79(1):291–318

Strain C (2016) Engaged Buddhist practice and ecological ethics: challenges and reformulations. Worldviews: Global Religions, Culture, and Ecology 20(2):189–210

Taylor B (2011) Editor's introduction: toward a robust scientific investigation of the 'religion' variable in the quest for sustainability. J Study Religion Nat Cult 5(3):253–262

Taylor B (2016) The greening of religion hypothesis (part one): from Lynn White, Jr and claims that religions can promote environmentally destructive attitudes and behaviors to assertions they are becoming environmentally friendly. J Study Religion Nat Cult 10(3):268–305

Taylor B, Wieren G, Zaleha B (2016) Lynn White Jr and the greening-of-religion hypothesis. Conservation Biology 30(5):1000–1009

Thomases D (2017) Making Pushkar Paradise: Hindu ritualization and the environment. Int J Hindu Studies 21(2):187–210

Tirosh-Samuelson H (2017) Jewish environmental ethics: the imperative of responsibility. In: Hart J (ed) The Wiley Blackwell Companion to Religion and Ecology. Wiley-Blackwell, New York, pp 179–194

Town of Ajax (2018) Places of worship. https://opendata.ajax.ca/datasets/places-of-worship?geometry=-79.355%2C43.829%2C-78.696%2C43.916. Accessed 26 Oct 2018

Town of East Gwillimbury (n.d) Religious organizations. http://www.eastgwillimbury.ca/About_Us/Community_Links/Religious_Organizations.htm. Accessed 26 Oct 2018

Town of Whitchurch-Stouffville (2017) Places of worship. http://web.archive.org/web/20170619225927/http://www.townofws.ca/en/residents/Places-of-Worship.aspx. Accessed 26 Oct 2018

Troster L (2004) Repairing the order of creation: a Jewish perspective on environmental ethics. Environ Pract 6(1):2–6

Tseng AA (2020) Equivalent reduction in greenhouse gas emissions by Mahayana Buddhists practicing vegetarian diets. J Relig Health 59(1):598–613

UJA Federation of Greater Toronto (n.d) Directory. https://jewishtoronto.com/directory. Accessed 19 Jan 2019

Unitarian Congregations of Greater Toronto (n.d) Unitarian Congregations in the Greater Toronto Area. http://ucgt.ca/resources/communications/Close%20Encounters%20Resource%20Kit/Other%20Publications/GTA%20Directory.pdf. Accessed 30 Jan 2021

UN Environment Programme (n.d) Faith for earth initiative: strategy. https://www.unep.org/about-un-environment/faith-earth-initiative/strategy. Accessed 18 March 2021

UN Environment Programme (2021) Faith for earth achievement report 2020. https://wedocs.unep.org/bitstream/handle/20.500.11822/35071/FFEAR20.pdf?sequence=1&isAllowed=y. Accessed 18 March 2021

Vaidyanathan B, Khalsa S, Ecklund E (2018) Naturally ambivalent: religion's role in shaping environmental action. Sociol Relig 79(4):472–494

Weber M, Kalberg S (2012) The Protestant ethic and the spirit of capitalism. Routledge, New York

Wilkinson K (2012) Between God and green: how Evangelicals are cultivating a middle ground on climate change. Oxford University Press, New York

White L (1967) The historical roots of our ecologic crisis. Sci (Am Assoc Adv Sci) 155(3767):1203–1207

Yoreh T (2010) Ultra-Orthodox recycling narratives: implications for planning and policy. J Enterprising Commun 4(4):323–345

Yoreh T, Scharper SB (2020) Food waste, religion, and spirituality: Jewish, Christian, and Muslim approaches. In: Reynolds C, Soma T, Spring C, Lazell J (eds) Routledge Handbook of Food Waste, , 1st edn. Routledge, New York, pp 55–64
Acknowledgements
The authors are grateful for the insights of Vianey Leos Barajas and contributions of Shane Farrell, Timothy Paredes, Maytal Lazarovic, Freia de Waal, Grace King, Samantha Lucchetta, Molly Mignault, Ritikaa Gupta, and Mia Fortino who supported this project with supplemental research. The authors are also grateful to the anonymous reviewers whose comments improved earlier drafts of this paper. This paper draws on research funded in part by the Social Sciences and Humanities Research Council Explore Grant and University of Toronto Tri-Council Bridge Funding.
Additional information
Publisher's note
Springer Nature remains neutral with regard to jurisdictional claims in published maps and institutional affiliations.
About this article
Cite this article
Caldwell, C., Probstein, N. & Yoreh, T. Shades of green: environmental action in places of worship. J Environ Stud Sci 12, 430–452 (2022). https://doi.org/10.1007/s13412-022-00760-2
Accepted:

Published:

Issue Date:

DOI: https://doi.org/10.1007/s13412-022-00760-2
Keywords
Greening of Religion

Places of worship

Environmental action

Faith-based environmentalism