Abstract
In this analysis, we systematically review and synthesize the results of two local-level studies linking various types of carbon emissions data with nationwide measures of affluence. We focus on the socio-economic dimensions of climate policy, differentiating between different sources of greenhouse gas emissions, and between different methods of collecting greenhouse gas emissions data. We demonstrate that high levels of affluence spatially displace carbon-intensive production-based emissions. We then synthesize a framework for future research on environmental policy design to explicitly consider the method of collecting data on carbon emissions by sector and activity. We offer strategies for policymakers regarding the conditions under which specific carbon emissions data collection methods may be more relevant or appropriate than other methods. We emphasize that more equitable environmental policy objectives can be achieved by recognizing the socio-economic dimensions of carbon emissions data, thus the importance of critically examining the way those data inform policy.
Access options
Buy single article
Instant access to the full article PDF.
USD 39.95
Price includes VAT (USA)
Tax calculation will be finalised during checkout.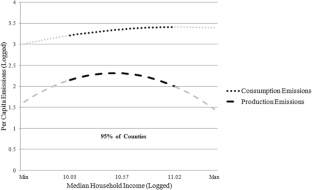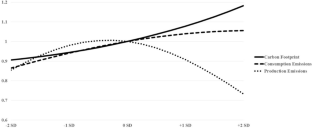 References
Adua L, York R, Schuelke-Leech B (2016) The human dimensions of climate change: a micro-level assessment of views from the ecological modernization, political economy, and human ecology perspectives. Soc Sci Res 56:26–43. https://doi.org/10.1016/j.ssresearch.2015.10.003

Bettencourt LMA, Lobo J, Helbing D, Kühnert C, West GB (2007) Growth, innovation, scaling, and the pace of life in cities. Proc Natl Acad Sci 104(17):7301–7306. https://doi.org/10.1073/pnas.0610172104

Chavez A, Ramaswami A (2011) Progress towards low-carbon: approaches for trans-boundary greenhouse gas emissions footprinting for cities. Carbon Management 2(4):471–482. https://doi.org/10.4155/cmt.11.38

Chavez A, Ramaswami A, Nath D, Guru R, Kumar E (2012) Implementing trans-boundary infrastructure-based greenhouse gas accounting for Delhi, India. J Ind Ecol 16(6):814–828. https://doi.org/10.1111/j.1530-9290.2012.00546.x

Clement MT, Pattison A, Habans R (2017) Scaling down the 'Netherlands fallacy': a local-level quantitative study of the effect of affluence on the carbon footprint across the United States. Environ Sci Policy 78:1–8. https://doi.org/10.1016/j.envsci.2017.09.001

Davis MD, Weible CM (2011) Linking social actors by linking social theories: towards improved GHG mitigation strategies. Carbon Management 2(4):483–491. https://doi.org/10.4155/cmt.11.31

Dietz T, Rosa EA, York R (2007) Driving the human ecological footprint. Front Ecol Environ 5:13–18. https://doi.org/10.1890/1540-9295(2007)5[13:DTHEF]2.0.CO;2

Dinda S (2004) Environmental Kuznets curve hypothesis: a survey. Ecol Econ 49:431–455. https://doi.org/10.1016/j.ecolecon.2004.02.011

Ehrlich P, Holdren J (1971) Impact of population growth. Science 171:1212–1217. https://doi.org/10.1126/science.171.3977.1212

Elliott JR, Clement MT (2015) Developing spatial inequalities in carbon appropriation: a sociological analysis of changing local emissions across the United States. Soc Sci Res 51:119–131. https://doi.org/10.1016/j.ssresearch.2014.12.013

Feiock RS (2013) The institutional collective action framework. Policy Stud J 41(3):397–425. https://doi.org/10.1111/psj.12023

Finn D, McCormick L (2011) Urban climate change plans: How holistic? Local Environ 16(4):397–416

Galucci M. (2013). 6 of the world's most extensive climate adaptation plans. Inside Climate News. Retrieved 15 June 2021 from https://insideclimatenews.org/news/20062013/6-worlds-most-extensive-climate-adaptation-plans/

Gurney KR, Mendoza DL, Zhou Y, Fischer ML, Miller CC, Geethakumar S, de la Rue du Can S (2009) The Vulcan Project: high-resolution fossil fuel combustion CO2 emissions fluxes for the United States. Environ Sci Tech 43(14):5535–5541. https://doi.org/10.1021/es900806c

Habans R, Clement C, Pattison A (2019) Carbon emissions and climate policy support by local governments in California: a qualitative comparison analysis at the county level. J Environ Stud Sci 9(3):255–269

Hess DJ, McKane RG (2021) Making sustainability plans more equitable: an analysis of 50 U.S. cities. Local Environment. 26(4):461–476

Hempel LC (2009) Conceptual and analytical challenges in building sustainable communities. In: Mazmanian DA, Kraft ME (eds) Toward sustainable communities: transition and transformations in environmental policy. MIT Press, Cambridge, pp 33–62. https://doi.org/10.7551/mitpress/9780262134927.003.0002

Hillman T, Ramaswami A (2010) Greenhouse gas emission footprints and energy use benchmarks for eight US cities. Environ Sci Tech 44:1902–1910. https://doi.org/10.1021/es9024194

Jones CM, Kammen DM (2014) Spatial distribution of U.S. household carbon footprints reveals suburbanization undermines greenhouse gas benefits of urban population density. Environ Sci Technol 48:895−902. https://doi.org/10.1021/es4034364

Jorgenson AK, Dietz T, Kelly O (2017) Inequality, poverty, and the carbon intensity of human well-being in the United States: a sex-specific analysis. Sustain Sci 13:1167–1174. https://doi.org/10.1007/s11625-017-0517-2

Kennedy C et al (2009) Greenhouse gas emissions from global cities. Environ Sci Tech 43(19):7297–7302. https://doi.org/10.1021/es900213p

Krause R (2011) Policy innovation, intergovernmental relations, and the adoption of climate protection initiatives by U.S cities. J Urban Aff 33(1):45–60

Leon-Corwin M, Clement MT, Smith CL (2020) Are global neighborhoods in Houston less polluted? A spatial analysis of twenty-first century urban demographics. Hum Ecol Rev 26(1):117–139

Li J, Zhang D, Su B (2019) The impact of social awareness and lifestyles on household carbon emissions in China. Ecol Econ 160:145–155. https://doi.org/10.1016/j.ecolecon.2019.02.020

Logan JR, Molotch HL (2007) Urban fortunes: the political economy of place. University of California Press, Berkeley

Mohai P, Pellow D, Timmons Roberts J (2009) Environmental justice. Annu Rev Environ Resour 34(1):405–430. https://doi.org/10.1146/annurev-environ-082508-094348

Molotch H (1976) The city as a growth machine: toward a political economy of place. Am J Sociol 82(2):309–332. https://doi.org/10.1086/226311

Pattison A, Habans R, Clement MT (2014) Ecological modernization or aristocratic conservation: exploring the impact of affluence on emissions. Soc Nat Resour 27(8):850–866. https://doi.org/10.1080/08941920.2014.911996

Pellow DN, Brehm HN (2013) An environmental sociology for the twenty-first century. Ann Rev Sociol 39(1):229–250. https://doi.org/10.1146/annurev-soc-071312-145558

Pichler PP, Zwickel T, Chávez A, Kretschmer T, Seddo J, Weisz H (2017) Reducing urban greenhouse gas footprints. Nat Sci Rep 7(1):14659. https://doi.org/10.1038/s41598-017-15303-x

Rabe B (ed) (2004) Statehouse and greenhouse: the emerging politics of American climate change policy. Brookings Institutional Press, Washington DC

Ramaswami A et al (2008) A demand- centered, hybrid life cycle methodology for city-scale greenhouse gas inventories. Environ Sci Tech 42(17):6455–6461. https://doi.org/10.1021/es702992q

Ramaswami A, Weible C, Main D, Heikkila T, Siddiki S, Duvall A, Pattison A, Bernard M (2012) A social-ecological-infrastructural systems framework for interdisciplinary study of sustainable city systems. J Ind Ecol 16(6):801–813. https://doi.org/10.1111/j.1530-9290.2012.00566.x

Russo C, Pattison A (2016) Climate action planning: An intersectional approach to the urban equity dilemma. In: Godfrey P, Torres D (eds) Systemic crises of global climate change: Intersections of race, class, and gender. Routledge, New York, pp 250–262

Russo C, Pattison A (2017) The pitfalls and promises of climate action plans: transformative resilience strategy in U.S. cities. In: Caniglia BS, Vallée M, Frank BF (eds) Resilience, environmental justice and the city. Routledge, New York, pp 177–194

Shewmake S, Okrent A, Thanrew L, Vandenbergh M (2015) Predicting consumer demand responses to carbon levels. Ecol Econ 119:168–180. https://doi.org/10.1016/j.ecolecon.2015.08.007

Ummel K (2014) Who Pollutes? A household-level database of America's greenhouse gas footprint. Center for Global Development Working Paper 381. https://papers.ssrn.com/sol3/papers.cfm?abstract_id=2622751#

Ummel K (2016) Impact of CCL's proposed carbon fee and dividend policy: a high- resolution analysis of the financial effect on U.S. households. Citizens' Climate Lobby Working Paper v1.6. https://citizensclimatelobby.org/wp-content/uploads/2016/02/Household-Impact-Study-Ummel.pdf. Accessed 11 July 2021

Wang R (2013) Adopting local climate policies: what have California cities done and why? Urban Aff Rev 49(4):593–613

Woodruff SC, Stults M (2016) Numerous strategies but limited implementation guidance in US local adaptation plans. Nat Clim Chang 6(8):796–804

York R, Rosa E, Dietz T (2003) Footprints on the earth: the environmental consequences of modernity. Am Sociol Rev 68:279–300. https://doi.org/10.2307/1519769
About this article
Cite this article
Pattison, A., Clement, M.T. & Habans, R. The uneven weight of carbon on policy: towards a framework for understanding how greenhouse gas inventories can inform equitable climate policy design. J Environ Stud Sci (2021). https://doi.org/10.1007/s13412-021-00713-1
Keywords
Carbon emissions and affluence

Direct indirect measures of carbon emissions

Policy