Abstract
The current lack of comprehensive federal climate policy highlights the critical need for effective subnational climate policy and programs. We describe our efforts to create and cultivate a community-based multi-stakeholder group centered around local climate change planning and advocacy in a small, rural New York municipality. The literature on sustainability planning emphasizes the importance of collaborative work to build new capacities, develop knowledge, and create community commitment over the long term to advocate for municipal policies that prioritize climate change mitigation and resilience. However, case studies of rural community contexts are lacking in the literature, and rural communities may not have the planning and other resources found in the municipal offices of larger, urban communities. We argue that higher education institutions, especially those situated in small rural communities, have a vital role in supporting the climate strategies of local actors and can develop productive partnerships through research and co-curricular education. We discuss several challenges to effective campus-community partnerships, including the need to balance student engagement in community-based research with the traditional liberal arts model of education, engaging and sustaining the participation of community partners, and differential access to resources in rural spaces.
This is a preview of subscription content,
to check access.
Access this article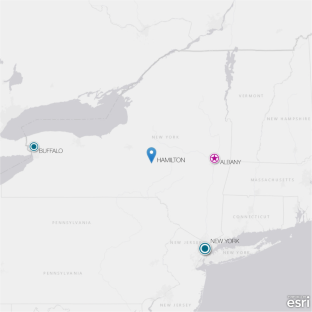 References
Anonymous (n.d.) Community resilience building. Retrieved November 13, 2020. https://www.communityresiliencebuilding.com/

Association for the Advancement of Sustainability in Higher Education (2019) Sustainable Campus Index. https://www.aashe.org/sustainable-campus-index/. Accessed 20 Aug 2020

Boswell MR, Greve AI, Seale TL (2019) Climate action planning: a guide to creating low-carbon, resilient communities. Island Press

Burns DW (2016) Mayors climate protection center. In: U. S. Conf. Mayors. https://www.usmayors.org/programs/mayors-climate-protection-center/. Accessed 20 Aug 2020

Anonymous New York's Climate Leadership and Community Protection Act (CLCPA). In: NY Clim. Act. https://climate.ny.gov/. Accessed 2 Jul 2020

Cole LW (1995) Macho law brains, public citizens, and grassroots activists: three models of environmental advocacy. Va Environ Law J 14:687–710

Colgate University Sustainability | Colgate University. https://www.colgate.edu/about/sustainability. Accessed 28 Aug 2020a

Colgate University Upstate Institute | Colgate University. https://www.colgate.edu/about/offices-centers-institutes/centers-institutes/upstate-institute. Accessed 28 Aug 2020b

Dudrick J, Henke CR (2016) The summer field school program after ten years: an assessment of student and community partner outcomes. Colgate University, Hamilton

Dukes EF, Firehock KE, Birkhoff JE (eds) (2011) Community-based collaboration: bridging socio-ecological research and practice. University of Virginia Press, Charlottesville

Elgin D, Pattison A, Weible C (2012) Policy analytical capacity inside and outside government: a case study of Colorado climate and energy issues. Can Polit Sci Rev 6:101–116

Frickel S (2004) Chemical consequences: environmental mutagens, scientist activism, and the rise of genetic toxicology. Rutgers University Press, New Brunswick

HCPWG Hamilton (NY) Climate Preparedness Working Group. https://sites.google.com/a/colgate.edu/hamilton-climate-group/home. Accessed 29 Aug 2020

ICF International (2012) Mid-Hudson Regional Greenhouse Gas Emissions Inventory

IPCC (2014) Climate change 2014: mitigation of climate change. Contribution of Working Group III to the Fifth Assessment Report of the Intergovernmental Panel on Climate Change. Cambridge University Press, New York

Isserman AM (2005) In the national Interest: defining rural and urban correctly in research and public policy. Int Reg Sci Rev. https://doi.org/10.1177/0160017605279000

Kekez A, Howlett M, Ramesh M (2018) Varieties of collaboration in public service delivery. Policy Des Pract 1:243–252. https://doi.org/10.1080/25741292.2018.1532026

Krause RM (2011) Policy innovation, intergovernmental relations, and the adoption of climate protection initiatives by U.s. cities. J Urban Aff 33:45–60. https://doi.org/10.1111/j.1467-9906.2010.00510.x

Moore K (2008) Disrupting science: social movements, American scientists, and the politics of the military. Princeton University Press, Princeton, pp 1945–1975

Morris J, Farmer-Alum M (2019) Unpacking New York's big new climate bill: a primer. In: NRDC. https://www.nrdc.org/experts/miles-farmer/unpacking-new-yorks-big-new-climate-bill-primer-0. Accessed 2 Jul 2020

New York Department of State NYS Division of Local Government Services (2020). https://www.dos.ny.gov/lg/localgovs.html. Accessed 21 Aug 2020

New York State Department of Environmental Conservation (2020) Background on the CSC Certification Program. https://climatesmart.ny.gov/about/background/. Accessed 2 Jul 2020

New York State Department of Environmental Conservation (2020a) Climate Smart Communities: Home page. https://climatesmart.ny.gov/. Accessed 8 Jun 2020

New York State Department of Environmental Conservation (2020b) PE9 Action: Climate Change Education and Engagement. https://climatesmart.ny.gov/actions-certification/actions/#open/action/122. Accessed 30 Aug 2020

New York State Department of Environmental Conservation (2020c) Participating Communities. https://climatesmart.ny.gov/actions-certification/participating-communities/. Accessed 29 Dec 2020

New York State Department of Environmental Conservation (2020d) CSC Certification Actions. https://climatesmart.ny.gov/actions-certification/actions/. Accessed 2 Jul 2020

NOAA National Centers For Environmental Information (2020) Billion-Dollar Weather and Climate Disasters: Overview

Office of Higher Education, New York State Education Department College and University Campuses in New York State Directory:OHE:NYSED. http://eservices.nysed.gov/collegedirectory/index.htm. Accessed 4 Jun 2020

Peña D (2005) Autonomy, equity, and environmental justice. In: Pellow DN, Brulle RJ (eds) Power, justice, and the environment: a critical appraisal of the environmental justice movement. MIT Press, Cambridge

Reiners DS, Reiners WA, Lockwood JA (2013) The relationship between environmental advocacy, values, and science: a survey of ecological scientists' attitudes. Ecol Appl 23:1226–1242. https://doi.org/10.1890/12-1695.1

Second Nature (2011) Colgate University recognized for climate leadership. In: Adv. Educ. Sustain. https://secondnaturebos.wordpress.com/2011/06/23/colgate-university-recognized-for-climate-leadership/. Accessed 26 Jan 2016

Sierra Club (2019) Cool schools 2019 full ranking. In: Sierra Mag. https://www.sierraclub.org/sierra/cool-schools-2019/cool-schools-2019-full-ranking. Accessed 28 Aug 2020

Strand K, Marullo S, Cutforth NJ et al (2003a) Principles of best practice for community-based research. Mich J Community Serv Learn 9:5–15

Strand KJ, Cutforth N, Stoecker R, et al (2003b) Community-Based Research and Higher Education: Principles and Practices. John Wiley & Sons

US EPA O (2017) Energy Resources for State, Local, and Tribal Governments. In: US EPA. https://www.epa.gov/statelocalenergy. Accessed 20 Aug 2020

USGCRP (2018) Fourth National Climate Assessment. https://nca2018.globalchange.gov. Accessed 25 Aug 2020

Weible C, Pattison A, Elgin D (2012) Policy analytical capacity and policy activities. Can Polit Sci Rev 6:125–137

Wood RS, Hultquist A, Romsdahl RJ (2014) An examination of local climate change policies in the Great Plains. Rev Policy Res 31:529–554. https://doi.org/10.1111/ropr.12103

Woodruff SC, Stults M (2016) Numerous strategies but limited implementation guidance in US local adaptation plans. Nat Clim Chang 6:796–802. https://doi.org/10.1038/nclimate3012

Zemaitis L, Tabak N, Marcell K, et al (2018) Working together to build climate resilience in Hudson riverfront communities. In: Handbook of Climate Change Resilience. Springer International Publishing
Additional information
Publisher's note
Springer Nature remains neutral with regard to jurisdictional claims in published maps and institutional affiliations.
About this article
Cite this article
Pattison, A., Henke, C.R. & Pumilio, J. Community-based climate action planning as an act of advocacy: a case study of liberal arts education in a rural community. J Environ Stud Sci 11, 183–193 (2021). https://doi.org/10.1007/s13412-020-00655-0
Accepted:

Published:

Issue Date:

DOI: https://doi.org/10.1007/s13412-020-00655-0
Keywords