Abstract
Point source emissions generated by facilities that have been awarded government contracts raise questions regarding the relationship between the State and industrial facilities, particularly when those facilities' emissions are disproportionately high. While providing public goods or services, many facilities also produce harmful emissions and toxic waste. We examine whether government contract awardees differ in the amount of hazardous pollution they produce when compared to their non-awardee counterparts. Using facility information from permitted industrial facilities over 12 years, we examine whether awardees produce more pollution than counterpart facilities. We theorize this difference using Louis Althusser's structural theory of power in which he contends that the State acts above all to reproduce itself through the reinforcement of its economic base and the ruling class. As an economic determinist whose theories heavily engage ideology as a mechanism of control, Althusser's structural approach provides a framework for understanding the apparatuses and mechanisms through which the State works to maintain power. Through a comparative analysis between proportionate contribution to industrial releases by government contract awardees and non-awardees, we find that awardees contribute to disproportionality within and across industries. In addition, linear mixed model regression methods are used to test whether the associations observed are due to contract awardee status or other variables such as facility size and ownership. We theorize that the act of awarding contracts to the lowest bidder supports the State's goals but also results in awards being won by facilities with higher pollution production than counterpart facilities within their industrial sector.
Access options
Buy single article
Instant access to the full article PDF.
USD 39.95
Price excludes VAT (USA)
Tax calculation will be finalised during checkout.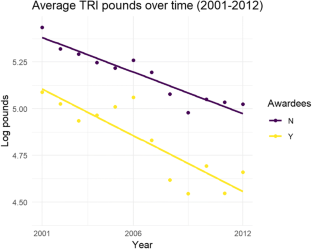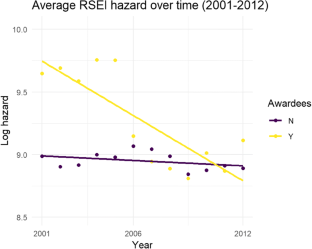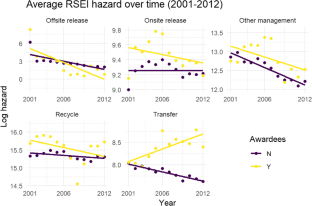 References
Althusser L (2008a) On ideology. Verso

Althusser L (2008b) Ideology and Ideological State Apparatuses (notes towards and investigation). Translated by Ben Brewster. In: Lenin Philos. Other essays. https://www.marxists.org/reference/archive/althusser/1970/ideology.htm. Accessed 10 Oct 2019

Althusser L (2014) On the reproduction of capitalism: ideology and Ideological State Apparatuses. Verso

Amadeo K (2019) Current US federal government spending. In: Balanc. https://www.thebalance.com/current-u-s-federal-government-spending-3305763. Accessed 20 May 2019

Ash M, Boyce JK (2018) Racial disparities in pollution exposure and employment at US industrial facilities. Proc Natl Acad Sci 115:10636–10641

Baldi S, Bottasso A, Conti M, Piccardo C (2016) To bid or not to bid: that is the question: public procurement, project complexity and corruption. Eur J Polit Econ 43:89–106

Bates D, Maechler M, Bolker B, Walker S (2015) Fitting linear mixed-effects models using lme4. J Stat Softw 67:1–48. https://doi.org/10.18637/jss.v067.i01

Berry LM (2007) Inequality in the creation of environmental harm: looking for answers from within. In: Equity and the environment. Emerald Group Publishing Limited, pp 239–265

Berry LM (2008) Inequality in the creation of environmental harm: looking for answers from within. Res Soc Probl Public Policy 15:239–265

Bi X (2017) "Cleansing the air at the expense of waterways?" Empirical evidence from the toxic releases of coal-fired power plants in the United States. J Regul Econ 51:18–40. https://doi.org/10.1007/s11149-016-9314-6

Bi X, Khanna M (2012) Reassessment of the impact of the EPA's voluntary 33/50 program on toxic releases. Land Econ 88:341–361

Blott J, Boardman N, Cady A, et al (2015) Auction and game theory based recommendations for DOD acquisitions (No. USAFA-AM-14-189). Colorado Springs, CO

Buttel FH (2000) Ecological modernization as social theory. Geoforum 31:57–65

Collins MB, Munoz I, Jaja J (2016) Linking 'toxic outliers' to environmental justice communities. Environ Res Lett 11:1–9

R Core Team (2017) R: A language and environment for statistical computing. R Foundation for Statistical Computing

Croen LA, Shaw GM, Sanbonmatsu L, et al (1997) Maternal residential proximity to hazardous waste sites and risk for selected congenital malformations. Epidemiology 347–354

Davidson DJ, Grant D (2012) The double diversion: mapping its roots and projecting its future in environmental studies. J Environ Stud Sci 2:69–77

DeHoog RH (1990) Competition, negotiation, or cooperation: three models for service contracting. Adm Soc 22:317–340

DiMaggio PJ, Powell WW (1983) The iron cage revisited : institutional isomorphism and collective rationality in organizational fields. Am Sociol Rev 48:147–160

Domhoff GW (2017) The power elite and the state. Routledge

Edquist C, Vonortas NS, Zabala-Ituriagagoitia JM, Edler J (2015) Public procurement for innovation. Edward Elgar Publishing

EPA (2019) Toxics release inventory. In: Environ. Prot. Agency. https://www.epa.gov/toxics-release-inventory-tri-program

Exec.OrderNo13693 (2015) Planning for federal sustainability in the next decade. Federal Register, United States

Fox J, Weisberg S (2011) An R companion to applied regression, 2nd edn. Sage

Freudenburg WR (2005) Privileged access, privileged accounts: toward a socially structured theory of resources and discourses. Soc Forces 84:89–114. https://doi.org/10.1353/sof.2005.0096

Grant D, Jorgenson AK, Longhofer W (2018) Pathways to carbon pollution: the interactive effects of global, political, and organizational factors on power plants' CO2 emissions. Sociol Sci 5:58–92

Hall S (1985) Signification, representation, ideology: Althusser and the post-structuralist debates. Crit Stud Mass Commun 2:91–114

Hooks G, Smith CL (2005) Treadmills of production and destruction: threats to the environment posed by militarism. Organ Environ 18:19–37. https://doi.org/10.1177/1086026604270453

Jorgenson AK (2006) Unpacking international power and the ecological footprints of nations: a quantitative cross-national study. Sociol Perspect 48:383–402. https://doi.org/10.1525/sop.2005.48.3.383

Jorgenson AK, Clark B (2009) The Economy, military, and ecologically unequal exchange relationships in comparative perspective: a panel study of the ecological footprints of nations, 1975–2000. Soc Probl 56:621–646. https://doi.org/10.1525/sp.2009.56.4.621

Khan N (2018) Public procurement fundamentals: lessons from and for the field. Emerald Publishing Limited

Landrigan PJ, Fuller R, Acosta NJR et al (2017) The Lancet Commission on pollution and health. Lancet

Legal Information Institute (2019) Federal acquisition regulation. In: Cornell Law Sch. https://www.law.cornell.edu/wex/federal_acquisition_regulation. Accessed 2 Oct 2019

Lewis G, Bajari P (2014) Moral hazard, incentive contracts, and risk: evidence from procurement. Rev Econ Stud 81:1201–1228

Li X, Chan CG (2016) Who Pollutes ? Ownership type and environmental performance of Chinese firms of Chinese firms. J Contemp China 25:248–263. https://doi.org/10.1080/10670564.2015.1075718

Logan JR, Molotch H (2007) Urban fortunes: The political economy of place. Unversity of California Press

Malarvizhi P, Matta R (2016) "Link between Corporate Environmental Disclosure and Firm Performance"–perception or reality? Br Account Rev 36:107–117

Mangiafico S (2019) rcompanion: functions to support extension education program evaluation

Marx K (1976) Capital Volume 1. Vintage, New York, NY

Maung M, Wilson C, Tang X (2016) Political connections and industrial pollution: evidence based on state ownership and environmental levies in China. J Bus Ethics 138:649–659

McAfee RP, McMillan J (1986) Bidding for contracts : a principal-agent analysis. RAND J Econ 17:326–338

Mills CW (1956) The power elite. Oxford University Press, New York, NY

Mohai P, Pellow D, Roberts JT (2009) Environmental justice. Annu Rev Environ Resour 34:405–430

Mol AP, Sonnenfeld DA (2014) Ecological modernisation around the world: perspectives and critical debates Title. Routledge

OECD (2003) The environmental performance of public procurement.

Rainville A (2017) Standards in green public procurement--a framework to enhance innovation. J Clean Prod 167:1029–1037

Robertson Galli AM, Collins MB (2019) Super emitters in the United States coal-fired electric utility industry: comparing disproportionate emissions across facilities and parent companies. Environ Sociol 5:70–81

Savabieasfahani M, Ahamadani FB, Damghani AM (2020) Living near an active US military base in Iraq is associated with significantly higher hair thorium and increased likelihood of congenital anomalies in infants and children. Environ Pollut 256:113070

Schnaiberg A (1980) The environment: from surplus to scarcity. Oxford University Press, New York, NY

Schnaiberg A, Gould KA (2000) Environment and society: the enduring conflict. Blackburn Press

Schnaiberg A, Pellow DN, Weinberg A (2002) The treadmill of production and the environmental state. In: The environmetnal state under pressure. Emerald Publishing Limited, pp 15–32

Sherman DON, Andrew G (2002) Organizational size and pollution : the case of the U.S. Chemical Industry. Am Sociol Rev 67:389–407

Stern PC (1993) A second environmental science: human-environment interactions. Science (80- ) 260:1897–1899

Sun X, Huang R (2016) Extension of state-led growth coalition and grassroots management: a case study of Shanghai. Urban Aff Rev 52:917–943. https://doi.org/10.1177/1078087415605187

Taylor D (2014) Toxic communities: environmental racism, industrial pollution, and residential mobility. NYU Press, New York, NY

Walls D (2015) National Establishment Time-Series (NETS) database: database description. www.youreconomy.org/nets/NETSDatabaseDescription.pdf. Accessed 10 Oct 2019

Wang H, Jin Y (2007) Industrial ownership and environmental performance: evidence from China. Environ Resour Econ 36:255–273. https://doi.org/10.1007/s10640-006-9027-x

West BT, Welch KB, Galecki AT (2015) Linear mixed models: a practical guide using statistical software, 2nd edn. CRC Press, Boca Raton, FL
Acknowledgments
The research presented in this paper was made possible in part by funding from the National Science Foundation grant number 1534976.
About this article
Cite this article
Hill, D.T., Vidon, E.S. & Collins, M.B. Public money and private interests: United States government contract awardees' contribution to industrial pollution production. J Environ Stud Sci 10, 213–225 (2020). https://doi.org/10.1007/s13412-020-00614-9
Published:

Issue Date:

DOI: https://doi.org/10.1007/s13412-020-00614-9
Keywords
Environmental disproportionality

Risk screening environmental indicators

Inequality

Industrial pollution

Ideology

Althusser