Abstract
Students in environmental studies, sciences, and sustainability need some degree of health literacy to pursue their own interests because health issues have played a disproportionate role in shaping environmental history, regulation, and interventions. Those entering careers in practice, advocacy, and deep study of environmental issues need further depth to have the capacity to evaluate the plausibility and context of health claims, to advocate responsibly, and to address health disparities. How much education is required for a minimum foundation and in which areas of content? A workshop held at the 2018 Annual Meeting of the Association of Environmental Studies and Sciences focused on minimum health content required for undergraduate and master's-level graduate students to deal with issues involving health. The goal was a set of recommendations or guidelines for cognitive frameworks and fund of knowledge related to human health that may be considered fundamental in education of these students. Four sets of findings were formulated, addressing four key dimensions: (1) Participants agreed that the health content of current curricula in environmental studies, sciences, and sustainability is sparse. (2) The purpose of introducing health into education in these fields is to reflect the influence or significance of health problems on or arising from environmental justice, regulation and ecosystem management, or sustainability practice, respectively, and to provide the student with a context for understanding health issues. (3) A high-level working knowledge of the essentials of toxicology, epidemiology, risk science, planetary health, and related fields was prioritized, but mastery was deemed unnecessary for education at this level. (4) Teaching human and animal health is facilitated by analogy or reference to instruction already incorporated in the curriculum. For example, toxicology can be taught by analogy to ecotoxicology, because the same principles apply, and basic concepts of epidemiology build on population studies. Integrative case studies were suggested as a teaching tool, and the One Health (human and veterinary health) paradigm was recommended as a natural bridge.
Access options
Buy single article
Instant access to the full article PDF.
USD 39.95
Price excludes VAT (USA)
Tax calculation will be finalised during checkout.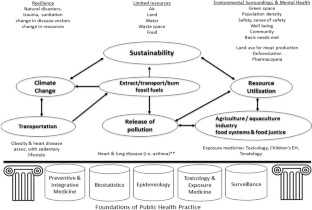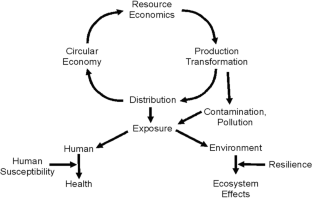 References
Atlas RM, Maloy S (eds) (2014) One Health: people, animals, and the environment. American Society of Microbiology, ASM Press, Washington DC

Bates DV (1994) Environmental health risks and public policy: decision making in a free society. UBC Press (University of British Columbia), Vancouver

Berridge V, Gorsky M (eds) (2012) Environment, health, and history. Palgrave Macmillan, London

Bilott R (2019) Exposure: poisoned water, corporate greed, and one lawyer's twenty-year battle against DuPont. Atria Books, New York

Carson R 1907-1964(2002) Silent spring. Houghton Mifflin, Boston Massachusetts

Cork S, Hall D, Ljiljebelke K (2016). One Health Case Studies: Addressing Complex Problems in a Changing World. Sheffield (UK), 5m Publishing.

Colborn T, Dumanoski D, Myers JP (1996) Our stolen future: are we threatening our fertility, intelligence, and survival? A scientific detective story. Dutton, New York (USA)

Green Building Council (2018). Fly ash & concrete in LEED, V4 for BD+C: new construction and major renovation. In Technical Bulletin 20. https://flyash.com/wp-content/uploads/assets/Boral-TB28%20Fly-Ash-Concrete-in-LEED-5-30-18.pdf. Accessed 15, January 2020

Guidotti TL (2015) Health and sustainability. Oxford University Press, New York

Guidotti TL (2018) Sustainability and health: notes toward a convergence of agendas. J Environ Stud Sci 8(3):357–361

Institute of Medicine (2013) Public health linkages with sustainability: workshop summary. National Academies Press, Washington DC

Rockefeller Foundation – Lancet Commission on Planetary Health (2015) Safeguarding human health in the Anthropocene epoch: report of The Rockefeller Foundation–Lancet Commission on planetary health. Lancet Retrieved 2016-10-05

Soskolne C (ed) (2008) Sustaining life on earth: environmental and human health through global governance. Lanham MD, Lexington Books

The Devil We Know (2018) Directed by Stephanie Soechtig and Jeremy Seifert. Produced by Stephanie Soechtig. Script available at https://www.springfieldspringfield.co.uk/movie_script.php?movie=the-devil-we-know. Accessed 19 January 2020

Undersecretary of Defense for Policy (2015) National security implications of climate-related risks and a changing climate. Department of Defense, archive.defense.gov/pubs/150724-congressional-report-on-national-implications-of-climate-change.pdfAccessed 19 January 2020

Von Schirnding Y, Mulholland C (2002) Health and sustainable development: key health trends. World Health Organization, Geneva Report of the World Summit on Sustainable Development, Johannesberg, 2002
Acknowledgments
The 2018 workshop at the Association of Environmental Studies and Sciences was the last in a series of related workshops, which included two at AESS, in 2016 and 2017, and one at the annual meeting of the National Council for Science and the Environment in 2017. We thank AESS for providing the opportunity to do this work.
About this article
Cite this article
Friedman, E.J., Adkins, S. & Guidotti, T.L. Foundational health content in environmental studies, sciences, and sustainability education: report of a workshop. J Environ Stud Sci 10, 327–333 (2020). https://doi.org/10.1007/s13412-020-00604-x
Published:

Issue Date:

DOI: https://doi.org/10.1007/s13412-020-00604-x
Keywords
Health

Sustainability

Skill set

Competencies