Abstract
In this article, I lay out some ideas on developing resilient local water systems by drawing from fieldwork in the sanitation sector. Specifically, I examine how differing configurations of water resource ownership (municipality, private sector) and water system management (municipality, community, private sector) can help to construct models of water supply management that are resilient to both local and global shocks and which can inform the development of sustainable water supply systems in communities of different sizes and divergent endowments of water resources. In doing this, I attempt to link recent work on organizational resilience and social enterprise to the broader field of water resources ownership and management as seen from a development perspective.
Access options
Buy single article
Instant access to the full article PDF.
US$ 39.95
Tax calculation will be finalised during checkout.
Subscribe to journal
Immediate online access to all issues from 2019. Subscription will auto renew annually.
US$ 79
Tax calculation will be finalised during checkout.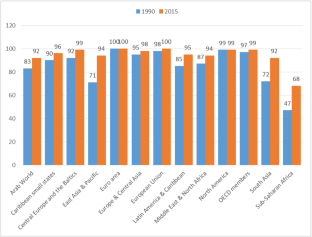 References
Adger WN, Dessai S, Goulden M, Hulme M, Lorenzoni I, Nelson DR, Wreford A (2009) Are there social limits to adaptation to climate change? Clim Chang 93:335–354

Alexander K, Tesfaye Y, Dreibelbis R, Abaire B, Freeman M (2015) Governance and functionality of community water schemes in rural Ethiopia. Int J Public Health 60:977–986

Bakker K (2000) Privatizing water, producing scarcity: the Yorkshire drought of 1995. Econ Geogr 76:4–27

Battilana J, Dorado S (2010) Building sustainable hybrid organizations: the case of commercial microfinance organizations. Acad Manag J 53:1419–1440

Baudoin L, Arenas D (2018) From raindrops to a common stream: using the social-ecological systems framework for research on sustainable water management. Organ Environ. https://doi.org/10.1177/1086026618794376

Ben Yishay A, Fraker A, Guiteras R, Palloni G, Shah NB, Shirrell S, Wang P (2017) Microcredit and willingness to pay for environmental quality: evidence from a randomized-controlled trial of finance for sanitation in rural Cambodia. J Environ Econ Manag 86:121–140

Bhuiyan S (2010) A crisis in governance: urban solid waste management in Bangladesh. Habitat Int 34:125–133

Bliss KF, Bowe KF (2011) Making Progress on global water, sanitation, and hygiene (WASH) challenges. Center for Strategic & International Studies, Washington, DC

Booher DE, Innes JE (2010) Governance for resilience: CALFED as a complex adaptive network for resource management. Ecol Soc 15:35

Bothello J, Mehrpouya A (2018) Between regulatory field structuring and organizational roles: intermediation in the field of sustainable urban development. Regul Gov. https://doi.org/10.1111/rego.12215

Bothello J, Salles-Djelic M (2017) Evolving conceptualizations of organizational environmentalism: a path generation account. Organ Stud 39:93–119

Bullough A, Renko M, Myatt T (2013) Danger zone entrepreneurs: the importance of resilience and self-efficacy for entrepreneurial intentions. Enterp Theory Pract 38:473–499

Chowdhury I (2015) Resilience and social enterprise: the case of Aravind eye care system. In: Ryan J (ed) Summit on resilience II: the next storm. Pace University, New York, pp 19–26

Chowdhury I, Santos F (2010) Scaling social innovations: the case of gram Vikas. In: Bloom P, Skloot E (eds) Scaling social impact: new thinking. Palgrave Macmillan, New York, pp 147–168

Chowdhury I, Santos F (2011) Gram Vikas: What is the essence of social entrepreneurship? In: Hamschmidt J, Pirson M (eds) Case Studies in Social Entrepreneurship and Sustainability: The oikos Collection, vol 2. Greenleaf Publishing, Sheffield, pp 43–68

Chowns E (2015) Is community management an efficient and effective model of public service delivery? Lessons from the rural water supply sector in Malawi. Public Adm Dev 35:263–276

Clarke R, Kosec K, Wallsten S (2009) Has private participation in water and sewerage improved coverage? Empirical evidence from Latin America. J Int Dev 21:327–361

Corbin, J, Strauss, A (1990). Basics of qualitative research: grounded theory procedures and techniques.Sage Publications, Thousand Oaks, CA

Czarniawska B, Sevón G (1996) Travels of ideas. In: Czarniawska B, Sevón G (eds) Translating organizational change. de Gruyter, Berlin, pp 13–48

de Carvalho A, Graf J, Kayser O, Vousvouras C (2011) Access to safe water for the base of the pyramid: lessons learned from 15 case studies. Hystra, Paris

DesJardine, M ,Bansal, P, Yang, Y. 2017. Bouncing back: building resilience through social and environmental practices in the context of the 2008 global financial crisis. Journal of Management, forthcoming

Djelic M (1998) Exporting the American model: the postwar transformation of European business. Oxford University Press, Oxford

Faems D, Janssens M, van Looy B (2007) The initiation and evolution of interfirm knowledge transfer in R&D relationships. Organ Stud 28:1699–1728

Feigenbaum S, Teeples R (1986) Public versus private water delivery: a hedonic cost approach. Rev Stat Econ 68:337–341

Folke C, Hahn T, Olsson P, Norberg J (2005) Adaptive governance of social-ecological systems. Annu Rev Environ Resour 30:441–473

Gittell J, Cameron K, Lim S, Rivas V (2006) Relationships, layoffs, and organizational resilience. J Appl Behav Sci 42:300–329

Golooba-Mutebi, F (2012) In search of the right formula: public, private and community-driven provision of safe water in Rwanda and Uganda. Public Administration and Development 32:430-443

Greenwood R, Raynard M, Kodeih F, Micelotta E, Lounsbury M (2011) Institutional complexity and organizational responses. Acad Manag Ann 5:317–371

Hall P, Lamont M (2013) Social resilience in the neoliberal era. Cambridge University Press, New York

Hanna-Attisha M, LaChance J, Sadler RC, Champney Schnepp A (2016) Elevated blood lead levels in children associated with the Flint drinking water crisis: a spatial analysis of risk and public health response. Am J Public Health 106:283–290

Hayward M, Forster W, Sarasvathy S, Fredrickson B (2010) Beyond hubris: how highly confident entrepreneurs rebound to venture again. J Bus Ventur 25:569–578

Jay J (2013) Navigating paradox as a mechanism of change and innovation in hybrid organizations. Acad Manag J 56:137–159

Kahn WA, Barton MA, Fisher CM, Heaphy ED, Reid EM, Rouse ED (2018) The geography of strain: organizational resilience as a function of intergroup dynamics. Acad Manag Rev 43:509–529

Klug T, Shields KF, Cronk R, Kelly E, Behnke N, Lee K, Bartram J (2017) Water system hardware management and rehabilitation: qualitative evidence from Ghana, Kenya, and Zambia. Int J Hyg Environ Health 220:531–538

Kooiman J (2003) Governing as governance. Sage Publications, London

Kossek E, Perrigino M (2016) Resilience: a review using a grounded integrated occupational approach. Acad Manag Ann 10:729–797

Kunz N, Moran C, Kastelle T (2013) Implementing an integrated approach to water management by matching problem complexity with management responses: a case study of a mine site water committee. J Clean Prod 52:362–373

Kurland NB, Zell D (2010) Water and business: a taxonomy and review of the research. Organization & Environment 23:316–353

Linnenluecke M (2015) Resilience in business and management research: a review of influential publications and a research agenda. Int J Manag Rev 19:4–30

Loorbach D (2010) Transition management for sustainable development: a prescriptive, complexity-based governance framework. Governance 23:161–183

Ludwig F, von Slobbe E, Cofino W (2014) Climate change adaptation and integrated water resource management in the water sector. J Hydrol 518(Part B):235–242

Marks SJ, Onda K, Davis J (2013) Does sense of ownership matter for rural water system sustainability? Evidence from Kenya. J Water Sanit Hyg Dev 3:122–133

Matous P (2013) The making and unmaking of community-based water supplies in Manila. Dev Pract 23:217–231

Mees HLP, Driessen PPJ (2010) Adaptation to climate change in urban areas: climate-greening London, Rotterdam, and Toronto. Climate Law 2:251–280

Muller C, Sampson RJ, Winter AS (2018) Environmental inequality: the social causes and consequences of lead exposure. Annu Rev Sociol 44:263–282

Ndaw MF (2016) Private sector provision of water supply and sanitation Services in Rural Areas and Small Towns (ACS18202). The World Bank Group, Washington, DC

Nelson, DR, Adger, WN, Brown, K (2007) Adaptation to environmental change: contributions of a resilience framework. Annual Review of Environment and Resources 32:395–419

Nichols J (2016) Outcry over the austerity crisis in Flint grows. The Nation, 18 January 2016

Ortiz-de-Mandojana N, Bansal P (2016) The long-term benefits of organizational resilience through sustainable business practices. Strateg Manag J 37:1615–1631

Osumanu I (2008) Private sector participation in urban water and sanitation provision in Ghana: experiences from the tamale metropolitan area. Environ Manag 42:102–110

Pache A, Chowdhury I (2012) Social entrepreneurs as institutionally embedded entrepreneurs: toward a new model of social entrepreneurship education. Acad Learn Educ 11:494–510

Pache A, Santos I (2010) When worlds collide: the internal dynamics of organizational responses to conflicting institutional demands. Acad Manag Rev 35:455–476

Pache A, Santos I (2013) Inside the hybrid organization: selective coupling as a response to competing institutional logics. Acad Manag J 56:972–1001

Pahl-Wostl C (2009) A conceptual framework for analysing adaptive capacity and multi-level learning processes in resource governance regimes. Glob Environ Chang 19:354–365

Piperca S, Floricel S (2012) A typology of unexpected events in complex projects. Int J Manag Proj Bus 5:248–265

Schulman P (1993) The negotiated order of organizational reliability. Adm Soc 25:353–372

van der Vegt G, Essens P, Wahlström M, George G (2015) Managing risk and resilience. Acad Manag J 58:971–980

van Wijk J, Zietsma C, Dorado S, de Bakker FGA, Martí I (2018) Social innovation: integrating micro, meso, and macro level insights from institutional theory. Bus Soc. https://doi.org/10.1177/0007650318789104

Waste Concern (2011) Toward sustainable municipal organic waste Management in South Asia: a guidebook for policy makers and practitioners. Asian Development Bank, Manila

Whittington D, Davis J, Prokopy L, Komives K, Thorsten R, Lukacs H, Bakalian A, Wakeman W (2009) How well is the demand-driven, community management model for rural water supply systems doing? Evidence from Bolivia, Peru and Ghana. Water Policy 11:696–718

Williams T, Shepherd D (2016) Building resilience or providing sustenance: different paths of emergent ventures in the aftermath of the Haiti earthquake. Acad Manag J 59:2069–2102

Williams T, Gruber D, Sutcliffe K, Shepherd D, Zhao E (2017) Organizational response to adversity: fusing crisis management and resilience research streams. Acad Manag Ann 11(2):733–769

Winter SG, Szulanski G, Ringov D, Jensen RJ (2012) Reproducing knowledge: inaccurate replication and failure in franchise organizations. Organ Sci 23:672–685

Wolff G, Palaniappan M (2004) Public or private water management? Cutting the Gordian knot. J Water Resour Plan Manag 130:1–3

World Bank Group (2011) St. Lucia water supply infrastructure improvement: Impelementation completion report review (ICCR13250). The World Bank Group, Washington, DC

World Health Organization (2017) Progress on drinking water, sanitation and hygiene. World Health Organization, Geneva
Additional information
Publisher's Note
Springer Nature remains neutral with regard to jurisdictional claims in published maps and institutional affiliations.
About this article
Cite this article
Chowdhury, I. Social entrepreneurship, water supply, and resilience: lessons from the sanitation sector. J Environ Stud Sci 9, 327–339 (2019). https://doi.org/10.1007/s13412-018-0532-3
Keywords
Social entrepreneurship

Resilience

Partnership

Water supply

Sanitation