Abstract
In many universities, sustainability is gaining currency in the classroom, in research, and in practice. This paper will examine how George Washington University has crafted sustainability education as a pan-university program. We briefly discuss the origins GW's sustainability efforts, then explain how the vision of a pan-university approach was developed. GW's Academic Program in Sustainability does not reside in any one school—instead it sits under the Office of the Provost. As such, Sustainability belongs to all schools. We next discuss the development of a pan-university sustainability minor, open to all students, and featuring courses and faculty from all schools at the university. As universities undertake efforts to integrate sustainability into the curriculum, an important element is team-teaching. Because sustainability is inherently trans-disciplinary, courses that are team-taught generate multiple perspectives on the same issues, leading to dynamic and engaging discussions with faculty and students. We examine the success of the Introduction to Sustainability course that uses five faculty from five different schools at GW to provide students the exposure to how different disciplines problem solve around sustainability, and how a team approach lends itself well to the learning outcomes of the course. There is also tremendous value in student experiential learning around sustainability. GW requires Sustainability minors to complete an internship or service project around sustainability, and we discuss how this is structured. We also highlight how the process of creating a pan-university program in sustainability provided an opportunity for faculty collaboration, creativity, and "thinking outside the box" approaches. Finally, by positioning sustainability as pan-university, we have met with challenges. We address the challenges and obstacles to creating a genuinely pan-university effort that seeks to escape the traditional "silos" of schools and departments and to move beyond interdisciplinarity as well.
This is a preview of subscription content,
to check access.
Access this article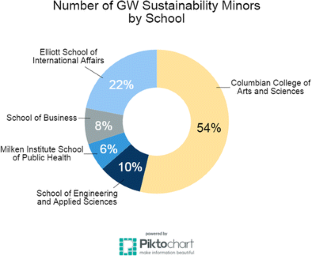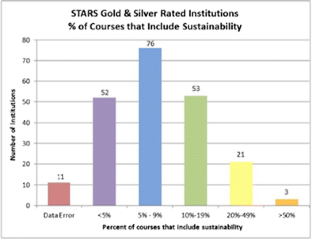 Similar content being viewed by others
Notes
The terms interdisciplinary, multidisciplinary, and transdisciplinary connotes research and teaching that cross many disciplinary boundaries. Although each of these terms is distinct, they are often confused with each other because they all relate to moving beyond disciplinary boundaries. Interdisciplinarity combines two or more academic disciplines in research projects or teaching and attempts to create something new by crossing boundaries. We use the term interdisciplinary in this paper because it is the most widely used when discussing sustainability (see for example, Buszard and Kolb 2011; Parker 2010).

The 14 schools include Arizona State, UC Berkeley, Columbia, Cornell, Duke, Harvard, MIT, Michigan, University Minnesota, Princeton, Stanford, University of Wisconsin, and Yale.

GW's nine core values include learning, building community, embracing diversity, respect, service, teamwork, and sustainability. We think it notable that while many of these core values are found at most universities, sustainability is not.
References
Anderson RS, Speck BW (1998) "Oh what a difference a team makes" why team teaching makes a difference. Teach Teach Educ 14(7):671–86

Arhar J (1997) The effects of interdisciplinary teaming on teachers and students. What Current Research Says to the Middle Level Practitioner 49–55

Arizona State University School of Sustainability. 2015. Access August 2015 at: https://schoolofsustainability.asu.edu/

Armstrong CM (2011) Implementing education for sustainable development: the potential use of time-honored pedagogical practice from the progressive era of education. Journal of Sustainability Education, Vol 2, March 20011

Bacon C (2012) The creation of an integrated sustainability curriculum and student praxis projects. Journal of Sustainability in Higher Education 12.2 (2011): 193-208

Barlett P, Chase GW (2004) Sustainability on campus: stories and strategies for change. Massachusetts Institute of Technology Press, Boston

Barlett P, Chase GW (2012) Curricular innovation for sustainability: the Piedmont/Ponderosa model of faculty development. Lib Educ 98(4):14–21

Barlow Z and Stone M 2011 Living systems and leadership: cultivating conditions for institutional change. Journal of Sustainability Education. Volume 2

Benton-Short L (2013) Personal conversation with Undergraduate Dean at GW

Benton-Short L (2014a) Personal conversation with GW Dean and Department Chair

Benton-Short L (2014b) Personal conversation with an Assistant Professor in Economics at GW (name withheld to protect privacy)

Brundiers K, Wiek A, Redman C (2010) Real-world learning opportunities in sustainability: from classroom into the real world. Int J Sustain High Educ 11(4):308–24

Burns Heather (2011) Teaching for transformation: (re)designing sustainability courses based on ecological principles. Journal of Sustainability Education (2)

Buszard D, Kolb J (2011) Institutional innovation to deliver post-secondary education for sustainability. Sustain Sustain J Rec 4(2):80–4

Cloud J 2014 The Essential Elements of Education for Sustainability (EfS): Editorial Introduction from the Guest Editor. Journal of Sustainability Education, Vol 6, May 2014

Columbia University, Earth Institute, 2015. Accessed August 2015 at: http://www.earthinstitute.columbia.edu/articles/view/50

Cos M and L Richlin (Eds) (2011) Building faculty learning communities. New directions for teaching and learning, no. 97. Hoboken, NJ: Wiley Periodicals, Inc

Davison A (2012) Building capacity for interdisciplinary climate change teaching at four universities. Journal of Sustainability in Higher Education 15.1 (2013): 98-110. Web

Dilafruz W, Burns H and S Kelley (2014) A framework for leadership for sustainability education at Portland State University. Journal of Sustainability Education, Vol 6, May 2014

Ellis G, Weekes T (2008) Making sustainability 'real': using group-enquiry to promote education for sustainable development. Environ Educ Res 14(4):482–500

Engineering Accreditation Commission. 2012. "Criteria for Accrediting Engineering Programs" Accessed on August 2015 at: http://www.abet.org/accreditation/accreditation-criteria/criteria-for-accrediting-engineering-programs-2015-2016/#objectives

George Washington University. 2013. Vision 2021: A Strategic Plan for the Third Century of The George Washington University. Accessed on August 31, 2015 at: http://provost.gwu.edu/strategic-plan

George Washington University Faculty Committee on Sustainability (2011) Proposal for Undergraduate Minor in Sustainability. (not publically available)

Hyun E (2011) Transdisciplinary higher education curriculum: a complicated cultural artifact. Res High Educ J 11:1

Jucker R (2002) "Sustainability? Never heard of it?" Some basics we shouldn't ignore when engaging in education for sustainability. Int J Sustain High Educ 3(1):8–18

Kolb DA (1984) Experiential learning: experience as the source of learning and development. Prentice Hall, Englewood Cliffs

Littledyke M, Manolas E, Littledyke R (2013) A systems approach to education for sustainability in higher education. J Sustain High Educ 14(4):367–83

Medrick R (2013) A pedagogy for sustainability education. Journal of Sustainability Education, Vol 5 May 2013

Murata R (2002) What does team teaching mean? A case study of interdisciplinary teaming. J Educ Res 96(2):67–77

O'Byrne D, Dripps W, Nicholas KA (2014) Teaching and learning sustainability: an assessment of the curriculum content and structure of sustainability degree programs in higher education. Sustain Sci 10(1):43–59

Parker J (2010) Competencies for interdisciplinarity in higher education. Journal of Sustainability in Higher Education 11.4 (2010): 325-38

Pfirman, S., J. Collins, S. Lowes and A. Michaels (2005) Collaborative efforts: promoting interdisciplinary scholars. Chronicle of Higher Education, Feb 11. Accessed August 2015 at: http://chronicle.com/article/Collaborative-Efforts-/35536

Ramey L (2013) Engaging learners in community service learning to enhance teacher preparation curriculum. Journal of Sustainability Education, Vol 5, May 2013

Rusinko C (2010) Integrating sustainability in higher education: a generic matrix. J Sustain High Educ 11(3):250–9

Schmit J (2009, December 28) As colleges add green majors and minors, classes fill up. USA Today, Accessed August 2015 at: http://usatoday30.usatoday.com/money/industries/environment/2009-12-27-green-colleges_N.htm

Sipos Y, Battisi B, Grimm K (2008) Achieving transformative sustainability learning: engaging head, hands and heart. Int J Sustain High Educ 9(1):68–86

Stanford University (2015) Sustainable Stanford. Accessed on August 2015 at: www.sustainable.stanford.edu; see also https://energy.stanford.edu/ and https://woods.stanford.edu/

George Washington University Presidential Task Force on Sustainability (2008) Final Report and Recommendations. June 2008

UNESCO (2011) Education for Sustainable Development. http://www.unesco.org/new/en/education/themes/leading-the-international-agenda/education-forsustainable-development/education-for-sustainable-development/

Vincent S (2012) Trends in interdisciplinary environmental and sustainability education. AASHE Conference, October, 2012

Vincent S, S Bunn and L Sloane (2013) Interdisciplinary Environmental and Sustainability Education on the Nation's Campuses 2012: Curriculum Design. National Council on Science and Environment

Vincent S, Roberts, JT and S Mulkey (2015) Interdisciplinary environmental and sustainability education: islands of progress in a sea of dysfunction. Journal of Environmental Studies and Sciences (2015): n. pag

Wiek A, Withycombe L, Redman C (2011) Key competencies in sustainability: a reference framework for academic program development. Sustain Sci 6(2):203–18
Additional information
The process of creating the Sustainability program involved numerous internal reports, documents, and memos. Many were intended for an internal audience. In addition, some of these documents are now out of date and we do not have them posted on the GW website. If you would like to learn more about the process and development of the Sustainability program and the Sustainability minor, please contact the authors.
About this article
Cite this article
Benton-Short, L., Merrigan, K.A. Beyond interdisciplinary: how sustainability creates opportunities for pan-university efforts. J Environ Stud Sci 6, 387–398 (2016). https://doi.org/10.1007/s13412-015-0341-x
Published:

Issue Date:

DOI: https://doi.org/10.1007/s13412-015-0341-x
Keywords