Abstract
This paper lays out the relationships between three mutually reinforcing concepts associated with agroecosystems: (1) agroecosystem health, the extent to which an agroecosystem can meet human needs for all of its residents over time; (2) resilience, the capacity of a system to adapt, reorganize, and maintain key functions in the face of turbulent and unpredictable change in its environment; (3) food security, sufficient quantity and quality of food for everyone at all times. Agroecosystem health has been defined by a number of properties including the following: stability, sustainability, equitability, productivity, and autonomy, each in the context of specific spatial and temporal scales. Indicators that characterize biophysical and social conditions including soil health, biodiversity, topography, farm economics, land economics, and social organization can be combined using analytical hierarchy process to map agroecosystem health across a landscape. The resulting map may provide incentive and guidance for improving the conditions underlying agroecosystem health. Resilience and agroecosystem health overlap largely because both rely on diversity, in biological and physical as well as human cultural, social, and economic terms. The Agroecosystems Management Program at The Ohio State University has approached research and outreach to improve agroecosystem health, resilience, and food security by encouraging self-organizing social networks for economic development around local and regional agricultural supply chains, encouraging farm enterprise diversity at a wider range of farming scales, and conducting research to monitor and estimate the benefits of such diversification. Social media tools have been explored for connecting entrepreneurs at the planning stage, with the ultimate goal of improving the economic support for more diversified enterprises in agroecosystems. Although challenging, such adaptive management experiments may create and encourage new opportunities for managing agroecosystem health, and with it, resilient food production and security.
Access options
Buy single article
Instant access to the full article PDF.
USD 39.95
Price includes VAT (USA)
Tax calculation will be finalised during checkout.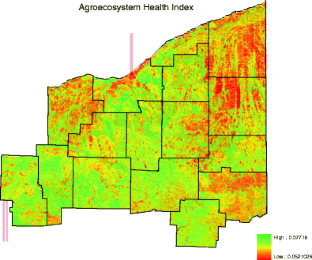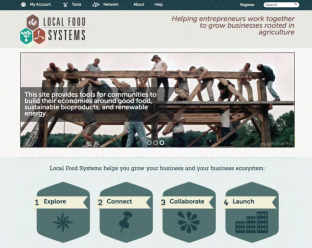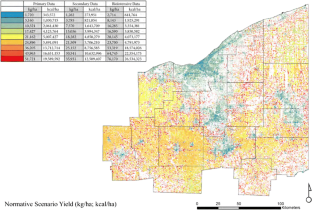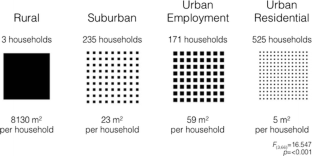 References
Altieri MA (1999) The ecological role of biodiversity in agroecosystems. Agric, Ecosys Environ 74:19–31

Beuchelt T, Virchow D (2012) Food sovereignty or the human right to adequate food: which concept serves better as international development policy for global hunger and poverty reduction? Agric Human Values 29:259–73. doi:10.1007/s10460-012-9355-0

Biggs R, Schlüter M, Biggs D, Bohensky E, BurnSilver S, Cundill G, Dakos V, Daw T, Evans L, Kotschy K, Leitch A, Meek C, Quinlan A, Raudsepp-Hearne C, Robards M, Schoon M, Schultz L, West P (2012) Toward principles for enhancing the resilience of ecosystem services. Annu Rev Environ Resour 37:421–448

Boody G, Vondracek B, Andow DA, Krinke M, Westra J, Zimmerman J, Welle P (2005) Multifunctional agriculture in the United States. Bioscience 55:27–38

Cohen B (2006) Sustainable valley entrepreneurial ecosystems. Bus Strateg Environ 15:1–14

Coleman-Jensen A, Gregory C, Singh A (2014) Household food security in the United States in 2013. In: ERR-173. U.S. Depr Agric, Econ Res Serv

Conway G (1987) The properties of agroecosystems. Agric Syst 24:95–117. doi:10.1016/0308-521X(87)90056-4

Davis A, Hill J, Chase C, Johanns A, Liebman M (2012) Increasing cropping system diversity balances productivity, profitability and environmental health. PLoS One 7:e47149. doi:10.1371/journal.pone.0047149

Edelman M, Weis T, Baviskar A, Borras S, Holt-Giménez E, Kandiyoti D, Wolford W (2014) Introduction: critical perspectives on food sovereignty. J Peasant Stud 41:911–931. doi:10.1080/03066150.2014.963568

FAO, IFAD, WFP (2014) The State of Food Insecurity in the World 2014. Strengthening the enabling environment for food security and nutrition. FAO, Rome

Goland C, Bauer S (2004) When the apple falls close to the tree: local food systems and the preservation of diversity. Renew Agric Food Syst 9:228–236

Gomez-Limon J, Sanchez-Fernandez G (2010) Empirical evaluation of agricultural sustainability using composite indicators. Ecol Econ 69:1062–1075. doi:10.1016/j.ecolecon.2009.11.027

Gunderson LH, Holling CS (2002) Panarchy: understanding transformations in human and natural systems. Island Press, Washington

Hajjar R, Jarvis D, Gemmill-Herren B (2008) The utility of crop genetic diversity in maintaining ecosystem services. Agric Ecosyst Environ 123:261–270. doi:10.1016/j.agee.2007.08.003

Hoy C (2009) Pesticide resistance management. In: Radcliffe E, Hutchison W (eds) Integrated pest management. Cambridge University Press, Cambridge, Pp, pp. 192–204

Hoy C, Bosserman S, MacDonald R (2012) Social networks, ecological frameworks, and local economies. In: Reid N, Gatrell J, Ross P (eds) Local food geographies: concepts, spatial context, and local practices. Sage, Thousand Oaks, pp. 29–54

Iansiti M, Levien R (2004) Strategy as ecology. Harv Bus Rev 82:68–78

Kerrick B (2013) Borrowed ground: evaluating the potential role of usufruct in neighborhood-scale foodsheds. The Ohio State University, MS Thesis

Kolbe E (2013) Visualizing and quantifying a normative scenario for agriculture in Northeast Ohio. The Ohio State University, MS Thesis

Kuhnlein, H (2014) How ethnobiology can contribute to food security. J Ethnobiol 34:12–27. doi:10.2993/0278-0771-34.1.12

Levin S (1998) Ecosystems and the biosphere as complex adaptive systems. Ecosyst 1:431–436

Lin B (2011) Resilience in agriculture through crop diversification: adaptive management for environmental change. Bioscience 61:183–193. doi:10.1525/bio.2011.61.3.4

López-Ridaura S, Masera O, Astier M (2002) Evaluating the sustainability of complex socio-environmental systems, the MESMIS framework. Ecol Indic 2:135–148

Marten G (1988) Productivity, stability, sustainability, equitability and autonomy as properties for agroecosystem assessment. Agric Syst 26:291–316

Mediene S, Valantin-Morison M, Sarthou J, de Tourdonnet S, Gosme M, Bertrand M, Dore T (2011) Agroecosystem management and biotic interactions: a review. Agron Sustain Dev 31:491–514. doi:10.1007/s13593-011-0009-1

Neck H, Meyer D, Cohen B, Corbett A (2004) An entrepreneurial system view of new venture creation. J Small Bus Mgmt 42:190–208

Peters C, Bills N, Lembo A, Wilkins J, Fick G (2009) Mapping potential foodsheds in New York state: a spatial model for evaluating the capacity to localize food production. Renew Agr Food Syst 24:72–84. doi:10.1017/S1742170508002457

Rao N, Rogers P (2006) Assessment of agricultural sustainability. Curr Sci (00113891) 91:438–448

Saaty T (1980) The analytic hierarchy process: planning, priority setting and resource allocation. McGraw-Hill, New York

Saaty T (2000) Fundamentals of decision making and priority theory with the Analytic Hierarchy Process. RWS Publications, Pittsburg

Vadrevu K, Cardina J, Hitzhusen F, Bayoh I, Moore R, Parker J, Stinner B, Stinner D, Hoy C (2008) Case study of an integrated framework for quantifying agroecosystem health. Ecosyst 11:283–306. doi:10.1007/s10021-007-9122-z
Acknowledgments
I thank the many colleagues, students, and partners associated with the Agroecosystems Management Program of The Ohio State University who have helped to shape the ideas and approaches described in this paper. Thanks to Trevor Havelka for the technical support with the agroecosystem health index calculations and map and to Ben Kerrick and Liz Kolbe for the permission to include figures from their MS Theses. I appreciate helpful reviews of manuscript drafts by Robert Dyball, Michelle Miller, Sarah Rotz, Hannah Whitehead, Matt Porter, Briana Hoy-Skubik, and three anonymous reviewers. Research described in this paper was supported by USDA National Institute of Food and Agriculture Specialty Crops Research Initiative Grant No. 2008-51180-19578, as well as state and federal funds appropriated to the Ohio Agricultural Research and Development Center.
About this article
Cite this article
Hoy, C.W. Agroecosystem health, agroecosystem resilience, and food security. J Environ Stud Sci 5, 623–635 (2015). https://doi.org/10.1007/s13412-015-0322-0
Keywords
Biodiversity

Crop diversity

Enterprise diversity

Entrepreneurship

Self-organization

Sustainable agriculture