Abstract
Urban forests - trees and vegetation in cities - produce numerous benefits for urban residents. The study and practice of urban forestry aims to understand how trees and their benefits are produced and maintained over time. Urban forestry (tree population management) and the related field of arboriculture (single-tree management) are less known outside of the forestry and horticulture disciplines in which these fields developed. Because urban forests are best understood as social-ecological systems, urban forestry research using interdisciplinary methods and theory is beginning to become more common. In this paper, we surveyed educators and leaders of urban forestry and/or arboriculture programs across the world to examine the interdisciplinary basis of these programs. We summarize here the responses of 116 institutions of higher education (85 within the United States) with urban forestry and/or arboriculture coursework. Seventy-four percent of institutions considered urban forestry/arboriculture to be interdisciplinary. Some disciplines (e.g., biology/ecology, forestry) are already very incorporated into their program's current curriculum, and the importance of several other disciplines is recognized even while incorporation is not yet fully realized (e.g., urban planning, natural resource management, environmental science/studies). However, many major disciplines that have relevance to urban forestry/arboriculture are not rated as particularly important to the field, much less incorporated into curriculum (e.g., anthropology/sociology, economics, engineering, public policy/public affairs). Our study serves as a foundation on which to begin strengthening the interdisciplinary ties of urban forestry and arboriculture.
Access options
Buy single article
Instant access to the full article PDF.
US$ 39.95
Tax calculation will be finalised during checkout.
Subscribe to journal
Immediate online access to all issues from 2019. Subscription will auto renew annually.
US$ 79
Tax calculation will be finalised during checkout.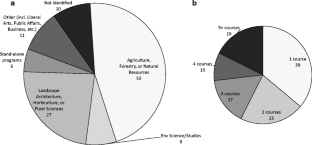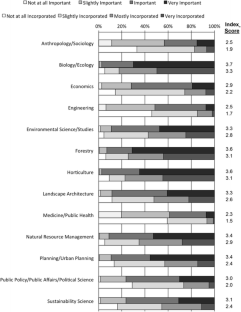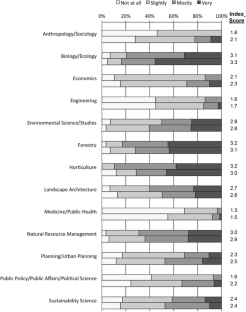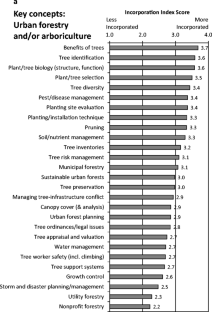 Notes
1.

Elmendorf and colleagues (2005) provide an excellent history and summary of urban forestry and arboriculture educational efforts. Therefore, we will only summarize here studies published more recently.
References
Andersen F, Konijnendijk CC, Randrup TB (2002) Higher education on urban forestry in Europe: an overview. Forestry 75:501–511. doi:10.1093/forestry/75.5.501

Andresen JW, Williams BM (1975) Urban forestry education in North America. J For 73:786–790

Boix Mansilla V, Duraisingh ED (2007) Targeted assessment of students' interdisciplinary work: an empirically grounded framework proposed. J High Educ 87(2):215–237

Brown G, Bull J, Pendlebury M (1997) Assessing student learning in higher education. Routledge, New York

Cash DW, Adger WN, Berkes F et al (2006) Scale and cross-scale dynamics: governance and information in a multilevel world. Ecol Soc 11(2):8

Clark WC, Dickson NM (2003) Sustainability science: the emerging research program. PNAS 100:8059–8061. doi:10.1073/pnas.1231333100

Clark JR, Matheny NP (1998) A model of urban forest sustainability: application to cities in the United States. J Arboric 24:112–120

Clark JR, Matheny NP, Cross G, Wake V (1997) A model of urban forest sustainability. J Arboric 23:17–30

Deneke FJ (1978) Urban forestry education. J For 76:499–500

Dillman DA, Smyth JD, Christian LM (2014) Internet, phone, mail and mixed-mode surveys: the tailored design method, 4th edn. John Wiley & Sons, Inc., Hoboken

Dimke KC, Sydnor TD, Gardner DS (2013) The effect of landscape trees on residential property values of six communities in Cincinnati, Ohio. Arboricult Urban For 39:49–55

Elmendorf W, Watson T, Lilly S (2005) Arboriculture and urban forestry education in the United States: results of an educators survey. J Arboric 31:138–149

Harris RW, Clark JR, Matheny NP (2004) Arboriculture: integrated management of landscape trees, shrubs, and vines, 4th edn. 578

Hildebrandt RE, Floyd DF, Koslowsky KM (1993) A review of urban forestry education in the 1990s. J For 91:40–42

Jack-Scott E, Piana M, Troxel B et al (2013) Stewardship success : how community group dynamics affect urban street tree survival and growth. Arboricult Urban For 39:189–196

Jorgensen E (1970) Urban forestry in Canada. Proc. 46th Int. Shade Tree Conf. 43a--51a

Kardan O, Gozdyra P, Misic B, Moola F, Palmer LJ, Paus T, Berman MG (2015) Neighborhood greenspace and health in a large urban center. Sci Rep 5: 11610. doi:10.1038/srep11610

Kates RW, Parris TM (2003) Long-term trends and a sustainability transition. PNAS 100:8062–8067. doi:10.1073/pnas.1231331100

Kenney WA, van Wassenaer PJE, Satel AL (2011) Criteria and indicators for strategic urban forest planning and management. Arboricult Urban For 37:108–117

Kirnbauer MC, Kenney WA, Churchill C, Baetz BW (2009) A prototype decision support system for sustainable urban tree planting programs. Urban For Urban Green 8:3–19

Komiyama H, Takeuchi K (2006) Sustainability science: building a new discipline. Sustain Sci 1:1–6. doi:10.1007/s11625-006-0007-4

Konijnendijk C, Randrup TB (2005) Urban forestry education. Urban for trees. Springer, Berlin Heidelberg, pp 465–478

Konijnendijk CC, Ricard RM, Kenney A, Randrup TB (2006) Defining urban forestry—a comparative perspective of North America and Europe. Urban For Urban Green 4:93–103. doi:10.1016/j.ufug.2005.11.003

Kuo FE (2003) The role of arboriculture in a healthy social ecology. J Arboric 29:148–155

Leslie AD, Wilson ER, Starr CB (2006) The current state of professional forestry education in the United Kingdom. Int For Rev 8:339–349. doi:10.1505/ifor.8.3.339

Lilly SJ (2010) Arborists' certification study guide, 3rd edn. International Society of Arboriculture, Champaign

Liu J, Dietz T, Carpenter SR et al (2007) Complexity of coupled human and natural systems. Science 317:1513–1516. doi:10.1126/science.1144004

Lu JWT, Svendsen ES, Campbell LK et al (2011) Biological, social, and urban design factors affecting young street tree mortality in New York City. Cities Environ 3:1–15

Matheny NP, Clark JR (2008) Municipal specialist certification study guide. International Society of Arboriculture, Champaign

McGown KI (2015) Student perspectives on North American forestry education. J For 113:in press. doi:10.5849/jof.15-022

McPherson EG (1984) Employer perspectives on arboriculture education. J Arboric 10:137–142

Miller RW (1988) Urban forestry: planning and managing urban greenspaces, 1st edn. Prentice Hall, Hoboken

Miller RW (1994) Urban forestry education: traditions and possibilities. J For 92:26–27

Miller RW (1997) Urban forestry: planning and managing urban greenspaces, 2nd edn. Prentice Hall, Hoboken

Miller TR (2012) Constructing sustainability science: emerging perspectives and research trajectories. Sustain Sci 8:279–293. doi:10.1007/s11625-012-0180-6

Miller C, Lewis JG (1999) A contested past: forestry education in the United States, 1989-1998. J For 97:38–43

Miller RW, Hauer RJ, Werner LP (2015) Urban forestry: planning and managing urban greenspaces, 3rd edn. Waveland Press, Long Grove

Mincey SK, Hutten M, Fischer BC et al (2013) Structuring institutional analysis for urban ecosystems: a key to sustainable urban forest management. Urban Ecosyst 16:553–571. doi:10.1007/s11252-013-0286-3

Morani A, Nowak DJ, Hirabayashi S, Calfapietra C (2011) How to select the best tree planting locations to enhance air pollution removal in the MillionTreesNYC initiative. Environ Pollut 159:1040–1047. doi:10.1016/j.envpol.2010.11.022

Nielsen AB, Östberg J, Delshammar T (2014) Review of urban tree inventory methods used to collect data at single-tree level. Arboricult Urban For 40:96–111

Nilsson K, Randrup T (1997) Urban and periurban forestry. In Forest and tree resources: proceedings of the XI World Forestry Congress 1:97-110. 13-22 Oct 1997, Antalaya, Turkey

Nilsson K, Sangster M, Gallis C et al (eds) (2011) Forest, trees and human health. Springer, New York, 427p

Norström AV, Dannenberg A, McCarney G et al (2014) Three necessary conditions for establishing effective Sustainable Development Goals in the Anthropocene. Ecol Soc 19(3):8

Nowak DJ, Hirabayashi S, Bodine A, Hoehn R (2013) Modeled PM2.5 removal by trees in ten U.S. cities and associated health effects. Environ Pollut 178:395–402. doi:10.1016/j.envpol.2013.03.050

Nowak DJ, Hirabayashi S, Bodine A, Greenfield E (2014) Tree and forest effects on air quality and human health in the United States. Environ Pollut 193:119–129

O'Hara KL, Redelsheimer CL (2012) Divergent trends in accredited forestry programs in the United States: implications for research and education. J For 110:201–206

Onishi A, Cao X, Ito T et al (2010) Evaluating the potential for urban heat-island mitigation by greening parking lots. Urban For Urban Green 9:323–332

Open Working Group (OWG) of the United Nations General Assembly (2015) Open Working Group proposal for Sustainable Development Goals, A/68/970. United Nations, New York, NY. https://sustainabledevelopment.un.org/sdgsproposal

Pataki DE, Carreiro MM, Cherrier J, Grulke NE, Jennings V, Pincetl S, Pouyat RV, Whitlow TH, Zipperer WC (2011) Coupling biogeochemical cycles in urban environments: ecosystem services, green solutions, and misconceptions. Front Ecol Environ 9(1):27–36

Randrup TB, Konijnendijk CC, Andersen F (2002) Review of higher education on urban forestry in Europe. Report to COST Action E12. European Committees. 229p

Skiera J (2014) Time to step up. Arborist News 23:5–6

Spelt EJH, Biemans HJA, Tobi H et al (2009) Teaching and learning in interdisciplinary higher education: a systematic review. Educ Psychol Rev 21:365–378. doi:10.1007/s10648-009-9113-z

UNESCO (2010) Communique--2009 World conference on higher education: the new dynamics of higher education and research for societal change and development. UNESCO, Paris, 14p

Vogt JM, Fischer BC (2014) A protocol for citizen science monitoring of recently-planted urban trees. Cities Environ 7:4

Vogt JM, Watkins SL, Mincey SK et al (2015) Explaining planted-tree survival and growth in urban neighborhoods: a social–ecological approach to studying recently-planted trees in Indianapolis. Landsc Urban Plan 136:130–143. doi:10.1016/j.landurbplan.2014.11.021

Wiseman PE, Hoffman JW, Day SD, Clements TL (2011) A syllabus-based review of collegiate arboriculture course content in the United States. Arboricult Urban For 37:51–59

Wolf KL (2008) City trees, nature and physical activity: a research review. Arborist News 17:22–24

Xiao Q, McPherson EG, Simpson JR, Ustin SL (1998) Rainfall interception by Sacramento's urban forest. J Arboric 24:235–244
Acknowledgments
Special thanks to Jill Johnson, Midwest Urban Forestry Coordinator, U.S. Forest Service Northeastern Area, for sharing lists of urban forestry educators with the authors. We are also grateful to the many individuals who forwarded our survey to their personal and professional networks. We are appreciative of the coordinators of this special issue for organizing this important collection of articles on education in interdisciplinary environmental science and studies, as well as to two anonymous reviewers for their very helpful feedback. Finally, and most importantly, thank you to the many educators who took time to respond to our survey and provided the valuable information on which this article is based.
Electronic supplementary material
Below is the link to the electronic supplementary material.
About this article
Cite this article
Vogt, J., Fischer, B.C. & Hauer, R.J. Urban forestry and arboriculture as interdisciplinary environmental science: importance and incorporation of other disciplines. J Environ Stud Sci 6, 371–386 (2016). https://doi.org/10.1007/s13412-015-0309-x
Keywords
Interdisciplinary

Higher education

Urban forestry

Arboriculture