Abstract
This paper explores how industrial agriculture is a key contributor to many ecological problems and how redesigning agricultural systems using agroecological principles and methods could address many of these problems. Agriculture uses 85 % of freshwater and, directly or indirectly, produces nearly half of all greenhouse gas emissions. Industrial agriculture accounts for a large proportion of these ecological costs and also depends on high energy use and toxic chemicals. Agroecology presents an alternative paradigm of production based on ecological principles such as recycling wastes, minimizing energy and water use, maximizing genetic diversity, regenerating soil and increasing its carbon content, integrating livestock and crops into a holistic system, and promoting other beneficial biological synergies. Moreover, agroecological methods have the potential to actually boost production and farm incomes, particularly in the global South. Permaculture, perhaps the most widely practiced form of agroecology, also provides an ethical framework and principles that serve as a basis for discerning actions that enable the design of diverse, sustainable systems suited to a wide variety of cultural and ecological contexts. Widespread adoption of agroecological methods and permaculture principles could significantly reduce energy, pesticide, and freshwater usage while simultaneously restoring degraded soil, sequestering large quantities of carbon, creating more biodiverse agricultural systems, and satisfying human needs for healthy, nutritious food. As well, engaging in ecological agriculture may encourage practitioners to develop genuinely ecological dispositions and worldviews that enable them to approach problems and discern actions from a perspective that systematically promotes sustainability and social justice.
This is a preview of subscription content, log in to check access.
Access options
Buy single article
Instant access to the full article PDF.
US$ 39.95
Price includes VAT for USA
Subscribe to journal
Immediate online access to all issues from 2019. Subscription will auto renew annually.
US$ 99
This is the net price. Taxes to be calculated in checkout.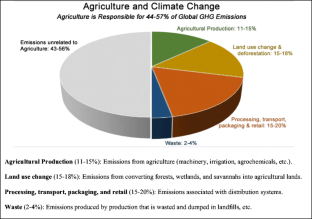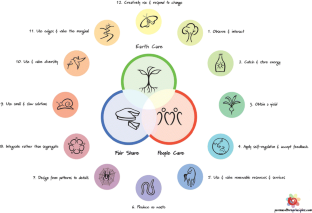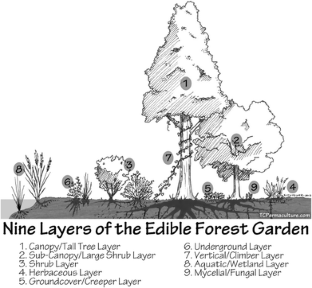 Notes
1.

Not all organic methods (such as those using monocultures and external inputs), however, are agroecological. In contrast, agroecological approaches are generally organic—albeit generally less focused on formal organic certification (Altieri and Nicholls 2012).

2.

Another US study (Liebhardt 2001) comparing organic and industrial agriculture concluded that organic farming yields averaged 95 % of those obtained with industrial methods, but with far less energy and external inputs. The same study noted, however, that only 1 % of agricultural research dollars were spent investigating organic methods, so that the potential to improve organic yields is potentially large.
References
Altieri MA (1995) Agroecology: the science of sustainable agriculture, 2nd edn. Westview Press, Boulder

Altieri MA (2009) Agroecology, small farms, and food sovereignty. Monthly Rev 61(3):102–113

Altieri MA, Nicholls CI (2005) Agroecology and the search for a truly sustainable agriculture. United Nations Environmental Programme, Mexico

Altieri MA, Nicholls CI (2012) Agroecology scaling up for food sovereignty and resiliency. In: Lichtfouse E (ed) Sustainable agriculture reviews, vol 11. vol 2012. Springer Science+Business Media, Dordrecht, pp 1–29. doi:10.1007/978-94-007-5449-2

Altieri MA, Funes-Monzote FR, Petersen P (2012) Agroecologically efficient agricultural systems for smallholder farmers: contributions to food sovereignty. Agron Sustain Dev 32(1):1–13

Bates AK (2010) The biochar solution: carbon farming and climate change. New Society Publishers, Gabriola Island

Beaulieu MS (2004) Manure management in Canada. Stat Canada: Farm Environ Manag Canada 1(2):1–52

Bruges J (2010) The biochar debate: charcoal's potential to reverse climate change and build soil fertility. Chelsea Green Publishing, White River Junction

Butler D (2013) Fungus threatens top banana. Nat Middle East 504(7479):195–196

Chapagain A, Hoekstra A (2004) Water footprints of nations. UNESCO-IHE, Delft

Coleman R (2004) The role of permaculture in attaining global food security. Issues 69(December 2004):45–48

De Schutter O (2010) Report submitted by the Special Rapporteur on the right to food. UN Hum Rights Counc, New York, NY. http://www2.ohchr.org/english/issues/food/docs/A-HRC-16-49.pdf. Accessed 15 January 2011

Döll P, Fiedler K, Zhang J (2009) Global-scale analysis of river flow alterations due to water withdrawals and reservoirs. Hydrol Earth Syst Sci 13(12):2413–2432

ETC. Group (2009) Who will feed us? Questions for the food and climate crisis. ETC. Group Communiqué (102):1–31

FAO (1998) Women: Users, preservers and managers of agro-biodiversity. Food and Agricultural Organisation. http://www.fao.org/sd/wpdirect/wpan0025.htm. Accessed 17 Febuary 2014

Ferguson RS, Lovell ST (2013) Permaculture for agroecology: design, movement, practice, and worldview. a review. Agron Sustain Dev 34(2):251–274. doi:10.1007/s13593-013-0181-6

Foley JA et al (2005) Global consequences of land use. Science 309(5734):570–574

Gomiero T, Paoletti MG, Pimentel D (2008) Energy and environmental issues in organic and conventional agriculture. Crit Revs Plant Sci 27(4):239–254

GRAIN (2011) Food and climate change: The forgotten link. GRAIN, Barcelona, Spain. http://www.grain.org/article/entries/4357-food-and-climate-change-the-forgotten-link.pdf. Accessed 15 October 2014

Heller MC, Keoleian GA (2000) Life cycle-based sustainability indicators for assessment of the US food system. Cent for Sustainable Systems, University of Michigan, Ann Arbor, MI. http://citeseerx.ist.psu.edu/viewdoc/download?doi=10.1.1.194.9814&rep=rep1&type=pdf. Accessed 15 February 2015 doi:10.1.1.194.9814

Holmgren D (2002) Principles & pathways beyond sustanability. Holmgren Design Services, Hepburn

Holmgren D (2007) Essence of permaculture. Holmgren Design Services, Hepburn, Australia. http://holmgren.com.au/downloads/Essence_of_Pc_EN.pdf. Accessed 15 October 2014

Kitsteiner J (2014) Temperate climate permaculture: Nine layers of the edible forest garden. http://tcpermaculture.com/site/2013/05/27/nine-layers-of-the-edible-forest-garden/. Accessed 31 July 2014

Knorr DW, Watkins TR (1984) Alterations in food production. Van Nostrand Reinhold, New York

La Via Campesina (2007) Declaration of Nyéléni. Via Campesina. http://viacampesina.org/en/index.php/main-issues-mainmenu-27/food-sovereignty-and-trade-mainmenu-38/262-declaration-of-nyi. Accessed 15 October 2014

LeBlanc RJ, Matthews P, Richard RP (2009) Global atlas of excreta, wastewater sludge, and biosolids management: moving forward the sustainable and welcome uses of a global resource. UN-Habitat, Nairobi

Liebhardt W (2001) Get the facts straight: organic agriculture yields are good. Organ Farm Res Found Inf Bull 10(1):4–5

Mann CC (2005) 1491: new revelations of the Americas before Columbus. Random House LLC, New York

Mazoyer M, Roudart L (2006) A history of world agriculture: from the neolithic age to the current crisis. Earthscan, London

McIntyre BD, Harren HR, Wakhungu J, Watson RT (eds) (2009) Agriculture at a crossroads: international assessment of agricultural knowledge, science and technology for development global report. Island Press, Washington, DC

McKibben B (2013) Don't imagine the future—it's already here. Organization 20(5):745–747

McManus B (2010) An integral framework for permaculture. J Sustain Dev 3(3):162–174

Mollison B (1979) Permaculture two: practical design for town and country in permanent agriculture. Tagari Community Books, Maryborough, Australia

Neff RA, Parker CL, Kirschenmann FL, Tinch J, Lawrence RS (2011) Peak oil, food systems, and public health. Am J Public Health 101(9):1587–1597. doi:10.2105/AJPH.2011.300123

Peeters B (2012) Permaculture as alternative agriculture. Kasarinlan: Phil J Third World Stud 26(1–2):422–434

Perelman MJ (1972) Farming with petroleum. Environ: Sci Policy Sustain Dev 14(8):8–13

Pimbert M (2009) Towards food sovereignty: reclaiming autonomous food systems. CAFS IIED and RCC, London, UK and Munich, Germany

Pimentel D (1996) Green revolution agriculture and chemical hazards. Sci Total Environ 188(1):S86–S98

Pimentel D (2011) Food for thought: a review of the role of energy in current and evolving agriculture. Crit Rev Plant Sci 30(1–2):35–44

Pimentel D et al (1995) Environmental and economic costs of soil erosion and conservation benefits. Science 267(5201):1117–1122

Pimentel D, Williamson S, Alexander CE, Gonzalez-Pagan O, Kontak C, Mulkey SE (2008) Reducing energy inputs in the US food system. Hum Ecol 36(4):459–471

Pollan M (2006) The omnivore's dilemma: a natural history of four meals. The Penguin Press, New York, NY

Rhodes CJ (2012) Feeding and healing the world: Through regenerative agriculture and permaculture. Sci Prog 95(4). doi:10.3184/003685012X13504990668392

Rodale Institute (2014) Regenerative organic agriculture and climate change: A down-to-Earth solution to global warming. Rodale Institute, Kutztown, PA. http://rodaleinstitute.org/assets/RegenOrgAgricultureAndClimateChange_20140418.pdf

Rosset PM, Machin Sosa B, Roque Jaime AM, Ávila Lozano DR (2011) The Campesino-to-Campesino agroecology movement of ANAP in Cuba: social process methodology in the construction of sustainable peasant agriculture and food sovereignty. J Peasant Stud 38(1):161–191

Shiva V (1991) The green revolution in the Punjab. Ecologist 21(2):57–60

Shiva V (2008) Soil not oil: environmental justice in a time of climate crisis. South End Press, Cambridge

Sinha SK, Talati J (2007) Productivity impacts of the system of rice intensification (SRI): a case study in West Bengal, India. Agric Water Manag 87(1):55–60

Smith P et al (2007) Chapter 8: agriculture. In: Metz B, Davidson OR, Bosch PR, Dave R, Meyer LA (eds) Climate change 2007: mitigation. Contribution of working group III to the fourth assessment report of the intergovernmental panel on climate change. Cambridge University Press, Cambridge, pp 497–540

Suzuki DT, McConnell A, Mason A (2007) The sacred balance: rediscovering our place in nature. Allen & Urwin, Crows Nest

Swift RS (2001) Sequestration of carbon by soil. Soil Sci 166(11):858–871

Telford R (2015) Permaculture principles poster. Permaculture Principles. http://permacultureprinciples.com/downloads/Pc_Principles_Poster_EN.pdf. Accessed 15 February 2015

Tilman D (1999) Global environmental impacts of agricultural expansion: the need for sustainable and efficient practices. Proc Natl Acad Sci 96(11):5995–6000

Tilman D, Cassman KG, Matson PA, Naylor R, Polasky S (2002) Agricultural sustainability and intensive production practices. Nature 418(6898):671–677

Uphoff NT (2002) Agroecological innovations: increasing food production with participatory development. Earthscan Publications, London

Vandermeer JH (2011) The ecology of agroecosystems. Jones and Bartlett Publishers, Sudbury

Veteto JR, Lockyer J (2008) Environmental anthropology engaging permaculture: moving theory and practice toward sustainability. Culture Agric 30(1–2):47–58

Wada Y, van Beek LP, Bierkens MFP (2012) Nonsustainable groundwater sustaining irrigation: a global assessment. Water Res Res 48(6):1–18. doi:10.1029/2011WR010562

Worthington V (2001) Nutritional quality of organic versus conventional fruits, vegetables, and grains. J Alternative Complem Med 7(2):161–173

Xuereb M (2005) Food miles: Environmental implications of food imports to Waterloo Region. Region of Waterloo Public Health, Waterloo, ON. http://chd.region.waterloo.on.ca/en/researchResourcesPublications/resources/FoodMiles_Report.pdf
About this article
Cite this article
Hathaway, M.D. Agroecology and permaculture: addressing key ecological problems by rethinking and redesigning agricultural systems. J Environ Stud Sci 6, 239–250 (2016). https://doi.org/10.1007/s13412-015-0254-8
Keywords
Industrial agriculture

Water

Greenhouse gasses

Food

Soil

Biodiversity

Carbon sequestration

Ecology

Agroecology

Permaculture