Access options
Buy single article
Instant access to the full article PDF.
US$ 39.95
Tax calculation will be finalised during checkout.
Subscribe to journal
Immediate online access to all issues from 2019. Subscription will auto renew annually.
US$ 79
Tax calculation will be finalised during checkout.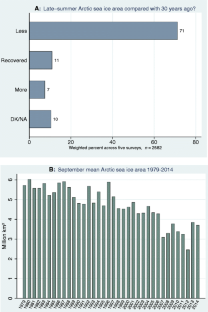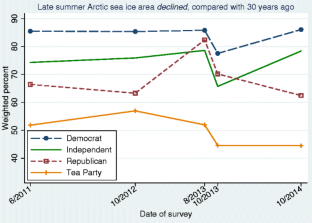 References
Corner A, Whitmarsh L, Xenias D (2011) Uncertainty, scepticism and attitudes towards climate change: biased assimilation and attitude polarisation. Clim Chang 114(3–4):463–478

Hamilton LC (2008) Who cares about polar regions? Results from a survey of U.S. Public opinion. Arct Antarct Alp Res 40(4):671–678

Hamilton LC (2011) Education, politics and opinions about climate change: Evidence for interaction effects. Climatic Change 104:231–242. doi:10.1007/s10584-010-9957-8

Hamilton LC (2012) Did the Arctic ice recover? Demographics of true and false climate facts. Weather, Clim, Soc 4(4):236–249

Hamilton LC, Saito K (2015) A four-party view of U.S. environmental concern. Environmental Politics doi:10.1080/09644016.2014.976485

Hamilton LC, Cutler MJ, Schaefer A (2012) Public knowledge and concern about polar-region warming. Polar Geogr 35(2):155–168

Kahan DM (2013) Ideology, motivated reasoning, and cognitive reflection. Judgment Decis Making 8(4):407–424

Kahan, DM (forthcoming) Climate science communication and the measurement problem. Advances in Political Psychology.

Leiserowitz A, Maibach E, Roser-Renouf C, Hmielowski JD (2011) Politics & global warming: democrats, republicans, independents, and the Tea party. Yale Project on Climate Change Communication, New Haven

McCright AM, Dunlap RE (2011) The politicization of climate change: Political polarization in the American public's views of global warming. Sociol Q 52:155–194

Munro GD, Ditto PH (1997) Biased assimilation, attitude polarization, and affect in reactions to stereotype-relevant scientific information. Personal Soc Psychol Bull 23(6):636–653

Taber CS, Lodge M (2006) Motivated skepticism in the evaluation of political beliefs. Am J Polit Sci 50(3):755–769

Van der Linden SL, Leiserowitz AA, Feinberg GS, Maibach EW (2014) How to communicate the scientific consensus on climate change: Plain facts, pie charts or metaphors? Clim Chang 126(1–2):255–262
Acknowledgements
Arctic and Antarctic science questions on the Granite State Poll have been supported by grants from the National Science Foundation for the PoLAR Climate Change Education Partnership (DUE-1239783), and Sea Ice Prediction Network (PLR-1303938). Surveys were conducted by the University of New Hampshire Survey Center, with assistance from the Carsey School of Public Policy.
About this article
Cite this article
Hamilton, L. What people know. J Environ Stud Sci 5, 54–57 (2015). https://doi.org/10.1007/s13412-015-0222-3
Keywords
Arctic

Survey

Knowledge

Education

Politics

Polar

Sea level

Sea ice