Abstract
Higher education is being confronted with a paradigm shift. Current literature supports the contention that higher education needs to improve their connection with the needs of employers to meet future workforce demands. Higher education is specifically challenged in improving the competency of students in twenty-first century skills that include innovation, creativity, problem solving, critical thinking, communication, collaboration, and self management, among others. To assess the extent to which students are developing twenty-first century competencies, the Environmental Studies program at the University of Nebraska–Lincoln has partnered with Target Training International, Ltd (TTI). to gain insights into the development of professional competencies among its majors. Data collected using TTI's TriMetrix® DNA instrument indicates a statistically significant (p <0.05) improvement in the student's ability to: utilize effective processes to make decisions (decision making); effectively manage resources, systems, and processes (management); demonstrate initiative, self confidence, resiliency and a willingness to take responsibility for personal actions (personal effectiveness); adapt to change (flexibility); and anticipate, analyze, diagnose, and resolve problems (analytical problem solving). This exploratory study supports the conclusion that raising expectations about the development of professional competencies among students and employing pedagogical approaches and educational practices that promote student independence, self-directed learning, self-reliance, and interactions with the community, even on a relatively small scale, can have a significant impact on the development of twenty-first century competencies.
This is a preview of subscription content, log in to check access.
Access options
Buy single article
Instant access to the full article PDF.
US$ 39.95
Tax calculation will be finalised during checkout.
Subscribe to journal
Immediate online access to all issues from 2019. Subscription will auto renew annually.
US$ 99
Tax calculation will be finalised during checkout.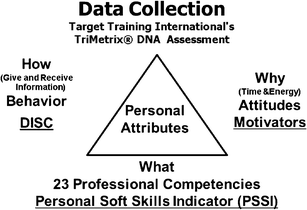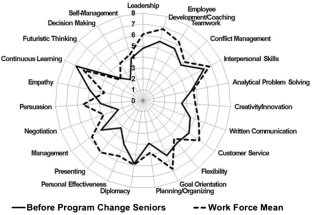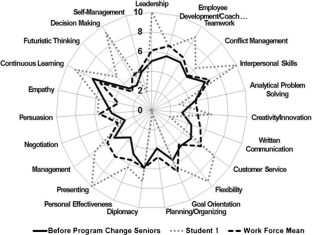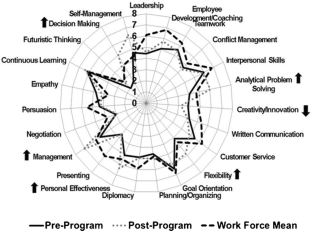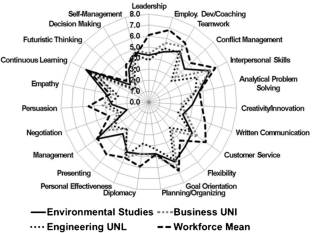 References
Arum R, Roksa J (2011) Academically adrift: limited learning on college campuses. University of Chicago Press, Chicago, IL

Bedwell WL, Fiore SM, Salas E (2011) S.M. Developing the 21st century (and beyond) workforce: a review of interpersonal skills & measurement strategies http://www7.national-academies.org/bota/21st_Century_Workshop_Salas_Fiore_Paper.pdf Accessed 21 Nov 2012

Bellanca J, Brandt R (2010) 21st Century skills: rethinking how students learn. Solution Tree Press, Bloomington, IN

Bonnstetter RJ, Bonnstetter BJ (2008) University of Nebraska Lincoln freshmen engineering majors with University of Northern Iowa business majors comparisons: when do people develop personal skills. Unpublished Document, Talent Training International, Ltd.

Crawford P, Lang S, Fink W, Dalton R, Fielitz L (2011) Comparative analysis of soft skills: what is important for new graduates. Association of Public and Land Grant Universities. (http://www.aplu.org/document.doc?id = 3414). Accessed: 19 Dec 2012

Livingston L (2010) Teaching creativity in higher education. Arts Ed. Policy Rev 111:59–62. doi:10.1080/10632910903455884

McWilliam E, Dawson S (2008) Teaching for creativity: towards sustainable and replicable pedagogical practice. High Ed 56:633–643. doi:10.1007/s10734-008-9115-7

National Research Council (2000) How people learn: brain, mind, experience, and school, Expanded edition. The National Academies Press, Washington

National Research Council (2012) Education for life and work: developing transferable knowledge and skills in the 21st century. The National Academies Press, Washington

Partnership for 21st Century Skills (2011) Framework for 21st century learning. http://www.p21.org/overview. Accessed 21 Nov 2012

Pistrui D, Layer JK, Dietrich S (2012) Mapping the behaviors, motives and professional competencies of entrepreneurially minded engineers in theory and practice: an empirical investigation. Proceedings American Society for Engineering Education 2012 Annual Conference, June 10–13, 2012, San Antonio, Texas

Vincent S, Focht W (2010) In search of common ground: exploring identity and the possibility of core competencies for interdisciplinary environmental programs. Env Prac 12:1–11

Weik A, Withycombe L, Redman CL (2011) Key competencies in sustainability: a reference framework for academic program development. Sustain Sci. doi:10.1007/s11625-011-0132-6

Yeager DS, Walton G (2011) Social-psychological interventions in education: they're not magic. Rev Ed Res 81:267–301

Zemsky R (2009) Making reform work. Rutgers University Press, Piscataway, NJ
About this article
Cite this article
Gosselin, D., Cooper, S., Bonnstetter, R.J. et al. Exploring the assessment of twenty-first century professional competencies of undergraduate students in environmental studies through a business—academic partnership. J Environ Stud Sci 3, 359–368 (2013). https://doi.org/10.1007/s13412-013-0140-1
Keywords
Assessment

Professional competencies

Soft skills

Twenty-first century skills

TriMetrix

Target training