Abstract
Background
B12 deficiency, which can be seen in type 2 DM patients using metformin, can cause peripheral nerve damage that can easily be confused with peripheral neuropathy, a complication of diabetes. Therefore, early diagnosis is important in patients.
Objective
In our study, we aimed to investigate benefit of Active B12 measurement in diagnosing B12 deficiency, as it might be a better alternative in follow-up of B12 levels in type 2 DM patients using metformin.
Methods
Patients were divided into three groups according to their Total B12 levels: Deficient, Borderline and Sufficient. Homocysteine and Active B12 (holotranscobalamin) levels were studied with Chemiluminescent Microparticle Immunoassay (CMIA) for quantitative determination. Duration of use, daily metformin dose, and other parameters were collected from records and interviews.
Results
A statistically significant positive correlation was found between Total B12 and Active B12 (r = 0.624, p = 0.000). A statistically significant negative correlation was found between metformin dose and Active B12 and Total B12 levels (r = -0.309, r = -0.212, respectively; p < 0.05). While effects of metformin dose and duration of use groups were not found statistically significant in binary logistic regression analysis for Total B12 groups, the OR value for Active B12 was found to be 5.575 (95% CI 1.456–21.343, p = 0.012).
Conclusions
It is important to closely follow up Type2 DM patients with high daily metformin dose in terms of B12 deficiency. Active B12 is a significant predictor of B12 deficiency compared to other parameters.
Access options
Buy single article
Instant access to the full article PDF.
USD 39.95
Price excludes VAT (USA)
Tax calculation will be finalised during checkout.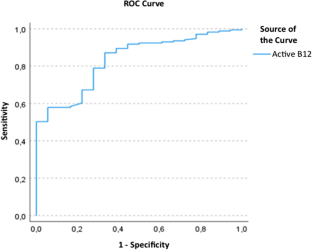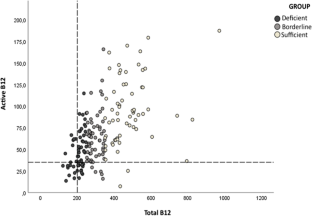 Data availability
Based on a request, the data supporting the current work's findings is available from the corresponding author.
References
Devalia V, et al. Guidelines for the diagnosis and treatment of cobalamin and folate disorders. Br J Haematol. 2014;166(4):496–513.

Herrmann W, Geisel J. Vegetarian lifestyle and monitoring of vitamin B-12 status. Clin Chim Acta. 2002;326(1–2):47–59.

Snow CF. Laboratory diagnosis of vitamin B12 and folate deficiency: a guide for the primary care physician. Arch Intern Med. 1999;159(12):1289–98.

Carmel R, Sarrai M. Diagnosis and management of clinical and subclinical cobalamin deficiency: advances and controversies. Curr Hematol Rep. 2006;5(1):23–33.

Herrmann W, et al. Functional vitamin B12 deficiency and determination of holotranscobalamin in populations at risk. Clin Chem Lab Med. 2003;41(11):1478–88.

Allen RH, et al. Diagnosis of cobalamin deficiency I: usefulness of serum methylmalonic acid and total homocysteine concentrations. Am J Hematol. 1990;34(2):90–8.

Hvas AM, et al. The marker of cobalamin deficiency, plasma methylmalonic acid, correlates to plasma creatinine. J Intern Med. 2000;247(4):507–12.

Heil SG, et al. Screening for metabolic vitamin B12 deficiency by holotranscobalamin in patients suspected of vitamin B12 deficiency: a multicentre study. Ann Clin Biochem. 2012;49(Pt 2):184–9.

Liu Q, et al. Vitamin B12 status in metformin treated patients: systematic review. PLoS One. 2014;9(6): e100379.

Herrmann W, et al. Concentrations of homocysteine, related metabolites and asymmetric dimethylarginine in preeclamptic women with poor nutritional status. Clin Chem Lab Med. 2005;43(10):1139–46.

Hoogeveen EK, et al. Hyperhomocysteinemia is associated with an increased risk of cardiovascular disease, especially in non-insulin-dependent diabetes mellitus: a population-based study. Arterioscler Thromb Vasc Biol. 1998;18(1):133–8.

Dereli D, et al. Metformin and Serum Vitamin B12 Levels in Type II Diabetic Patients. J Tepecik Educ Res Hosp. 2000;10(1):31–5.

Shipton MJ, Thachil J. Vitamin B12 deficiency - A 21st century perspective. Clin Med (Lond). 2015;15(2):145–50.

Sonmezisik F, Gur E, Asiltaş B. Importance of holotranscobalamin (holoTC) measurements in early diagnosis of cobalamin deficiency, especially in patients with borderline vitamin B12 concentrations. Nobel Medicus. 2013;9:15–20.

Ting RZ, et al. Risk factors of vitamin B(12) deficiency in patients receiving metformin. Arch Intern Med. 2006;166(18):1975–9.

Bondu JD, et al. Assessing Diagnostic Accuracy of Serum Holotranscobalamin (Active-B12) in Comparison with Other Markers of Vitamin B12 Deficiency. Indian J Clin Biochem. 2020;35(3):367–72.

Brinc D, et al. Long-term stability of biochemical markers in pediatric serum specimens stored at −80°C: A CALIPER Substudy. Clin Biochem. 2012;45(10):816–26.

Ko SH, et al. Association of vitamin B12 deficiency and metformin use in patients with type 2 diabetes. J Korean Med Sci. 2014;29(7):965–72.

Kim J, et al. Association between metformin dose and vitamin B12 deficiency in patients with type 2 diabetes. Medicine (Baltimore). 2019;98(46): e17918.

Beulens JW, et al. Influence of duration and dose of metformin on cobalamin deficiency in type 2 diabetes patients using metformin. Acta Diabetol. 2015;52(1):47–53.

Krishnan GD, Zakaria MH, Yahaya N. Prevalence of Vitamin B12 Deficiency and its Associated Factors among Patients with Type 2 Diabetes Mellitus on Metformin from a District in Malaysia. J ASEAN Fed Endocr Soc. 2020;35(2):163–8.

Yousef Khan F, et al. Association of vitamin B12 deficiency with metformin use in patients with type 2 diabetes treated in the largest tertiary care hospital in Qatar. Qatar Med J. 2021;2021(2):39.

Yetley EA, et al. Biomarkers of folate status in NHANES: a roundtable summary. Am J Clin Nutr. 2011;94(1):303S-312S.

Hannibal L, et al. Biomarkers and Algorithms for the Diagnosis of Vitamin B12 Deficiency. Front Mol Biosci. 2016;3:27.

Savage DG, et al. Sensitivity of serum methylmalonic acid and total homocysteine determinations for diagnosing cobalamin and folate deficiencies. Am J Med. 1994;96(3):239–46.

Aparicio-Ugarriza R, et al. A review of the cut-off points for the diagnosis of vitamin B12 deficiency in the general population. Clin Chem Lab Med. 2015;53(8):1149–59.

Galloway M, Hamilton M. Macrocytosis: pitfalls in testing and summary of guidance. BMJ. 2007;335(7625):884–6.

Miller JW, et al. Measurement of total vitamin B12 and holotranscobalamin, singly and in combination, in screening for metabolic vitamin B12 deficiency. Clin Chem. 2006;52(2):278–85.

Nexo E, Hoffmann-Lücke E. Holotranscobalamin, a marker of vitamin B-12 status: analytical aspects and clinical utility. Am J Clin Nutr. 2011;94(1):359s–65s.

Bamonti F, et al. Determination of serum holotranscobalamin concentrations with the AxSYM active B(12) assay: cut-off point evaluation in the clinical laboratory. Clin Chem Lab Med. 2010;48(2):249–53.

Al Aisari F, Al-Hashmi H, Mula-Abed WA. Comparison between Serum Holotranscobalamin and Total Vitamin B12 as Indicators of Vitamin B12 Status. Oman Med J. 2010;25(1):9–12.
Acknowledgments
We would like to thank Tagi Polat for his support in the laboratory studies of this study.
Funding
The research was funded by Bezmialem Foundation University Scientific Research Projects Unit (Project Number: 20200601E).
Ethics declarations
Ethics approval
This study was carried out with the permission no 07/128 (date: 22/ 05/2020) obtained from Bezmialem Vakif University Noninterventional Research Ethics Committee.
Author agreement
All of the authors declare that they have all participated in the design, execution, and analysis of the paper, and that they have approved the final version. Additionally, there are no conflicts of interest in connection with this paper, and the material described is not under publication or consideration for publication elsewhere.
Conflict of interest
The authors declared that they have no conflict of interest.
Additional information
Publisher's note
Springer Nature remains neutral with regard to jurisdictional claims in published maps and institutional affiliations.
Rights and permissions
Springer Nature or its licensor (e.g. a society or other partner) holds exclusive rights to this article under a publishing agreement with the author(s) or other rightsholder(s); author self-archiving of the accepted manuscript version of this article is solely governed by the terms of such publishing agreement and applicable law.
About this article
Cite this article
Yıldız, T., Yıldız, S., Tunc, M. et al. The importance of active B12 (holotranscobalamin) measurement in the diagnosis of vitamin B12 deficiency in type 2 DM patients using metformin. Int J Diabetes Dev Ctries (2023). https://doi.org/10.1007/s13410-023-01217-0
Received:

Accepted:

Published:

DOI: https://doi.org/10.1007/s13410-023-01217-0
Keywords