Abstract
This study aims to find the possible correlation of vitamin D with the onset of gestational diabetes mellitus (GDM) and its effect on fetal growth. A case-control study was conducted recruiting pregnant women in their second trimester. All subjects were classified as per the guidelines of the International Association of Diabetes and Pregnancy Study Groups (IADPSG) criterion. Fetal growth scans were recorded at 28th week of gestation. Venous blood was collected and serum levels of 25-(OH) D, Calcium, TNF alpha were measured. Vitamin D concentration in cases was lower (2.40 ± 1.10 ng/ml) as compared to controls (5.50 ± 1.74 ng/ml), while serum calcium levels of both groups were under normal range. TNF alpha level in cases was higher as compared to controls (p < 0.001). On ultrasound scan, 47% of the babies of GDM mothers were small for gestational age. No difference was observed in terms of femur length and fetal weight in both groups (p > 0.05). Weak negative correlation of vitamin D with insulin resistance (r = −0.304; p = 0.004), positive correlation with fetal growth (r = 0.303; p = 0.043) and a strong negative correlation with TNF alpha levels (r = −0.703; p = 0.023) were observed. Low vitamin D levels may be associated with the onset of gestational diabetes and affect fetal growth and development. Hence, antenatal screening and timely intervention is recommended.
Access options
Buy single article
Instant access to the full article PDF.
US$ 39.95
Tax calculation will be finalised during checkout.
Subscribe to journal
Immediate online access to all issues from 2019. Subscription will auto renew annually.
US$ 79
Tax calculation will be finalised during checkout.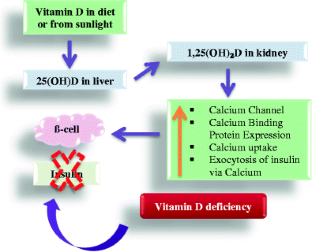 References
1.

Cho GJ, Hong S-C, Oh M-J, Kim H-J. Vitamin D deficiency in gestational diabetes mellitus and the role of the placenta. American journal of obstetrics and gynecology. 2013;209(6):560. e1-. e8.

2.

Harvey NC, Holroyd C, Ntani G, Javaid K, Cooper P, Moon R, et al. Vitamin D supplementation in pregnancy: a systematic review. Health technology assessment (Winchester, England). 2014;18(45):1.

3.

Manson JE, Bassuk SS. Vitamin D research and clinical practice: at a crossroads. JAMA. 2015;313(13):1311–2.

4.

Ozfirat Z, Chowdhury TA. Vitamin D deficiency and type 2 diabetes. Postgrad Med J. 2010;86(1011):18–25. doi:10.1136/pgmj.2009.078626. quiz 4

5.

Association AD. Standards of medical care in diabetes—2014. Diabetes Care. 2014;37:S14.

6.

Bibi S, Saleem U, Mahsood N. The frequency of gestational diabetes mellitus and associated risk factors at Khyber teaching hospital Peshawar. Journal of Postgraduate Medical Institute (Peshawar-Pakistan). 2015;29(1).

7.

Reece EA, Leguizamón G, Wiznitzer A. Gestational diabetes: the need for a common ground. Lancet. 2009;373(9677):1789–97.

8.

Baig A, Anjum P, Khani MK, Islam N, Rahman A. Pattern of serum vitamin D in OPD patients. Pak J Surg. 2007;23:145–9.

9.

Sheikh A, Saeed Z, Jafri SAD, Yazdani I, Hussain SA. Vitamin D levels in asymptomatic adults—a population survey in Karachi. Pakistan PLoS One. 2012;7(3):e33452.

10.

Olmos-Ortiz A, Avila E, Durand-Carbajal M, Díaz L. Regulation of calcitriol biosynthesis and activity: focus on gestational vitamin D deficiency and adverse pregnancy outcomes. Nutrients. 2015;7(1):443–80.

11.

Marshall I, Mehta R, Petrova A. Vitamin D in the maternal–fetal–neonatal interface: clinical implications and requirements for supplementation. J Matern Fetal Neonatal Med. 2013;26(7):633–8.

12.

Boyle V. Vitamin D and pregnancy. Obstetrics, Gynaecology & Reproductive Medicine. 2014;24(10):315–6.

13.

El Lithy A, Abdella RM, El-Faissal YM, Sayed AM, Samie RMA. The relationship between low maternal serum vitamin D levels and glycemic control in gestational diabetes assessed by HbA1c levels: an observational cross-sectional study. BMC pregnancy and childbirth. 2014;14(1):1.

14.

Holick MF, Binkley NC, Bischoff-Ferrari HA, Gordon CM, Hanley DA, Heaney RP, et al. Evaluation, treatment, and prevention of vitamin D deficiency: an endocrine society clinical practice guideline. The Journal of Clinical Endocrinology & Metabolism. 2011;96(7):1911–30.

15.

Lips P. Relative value of 25 (OH) D and 1, 25 (OH) 2D measurements. J Bone Miner Res. 2007;22(11):1668–71.

16.

Hintze J. PASS 11. NCSS, LLC. Kaysville, Utah, USA. www.ncss.com. 2011.

17.

Panel IC. International association of diabetes and pregnancy study groups recommendations on the diagnosis and classification of hyperglycemia in pregnancy. Diabetes Care. 2010;33(3):676–82.

18.

McPherson R, Pincus MR, Henry JB. Henry's clinical diagnosis and management by laboratory methods. Saunders Elsevier; 2007.

19.

Zuhur SS, Erol RS, Kuzu I, Altuntas Y. The relationship between low maternal serum 25-hydroxyvitamin D levels and gestational diabetes mellitus according to the severity of 25-hydroxyvitamin D deficiency. Clinics. 2013;68(5):658–64.

20.

Parildar H, Unal AD, Desteli GA, Cigerli O, Demirag NG. Frequency of Vitamin D deficiency in pregnant diabetics at Baskent University Hospital, Istanbul. 2013.

21.

Pleskačová A, Bartáková V, Pácal L, Kuricová K, Bělobrádková J, Tomandl J et al. Vitamin D status in women with gestational diabetes mellitus during pregnancy and postpartum. BioMed research international. 2015;2015.

22.

Wang O, Nie M, Hu YY, Zhang K, Li W, Ping F, et al. Association between vitamin D insufficiency and the risk for gestational diabetes mellitus in pregnant Chinese women. Biomedical and environmental sciences : BES. 2012;25(4):399–406. doi:10.3967/0895-3988.2012.04.004.

23.

Lacroix M, Battista M-C, Doyon M, Houde G, Ménard J, Ardilouze J-L, et al. Lower vitamin D levels at first trimester are associated with higher risk of developing gestational diabetes mellitus. Acta Diabetol. 2014;51(4):609–16.

24.

McManus R, Summers K, Vrijer B, Cohen N, Thompson A, Giroux I. Maternal, umbilical arterial and umbilical venous 25-hydroxyvitamin D and adipocytokine concentrations in pregnancies with and without gestational diabetes. Clin Endocrinol. 2014;80(5):635–41.

25.

Arnold DL, Enquobahrie DA, Qiu C, Huang J, Grote N, VanderStoep A, et al. Early pregnancy maternal vitamin D concentrations and risk of gestational diabetes mellitus. Paediatr Perinat Epidemiol. 2015;29(3):200–10.

26.

Burris HH, Rifas-Shiman SL, Camargo CA, Litonjua AA, Huh SY, Rich-Edwards JW, et al. Plasma 25-hydroxyvitamin D during pregnancy and small-for-gestational age in black and white infants. Ann Epidemiol. 2012;22(8):581–6.

27.

Gernand AD, Simhan HN, Klebanoff MA, Bodnar LM. Maternal serum 25-hydroxyvitamin D and measures of newborn and placental weight in a US multicenter cohort study. The Journal of Clinical Endocrinology & Metabolism. 2012;98(1):398–404.

28.

Hollis BW, Johnson D, Hulsey TC, Ebeling M, Wagner CL. Vitamin D supplementation during pregnancy: double-blind, randomized clinical trial of safety and effectiveness. Journal of bone and mineral research: the official journal of the American Society for Bone and Mineral Research. 2011;26(10):2341–57. doi:10.1002/jbmr.463.

29.

Olausson H, Goldberg GR, Laskey MA, Schoenmakers I, Jarjou LM, Prentice A. Calcium economy in human pregnancy and lactation. Nutr Res Rev. 2012;25(01):40–67.

30.

Agmon-Levin N, Blank M, Zandman-Goddard G, Orbach H, Meroni P, Tincani A, et al. Vitamin D: an instrumental factor in the anti-phospholipid syndrome by inhibition of tissue factor expression. Ann Rheum Dis. 2011;70(1):145–50.

31.

Rota S, Yildirim B, Kaleli B, Aybek H, Duman K, Kaptanoglu B. C-reactive protein levels in non-obese pregnant women with gestational diabetes. Tohoku J Exp Med. 2005;206(4):341–5.

32.

Hossain N, Kanani FH, Ramzan S, Kausar R, Ayaz S, Khanani R, et al. Obstetric and neonatal outcomes of maternal vitamin D supplementation: results of an open-label, randomized controlled trial of antenatal vitamin D supplementation in Pakistani women. The Journal of Clinical Endocrinology & Metabolism. 2014;99(7):2448–55.

33.

Sablok A, Batra A, Thariani K, Batra A, Bharti R, Aggarwal AR, et al. Supplementation of vitamin D in pregnancy and its correlation with feto-maternal outcome. Clin Endocrinol. 2015;83(4):536–41.

34.

Ou W, Min N, HU YY, Zhang K, Wei L, Fan P, et al. Association between vitamin D insufficiency and the risk for gestational diabetes mellitus in pregnant Chinese women. Biomed Environ Sci. 2012;25(4):399–406.

35.

Asemi Z, Samimi M, Tabassi Z, Shakeri H, Esmaillzadeh A. Vitamin D supplementation affects serum high-sensitivity C-reactive protein, insulin resistance, and biomarkers of oxidative stress in pregnant women. J Nutr. 2013;143(9):1432–8.

36.

Whitelaw DC, Scally AJ, Tuffnell DJ, Davies TJ, Fraser WD, Bhopal RS, et al. Associations of circulating calcium and 25-hydroxyvitamin D with glucose metabolism in pregnancy: a cross-sectional study in European and South Asian women. The Journal of Clinical Endocrinology & Metabolism. 2014;99(3):938–46.

37.

Loy SL, Lek N, Yap F, Soh SE, Padmapriya N, Tan KH, et al. Association of maternal vitamin D status with glucose tolerance and caesarean section in a multi-ethnic Asian cohort: the growing up in Singapore towards healthy outcomes study. PLoS One. 2015;10(11):e0142239. doi:10.1371/journal.pone.0142239.

38.

Pleskacova A, Bartakova V, Pacal L, Kuricova K, Belobradkova J, Tomandl J, et al. Vitamin D status in women with gestational diabetes mellitus during pregnancy and postpartum. Biomed Res Int. 2015;2015:260624. doi:10.1155/2015/260624.

39.

Rodriguez A, García-Esteban R, Basterretxea M, Lertxundi A, Rodríguez-Bernal C, Iniguez C, et al. Associations of maternal circulating 25-hydroxyvitamin D3 concentration with pregnancy and birth outcomes. BJOG Int J Obstet Gynaecol. 2015;122(12):1695–704.

40.

Haidari F, Jalali MT, Shahbazian N, Haghighizadeh MH, Azadegan E. Comparison of serum levels of vitamin D and inflammatory markers between women with gestational diabetes mellitus and healthy pregnant control. Journal of family & reproductive health. 2016;10(1):1–8.

41.

Josefson JL, Reisetter A, Scholtens DM, Price HE, Metzger BE, Langman CB. Maternal BMI associations with maternal and cord blood vitamin D levels in a North American subset of hyperglycemia and adverse pregnancy outcome (HAPO) study participants. PLoS One. 2016;11(3):e0150221. doi:10.1371/journal.pone.0150221.

42.

Wagner CL, Taylor SN, Dawodu A, Johnson DD, Hollis BW. Vitamin D and its role during pregnancy in attaining optimal health of mother and fetus. Nutrients. 2012;4(3):208–30.
Acknowledgement
The authors would like to thank the Department of Biological and Biomedical Sciences, Aga Khan University, for funding this project. Also we wish to thank the study volunteers and technical staff of the project.
Ethics declarations
Conflict of interest
The authors declare that they have no conflict of interest.
Funding source
Department of Biological and Biomedical Sciences' research module fund.
About this article
Cite this article
Fatima, S.S., Maqbool, M.A., Syed, A. et al. Low vitamin D and risk for small for gestation age babies in gestational diabetes. Int J Diabetes Dev Ctries 38, 36–41 (2018). https://doi.org/10.1007/s13410-017-0557-2
Received:

Accepted:

Published:

Issue Date:
Keywords
GDM

Vitamin D

Small for gestational age