Abstract
The natural history and mortality of type 1 diabetes in adolescents in Africa is not well characterized. Our aim is, therefore, to describe these characteristics for cases in the Rwanda Life For a Child (LFAC) program. Participants (≤25 years old) were the first 500 children and youth enrolled in the Rwanda LFAC program from 2004 to 2012. Clinical and demographic data were extracted from LFAC forms, and vital status was evaluated as of November 1, 2011. For the first 500 participants, 5-year survival was 93.8% while crude mortality was 13.9/1000 (95% CI 9.0–20.6/1000) person years of diabetes. However, since vital status is unknown for 134 participants, mortality could be as high as 40.2/1000 person years of diabetes if all missing cases died. Mortality was directly associated with age at diagnosis, and inversely to calendar year of first visit, BMI, and monitoring frequency. Hypertension prevalence reached 46% by 2012. Mortality rates associated with type 1 diabetes in Rwanda are similar to those in other African countries, but higher than rates in developed countries. Delayed diagnosis may contribute to excess mortality risk, but recent improvements in survival suggest that advancements are being made. Hypertension and loss to follow-up need to be addressed.
This is a preview of subscription content, log in to check access.
Access options
Buy single article
Instant access to the full article PDF.
US$ 39.95
Price includes VAT for USA
Subscribe to journal
Immediate online access to all issues from 2019. Subscription will auto renew annually.
US$ 99
This is the net price. Taxes to be calculated in checkout.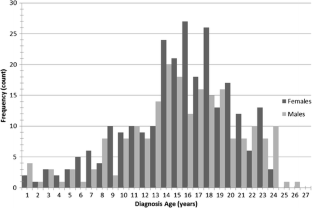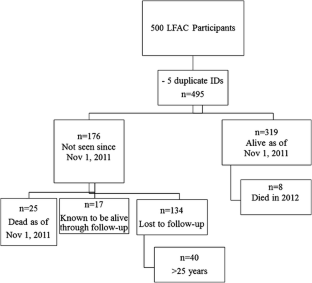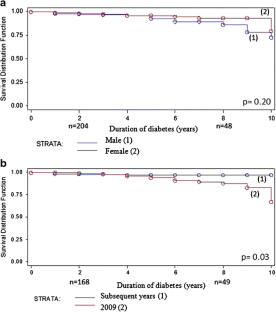 References
1.

International Diabetes Federation. Diabetes atlas, fourth edition. Brussels, Belgium; 2009.

2.

Marshall SL, Edidin D, Sharma V, Ogle G, Arena VC, Orchard T. Current clinical status, glucose control, and complication rates of children and youth with type 1 diabetes in Rwanda. Pediatr Diabetes. 2013;14(3):217–26.

3.

Walsh MG, Zgibor J, Borch-Johnsen K, Orchard TJ. A multinational assessment of complications in type 1 diabetes: the DiaMond substudy of complications (DiaComp) level 1. Diabetes & vascular disease research : official journal of the International Society of Diabetes and Vascular Disease. 2006;3(2):80–3.

4.

Lester FT. Clinical features, complications and mortality in type 1 (insulin-dependent) diabetic patients in Addis Ababa, Ethiopia, 1976–1990. The Quarterly journal of medicine. 1992;83(301):389–99.

5.

Gill GV, Huddle KRL, Monkoe G. Long-term (20 years) outcome and mortality of Type 1 diabetic patients in Soweto, South Africa. Diabetic Medicine. 2005;22(12):1642–6.

6.

McLarty DG, Athaide I, Bottazzo GF, Swai AM, Alberti KG. Islet cell antibodies are not specifically associated with insulin-dependent diabetes in Tanzanian Africans. Diabetes Res Clin Pract. 1990;9(3):219–24.

7.

Edge JA, Ford-Adams ME, Dunger DB. Causes of death in children with insulin dependent diabetes 1990–96. Arch Dis Child. 1999;81(4):318–23.

8.

Podar T, Solntsev A, Reunanen A, Urbonaite B, Zalinkevicius R, Karvonen M, LaPorte RE, Tuomilehto J. Mortality in patients with childhood-onset type 1 diabetes in Finland, Estonia, and Lithuania: follow-up of nationwide cohorts. Diabetes Care. 2000;23(3):290–4.

9.

O'Grady MJ, Delaney J, Jones TW, Davis EA. Standardised mortality is increased three-fold in a population-based sample of children and adolescents with type 1 diabetes. Pediatr Diabetes. 2013;14(1):13–7.

10.

Warner DP, McKinney PA, Law GR, Bodansky HJ. Mortality and diabetes from a population based register in Yorkshire 1978-93. Arch Dis Child. 1998;78(5):435–8.

11.

Secrest AM, Becker DJ, Kelsey SF, Laporte RE, Orchard TJ. Cause-specific mortality trends in a large population-based cohort with long-standing childhood-onset type 1 diabetes. Diabetes. 2010;59(12):3216–22.

12.

Secrest AM, Becker DJ, Kelsey SF, LaPorte RE, Orchard TJ. All-cause mortality trends in a large population-based cohort with long standing childhood-onset type 1 diabetes: the Allegheny County type 1 diabetes registry. Diabetes Care. 2010;33(12):2573–9.

13.

Beran D, Yudkin JS, De Courten M. Access to care for patients with insulin-requiring diabetes in developing countries: case studies of Mozambique and Zambia. Diabetes Care. 2005;28(9):2136–40.

14.

McLarty DG, Kinabo L, Swai AB. Diabetes in tropical Africa: a prospective study, 1981–7. II. Course and prognosis. BMJ (Clinical research ed). 1990;300(6732):1107–10.

15.

Gill GV, Huddle KR, Rolfe M. Mortality and outcome of insulin-dependent diabetes in Soweto, South Africa. Diabetic Medicine. 1995;12(6):546–50.

16.

Habtu E, Gill G, Tesfaye S. Characteristics of insulin requiring diabetes in rural northern Ethiopia—a possible link with malnutrition? Ethiop Med J. 1999;37(4):263–7.

17.

Siraj ES, Reddy SSK, Scherbaum WA, Abdulkadir J, Hammel JP, Faiman C. Basal and postglucagon C-peptide levels in Ethiopians with diabetes. Diabetes Care. 2002;25(3):453–7.

18.

Alemu S, Dessie A, Seid E, Bard E, Lee PT, Trimble ER, Phillips DIW, Parry EHO. Insulin-requiring diabetes in rural Ethiopia: should we reopen the case for malnutrition-related diabetes? Diabetologia. 2009;52(9):1842–5.

19.

Gill GV, Tekle A, Reja A, Wile D, English PJ, Diver M, Williams AJK, Tesfaye S. Immunological and C-peptide studies of patients with diabetes in northern Ethiopia: existence of an unusual subgroup possibly related to malnutrition. Diabetologia. 2011;54(1):51–7.

20.

Mayer-Davis EJ, Beyer J, Bell RA, Dabelea D, D'Agostino R, Imperatore G, Lawrence JM, Liese AD, Liu L, Marcovina S, Rodriguez B. Diabetes in African American youth: prevalence, incidence, and clinical characteristics: the SEARCH for Diabetes in Youth Study. Diabetes Care. 2009;32(Suppl 2):S112–22.

21.

Marshall SL, Edidin DV, Arena VC, Becker DJ, Bunker CH, Gishoma C, Gishoma F, LaPorte RE, Kaberuka V, Sibomana L, Orchard TJ. Glucose control in Rwandan youth with type 1 diabetes following establishment of systematic, HbA1c based, care and education. Diabetes Res Clin Practice. 2015;107(1):113–22.

22.

Miller RG, Secrest AM, Sharma RK, Songer TJ, Orchard TJ. Improvements in the life expectancy of type 1 diabetes: the Pittsburgh Epidemiology of Diabetes Complications study cohort. Diabetes. 2012;61(11):2987–92.
Acknowledgements
We would like to thank the staff of the ARD in Kigali for all of the help and support they have given to us throughout this project. We also thank the Ministry of Health and Rwanda Biomedical Center for their assistance and guidance. We would also like to acknowledge the LFAC program for providing us with the opportunity to work with them and the ARD. Finally, we thank the wonderful children and youth with diabetes and their caregivers for their willing acceptance of help and the dignity and courage they show in coping with diabetes in the most difficult circumstances.
Ethics declarations
Funding
No funding was received for this study. Insulin, syringes, glucose meters, and strips were received free from the LFAC program. DCA machines, HbA1C, and A/C reagents were provided by the University of Pittsburgh.
Conflict of interest
Sara L. Marshall, Deborah V. Edidin, Vincent C. Arena, Dorothy J. Becker, Clareann H. Bunker, Crispin Gishoma, Francois Gishoma, Ronald E. LaPorte, Vedaste Kaberuka, Graham Ogle, Wilson Rubanzana, and Laurien Sibomana have no conflict-of- interest to declare. Dr. Trevor Orchard serves on Eli Lilly and Company Advisory Panel.
Ethical approval
All procedures performed in studies involving human participants were in accordance with the ethical standards of the institutional and/or national research committee and with the 1964 Helsinki Declaration and its later amendments or comparable ethical standards.
Authors' contributions
Marshall SL designed the study, performed research and analysis and wrote the paper; Orchard TJ designed the study, reviewed analysis, revised the manuscript; Edidin DV, Gishoma C, Gishoma F, Kaberuka V, Sibomana L, and Rubanzana W performed research, collected data, and revised the manuscript; Arena VC reviewed analysis and revised the manuscript; Becker DJ, Bunker CH, Ogle G, and LaPorte RE provided oversight and revised the manuscript.
About this article
Cite this article
Marshall, S.L., Edidin, D.V., Arena, V.C. et al. Mortality and natural progression of type 1 diabetes patients enrolled in the Rwanda LFAC program from 2004 to 2012. Int J Diabetes Dev Ctries 37, 507–515 (2017). https://doi.org/10.1007/s13410-016-0536-z
Received:

Accepted:

Published:

Issue Date:
Keywords
Type 1 diabetes

Youth

Children

Natural history

Rwanda

Africa