Abstract
We undertook a prospective observational study to evaluate the effectiveness of an electronic health (E-health)/mobile health (M-health) platform versus conventional care for the management of diabetes mellitus. One hundred nine patients with type 2 diabetes were recruited from a tertiary care hospital in India. Thirty-nine patients were enrolled in the Diabetes Care 24x7® (DC) arm, whilst 70 were enrolled in the control (conventional care) group. Primary endpoints included fasting blood sugars (FBS), post-prandial blood sugars (2hr PP) and HbA1c level. Secondary endpoints included knowledge of the disease and its impact on quality of life. Outcome measures were assessed at the initial and fifth month visit. Males/females ≥18 years, attending the diabetes clinic, met the inclusion criteria. Pregnant women were excluded. Eighty six patients completed the study (33 in DC and 53 in the control group). A statistically significant reduction was observed in HbA1c (8.8 ± 1.2 to 7.4 ± 1.3, p value = 0.001). FBS/2hr PP blood sugars showed a trend towards improvement in both arms, but intergroup correlation at study end did not reach statistical significance (p value = 0.5). Diabetes knowledge scores (19.9 ± 2.5 vs. 17.9 ± 3.98, p value = 0.005) and quality of life indices (88.5 ± 7.8 vs. 83.5 ± 10.7, p value = 0.015) showed a statistically significant improvement in the intervention arm. A multifaceted E-health/M-health platform has great potential to reach patients in remote corners of the globe and improve not only their disease parameters but their knowledge scores and quality of life indices. Further longitudinal studies are needed to assess the true potential of this technology to impact diabetes management in the twenty-first century.
Access options
Buy single article
Instant access to the full article PDF.
USD 39.95
Price includes VAT (USA)
Tax calculation will be finalised during checkout.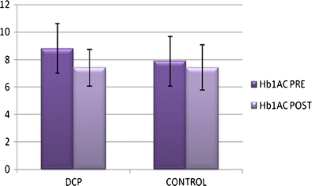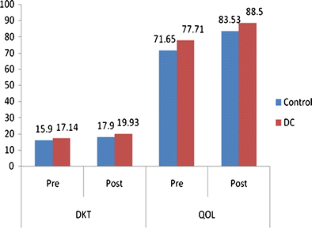 References
1.

International Diabetes Federation. IDF Diabetes, 7 ed. Brussels, Belgium: International Diabetes Federation; 2015. http://www.diabetesatlas.org.

2.

Nagpal J, Bhartia A. Quality of diabetes care in the middle-and high-income group populace: the Delhi Diabetes Community (DEDICOM) survey. Diabetes Care. 2006;29(11):2341–8.

3.

Brown LL, Lustria ML, Rankins J. A review of web-assisted interventions for diabetes management: maximizing the potential for improving health outcomes. J Diabetes Sci Technol. 2007;1(6):892–902.

4.

Pradeepa R, Prabu AV, Jebarani S. Use of a large diabetes electronic medical record system in India: clinical and research applications. J Diabetes Sci Technol. 2011;5(3):543–52.

5.

Haddad NS, Istepanian R, Philip N et al. A feasibility study of mobile phone text messaging to support education and management of type 2 diabetes in Iraq. Diabetes Technol Ther. 2014;16(7):454-9. doi: 10.1089/dia.2013.0272. Epub 2014 Feb 6.

6.

Ajay VS, Prabhakaran D. The scope of cell phones in diabetes management in developing country health care settings. J Diabetes Sci Technol. 2011;5(3):778–83.

7.

Mushcab H, Kernohan WG, Wallace J, et al. Web-based remote monitoring systems for self-managing type 2 diabetes: a systematic review. Diabetes Technol Ther. 2015;17(7):498–509.

8.

Joshi SR. Post-prandial carbohydrate modulation via gut—Indian perspective. J Assoc Physicians India. 2010;58:665.

9.

Nagpal J, Kumar A, Kakar S, et al. The development of 'Quality of Life Instrument for Indian Diabetes patients (QOLID): a validation and reliability study in middle and higher income groups. J Assoc Physicians India. 2010;58:295–304.

10.

Jha S, Panda M, Kumar S, et al. Psychological insulin resistance in patients with type 2 diabetes. J Assoc Physicians India. 2015;63:33–9.

11.

Fitzgerald JT, Funnell MM, Hess GE, et al. The reliability and validity of a brief diabetes knowledge test. Diabetes Care. 1998;21(5):706–10.

12.

Seaquist ER, Anderson J, Childs B et al. Hypoglycemia and diabetes: a report of a workgroup of the American Diabetes Association and the Endocrine Society. Diabetes Care. 2013;36(5):1384-95. doi: 10.2337/dc12-2480. Epub 2013 Apr 15

13.

Shrivastava SR, Shrivastava PS, Ramasamy J. Role of self-care in management of diabetes mellitus. J Diabetes Metab Disord. 2013;12(1):14. doi:10.1186/2251-6581-12-14.

14.

Heinrich E, de Nooijer J, Schaper NC et al. Evaluation of the web-based Diabetes Interactive Education Programme (DIEP) for patients with type 2 diabetes. Patient Educ Couns. 2012;86(2):172-8. doi: 10.1016/j.pec.2011.04.032. Epub 2011 May 26.
Acknowledgments
This study has received no financial or editorial support.
Ethics declarations
This study protocol, CRF and informed consent form were approved by the Institutional Ethics Committee of Max Super Speciality Hospital (a Unit of Devki Devi Foundation) prior to initiation of the study. Proper informed consent was taken from each and every study participant.
Conflict of interest
The authors declare that they have no competing interests.
Funding
No funding source to disclose or conflicts of interest present.
About this article
Cite this article
Jha, S., Dogra, S., Yadav, A. et al. A prospective observational study to assess the effectiveness of an electronic health (E-health) and mobile health (M-health) platform versus conventional care for the management of diabetes mellitus. Int J Diabetes Dev Ctries 36, 529–534 (2016). https://doi.org/10.1007/s13410-016-0501-x
Received:

Accepted:

Published:

Issue Date:
Keywords
Telemedicine

Type 2 diabetes

HbA1c