Abstract
Background
In spite of various treatment options currently available, ovarian cancer (OC) still remains a leading cause of death in women world-wide. Diagnosis at an early stage is one of the most important factors that determines survival. Current clinical diagnostic tools have, however, a limited efficacy in early OC detection. Therefore, there is a critical need for new (early) diagnostic biomarkers and tools. Through advances in genomic, proteomic and metabolomic techniques, several novel molecular OC biomarkers have recently been identified. These biomarkers are currently subject to validation. In addition, integration of genomic, proteomic and metabolomic data, in conjunction with epidemiologic and clinical data, is considered essential for obtaining useful results. Interesting recent work has already shown that specific diagnostic biomarkers, such as BRCA mutations, may have profound therapeutic implications. Here, we review the current state of OC research through literature and database searches, with a focus on various recently identified biomarkers via different technologies for the (early) diagnosis, prognosis and treatment of OC.
Conclusions
Multi-biomarker panels accompanied by a meticulous determination of their sensitivity and specificity, as well their validation, using multivariate analyses will be critical for its clinical application, including early OC detection and tailor-made OC treatment.
Access options
Buy single article
Instant access to the full article PDF.
US$ 39.95
Tax calculation will be finalised during checkout.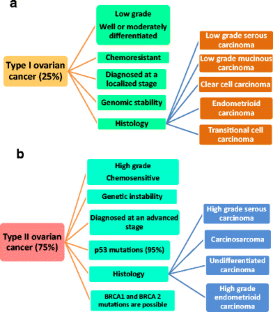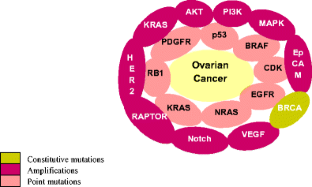 References
1.

J. Ferlay, I. Soerjomataram, R. Dikshit, S. Eser, C. Mathers, M. Rebelo, D.M. Parkin, D. Forman, F. Bray, Cancer incidence and mortality worldwide: sources, methods and major patterns in GLOBOCAN 2012. Int. J. Cancer 136, 359–386 (2015)

2.

R.L. Siegel, K.D. Miller, A. Jemal, Cancer statistics, 2016. CA Cancer J. Clin. 66, 7–30 (2016)

3.

R. Sankaranarayanan, R. Swaminathan, K. Jayant, H. Brenner, An overview of cancer survival in Africa, Asia, the Caribbean and Central America: the case for investment in cancer health services. IARC Sci. Publ. 162, 257–291 (2011)

4.

I. Cass, B.Y. Karlan, Ovarian cancer symptoms speak out – but what are they really saying? J. Natl. Cancer Inst. 102, 211–212 (2010)

5.

K.A. Lowe, V.M. Chia, A. Taylor, C. O'Malleye, M. Kelsh, M. Mohamed, F.S. Mowat, B. Goff, An international assessment of ovarian cancer incidence and mortality. Gynecol. Oncol. 130, 107–114 (2013)

6.

R. De Angelis, M. Sant, P.M. Coleman, S. Francisci, P. Baili, D. Pierannunzio, A. Trama, O. Visser, H. Brenner, E. Ardanaz, M. Bielska-Lasota, G. Engholm, A. Nennecke, S. Siesling, F. Berrino, R. Capocaccia, EUROCARE-5 working group, cancer survival in Europe 1999-2007 by country and age: results of Eurocare-5 – a population-based study. Lancet Oncol. 15, 23–34 (2014)

7.

F. Dayyani, S. Uhlig, B. Colson, K. Simon, V. Rolny, D. Morgenstern, M. Schlumbrecht, Diagnostic performance of risk of ovarian malignancy algorithm against CA125 and HE4 in connection with ovarian cancer: a meta-analysis. Int. J. Gynecol. Cancer 26, 1586–1593 (2016)

8.

J.L. Walker, C.B. Powell, L.M. Chen, J. Carter, V.L. Bae, L.P. Parker, M.E. Borowsky, R.K. Gibb, Society of Gynecologic Oncology recommendations for the prevention of ovarian cancer. Cancer 121, 2108–2120 (2015)

9.

http://www.gopubmed.com/web/gopubmed/. Accessed 30 August 2016

10.

S. Lambrechts, D. Smeets, M. Moisse, E.I. Braicu, A. Vanderstichele, H. Zhao, E. Van, E. Berns, J. Sehouli, R. Zeillinger, S. Darb-Esfahani, D. Cacsire, D. Lambrechts, I. Vergote, Genetic heterogeneity after first-line chemotherapy in high-grade serous ovarian cancer. Eur. J. Cancer 53, 51–64 (2016)

11.

M. Petrillo, C. Nero, G. Amadio, D. Gallo, A. Fagotti, G. Scambia, Targeting the hallmarks of ovarian cancer: the big picture. Gynecol. Oncol. 142, 176–183 (2016)

12.

C. Santos, R. Sanz-Pamplona, E. Nadal, J. Grasselli, S. Pernas, R. Dienstmann, V. Moreno, J. Tabernero, R. Salazar, Intrinsic cancer subtypes-next steps into personalized medicine. Cell. Oncol. 38, 3–16 (2015)

13.

A. Zaal, W.J. Peyrot, P.M. Berns, M.E. van der Burg, J.H. Veerbeek, J.B. Trimbos, I. Cadron, P.J. van Diest, W.N. van Wieringen, O. Krijgsman, G.A. Meijer, J.M. Piek, P.J. Timmers, I. Vergote, R.H. Verheijen, B. Ylstra, R.P. Zweemer, EORTC GCG translational research group, genomic aberrations relate early and advanced stage ovarian cancer. Cell. Oncol. 35, 181–188 (2012)

14.

M.E. Maradeo, P. Cairns, Translational application of epigenetic alterations: ovarian cancer as a model. FEBS Lett. 585, 2112–2120 (2011)

15.

J.J. Wallbillich, B. Forde, L.J. Havrilesky, D.E. Cohn, A personalized paradigm in the treatment of platinum-resistant ovarian cancer–a cost utility analysis of genomic-based versus cytotoxic therapy. Gynecol. Oncol. 142, 144–149 (2016)

16.

B.V. Chakravarthi, S. Nepal, S. Varambally, Genomic and epigenomic alterations in cancer. Am. J. Pathol. 186, 1724–1735 (2016)

17.

R.J. Kurman, I.-M. Shih, The origin and pathogenesis of epithelial ovarian cancer-a proposed unifying theory. Am. J. Surg. Pathol. 34, 433–443 (2010)

18.

N.N. Nik, R. Vang, I.M. Shih, R.J. Kurman, Origin and pathogenesis of pelvic (ovarian, tubal, and primary peritoneal) serous carcinoma. Annu. Rev. Pathol. 9, 27–45 (2014)

19.

N. Colombo, M. Peiretti, A. Garbi, S. Carinelli, C. Marini, C. Sessa, Non-epithelial ovarian cancer: ESMO clinical practice guidelines for diagnosis, treatment and follow-up. Ann. Oncol. 23, 20–26 (2012)

20.

W.D. Foulkes, M. Gore, W.G.M. Cluggage, Rare non-epithelial ovarian neoplasms: pathology, genetics and treatment. Gynecol. Oncol. 142, 190–198 (2016)

21.

M. Köbel, S.E. Kalloger, D.G. Huntsman, J.L. Santos, K.D. Swenerton, J.D. Seidman, C.B. Gilks, Cheryl Brown ovarian cancer outcomes unit of the British Columbia Cancer Agency, Vancouver BC. Differences in tumor type in low-stage versus high-stage ovarian carcinomas. Int. J. Gynecol. Pathol. 29, 203–211 (2010)

22.

J. Prat, New insights into ovarian cancer pathology. Ann. Oncol. 23 (Suppl 10), 111–117 (2012)

23.

A. Halon, V. Materna, M. Drag-Zalesinska, E. Nowak-Markwitz, T. Gansukh, P. Donizy, M. Spaczynski, M. Zabel, M. Dietel, H. Lage, P. Surowiak, Estrogen receptor alpha expression in ovarian cancer predicts longer overall survival. Pathol. Oncol. Res. 17, 511–518 (2011)

24.

R.J. Kurman, I.M. Shih, The dualistic model of ovarian carcinogenesis: revisited, revised, and expanded. Am. J. Pathol. 186, 733–747 (2016)

25.

Cancer Genome Atlas Research Network, Integrated genomic analyses of ovarian carcinoma. Nature 474, 609–615 (2011)

26.

A. Bamias, S. Pignata, E. Pujade-Lauraine, Angiogenesis: a promising therapeutic target for ovarian cancer. Crit. Rev. Oncol. Hematol. 84, 314–326 (2012)

27.

N.G. Gavalas, M. Liontos, S.P. Trachana, T. Bagratuni, C. Arapinis, C. Liacos, M.A. Dimopoulos, A. Bamias, Angiogenesis-related pathways in the pathogenesis of ovarian cancer. Int. J. Mol. Sci. 14, 15885–15909 (2013)

28.

J. Farley, W.E. Brady, V. Vathipadiekal, H.A. Lankes, R. Coleman, M.A. Morgan, R. Mannel, S.D. Yamada, D. Mutch, W.H. Rodgers, M. Birrer, D.M. Gershenson, Selumetinib in women with recurrent low-grade serous carcinoma of the ovary or peritoneum: an open-label, single-arm, phase 2 study. Lancet Oncol. 14, 134–140 (2013)

29.

L.M. Landrum, J. Java, C.A. Mathews, G.S. Lanneau, L.J. Copeland, D.K. Armstrong, J.L. Walker, Prognostic factors for stage III epithelial ovarian cancer treated with intraperitoneal chemotherapy: a gynecologic oncology group study. Gynecol. Oncol. 130, 12–18 (2013)

30.

I. Romero, R.C. Bast Jr., Minireview: human ovarian cancer: biology, current management, and paths to personalizing therapy. Endocrinology 153, 1593–1602 (2012)

31.

Y. Yang-Hartwich, M.G. Soteras, Z.P. Lin, J. Holmberg, N. Sumi, V. Craveiro, M. Liang, E. Romanoff, J. Bingham, F. Garofalo, A. Alvero, G. Mor, p53 protein aggregation promotes platinum resistance in ovarian cancer. Oncogene 34, 3605–3616 (2015)

32.

O. Caron, Oncogenetics in the management of ovarian cancer: state-of-the art. Gynecol. Obstet. Fertil. 43, 335–337 (2015)

33.

A.A. Ahmed, D. Etemadmoghadam, J. Temple, A.G. Lynch, M. Riad, R. Sharma, C. Stewart, S. Fereday, C. Caldas, A. Defazio, D. Bowtell, J.D. Brenton, Driver mutations in TP53 are ubiquitous in high grade serous carcinoma of the ovary. J. Med. Surg. Pathol. 221, 49–56 (2010)

34.

R. Wu, S.J. Baker, T.C. Hu, K.M. Norman, E.R. Fearon, K.R. Cho, Type I to type II ovarian carcinoma progression: mutant Trp53 or Pik3ca confers a more aggressive tumor phenotype in a mouse model of ovarian cancer. Am. J. Pathol. 182, 1391–1399 (2013)

35.

J. Prat, Ovarian carcinomas: five distinct diseases with different origins, genetic alterations, and clinicopathological features. Virchows Arch. 460, 237–249 (2012)

36.

R.D.A. Weren, A.R. Mensenkamp, M. Simons, A. Eijkelenboom, A.S. Sie, H. Ouchene, M. van Asseldonk, E.B. Gomez-Garcia, M.J. Blok, J.A. de Hullu, M.R. Nelen, A. Hoischen, J. Bulten, B.B.J. Tops, N. Hoogerbrugge, M.J.L. Ligtenberg, Novel BRCA1 and BRCA2 tumor test as basis for treatment decisions and referral for genetic counselling of patients with ovarian carcinomas. Hum. Mutat. (2016). doi:10.1002/humu.23137

37.

K.P. Pennington, T. Walsh, M.I. Harrell, M.K. Lee, C.C. Pennil, M.H. Rendi, A. Thornton, B.M. Norquist, S. Casadei, A.S. Nord, K.J. Agnew, C.C. Pritchard, S. Scroggins, R.L. Garcia, M. King, E.M. Swisher, Germline and somatic mutations in homologous recombination genes predict platinum response and survival in ovarian, fallopian tube, and peritoneal carcinomas. Clin. Cancer Res. 20, 764–775 (2014)

38.

J.R. McLaughlin, B. Rosen, J. Moody, T. Pal, I. Fan, P.A. Shaw, H.A. Risch, T.A. Sellers, P. Sun, S.A. Narod, Long-term ovarian cancer survival associated with mutation in BRCA1 or BRCA2. J. Natl. Cancer Inst. 105, 141–148 (2013)

39.

S.B. Kaye, J. Lubinski, U. Matulonis, J.E. Ang, C. Gourley, B.Y. Karlan, A. Amnon, K.M. BellMcGuinn, L.M. Chen, M. Friedlander, T. Safra, I. Vergote, M. Wickens, E.S. Lowe, J. Carmichael, B. Kaufman, I.I. Phase, Open-label, randomized, multicenter study comparing the efficacy and safety of olaparib, a poly (ADP-ribose) polymerase inhibitor, and pegylated liposomal doxorubicin in patients with BRCA1 or BRCA2 mutations and recurrent ovarian cancer. J. Clin. Oncol. 30, 372–379 (2012)

40.

J.F. Liu, P.A. Konstantinopoulos, U.A. Matulonis, PARP inhibitors in ovarian cancer: current status and future promise. Gynecol. Oncol. 133, 362–369 (2014)

41.

Y. Hirotsu, H. Nakagomi, I. Sakamoto, K. Amemiya, H. Mochizuki, M. Omata, Detection of BRCA1 and BRCA2 germline mutations in Japanese population using next-generation sequencing. Mol. Genet. Genomic. Med. 3, 121–129 (2015)

42.

C.M. Strom, S. Rivera, C. Elzinga, T. Angeloni, S.H. Rosenthal, D. Goos-Root, M. Siaw, J. Platt, C. Braastadt, L. Cheng, D. Ross, W. Sun, Development and validation of a next-generation sequencing assay for BRCA1 and BRCA2 variants for the clinical laboratory. PLoS One 10, e0136419 (2015)

43.

J.B. Hiatt, C.C. Pritchard, S.J. Salipante, B.J. O'Roak, J. Shendure, Single molecule molecular inversion probes for targeted, high-accuracy detection of low-frequency variation. Genome Res. 23, 843–854 (2013)

44.

P. Bottoni, R. Scatena, The role of CA 125 as tumor marker: biochemical and clinical aspects. Adv. Exp. Med. Biol. 867, 229–244 (2015)

45.

V.A. Moyer, Screening for ovarian cancer: US preventive services task force reaffirmation recommendation statement. Ann. Intern. Med. 157, 900–904 (2012)

46.

S.S. Buys, E. Partridge, A. Black, C.C. Johnson, L. Lamerato, C. Isaacs, D.J. Reding, R.T. Greenlee, L.A. Yokochi, B. Kessel, E.D. Crawford, T.R. Church, G.L. Andriole, J.L. Weissfeld, M.N. Fouad, D. Chia, B. O'Brien, L.R. Ragard, J.D. Clapp, J.M. Rathmell, T.L. Riley, P. Hartge, P.F. Pinsky, C.S. Zhu, G. Izmirlian, B.S. Kramer, A.B. Miller, J.L. Xu, P.C. Prorok, J.K. Gohagan, C.D. Berg, PLCO Project Team, Effect of screening on ovarian cancer mortality: the prostate, lung, colorectal and ovarian (PLCO) cancer screening randomized controlled trial. JAMA 305, 2295–2303 (2011)

47.

I.J. Jacobs, U. Menon, A. Ryan, A. Gentry-Maharaj, M. Burnell, J.K. Kalsi, N.N. Amso, S. Apostolidou, E. Benjamin, D. Cruickshank, D.N. Crump, S.K. Davies, A. Dawnay, S. Dobbs, G. Fletcher, J. Ford, K. Godfrey, R. Gunu, M. Habib, R. Hallett, J. Herod, H. Jenkins, C. Karpinskyj, S. Leeson, S.J. Lewis, W.R. Liston, A. Lopes, T. Mould, J. Murdoch, D. Oram, D.J. Rabideau, K. Reynolds, I. Scott, M.W. Seif, A. Sharma, N. Singh, J. Taylor, F. Warburton, M. Widschwendter, K. Williamson, R. Woolas, L. Fallowfield, A.J. McGuire, S. Campbell, M. Parmar, S.J. Skates, Ovarian cancer screening and mortality in the UK collaborative trial of ovarian cancer screening (UKCTOCS): a randomised controlled trial. Lancet 387, 945–956 (2016)

48.

B.M. Nolen, A.E. Lokshin, Biomarker testing for ovarian cancer: clinical utility of multiplex assays. Mol. Diagn. Ther. 17, 139–146 (2013)

49.

R.G. Moore, M.C. Miller, P. Disilvestro, L.M. Landrum, W. Gajewski, J.J. Ball, S.J. Skates, Evaluation of the diagnostic accuracy of the risk of ovarian malignancy algorithm in women with a pelvic mass. Obstet. Gynecol. 118, 280 (2011)

50.

T. Van Gorp, I. Cadron, E. Despierre, A. Daemen, K. Leunen, F. Amant, D. Timmerman, B. De Moor, I. Vergote, HE4 and CA125 as a diagnostic test in ovarian cancer: prospective validation of the risk of ovarian malignancy algorithm. Brit. J. Cancer 104, 863–870 (2011)

51.

Y. Xu, R. Zhong, J. He, R. Ding, H. Lin, Y. Deng, L. Zhou, X. Li, J. Jiang, Y. Bao, X. Luo, C. Duan, Modification of cut-off values for HE4, CA125 and the ROMA algorithm for early-stage epithelial ovarian cancer detection: results from 1021 cases in South China. Clin. Biochem. 49, 32–40 (2016)

52.

M.R. Andersen, B.A. Goff, K.A. Lowe, N. Scholler, L. Bergan, C.W. Drescher, P. Paley, N. Urban, Use of a symptom index, CA125, and HE4 to predict ovarian cancer. J. Gynecol. Oncol. 116, 378–383 (2010)

53.

T. Edgell, G. Martin-Roussety, G. Barker, D.J. Autelitano, D. Allen, P. Grant, G.E. Rice, Phase II biomarker trial of a multimarker diagnostic for ovarian cancer. J. Cancer Res. Clin. Oncol. 136, 1079–1088 (2010)

54.

Z. Yurkovetsky, S. Skates, A. Lomakin, B. Nolen, T. Pulsipher, F. Modugno, J. Marks, A. Godwin, E. Gorelik, I. Jacobs, U. Menon, K. Lu, D. Badgwell, R.C. Bast Jr., A.E. Lokshin, Development of a multimarker assay for early detection of ovarian cancer. J. Clin. Oncol. 28, 2159–2166 (2010)

55.

E. Kipps, D.S. Tan, S.B. Kaye, Meeting the challenge of ascites in ovarian cancer: new avenues for therapy and research. Nat. Rev. Cancer 13, 273–282 (2013)

56.

K.L. Terry, H. Schock, R.T. Fortner, A. Hüsing, R.N. Fichorova, H.S. Yamamoto, A.F. Vitonis, T. Johnson, K. Overvad, A. Tjønneland, M.C. Boutron-Ruault, S. Mesrine, G. Severi, L. Dossus, S. Rinaldi, H. Boeing, V. Benetou, P. Lagiou, A. Trichopoulou, V. Krogh, E. Kuhn, S. Panico, H.B. Bueno-de-Mesquita, N.C. Onland-Moret, P.H. Peeters, I.T. Gram, E. Weiderpass, E.J. Duell, M.J. Sanchez, E. Ardanaz, N. Etxezarreta, C. Navarro, A. Idahl, E. Lundin, K. Jirström, J. Manjer, N.J. Wareham, K.T. Khaw, K. Smith Byrne, R.C. Travis, M.J. Gunter, M.A. Merritt, E. Riboli, D. Cramer, R. Kaaks, A prospective evaluation of early detection biomarkers for ovarian cancer in the European EPIC cohort. Clin. Cancer Res. 22, 1078–10432 (2016)

57.

P. Vinken, S. Starckx, E. Barale-Thomas, A. Looszova, M. Sonee, N. Goeminne, L. Versmissen, K. Buyens, A. Lampo, Tissue Kim-1 and urinary clusterin as early indicators of cisplatin-induced acute kidney injury in rats. Toxicol. Pathol. 40, 1049–1062 (2012)

58.

Z. Zhang, D.W. Chan, The road from discovery to clinical diagnostics: lessons learned from the first FDA-cleared in vitro diagnostic multivariate index assay of proteomic biomarkers. Cancer Epidem. Biomar. 19, 2995–2999 (2010)

59.

R.W. Miller, A. Smith, C.P. DeSimone, L. Seamon, S. Goodrich, I. Podzielinski, L. Sokoll, J.R. van Nagell Jr., Z. Zhang, F.R. Ueland, Performance of the American College of Obstetricians and Gynecologists' ovarian tumor referral guidelines with a multivariate index assay. Obstet. Gynecol. 117, 1298–1306 (2011)

60.

B.H. Shadfan, A.R. Simmons, G.W. Simmons, A. Ho, J. Wong, K.H. Lu, R.C. Bast, J.T. McDevitt, A multiplexable, microfluidic platform for the rapid quantitation of a biomarker panel for early ovarian cancer detection at the point-of-care. Cancer Prev. Res. 8, 37–48 (2015)

61.

Y.W. Kim, S.M. Bae, H. Lim, Y.J. Kim, W.S. Ahn, Development of multiplexed bead-based immunoassays for the detection of early stage ovarian cancer using a combination of serum biomarkers. PLoS One 7, e44960 (2012)

62.

S. Kato, L. Abarzua-Catalan, C. Trigo, A. Delpiano, C. Sanhueza, K. García, C. Ibañez, K. Hormazábal, D. Diaz, J. Brañes, E. Castellón, E. Bravo, G. Owen, M. Cuello, Leptin stimulates migration and invasion and maintains cancer stem-like properties in ovarian cancer cells: an explanation for poor outcomes in obese women. Oncotarget 6, 21100–21119 (2015)

63.

N.M.A. White, T.F. Chow, S. Mejia-Guerrero, M. Diamandis, Y. Rofael, H. Faragalla, G.M. Yousef, Three dysregulated miRNAs control kallikrein 10 expression and cell proliferation in ovarian cancer. Brit. J. Cancer 102, 1244–1253 (2010)

64.

M.A.H. El Sherbini, M.M. Sallam, E.A.K. Shaban, A.H. El-Shalakany, Diagnostic value of serum kallikrein-related peptidases 6 and 10 versus CA125 in ovarian cancer. Int. J. Gynecol. Cancer 21, 625–632 (2011)

65.

S.C.L. Koh, C.Y. Huak, D. Lutan, J. Marpuang, S. Ketut, N.G. Budiana, N.K.H. Hoan, Combined panel of serum human tissue kallikreins and CA-125 for the detection of epithelial ovarian cancer. J. Gynecol. Oncol. 23, 175–181 (2012)

66.

M.K. Siu, H.Y. Chan, D.S. Kong, E.S. Wong, O.G. Wong, H.Y. Ngan, K.F. Tam, H. Zhang, Z. Li, Q.K. Chan, S.W. Tsao, p21-activated kinase 4 regulates ovarian cancer cell proliferation, migration, and invasion and contributes to poor prognosis in patients. Proc. Natl. Acad. Sci. U. S. A. 107, 18622–18627 (2010)

67.

X. Xia, Q. Ma, X. Li, T. Ji, P. Chen, H. Xu, S. Liao, Z. Han, R. Liu, T. Zhu, S. Wang, G. Xu, L. Meng, J. Zhou, D. Ma, Cytoplasmic p21 is a potential predictor for cisplatin sensitivity in ovarian cancer. BMC Cancer 11, 399 (2011)

68.

K. Wurz, R.L. Garcia, B.A. Goff, P.S. Mitchell, J.H. Lee, M. Tewari, E.M. Swisher, MiR-221 and MiR-222 alterations in sporadic ovarian carcinoma: relationship to CDKN1B, CDKNIC and overall survival. Genes Chromosom. Cancer 49, 577–584 (2010)

69.

L. Szabova, C. Yin, S. Bupp, T.M. Guerin, J.J. Schlomer, D.B. Householder, M.L. Baran, M. Yi, Y. Song, W. Sun, J.E. McDunn, Perturbation of Rb, p53, and Brca1 or Brca2 cooperate in inducing metastatic serous epithelial ovarian cancer. Cancer Res. 72, 4141–4153 (2012)

70.

K. Avraam, K. Pavlakis, C. Papadimitriou, T. Vrekoussis, T. Panoskaltsis, I. Messini, E. Patsouris, The prognostic and predictive value of ERCC-1, p53, bcl-2 and bax in epithelial ovarian cancer. Eur. J. Gynaecol. Oncol. 32, 516–520 (2010)

71.

F. Kong, C. Sun, Z. Wang, L. Han, D. Weng, Y. Lu, G. Chen, miR-125b confers resistance of ovarian cancer cells to cisplatin by targeting pro-apoptotic Bcl-2 antagonist killer 1. J. Huazhong Univ. Sci. Technolog. Med. Sci. 31, 543–549 (2011)

72.

S. Lawicki, G.E. Będkowska, E. Gacuta-Szumarska, M. Szmitkowski, The plasma concentration of VEGF, HE4 and CA125 as a new biomarkers panel in different stages and sub-types of epithelial ovarian tumors. J. Ovarian Res. 6, 1 (2013)

73.

M.R. Russell, M.J. Walker, A.J. Williamson, A. Gentry-Maharaj, A. Ryan, J. Kalsi, S. Skates, A. D'Amato, C. Dive, M. Pernemalm, P.C. Humphryes, Protein Z: a putative novel biomarker for early detection of ovarian cancer. Int. J. Cancer 138, 2984–2992 (2016)

74.

K.M. Nieman, H.A. Kenny, C.V. Penicka, A. Ladanyi, R. Buell-Gutbrod, M.R. Zillhardt, I.L. Romero, M.S. Carey, G.B. Mills, G.S. Hotamisligil, S.D. Yamada, Adipocytes promote ovarian cancer metastasis and provide energy for rapid tumor growth. Nat. Med. 17, 1498–1503 (2011)

75.

M. Zou, X. Zhang, C. Xu, IL6-induced metastasis modulators p-STAT3, MMP-2 and MMP-9 are targets of 3,3′-diindolylmethane in ovarian cancer cells. Cell. Oncol. 39, 47–57 (2016)

76.

S.J. Bensinger, H.R. Christofk, New aspects of the Warburg effect in cancer cell biology, Semin. Cell. Dev. Biol. 23, 352–361 (2012)

77.

M.V. Liberti, J.W. Locasale, The Warburg effect: how does it benefit cancer cells? Trends Biochem. Sci. 41, 211–218 (2016)

78.

A.J. Levine, A.M. Puzio-Kuter, The control of the metabolic switch in cancers by oncogenes and tumor suppressor genes. Science 330, 1340–1344 (2010)

79.

M.G. Vander Heiden, J.W. Locasale, K.D. Swanson, H. Sharfi, G.J. Heffron, D. Amador-Noguez, H.R. Christofk, G. Wagner, J.D. Rabinowitz, J.M. Asara, L.C. Cantley, Evidence for an alternative glycolytic pathway in rapidly proliferating cells. Science 329, 1492–1499 (2010)

80.

M.Y. Fong, J. McDunn, S.S. Kakar, Identification of metabolites in the normal ovary and their transformation in primary and metastatic ovarian cancer. PLoS One 6, e19963 (2011)

81.

A. Beach, H.G. Zhang, M.Z. Ratajczak, S.S. Kakar, Exosomes: an overview of biogenesis, composition and role in ovarian cancer. J. Ovarian Res. 7, 14 (2014)

82.

A. Caivano, F. La Rocca, V. Simeon, M. Girasole, S. Dinarelli, I. Laurenzana, A. De Stradis, L. De Luca, S. Trino, A. Traficante, G. D'Arena, G. Mansueto, O. Villani, G. Pietrantuono, L. Laurenti, L. Del Vecchio, P. Musto, MicroRNA-155 in serum-derived extracellular vesicles as a potential biomarker for hematologic malignancies - a short report. Cell. Oncol. (2016) doi:10.1007/s13402-016-0300-x

83.

L. Balaj, R. Lessard, L. Dai, Y.J. Cho, S.L. Pomeroy, X.O. Breakefield, J. Skog, Tumour microvesicles contain retrotransposon elements and amplified oncogene sequences. Nat. Commun. 2, 180 (2011)

84.

A. Waldenstrom, N. Genneback, U. Hellman, G. Ronquist, Cardiomyocyte microvesicles contain DNA/RNA and convey biological messages to target cells. PLoS One 7, e34653 (2012)

85.

C.A. Maguire, L. Balaj, S. Sivaraman, M.H. Crommentuijn, M. Ericsson, L. Mincheva-Nilsson, V. Baranov, D. Gianni, B.A. Tannous, M. Sena-Esteves, X.O. Breakefield, Microvesicle-associated AAV vector as a novel gene delivery system. Mol. Ther. 20, 960–971 (2012)

86.

C. Escrevente, S. Keller, P. Altevogt, J. Costa, Interaction and uptake of exosomes by ovarian cancer cells. BMC Cancer 11, 108 (2011)

87.

K.D.P. Dorayappan, J.J. Wallbillich, D.E. Cohn, K. Selvendiran, The biological significance and clinical applications of exosomes in ovarian cancer. Gynecol. Oncol. 142, 199–205 (2016)

88.

A. Bobrie, M. Colombo, G. Raposo, C. Thery, Exosome secretion: molecular mechanisms and roles in immune responses. Traffic 12, 1659–1668 (2011)

89.

I. Nazarenko, S. Rana, A. Baumann, J. McAlear, A. Hellwig, M. Trendelenburg, G. Lochnit, K.T. Preissner, M. Zöller, Cell surface tetraspanin Tspan8 contributes to molecular pathways of exosome-induced endothelial cell activation. Cancer Res. 70, 1668–1678 (2010)

90.

R. Cappellesso, A. Tinazzi, T. Giurici, F. Simonato, V. Guzzardo, L. Ventura, M. Crescenzi, S. Chiarelli, A. Fassina, Programmed cell death 4 and microRNA 21 inverse expression is maintained in cells and exosomes from ovarian serous carcinoma effusions. Cancer Cytopathol. 122, 685–693 (2014)

91.

O. Vaksman, C. Tropé, B. Davidson, R. Reich, Exosome-derived miRNAs and ovarian carcinoma progression. Carcinogenesis 35, 2113–2120 (2014)

92.

A. Liga, A.D.B. Vliegenthart, W. Oosthuyzen, J.W. Dear, M. Kersaudy-Kerhoas, Exosome isolation: a microfluidic road-map. Lab Chip 15, 2388–2394 (2015)

93.

D. Hanahan, R.A. Weinberg, Hallmarks of cancer: the next generation. Cell 144, 646–674 (2011)

94.

R. Paduch, The role of lymphangiogenesis and angiogenesis in tumor metastasis. Cell. Oncol. 39, 397–410 (2016)

95.

L.H.A. Broersen, G.W. van Pelt, R.A.E.M. Tollenaar, W.E. Mesker, Clinical application of circulating tumor cells in breast cancer. Cell. Oncol. 37, 9–15 (2014)

96.

C. Van Berckelaer, A.J. Brouwers, D.J.E. Peeters, W. Tjalma, X.B. Trinh, P.A. van Dam, Current and future role of circulating tumor cells in patients with epithelial ovarian cancer. Eur. J. Surg. Oncol. (2016). doi:10.1016/j.ejso.2016.05.010

97.

C. Van Berckelaer, A.J. Brouwers, D.J. Peeters, W. Tjalma, X.B. Trinh, P.A. van Dam, Current and future role of circulating tumor cells in patients with epithelial ovarian cancer. Eur. J. Surg. Oncol. (2016). doi:10.1016/j.ejso.2016.05.010

98.

E. Obermayr, D.C. Castillo-Tong, D. Pils, P. Speiser, I. Braicu, T. Van Gorp, S. Mahner, J. Sehouli, I. Vergote, R. Zeillinger, Molecular characterization of circulating tumor cells in patients with ovarian cancer improves their prognostic significance—a study of the OVCAD consortium. Gynecol. Oncol. 128, 15–21 (2013)

99.

E. Obermayr, F. Sanchez-Cabo, M.K.M. Tea, C.F. Singer, M. Krainer, M.B. Fischer, J. Sehouli, A. Reinthaller, R. Horvat, G. Heinze, D. Tong, Assessment of a six gene panel for the molecular detection of circulating tumor cells in the blood of female cancer patients. BMC Cancer 10, 666 (2010)

100.

K. Kolostova, M. Pinkas, A. Jakabova, E. Pospisilova, P. Svobodova, J. Spicka, M. Cegan, R. Matkowski, V. Bobek, Molecular characterization of circulating tumor cells in ovarian cancer. Am. J. Cancer Res. 6, 973–980 (2016)

101.

K. Kolostova, R. Matkowski, M. Jędryka, K. Soter, M. Cegan, M. Pinkas, A. Jakabova, J. Pavlasek, J. Spicka, V. Bobek, The added value of circulating tumor cells examination in ovarian cancer staging. Am. J. Cancer Res. 5, 3363–3375 (2015)

102.

R.R. Langley, I.J. Fidler, The seed and soil hypothesis revisited—the role of tumor-stroma interactions in metastasis to different organs. Int. J. Cancer 128, 2527–2535 (2011)

103.

E. Kolwijck, J. Kos, N. Obermajer, P.N. Span, C.M. Thomas, L.F. Massuger, F.C. Sweep, The balance between extracellular cathepsins and cystatin C is of importance for ovarian cancer. Eur. J. Clin. Investig. 40, 591–599 (2010)

104.

E. Lengyel, Ovarian cancer development and metastasis. Am. J. Pathol. 177, 1053–1064 (2010)

105.

S.M. Khan, H.M. Funk, S. Thiolloy, T.L. Lotan, J. Hickson, G.S. Prins, C.W. Rinker-Schaeffer, In vitro metastatic colonization of human ovarian cancer cells to the omentum. Clin. Exp. Metastasis 27, 185–196 (2010)

106.

M. Galea, G. Gauci, J. Calleja-Agius, P. Schembri-Wismayer, Peritoneal biomarkers in the early detection of ovarian cancer. Minerva. Ginecol. (2016, in press)

107.

R. Drake, A.W. Vogl, A.W.M. Mitchel, Gray's anatomy for students (Churchill Livingstone/Elsevier, Philadelphia, 2010)

108.

U. Kucukgoz Gulec, S. Paydas, A.B. Guzel, S. Buyukkurt, G. Seydaoglu, M.A. Vardar, Comparative analysis of CA 125, ferritin, beta-2 microglobulin, lactic dehydrogenase levels in serum and peritoneal fluid in patients with ovarian neoplasia. Med. Oncol. 29, 2937–2943 (2012)

109.

V.M. Peterson, C.M. Castro, J. Chung, N.C. Miller, A.V. Ullal, M.D. Castano, R.T. Penson, H. Lee, M.J. Birrer, R. Weissleder, Ascites analysis by a microfluidic chip allows tumor-cell profiling. Proc. Natl. Acad. Sci. U. S. A. 110, E4978–E4986 (2013)

110.

L.M. Amon, W. Law, M.P. Fitzgibbon, J.A. Gross, K. O'Briant, A. Peterson, C. Drescher, D.B. Martin, M. McIntosh, Integrative proteomic analysis of serum and peritoneal fluids helps identify proteins that are up-regulated in serum of women with ovarian cancer. PLoS One 5, e11137 (2010)

111.

M.A. Dawson, T. Kouzarides, Cancer epigenetics: from mechanism to therapy. Cell 150, 12–27 (2012)

112.

H. Easwaran, H.C. Tsai, S.B. Baylin, Cancer epigenetics: tumor heterogeneity, plasticity of stem-like states, and drug resistance. Mol. Cell 54, 716–727 (2014)

113.

A. Ferraro, Altered primary chromatin structures and their implications in cancer development. Cell. Oncol. 39, 195–210 (2016)

114.

E. Heard, R.A. Martienssen, Transgenerational epigenetic inheritance: myths and mechanisms. Cell 157, 95–109 (2014)

115.

W.L. Tam, R.A. Weinberg, The epigenetics of epithelial-mesenchymal plasticity in cancer. Nat. Med. 19, 1438–1449 (2013)

116.

J.S. You, P.A. Jones, Cancer genetics and epigenetics: two sides of the same coin? Cancer Cell 22, 9–20 (2012)

117.

J. Tost, I.G. Gut, in Molecular Diagnostics (Third Edition), ed. by George P. Patrinos, Philip B. Danielson and Wilhelm J. Ansorge (Elsevier/Academic Press, Amsterdam, 2017), pp.103–139. doi:10.1016/B978-0-12-802971-8.00007-9

118.

T.E. Liggett, A. Melnikov, Q. Yi, C. Replogle, W. Hu, J. Rotmensch, A. Kamat, A.K. Sood, V. Levenson, Distinctive DNA methylation patterns of cell-free plasma DNA in women with malignant ovarian tumors. Gynecol. Oncol. 120, 113–120 (2011)

119.

C. Marsit, B. Christensen, Epigenetic Alterations in Oncogenesis, ed. by Adam R. Karpf (Springer, Berlin Heidelberg New York) (2013), pp. 233–252

120.

L.M.S. Seeber, P.J. Van Diest. Epigenetics in Cancer Epigenetics: Methods and Protocols, ed. by G. D. Ramona and V. Mukesh (Springer, Berlin Heidelberg New York, 2012), pp 253–269.

121.

J.A.T. Pepin, H. Cardenas, C. Moore, S. Condello, J. Guanglong, L. Yunlong, D. Matei, Epigenetic vulnerabilities in ovarian cancer. Cancer Res. 76, 4486–4486 (2016)

122.

M. Longacre, N.A. Snyder, G. Housman, M. Leary, K. Lapinska, S. Heerboth, A. Willbanks, S. Sarkar, A comparative analysis of genetic and epigenetic events of breast and ovarian cancer related to tumorigenesis. Int. J. Mol. Sci. 17, 759 (2016)

123.

H. Mirzaei, F. Yazdi, R. Salehi, H.R. Mirzaei, SiRNA and epigenetic aberrations in ovarian cancer. J. Cancer Res. Ther. 12, 498–508 (2016)

124.

M. Kaur, A. Singh, K. Singh, S. Gupta, M. Sachan, Development of a multiplex MethyLight assay for the detection of DAPK1 and SOX1 methylation in epithelial ovarian cancer in a north Indian population. Genes Genet. Syst. (2016). doi:10.1266/ggs.15-00051

125.

Y.P. Liao, L.Y. Chen, R.L. Huang, P.H. Su, M.W. Chan, C.C. Chang, M.H. Yu, P.H. Wang, M.S. Yen, K.P. Nephew, H.C. Lai, Hypomethylation signature of tumor-initiating cells predicts poor prognosis of ovarian cancer patients. Hum. Mol. Genet. 23, 1894–1906 (2014)

126.

X. Lin, X. Shang, G. Manorek, S. Howell, Control of integrin expression and signaling by claudin-3 and claudin-4 in ovarian cancer. Cancer Res. 73, 211–211 (2013)

127.

Y.F. Huang, W.F. Cheng, Y.P. Wu, Y.M. Cheng, K.F. Hsu, C.Y. Chou, Circulating IGF system and treatment outcome in epithelial ovarian cancer. Endocr. Relat. Cancer 21, 217–229 (2014)

128.

D.J. Marsh, J.S. Shah, A.J. Cole, Histones and their modifications in ovarian cancer–drivers of disease and therapeutic targets. Front Oncol. 4, 144 (2014)

129.

K.R. Davis, K.J. Flower, J.V. Borley, C.S.M. Wilhelm-Benartzi, Cell-free circulating tumor DNA methylation in high-grade serous ovarian cancer. Cancer Res. 76, 3154–3154 (2016)

130.

S.N. Akers, K. Moysich, W. Zhang, G. Collamat Lai, A. Miller, S. Lele, K. Odunsi, A.R. Karpf, LINE1 and Alu repetitive element DNA methylation in tumors and white blood cells from epithelial ovarian cancer patients. Gynecol. Oncol. 132, 462–467 (2014)

131.

A. DiazLuis, A. Bardelli, Liquid biopsies: genotyping circulating tumor DNA. J. Clin. Oncol. 32, 579–586 (2014)

132.

H. Holger, M. Esteller, DNA methylation profiling in the clinic: applications and challenges. Nat. Rev. Genet. 13, 679–692 (2012)

133.

C. Montavon, B.S. Gloss, K. Warton, C.A. Barton, A.L. Statham, J.P. Scurry, B. Tabor, T.V. Nguyen, W. Qu, G. Samimi, N.F. Hacker, Prognostic and diagnostic significance of DNA methylation patterns in high grade serous ovarian cancer. Gynecol. Oncol. 124, 582–588 (2012)

134.

F. Yin, X. Liu, D. Li, Q. Wang, W. Zhang, L. Li, Tumor suppressor genes associated with drug resistance in ovarian cancer (review). Oncol. Rep. 30, 3–10 (2013)

135.

B. Zhang, F.F. Cai, X.Y. Zhong, An overview of biomarkers for the ovarian cancer diagnosis. Eur. J. Obstet. Gynecol. 158, 119–123 (2011)

136.

B.L. Valle, E. Kuhn, D. Sidransky, R. Guerrero-Preston, DNA promoter hypermethylation of genes as potential diagnostic and prognostic biomarkers for ovarian cancer. Cancer Res. 75, 2960–2960 (2015)

137.

A. Dobrovic, T. Mikeska, K. Alsop, I. Candiloro, J. George, G. Mitchell, D. Bowtell, Constitutional BRCA1 methylation is a major predisposition factor for high-grade serous ovarian cancer. Cancer Res. 74, 290–290 (2014)

138.

O.A. Al-Shabanah, M.M. Hafez, Z.K. Hassan, M.M. Sayed-Ahmed, W.N. Abozeed, A. Alsheikh, S.S. Al-Rejaie, Methylation of SFRPs and APC genes in ovarian cancer infected with high risk human papillomavirus. Asian Pac. J. Cancer Prev. 15, 2719–2725 (2013)

139.

R. Bhagat, S. Chadaga, C.S. Premalata, G. Ramesh, C. Ramesh, V.R. Pallavi, L. Krishnamoorthy, Aberrant promoter methylation of the RASSF1A and APC genes in epithelial ovarian carcinoma development. Cell. Oncol. 35, 473–479 (2012)

140.

V. Taucher, H. Mangge, J. Haybaeck, Non-coding RNAs in pancreatic cancer: challenges and opportunities for clinical application. Cell. Oncol. 39, 295–318 (2016)

141.

M. Vitiello, A. Tuccoli, L. Poliseno, Long non-coding RNAs in cancer: implications for personalized therapy. Cell. Oncol. 38, 17–28 (2015)

142.

M.D. Jansson, A.H. Lund, MicroRNA and cancer. Mol. Oncol. 6, 590–610 (2012)

143.

M. Acunzo, G. Romano, D. Wernicke, C.M. Croce, MicroRNA and cancer–a brief overview. Adv. Biol. Regul. 57, 1–9 (2015)

144.

L. Ayaz, F. Cayan, Ş. Balci, A. Görür, S. Akbayir, H. YıldırımYaroğlu, N. DoğruerUnal, L. Tamer, Circulating microRNA expression profiles in ovarian cancer. J. Obstet. Gynaecol. 4, 620–624 (2014)

145.

S. Zhang, Z. Lu, A.K. Unruh, C. Ivan, K.A. Baggerly, G.A. Calin, Z. Li, R.C. Bast Jr., X.F. Le, Clinically relevant microRNAs in ovarian cancer. Mol. Cancer Res. 13, 393–401 (2015)

146.

M. Bagnoli, L. De Cecco, A. Granata, R. Nicoletti, E. Marchesi, P. Alberti, B. Valeri, M. Libra, M. Barbareschi, F. Raspagliesi, D. Mezzanzanica, S. Canevari, Identification of a chrXq27.3 microRNA cluster associated with early relapse in advanced stage ovarian cancer patients. Oncotarget 2, 1265–1278 (2011)

147.

S.F. Hausler, A. Keller, P.A. Chandran, K. Ziegler, K. Zipp, S. Heuer, M. Krockenberger, J.B. Engel, A. Hönig, M. Scheffler, J. Dietl, J. Wischhusen, Whole blood-derived miRNA profiles as potential new tools for ovarian cancer screening. Br. J. Cancer 103, 693–700 (2010)

148.

Y.W. Chung, H.S. Bae, J.Y. Song, J.K. Lee, N.W. Lee, T. Kim, K.W. Lee, Detection of microRNA as novel biomarkers of epithelial ovarian cancer from the serum of ovarian cancer patients. Int. J. Gynecol. Cancer 23, 673–679 (2013)

149.

H. Zheng, L. Zhang, Y. Zhao, D. Yang, F. Song, Y. Wen, Q. Hao, Z. Hu, W. Zhang, K. Chen, Plasma miRNAs as diagnostic and prognostic biomarkers for ovarian cancer. PLoS One 8, e77853 (2013)

150.

I. Shapira, M. Oswald, J. Lovecchio, H. Khalili, A. Menzin, J. Whyte, L. Dos Santos, S. Liang, T. Bhuiya, M. Keogh, C. Mason, Circulating biomarkers for detection of ovarian cancer and predicting cancer outcomes. Br. J. Cancer 110, 976–983 (2014)

151.

C.W. Kan, V.M. Howell, M.A. Hahn, D.J. Marsh, Genomic alterations as mediators of miRNA dysregulation in ovarian cancer. Genes Chromosom. Cancer 54, 1–19 (2015)

152.

R. Langhe, L. Norris, F.A. Saadeh, G. Blackshields, R. Varley, A. Harrison, N. Gleeson, C. Spillane, C. Martin, D.M. O'Donnell, T. D'Arcy, J. O'Leary, S. O'Toole, A novel serum microRNA panel to discriminate benign from malignant ovarian disease. Cancer Lett. 356, 628–636 (2015)

153.

S. Leskelä, L.J. Leandro-García, M. Mendiola, J. Barriuso, L. Inglada-Pérez, I. Muñoz, B. Martínez-Delgado, A. Redondo, J. de Santiago, M. Robledo, D. Hardisson, The miR-200 family controls β-tubulin III expression and is associated with paclitaxel-based treatment response and progression-free survival in ovarian cancer patients. Endocr. Relat. Cancer 18, 85–95 (2011)

154.

S. Marchini, D. Cavalieri, R. Fruscio, E. Calura, D. Garavaglia, I.F. Nerini, C. Mangioni, G. Cattoretti, L. Clivio, L. Beltrame, D. Katsaros, Association between miR-200c and the survival of patients with stage I epithelial ovarian cancer: a retrospective study of two independent tumour tissue collections. Lancet Oncol. 12, 273–285 (2011)

155.

K. Nakamura, K. Sawada, A. Yoshimura, Y. Kinose, E. Nakatsuka, T. Kimura, Clinical relevance of circulating cell-free microRNAs in ovarian cancer. Mol. Cancer 15, 48 (2016)

156.

J. Zhou, G. Gong, H. Tan, F. Dai, X. Zhu, Y. Chen, J. Wang, Y. Liu, P. Chen, X. Wu, J. Wen, Urinary microRNA-30a-5p is a potential biomarker for ovarian serous adenocarcinoma. Oncol. Rep. 33, 2915–2923 (2015)

157.

Y. Chen, L. Zhang, Q. Hao, Candidate microRNA biomarkers in human epithelial ovarian cancer: systematic review profiling studies and experimental validation. Cancer Cell Int. 13, 86 (2013)
Acknowledgements
We are grateful to Pr. Fourtassi Maryam, associate professor of physical medicine and rehabilitation at the Medical School of Oujda-Morocco, for her constant encouragement and to Pr. SELLAM Amar for revising the English of the manuscript.
Ethics declarations
Conflict of interest
The authors declare no conflict of interest.
Electronic supplementary material
About this article
Cite this article
El Bairi, K., Kandhro, A.H., Gouri, A. et al. Emerging diagnostic, prognostic and therapeutic biomarkers for ovarian cancer. Cell Oncol. 40, 105–118 (2017). https://doi.org/10.1007/s13402-016-0309-1
Accepted:

Published:

Issue Date:
Keywords
Ovarian cancer

Biomarkers

Diagnosis

Prognosis

Circulating tumor cells

Epigenetics