Abstract
Background
Development of effective ways to detect metastases is highly desirable for improving the therapeutic strategies and survival of cancer patients. Serum levels of galectin-3 and -4, two members of the galactoside-binding galectin family, have recently been reported to be markedly increased up to 31-fold in the bloodstream of colorectal cancer patients and in particular those with metastases.
Results
We found that simultaneous determination of serum galectin-3 and -4 levels in a single assay provides a high specificity and sensitivity in distinguishing colorectal cancer patients without metastases from those with liver metastases. This result was partly attributed by a reciprocal relationship of serum galectin-3 and -4 levels in patients with metastases. Higher serum galectin-3/-4 levels at the time of primary tumour removal in patients who did not exhibit clinically detectable metastases were associated with a trend of a poorer patients' survival in the next 10 years.
Conclusion
Simultaneous determination of serum galectin-3 and -4 levels can potentially be used alone or in combination with other assessments to detect colorectal cancer metastases.
Access options
Buy single article
Instant access to the full article PDF.
USD 39.95
Price excludes VAT (USA)
Tax calculation will be finalised during checkout.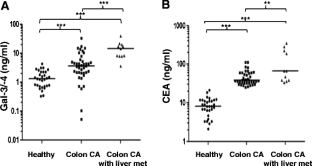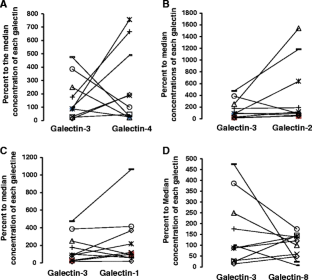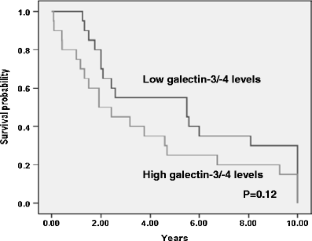 References
P.D. Sasieni, J. Shelton, N. Ormiston-Smith et al., What is the lifetime risk of developing cancer?: the effect of adjusting for multiple primaries. Br. J. Cancer 105(3), 460–465 (2011)

G. Christofori, New signals from the invasive front. Nature 441(7092), 444–450 (2006)

H. Barrow, X. Guo, H.H. Wandall et al., Serum galectin-2, -4, and -8 are greatly increased in colon and breast cancer patients and promote cancer cell adhesion to blood vascular endothelium. Clin. Cancer Res. 17(22), 7035–7046 (2011)

S. Saussez, F. Lorfevre, T. Lequeux et al., The determination of the levels of circulating galectin-1 and -3 in HNSCC patients could be used to monitor tumor progression and/or responses to therapy. Oral Oncol. 44(1), 86–93 (2008)

S. Saussez, D. Glinoer, G. Chantrain et al., Serum galectin-1 and galectin-3 levels in benign and malignant nodular thyroid disease. Thyroid 18(7), 705–712 (2008)

M. Sakaki, N. Oka, R. Nakanishi et al., Serum level of galectin-3 in human bladder cancer. J. Med. Investig. 55(1–2), 127–132 (2008)

I. Iurisci, N. Tinari, C. Natoli et al., Concentrations of galectin-3 in the sera of normal controls and cancer patients. Clin. Cancer Res. 6(4), 1389–1393 (2000)

S. Senapati, P. Chaturvedi, W.G. Chaney et al., Novel interaction of MUC4 and galectin: potential pathobiological implications for metastasis in lethal pancreatic cancer. Clin. Cancer Res. 17(2), 267–274 (2011)

P. Vereecken, A. Awada, S. Suciu et al., Evaluation of the prognostic significance of serum galectin-3 in American Joint Committee on cancer stage III and stage IV melanoma patients. Melanoma Res. 19(5), 316–320 (2009)

L.G. Yu, Circulating galectin-3 in the bloodstream: an emerging promoter of cancer metastasis. World J. Gastrointest. Oncol. 2(4), 177–180 (2010)

Q. Zhao, X. Guo, G.B. Nash et al., Circulating galectin-3 promotes metastasis by modifying MUC1 localization on cancer cell surface. Cancer Res. 69(17), 6799–6806 (2009)

A.U. Newlaczyl, L.G. Yu, Galectin-3—a jack-of-all-trades in cancer. Cancer Lett. 313(2), 123–128 (2011)

L.G. Yu, N. Andrews, Q. Zhao et al., Galectin-3 interaction with Thomsen-Friedenreich disaccharide on cancer-associated MUC1 causes increased cancer cell endothelial adhesion. J. Biol. Chem. 282(1), 773–781 (2007)

Q. Zhao, M. Barclay, J. Hilkens et al., Interaction between circulating galectin-3 and cancer-associated MUC1 enhances tumour cell homotypic aggregation and prevents anoikis. Mol. Cancer 9, 154 (2010)

M. Watanabe, I. Takemasa, N. Kaneko et al., Clinical significance of circulating galectins as colorectal cancer markers. Oncol. Rep. 25(5), 1217–1226 (2011)

H. Barrow, J.M. Rhodes, L.-G. Yu, The role of galectins in colorectal cancer progression. Int. J. Cancer 129, 1–8 (2011)

S.E. Baldus, F.G. Hanisch, G.M. Kotlarek et al., Coexpression of MUC1 mucin peptide core and the Thomsen-Friedenreich antigen in colorectal neoplasms. Cancer 82(6), 1019–1027 (1998)

R. Singh, B.J. Campbell, L.G. Yu et al., Cell surface-expressed Thomsen-Friedenreich antigen in colon cancer is predominantly carried on high molecular weight splice variants of CD44. Glycobiology 11(7), 587–592 (2001)

D.N. Cooper, S.H. Barondes, God must love galectins; he made so many of them. Glycobiology 9(10), 979–984 (1999)
Acknowledgment
This study was supported by a North West Cancer Research Fund grant CR777 (to LGY).
Conflict of interest
The authors declare no conflict of interest.
About this article
Cite this article
Barrow, H., Rhodes, J.M. & Yu, LG. Simultaneous determination of serum galectin-3 and -4 levels detects metastases in colorectal cancer patients. Cell Oncol. 36, 9–13 (2013). https://doi.org/10.1007/s13402-012-0109-1
Accepted:

Published:

Issue Date:

DOI: https://doi.org/10.1007/s13402-012-0109-1
Keywords
Galectin-3

Galectin-4

Metastasis

Colorectal cancer