Abstract
Macroalgal extracts contain a wide range of bioactive compounds; due to its naturally acquiring compounds, macroalgae has been used in the pharmacological field to cure various diseases. In this study, totally 23 species of macroalgae were collected from Palk bay and Gulf of Mannar regions comprising 9 species of Chlorophyta, 7 species of Phaeophyta, and 7 species of Rhodophyta. The anticandidal properties of the collected macroalgae were studied using various solvents against five different Candida strains. The well-diffusion method has been carried out to study the activity of macroalgal extract. Zone of inhibition was recorded as high in acetone extract followed by methanol, ethyl acetate, hexane, aqueous, and dimethyl sulfoxide. The result shows that the division Rhodophyta exhibits highest anticandidal property followed by Phaeophyta, and Chlorophyta. The acetone, methanol, ethyl acetate and hexane extracts obtained from P. hornemannii, S. robusta, G. Acerosa (red macroalgae), T. ornata, S. cinereum, and L. Variegata (brown macroalgae), and U. lactuca, C. vagabunda, and C. decorticatum (green macroalgae) exhibit activity against most of the tested Candida spp. Halimeda opuntia, Caulerpa peltata, Halimeda macroloba, Chaetomorpha aerea, and Turbinaria decurrens do not exhibit inhibitory activity against any of the tested Candida strains. The main objective of the study is to screen various microalgal extracts that exhibit anticandidal activity and to find the drugs with anticandidal potential.
Access options
Buy single article
Instant access to the full article PDF.
USD 39.95
Price excludes VAT (USA)
Tax calculation will be finalised during checkout.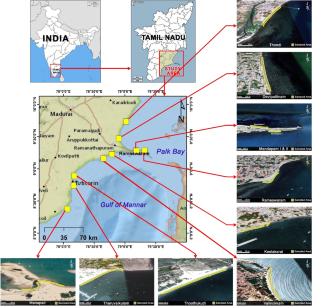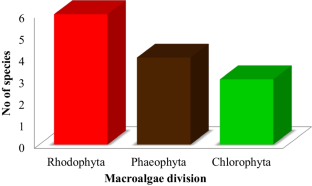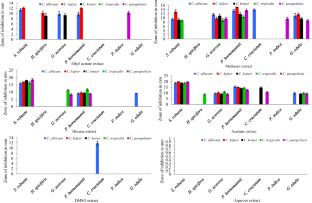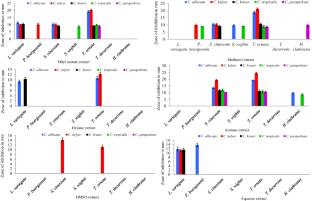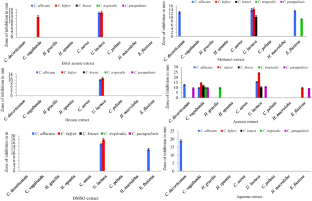 Data availability
The data that support the findings of this study are available from the corresponding author upon reasonable request.
References
Abirami RG, Kowsalya S (2012) Phytochemical screening, microbial load and antimicrobial activity of underexploited seaweeds. Int Res J Microbiol 3(10):328–332

Adrien A, Dufour D, Baudouin S, Maugard T, Bridiau N (2017) Evaluation of the anticoagulant potential of polysaccharide-rich fractions extracted from macroalgae. Nat Prod Res 31(18):2126–2136

Arumugam G, Rajendran R (2019) Anti-candidal activity and synergetic interaction of antifungal drugs with differential extract of brown algae Stocheospermum marginatum. Biocatal Agric Biotechnol 19:101145

Arumugam G, Rajendran R, Khaleelullah NS, Ramanathan S (2019) Anti-candidal and anti-virulence efficiency of selected seaweeds against azole resistance Candida albicans. Biocatal Agric Biotechnol 20:101195

Balaji S, Edward JKP, Samuel VD (2012) Coastal and Marine Biodiversity of Gulf of Mannar, Southeastern India–a comprehensive updated species list. Gulf of Mannar Biosphere Reserve Trust, Publication 22:128

Calderwood D, Rafferty E, Fitzgerald C, Stoilova V, Wylie A, Gilmore BF, ..., Green BD (2021) Profiling the activity of edible European macroalgae towards pharmacological targets for type 2 diabetes mellitus. Appl Phycol 2(1):10-21

El Zawawy NA, El-Shenody RA, Ali SS, El-Shetehy M (2020) A novel study on the inhibitory effect of marine macroalgal extracts on hyphal growth and biofilm formation of candidemia isolates. Sci Rep 10(1):1–10

El-Shafei R, Hegazy H, Acharya B (2021) A review of antiviral and antioxidant activity of bioactive metabolite of macroalgae within an optimized extraction method. Energies 14(11):3092

Gomez LP, Alvarez C, Zhao M, Tiwari U, Curtin J, Garcia-Vaquero M, Tiwari BK (2020) Innovative processing strategies and technologies to obtain hydrocolloids from macroalgae for food applications. Carbohyd Polym 248:116784

Gómez-Zorita S, González-Arceo M, Trepiana J, Eseberri I, Fernández-Quintela A, Milton-Laskibar I, ..., Portillo MP (2020) Anti-obesity effects of macroalgae. Nutrients 12(8):2378

Guedes EAC, dos Santos Araújo MA, Souza AKP, de Souza LIO, de Barros LD, de Albuquerque Maranhao FC, Sant'Ana AEG (2012) Antifungal activities of different extracts of marine macroalgae against dermatophytes and Candida species. Mycopathologia 174(3):223–232

Hernday AD, Noble SM, Mitrovich QM, Johnson AD (2010) Genetics and molecular biology in Candida albicans. In: Methods in enzymology, vol 470. Academic Press, pp 737–758

Jain A, Patel NB, Tailor V, Sathvara S, Kalasariya HS (2020) An appraisal on antimicrobial applicability of marine macroalgae. Int Res J Eng Technol 7:735–739

Kalasariya HS, Pereira L, Patel NB (2022) Pioneering role of marine macroalgae in cosmeceuticals. Phycology 2(1):172–203

Katzka DA (2010) Esophageal disorders caused by medications, trauma, and infection. In Sleisenger Fordtran's Gastrointest Liver Dis 735–743. WB Saunders

Kaur S, Sarkar M, Srivastava RB, Gogoi HK, Kalita MC (2012) Fatty acid profiling and molecular characterization of some freshwater microalgae from India with potential for biodiesel production. New Biotechnol 29(3):332–344

Klongklaew N, Praiboon J, Tamtin M, Srisapoome P (2020) Antibacterial and antiviral activities of local Thai green macroalgae crude extracts in pacific white shrimp (Litopenaeusvannamei). Mar Drugs 18(3):140

Kolanjinathan K, Manigandan M. www.ijarbs.com Research article screening the in-vitro antifungal activity of certain seaweeds collected from Mandapam coast, Tamil Nadu, India

Kolanjinathan K, Saranraj P (2014) Pharmacological efficacy of marine seaweed Gracilaria edulis extracts against clinical pathogens. Glob J Pharmacol 8(2):268–274

Kotnala S, Garg A, Chatterji A (2009) Screening for the presence of antimicrobial activity in few Indian seaweeds. Pertanika J Trop Agric Sci 32(1):69–75

Lavanya R, Veerappan N (2012) Pharmaceutical properties of marine macroalgal communities from Gulf of Mannar against human fungal pathogens. Asian Pac J Trop Dis 2:S320–S323

Lezcano V, Fernández C, Parodi ER, Morelli S (2018) Antitumor and antioxidant activity of the freshwater macroalga Cladophora surera. J Appl Phycol 30(5):2913–2921

Ma C, Song W, Yang J, Ren C, Du H, Tang T, Qin S, Liu Z, Cui H (2022) The role and mechanism of commercial macroalgae for soil conditioner and nutrient uptake catalyzer. Plant Growth Regul 1–22

Messahli I, Gouzi H, Sifi I, Chaibi R, Rezzoug A, Rouari L (2022) Anticandidal activity of dichloromethane extract obtained from the red algae A. armata of the Algerian coast. Acta Ecol Sin 42(5):461–466

Michalak I, Chojnacka K (2015) Algae as production systems of bioactive compounds. Eng Life Sci 15(2):160–176

Mickymaray S, Alturaiki W (2018) Antifungal efficacy of marine macroalgae against fungal isolates from bronchial asthmatic cases. Molecules 23(11):3032

Musbah HA, Abouelkhair WS, Yousef SAE, Moustafa EE, Hasan AMH (2019) Screening of antifungal activities of five algal crude extracts. J Sci Res Sci 36(1):318–338

Oranday MA, Verde MJ, Martinez-Lozano SJ, Waksman NH (2004) Active fractions from four species of marine algae. Phyton-RevistaInternacional de Bot Exp 165–170

Pandithurai M, Subbiah M, Vajiravelu S, Selvan T (2015) Antifungal activity of various solvent extracts of marine brown alga Spatoglossum asperum. Int J Pharm Chem 5:277–280

Pérez MJ, Falqué E, Domínguez H (2019) Seaweed antimicrobials: present status and future perspectives. Handbook of Algal Technologies and Phytochemicals, pp 61–69

Pirian K, Moein S, Sohrabipour J, Rabiei R, Blomster J (2017) Antidiabetic and antioxidant activities of brown and red macroalgae from the Persian Gulf. J Appl Phycol 29(6):3151–3159

Prabha V, Prakash DJ, Sudha PN (2013) Analysis of bioactive compounds and antimicrobial activity of marine algae Kappaphycus alvarezii using three solvent extracts. Int J Pharm Sci Res 4(1):306

Pradhan B, Bhuyan PP, Patra S, Nayak R, Behera PK, Behera C, ..., Jena M (2022) Beneficial effects of seaweeds and seaweed-derived bioactive compounds: current evidence and future prospective. Biocatal Agric Biotechnol 39:102242

Princely S, Dhanaraju MD (2017) Assessment of phytochemical constituents, in vitro antimicrobial and antioxidant potential of ulva extracts from Vishakhapatnam coast. Assessment 10(8)

Priyadharshini S, Bragadeeswaran S, Prabhu K, Ran SS (2011) Antimicrobial and hemolytic activity of seaweed extracts Ulva fasciata (Delile 1813) from Mandapam, Southeast coast of India. Asian Pac J Trop Biomed 1(1):S38–S39

Priyanka KR, Rajaram R, Sivakumar SR (2022) A critical review on pharmacological properties of marine macroalgae. Biomass Convers Biorefin 1–25

Reynolds D, Huesemann M, Edmundson S, Sims A, Hurst B, Cady S, ..., Gao S (2021) Viral inhibitors derived from macroalgae, microalgae, and cyanobacteria: a review of antiviral potential throughout pathogenesis. Algal Res 57:102331

Sahoo D (2010) Common seaweeds of India. IK Int Pvt Ltd

Saidani K, Bedjou F, Benabdesselam F, Touati N (2012) Antifungal activity of methanolic extracts of four Algerian marine algae species. Afr J Biotech 11(39):9496–9500

Samar J, Butt GY, Shah AA, Shah AN, Ali S, Jan BL, Abdelsalam NR, Hussaan M (2022) Phycochemical and biological activities from different extracts of Padina antillarum (Kützing) Piccone. Front Plant Sci 13

Selvaraj M, Pandurangan P, Ramasami N, Rajendran SB, Sangilimuthu SN, Perumal P (2014) Highly potential antifungal activity of quantum-sized silver nanoparticles against Candida albicans. Appl Biochem Biotechnol 173(1):55–66

Shobier AH, Ghani SAA, Barakat KM (2016) GC/MS spectroscopic approach and antifungal potential of bioactive extracts produced by marine macroalgae. Egypt J Aquat Res 42(3):289–299

Silva A, Silva SA, Carpena M, Garcia-Oliveira P, Gullón P, Barroso MF, ..., Simal-Gandara J (2020) Macroalgae as a source of valuable antimicrobial compounds: extraction and applications. Antibiotics 9(10):642

Stirk WA, Reinecke DL, van Staden J (2007) Seasonal variation in antifungal, antibacterial and acetylcholinesterase activity in seven South African seaweeds. J Appl Phycol 19(3):271–276

Sunarpi H, Ansyarif F, Putri FE, Azmiati S, Nufus NH, Widyastuti S, Prasedya ES (2019) Effect of Indonesian macroalgae based solid and liquid fertilizers on the growth and yield of rice (Oryza sativa). Asian J Plant Sci 18(1):15–20

Thirumalaiselvan S, Rajkumar M, Vinothkumar R, Remya L, Batcha SM (2020) Seagrass, seaweed and mangrove ecosystem of Gulf of Mannar and Palk Bay region

TÜney İ, Cadirci BH, Ünal D, Sukatar A (2006) Antimicrobial activities of the extracts of marine algae from the coast of Urla (Izmir, Turkey). Turk J Biol 30(3):171–175

Uthirapandi V, Suriya S, Boomibalagan P, Eswaran S, Ramya SS, Vijayanand N, Kathiresan D (2018) Bio-fertilizer potential of seaweed liquid extracts of marine macro algae on growth and biochemical parameters of Ocimum sanctum. J Pharmacogn Phytochem 7(3):3528–3532

Vazquez JA, Sobel JD (2011) Candidiasis. In Essentials of clinical mycology 167–206. Springer, New York, NY

Vengadesan P, John SA (2014) Study on antifungal activity of Sargassum wightii from the Mandapam coast Tamil Nadu, India. Asian J Pharm Sci Technol 4(1)

Vimala T, Poonghuzhali TV (2017) In vitro antimicrobial activity of solvent extracts of marine brown alga, Hydroclathrus clathratus (C. Agardh) M. Howe from Gulf of Mannar. J Appl Pharm Sci 7:157–162
Acknowledgements
The authors thank the authorities of Bharathidasan University for the facility provided. Thanks are due to Mr. P. Emmanuel Charles for proof reading and check the plagiarism of the article.
Ethics declarations
Ethics approval
Not applicable.
Competing interests
The authors declare no competing interests.
Additional information
Publisher's note
Springer Nature remains neutral with regard to jurisdictional claims in published maps and institutional affiliations.
Highlights
• In total, 23 species of macroalgae were collected from Palk bay and Gulf of Mannar.
• Six different macroalgal extracts were used against Candidal strains to assess the anticandidal activity.
• Anticandidal activity recorded in Rhodophyta was higher than Phaeophyta and Chlorophyta.
• Activity of extracts in order of solvents is acetone > methanol > ethyl acetate > hexane > aqueous > DMSO.
• U. lactuca, T. ornata, P. hornemannii, and S. robusta exhibit activity against most of the tested Candida spp.
Supplementary Information
Below is the link to the electronic supplementary material.
Rights and permissions
Springer Nature or its licensor (e.g. a society or other partner) holds exclusive rights to this article under a publishing agreement with the author(s) or other rightsholder(s); author self-archiving of the accepted manuscript version of this article is solely governed by the terms of such publishing agreement and applicable law.
About this article
Cite this article
Priyanka, K.R., Rajaram, R. Preliminary screening on anticandidal properties of marine macroalgae collected from Palk Bay and Gulf of Mannar, southeast coast of India. Biomass Conv. Bioref. (2022). https://doi.org/10.1007/s13399-022-03599-3
Received:

Revised:

Accepted:

Published:

DOI: https://doi.org/10.1007/s13399-022-03599-3
Keywords