Abstract
In the present paper, the development of new heterogeneous catalytic processes to produce high commodity chemicals of industrial interest such as acetaldehyde, ethyl acetate, and pure hydrogen by bioethanol has been discussed. All the reactions were performed in a conventional packed bed tubular reactor and in a wide range of temperature 50–500°C, pressure 1–30 bar, and space time W/F = 0.1–100 g h mol−1. The aim of this research is to demonstrate that by varying properly the operative range of residence time and pressure, it is possible to obtain with high selectivity acetaldehyde or ethyl acetate from ethanol in a single reaction step. The performances of a series of commercial copper-based catalysts have been studied in the ethanol dehydrogenation/oxidative reforming reactions. In particular, very promising results have been obtained by using a commercial catalyst of copper/copper chromite containing barium chromite as a promoter. In a low range of residence time 0.1–1 g h mol−1 and at low pressure, very high performances in terms of ethanol conversion (60 %) and acetaldehyde selectivity (90 %) have been obtained. On the contrary, by operating at high residence time, at a pressure higher than 10 bar, and by feeding 25 cm3/min of a mixture of 6 % H2 in N2, a very high selectivity to ethyl acetate (98.9 %) was observed. The examined catalysts were characterized by using ex situ methods such as X-ray photoelectron spectroscopy and in situ EXAFS and FTIR with the aim to evaluate their physical properties and to correlate them with the catalysts' performances.
Access options
Buy single article
Instant access to the full article PDF.
USD 39.95
Price includes VAT (USA)
Tax calculation will be finalised during checkout.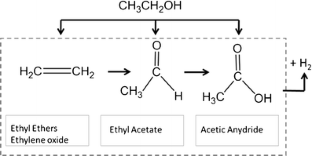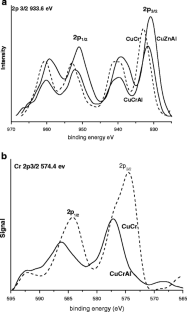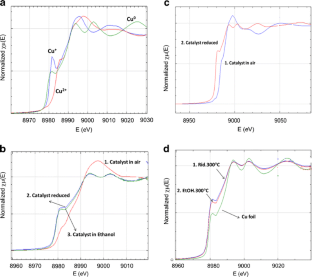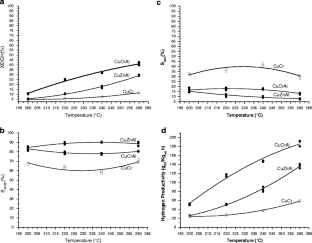 References
1.

Rass-Hansen J, Falsig H, Jørgensen B, Christensen CH (2007) Perspective bioethanol: fuel or feedstock. J Chem Technol Biotechnol 82:329–333. doi:10.1002/jctb.16645

2.

Champagne P (2007) Resour Conserv Recycl 50:211–230

3.

Lynd LR, Wyman CE, Gerngross TU (1999) Biotechnol Prog 15(5):777–793. doi:10.1021/bp990109e

4.

Chladek P, Croiset E, Epling W, Hudgins RR (2007) Characterization of copper foam as catalytic material in ethanol dehydrogenation. Can J Chem Eng 85:917. doi:10.1002/cjce.5450850613

5.

Colley SW, Tabatabaei J, Waugh KC, Wood MA (2005) J Catal 236:21–33

6.

Inui K, Kurabayashi T, Sato S (2002) Appl Catal Gen 237(729):53–61

7.

Inui K, Kurabayashi T, Sato S, Ichikawa N (2004) J Mol Catal 216(731):147–156

8.

Inui K, Kurabayashi T, Sato S (2002) J Catal 212(732):207–215

9.

Gaspar AB, Barbosa FG, Letichevsky S, Appel LG (2010) Appl Catal A: Gen 380(734):113–117

10.

Colley SW, Fawcett CR, Sharif M, Tuck MWM, Watson DJ, Wood MA(2004) US 6, 809, 217 B1 October 6, Process for the preparation of ethyl acetate

11.

Colley SW, Fawcett CR, Sharich M, Tuck M, Watson DJ, Wood MA et al. (2009) United States Patent 7,553,397, B1 June 30, process. 761

12.

Colley SW, Fawcett CR, Sharich M, Tuck M, Watson DJ, Wood MA, Davy (1978) Process Tech., Republic of South Africa 2004/9535–18,7,05

13.

Church JM, Joshi HK (1951) Acetaldehyde by dehydrogenation of ethyl alcohol. Ind Eng Chem 43:1804–1811

14.

Franckaerts J, Froment GF (1964) Kinetic study of the dehydrogenation of ethanol. Chem Eng Sci 19:807–818

15.

Carotenuto G, Di Serio M, Santacesaria E, Tesser R (2010) New process for the production of ethyl acetate and pure hydrogen from ethanol: Italian patent NA2010A000009; WO2011/104738A2 assigned to EUROCHEM Engineering

16.

Carotenuto G, Di Serio M, Santacesaria E, Tesser R (2011) Production of pure hydrogen by ethanol dehydrogenation. OIL GAS European Magazine 2, ISSN 0342-562

17.

Zhang M, Li G, Jiang H (2011) Catal Lett 141:1104–1110

18.

Brooks AR, Clayton CR, Doss K, Lu YCJ (1986) Electrochem Soc 133:2459

19.

Philip G, Harrison et al (2000) Chem Mater 12:3113–3122

20.

Llorca J et al (2004) J Catal 227:556–560

21.

Millar GJ et al (1991) J Chem Soc Faraday Trans 1(87):2785

22.

Borrello E (1967) J Phys Chem 71:2938

23.

Yee A, Morrison SJ, Idriss H (1999) J Catal 186:279

24.

Deacon GB, Phillips RJ (1980) J Coord Chem Rev 33:227

25.

Idriss H, Diagne C, Hindermann JP, Kiennemann A, Barteau MA (1995) J Catal 155:219

26.

Kumar A, Mukasyan AS, Wolf EE (2011) App Catal 401(1–2):20–28

27.

Santacesaria E, Carotenuto G, Tesser R, Di Serio M (2012) Ethanol dehydrogenation to ethyl acetate by using copper and copper chromite catalysts. Chem Eng J 179:209–220

28.

Fujita SI, Iwasa N, Tani H, Nomura W, Arai M, Takezawa N (2001) Dehydrogenation of ethanol over Cu/ZnO catalysts prepared from various coprecipitated precursors. React Kinet Catal Lett 73:367–372

29.

Carotenuto G, Tesser R, Di Serio M, Santacesaria E (2012) Kinetic study of ethanol dehydrogenation to ethyl acetate promoted by a copper/copper-chromite based catalyst. Catal Today. doi:10.1016/j.cattod.2012.02.054

30.

Khasin AA, Yur'eva TM, Plyasova LM, Kustova GN, Jobic H, Ivanov A, Chesalov YA, Zaikovskii VI, Khasin AV, Davydova LP, Parmon VN (2008) Russ J Gen Chem 78(11):2203–2213

31.

Yurieva TM, Plyasova LM, Makarova OV, Krieger TA (1996) J Mol Catal A: Chem 113:455

32.

Frusteri F, Freni S, Chiodo V, Spadaro L, Di Blasi O, Bonura G, Cavallaro S (2004) Appl. Catal A: Gen 270:1
Acknowledgments
We gratefully acknowledge Prof. E. E. Wolf of the University of Notre Dame (IN, USA) for the interesting and useful discussions and Dr. Jeff Miller from Argonne National Laboratory of Chicago for the XANES measurements.
About this article
Cite this article
Carotenuto, G., Tesser, R., Di Serio, M. et al. Bioethanol as feedstock for chemicals such as acetaldehyde, ethyl acetate and pure hydrogen. Biomass Conv. Bioref. 3, 55–67 (2013). https://doi.org/10.1007/s13399-012-0045-3
Received:

Revised:

Accepted:

Published:

Issue Date:
Keywords
Copper chromite

Ethanol

Chemicals

Copper

Hydrogen