Abstract
Synthetic natural gas (SNG) can be produced from biomass by thermochemical gasification and subsequent synthesis gas methanation and gas processing. For an industrial-scale process with high efficiency (up to 74 %; Rönsch et al. in VGB PowerTech 5:110–116, 2008), the large plant size is associated with a number of disadvantages such as a high biomass transportation volume and local environmental impacts. Small distributed SNG production units would minimize these negative aspects but are expected to cause lower efficiency. In order to show the potential of a small-scale SNG solution, different process chain configurations are simulated using Aspen Plus software. Combined heat and power generation via gasification and direct product gas conversion in a gas engine is compared to a SNG route, where the product gas is further cleaned, converted, and upgraded to SNG. Different gasification technologies (co-current fixed bed, countercurrent fixed bed, and dual fluidized bed) are evaluated. The SNG route is based on a dual fluidized bed gasification, subsequent methanation, and injection into the natural gas grid. As an outcome of the simulations, the efficiencies are calculated with special focus on heat integration and utilization. A maximized utilization of the released process heat results in a strong overall efficiency increase. Depending on the local heat utilization, gasification with subsequent methanation has an advantage compared to direct local power generation. The overall efficiency of the SNG option is found to be up to 73.9 %, which is within the range of the fluidized bed gasification option. The crucial factor for high efficiency, and thus for an economic operation, is the heat demand at the location. With even a small constant heat demand, the SNG solution becomes very competitive as some of the heat otherwise generated on-site is translated into chemical energy and carried to a power generation location elsewhere. It has been shown that SNG production subsequent of a small-scale fluidized bed gasifier can very well be efficient in both energetic and economic regards. The most important and crucial parameter is the heat utilization on-site and thus the local heat demand characteristics.
Access options
Buy single article
Instant access to the full article PDF.
USD 39.95
Price excludes VAT (USA)
Tax calculation will be finalised during checkout.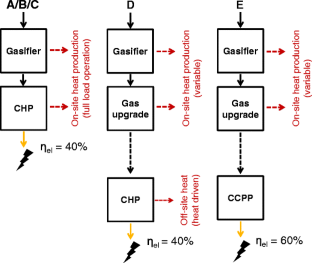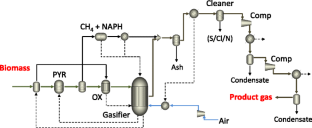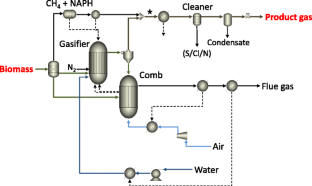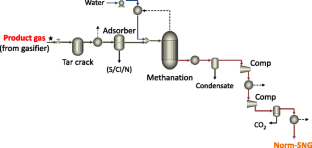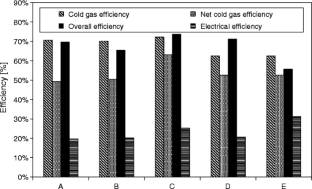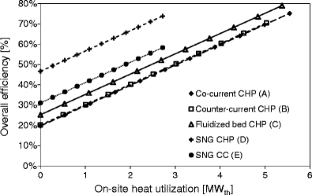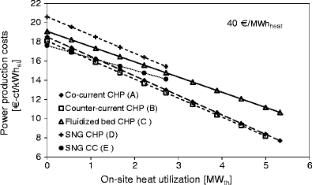 Abbreviations
SNG:

Synthetic natural gas

CHP:

Combined heat and power

CCPP:

Combined cycle power plant

REA:

Restricted equilibrium approach

LHV:

Lower heating value

wt%:

Weight percent

c el :

Power production costs (in euro cents per kilowatt hour of electricity)

c a :

Annual costs (euros)

r on :

Revenues on-site heat utilization (euros)

r off :

Revenues off-site heat utilization (euros)

Q el :

Net power generation per year (kilowatt hours of electricity)

P int :

Internal power consumption (kilowatts)

\( \dot{m} \)

:

Mass flow (product gas or biomass) (kilograms per second)

η :

Efficiency (percent)
References
Kopyscinski J, Schildhauer TJ, Biollaz S (2010) Production of synthetic natural gas (SNG) from coal and dry biomass—a technology review from 1950 to 2009. Fuel 89:1763–1783

Rönsch St, Dreher M, Vogel A, Kaltschmitt M (2008) Erdgassubstitut aus biogenen Festbrennstoffen. VGB Powertech 5:110–116

Van der Meijden CM, Veringa HJ, Rabou L (2010) The production of synthetic natural gas (SNG): a comparison of three wood gasification systems for energy balance and overall efficiency. Biomass Bioenergy 34:302–311

Wang L, Weller CL, Jones DD, Milford AH (2008) Contemporary issues in thermal gasification of biomass and its application to electricity and fuel production. Biomass Bioenergy 32:573–581

Gassner M, Maréchal F (2009) Thermo-economic process model for thermochemical production of synthetic natural gas (SNG) from lignocellulosic biomass. Biomass Bioenergy 33:1587–1604

Tremel A, Stemann M, Gaderer M, Spliethoff H (2009) Process efficiency of small scale SNG production from biomass. 17th European Biomass Conference & Exhibition, Hamburg

Pröll T, Hofbauer H (2008) Development and application of a simulation tool for biomass gasification based processes. Int J Chem React Eng 6:A89

University of Technology Vienna (2010) Biofuels database BIOBIB. http://www.vt.tuwien.ac.at/biobib/wood.html. Accessed 17 May 2011

DVGW (2004) Technische Regeln Arbeitsplatt G262, November 2004

E.ON Kraftwerke GmbH (2011) Kraftwerk Irsching, http://www.kraftwerk-irsching.com/pages/ekw_de/Kraftwerk_Irsching/Mediencenter/_documents/pdf_eon_kraftwerke_irsching.pdf. Accessed 14 December 2011

Verein deutscher Ingenieure (VDI) (2000) Economic efficiency of building installations—Fundamentals and economic calculations. VDI 2067 part 1, Düsseldorf 2000

Rauch R (2011) Development of the biomass CHP Güssing to a biosyngas platform. GreenSyngas consortium meeting in Güssing, Austria, 22–23 February 2011

Baumeister U (2006) Gaserzeugung aus fester Biomasse—Marktfähigkeit heute. Gesellschaft für Nachhaltige Stoffnutzung mbH, http://www.tll.de/ainfo/pdf/mdebioet/btf10_06.pdf. Accessed 19 Dec 2011

Pörner (2008) Biofuel of 2nd Generation: EDL finishes project for CHOREN. http://www.poerner.at/80.0.html?&L=2. Accessed 19 Dec 2011

Vogel A, Bolhàr-Nordenkampf M, Kaltschmitt M, Hofbauer H (2006) Analyse und Evaluierung der thermo-chemischen Vergasung von Biomasse. Fachagentur für Nachwachsende Rohstoffe, Schriftreihe "Nachwachsende Rohstoffe" Band 29

ASUE e.V. (2011) BHKW-Kenndaten 2011. http://asue.de/cms/upload/broschueren/2011/bhkw-kenndaten/asue-bhkw-kenndaten-0311.pdf. Accessed 19 Dec 2011

Zweiler R (2008) Energiesysteme der Zukunft—Energetisch und wirtschaftlich optimierte Biomasse-Kraft-Wärmekopplungssysteme auf Basis derzeit verfügbarer Technologien. Projektnummer 812771, Renet-Kompetenzknoten Güssing—Forschungsinstitut für erneuerbare Energie GmbH
About this article
Cite this article
Fendt, S., Tremel, A., Gaderer, M. et al. The potential of small-scale SNG production from biomass gasification. Biomass Conv. Bioref. 2, 275–283 (2012). https://doi.org/10.1007/s13399-012-0037-3
Received:

Revised:

Accepted:

Published:

Issue Date:

DOI: https://doi.org/10.1007/s13399-012-0037-3
Keywords
SNG

Gasification

Biomass

Simulation

Heat utilization