Abstract
Polyarylene ether nitrile (PEN) was synthesized and used as film capacitors for energy storage at high temperature. Scanning electron microscopy observation indicated that the films of PEN have pinholes at nanoscales which restricted the energy storage properties of the material. The pinhole shadowing effect through which the energy storage properties of PEN were effectively improved to be 2.3 J/cm3 was observed by using the overlapped film of PEN. The high glass transition temperature (Tg) of PEN was as high as 216 °C and PEN film showed stable dielectric constant, breakdown strength and energy storage density before the Tg. The PEN films will be a potential candidate as high performance electronic storage materials used at high temperature.
Access options
Buy single article
Instant access to the full article PDF.
US$ 39.95
Tax calculation will be finalised during checkout.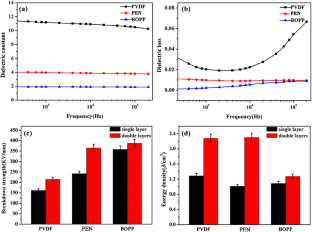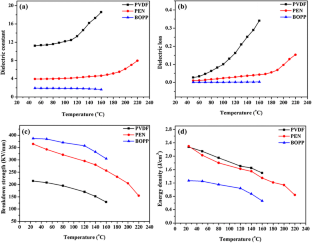 References
1.

Dang, Z., Yuan, J., Zha, J., et al.: Fundamentals, processes and applications of high-permittivity polymer-matrix composites. Prog. Mater Sci. 57, 660 (2012)

2.

Watson, J., Castro, G.: High-temperature electronics pose design and reliability challenges. Analog Dialog 46, 1 (2002)

3.

Chu, B.J., Zhou, X., Ren, K.L., et al.: A dielectric polymer with high electric energy density and fast discharge speed. Science 313, 334 (2006)

4.

Rabuffi, M., Picci, G., Trans, I.E.E.E.: Status quo and future prospects for metallized polypropylene energy storage capacitors. Plasma Sci. 30, 1939 (2002)

5.

Rahman, M.A., Chung, G.S.: Synthesis of PVDF-graphene nanocomposites and their properties. J. Alloys Compd. 581, 724 (2013)

6.

Wei, R., Wang, J., Zhang, H., et al.: Crosslinked polyarylene ether nitrile interpenetrating with zinc ion bridged graphene sheet and carbon nanotube network. Polymers 9, 342 (2017)

7.

You, Y., Han, W., Tu, L., et al.: Double-layer core/shell-structured nanoparticles in polyarylene ether nitrile-based nanocomposites as flexible dielectric materials. RSC Adv. 7, 29306 (2017)

8.

Yang, W., Yang, X., Pu, Z., et al.: The properties (rheological, dielectric, and mechanical) and microtopography of spherical fullerene-filled poly (arylene ether nitrile) nanocomposites. J. Appl. Polym. Sci. 131, 40100 (2014)

9.

Wei, R., Li, K., Ma, J., et al.: Improving dielectric properties of polyarylene ether nitrile with conducting polyaniline. J. Mater. Sci. Mater. Electron. 9, 9565 (2016)

10.

Feng, M., Yang, J., Zhong, J., et al.: Synthesis of high glass transition temperature fluorescent polyarylene ether nitrile copolymers. Mater. Lett. 65, 1703 (2011)

11.

Huang, X., Feng, M., Liu, X.: Design of bristle-like TiO2–MWCNT nanotubes to improve the dielectric and interfacial properties of polymer-based composite films. RSC Adv. 4, 4985 (2014)

12.

Li, W., Meng, Q., Zheng, Y.: Electric energy storage properties of poly (vinylidene fluoride). Appl. Phys. Lett. 96, 192905 (2010)

13.

Huan, T.D., Boggs, S., Ramprasad, R., et al.: Advanced polymeric dielectrics for high energy density applications. Prog. Mater Sci. 83, 236 (2016)

14.

Long, C., Wei, R., Liu, X.: Mechanical, dielectric, and rheological properties of poly (arylene ether nitrile)–reinforced poly (vinylidene fluoride). High Perform. Polym. 29, 178 (2017)

15.

Lopez Manchado, M.A., Valentini, L., et al.: Thermal and mechanical properties of single-walled carbon nanotubes–polypropylene composites prepared by melt processing. Carbon 43, 1499 (2005)

16.

Luo, B., Li, L., et al.: Fabrication, characterization, properties and theoretical analysis of ceramic/PVDF composite flexible films with high dielectric constant and low dielectric loss. J. Mater. Chem. A. 2, 510 (2014)

17.

Zhao, Y., Yang, W., Zhou, Y., et al.: Influence of molecular weight on the dielectric and energy storage properties of poly (vinylidene fluoride). Electron. Mater. Lett. 12, 779 (2016)

18.

Diaham, S., Lebey, T., et al.: Dielectric breakdown of polyimide films: Area, thickness and temperature dependence. IEEE Trans. Dielectr. Electr. Insul. 17, 18 (2010)

19.

Bunnak, N., Laoratanakul, P., Manuspiya, H., et al.: Dielectric properties improvement of polymer composite prepared from poly(vinylidene difluoride) and barium-modified porous clay heterostructure. Electron. Mater. Lett. 9, 351 (2013)

20.

Schneuwly, A., Groning, P., Schlapbach, L.: Breakdown behavior of oil-impregnated polypropylene as dielectric in film capacitors. IEEE Trans. Dielectr. Electr. Insul. 5, 862 (1998)
Acknowledgements
The financial support from National Natural Science Foundation of China (51603029, 51773028, 51373028) and National Postdoctoral Program for Innovative Talents (BX201700044) are gratefully acknowledged.
About this article
Cite this article
Tang, X., You, Y., Mao, H. et al. Energy Storage of Polyarylene Ether Nitriles at High Temperature. Electron. Mater. Lett. 14, 440–445 (2018). https://doi.org/10.1007/s13391-018-0051-0
Received:

Accepted:

Published:

Issue Date:
Keywords
Energy storage

Pinhole shadowing effect

Polyarylene ether nitrile