Abstract
Some details of the Solvency II framework are still under discussion. A crucial aspect in the debate is the appropriate reflection of surplus participation mechanisms that apply to traditional participating life insurance contracts. In particular, the inheritance of profits between existing business and new business resulting from the surplus participation process has to be incorporated in the Solvency II valuation framework which requires a run off valuation of the existing portfolio under going concern assumptions. This paper analyzes the inheritance effects caused by the pre-financing of acquisition cost of new business via cost surplus of existing business which is inherent in traditional German life insurance. We show that in the context of Solvency II an allowance for the inherited funds—denoted as Going Concern Reserve (GCR)—is justified and in line with the Solvency II valuation principles. Based on a stochastic balance sheet and cash flow projection model, we present a methodology to quantify the GCR and provide a profound analysis of the GCR and its components. Our results show that the GCR has significant impact on the overall solvency situation of life insurance companies offering participating contracts.
Access options
Buy single article
Instant access to the full article PDF.
USD 39.95
Price includes VAT (USA)
Tax calculation will be finalised during checkout.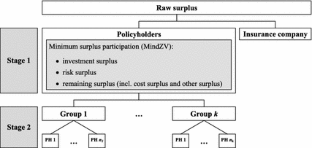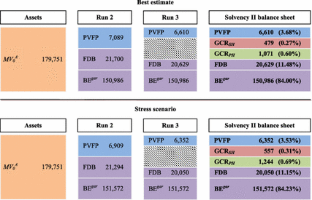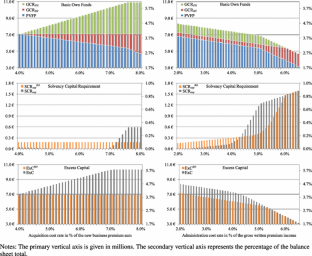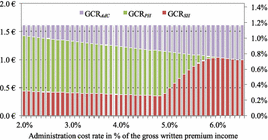 Notes
1.

For more details on recognition and boundary of insurance obligations see [15], art. 17 and 18.

2.

Note that this regulatory requirement also applies after the 10th VAG amendment which is implemented to transpose the Solvency II rules into national legislation and which will completely replace current legislation starting from 2016.

3.

We ignore these other sources of surplus for subsequent discussions.

4.

According to § 4 (1) MindZV, the raw surplus needs to be determined separately for "old business in-force" (which includes the contracts issued prior to the deregulation in 1994) and "new business in-force" (all contracts issued after the deregulation in 1994) and all subsequent stages are performed separately for these two groups. For presentational reasons, we ignore this additional split since the balancing effects apply to both sub-portfolios in the same way.

5.

Note that equal treatment is still required after the 10th VAG amendment.

6.

For detailed statistics on German life insurers see [2].

7.

The average acquisition cost rate of a German life insurance company in 2012 amounts to 5.0 % of the premium sum of the new business (cf. [18]).

8.

For further discussions regarding the impact of new business on other surplus sources see [3].

9.

10.

As opposed to the GCR, Surplus Funds are recognized separately but also treated as a tier 1 BOF item.

11.

In particular, the GCR does not fall under the list of deductions from the excess of assets over liabilities.

12.

Appendix contains an simplified example illustrating the loss absorbency of the GCR.

13.

As a simplification, we do not allow for other types of charges (e. g. administration charges on the sum insured or the actuarial reserve and unit charges).

14.

For simplification, we do not explicitly consider the balance sheet presentation under HGB (in particular regarding Zillmer receivables). Since we do not consider lapses in our projection model, we also ignore further restrictions imposed by insurance contract law (in particular, the requirement to distribute initial acquisition charges over 5 years for the purpose of determining surrender values including the consequences regarding the balance sheet presentation). Overall, the treatment of initial acquisition charges in Germany allows to cover initial acquisition costs of \(\alpha \cdot n \cdot P\) at inception of the contract and this is also the case in our simplified model.

15.

For technical reasons we assume that the death of a policyholder always occurs at the end of the year.

16.

In line with [13] SCR.7.60. initial commission payments are not included in the stress.

17.

18.

For the concept of the PVFP see [11].

19.

Premiums and costs do not depend on the scenario.

20.

The side effects will be further analyzed in Sect. 5.

21.

As a simplification, we ignore deferred taxes for all subsequent discussions (cf. Sect. 2.3).

22.

Note that in our model the remaining surplus only consists of the cost surplus since other surplus equals zero.

23.

We acknowledge that accounting restrictions regarding unrealized losses on stocks could be reflected more precisely. However, this has no impact on our conclusions.

24.

The results are also shown as a percentage of the balance sheet total (in brackets).

25.

Regarding the variation of the acquisition costs, we assume that the ratio between the commission and the internal acquisition costs remains as given in the base case.

26.

Note that the LVRG offsetting option is irrelevant here since offsetting is only allowed for negative investment surplus.

27.

Note that a constant parameter again would not be appropriate for the stress scenario.
References
1.

Bacinello AR (2003) Pricing guaranteed life insurance participating policies with annual premiums and surrender option. N Am Actuar J 7(3):1–17

2.

BaFin (2013) Statistik der BaFin-Erstversicherungsunternehmen 2012 (Lebensversicherung). http://www.bafin.de/SharedDocs/Downloads/DE/Statistik/Erstversicherer/dl_st_12_erstvu_lv_va.html?nn=2818624 (visited on 04/03/2014)

3.

BaFin (2014) Technische Spezifikationen von EIOPA-Zusätzliche Erläuterungen der BaFin. http://www.bafin.de/SharedDocs/Downloads/DE/Versicherer_Pensionsfonds/d l_erlaeuterungen_technische_spezifikationen_anlage_va.pdf?__blob=public ationFile&v=18 (visited on 02/20/2015)

4.

Bauer D et al (2006) Risk-neutral valuation of participating life insurance contracts. Insur: Math Econ 39(2):171–183

5.

Bauer D, Bergmann D, Reuß A (2012) On the calculation of the solvency capital requirement based on nested simulations. ASTIN Bull 42(2):453–499

6.

Bergmann D (2011) Nested simulations in life insurance. PhD thesis. University of Ulm

7.

Bohnert A, Gatzert N (2012) Analyzing surplus appropriation schemes in participating life insurance from the insurer's and the policyholder's perspective. Insur: Math Econ 50(1):64–78

8.

Bowers NL (1997) Actuarial mathematics, 2nd edn. Society of Actuaries, Itasca, Ill

9.

Branger N, Schlag C (2004) Zinsderivate: Modelle und Bewertung. Springer, Berlin

10.

Briys E, De Varenne F (1997) On the risk of insurance liabilities: debunking some common pitfalls. J Risk Insur 64(4):673–694

11.

CFO Forum (2009) Market consistent embedded value principles. http://www.cfoforum.nl/downloads/MCEV_Principles_and_Guidance_October_2 009.pdf (visited on 04/03/2014)

12.

Doherty NA, Garven JR (1986) Price regulation in property-liability insurance: a contingent-claims approach. J Financ 41(5):1031–1050

13.

EIOPA (2014) Technical specifications for the Solvency II preparatory phase (part I). https://eiopa.europa.eu/Publications/Standards/A_-_Technical_Specificat ion_for_the_Preparatory_Phase__Part_I_.pdf (visited on 02/20/2015)

14.

European Union (2009) Directive 2009/138/EC of the European Parliament and of the Council of 25 November 2009 on the taking-up and pursuit of the business of Insurance and Reinsurance (Solvency II). OJ L 335/1

15.

European Union (2015) Commission Delegated Regulation (EU) 2015/35 of 10 October 2014 supplementing Directive 2009/138/EC. OJ L 12/1

16.

Gatzert N, Schmeiser H (2008) Combining fair pricing and capital requirements for non-life insurance companies. J Banking Financ 32(12):2589–2596

17.

GDV (2012) Handbuch Cashflow-Modell (QIS 6-Ansatz). Gesamtverband der Deutschen Versicherungswirtschaft e. V, Berlin

18.

GDV (2013a) Die deutsche Lebensversicherung in Zahlen 2013. http://www.gdv.de/wp-content/uploads/2013/10/GDV-Lebensversicherung-in- Zahlen-2013-n.pdf (visited on 04/03/2014)

19.

GDV (2013b) Handbuch Cashflow-Modell (LTGA-Ansatz). Gesamtverband der Deutschen Versicherungswirtschaft e. V, Berlin

20.

GDV (2014a) Fachkonzept Branchensimulationsmodell. Gesamtverband der Deutschen Versicherungswirtschaft e. V, Berlin

21.

GDV (2014b) Handbuch Cashflow-Modell (Brückentechnologie). Gesamtverband der Deutschen Versicherungswirtschaft e. V, Berlin

22.

Gerstner T et al (2008) A general asset–liability management model for the efficient simulation of portfolios of life insurance policies. Insur: Math Econ 42(2):704–716

23.

Glasserman P (2010) Monte Carlo methods in financial engineering. Springer, New York

24.

Graf S, Kling A, Ruß J (2011) Risk analysis and valuation of life insurance contracts: combining actuarial and financial approaches. Insur: Math Econ 49(1):115–125

25.

Grosen A, Jørgensen PL (2000) Fair valuation of life insurance liabilities: the impact of interest rate guarantees, surrender options, and bonus policies. Insur: Math Econ 26(1):37–57

26.

Grosen A, Jørgensen PL (2002) Life insurance liabilities at market value: an analysis of insolvency risk, bonus policy, and regulatory intervention rules in a barrier option framework. J Risk Insur 69(1):63–91

27.

Hagelschuer P (1987) Lebensversicherung. Gabler, Wiesbaden

28.

Jørgensen PL (2004) On accounting standards and fair valuation of life insurance and pension liabilities. Scand Actuar J 2004(5):372–394

29.

Kling A, Richter A, Ruß J (2007) The interaction of guarantees, surplus distribution, and asset allocation in with-profit life insurance policies. Insur: Math Econ 40(1):164–178

30.

Kochanski M, Karnarski B (2011) Solvency capital requirement for hybrid products. Eur Actuar J 1(2):173–198

31.

Maurer R, Rogalla R, Siegelin I (2013) Participating payout life annuities: lessons from Germany. Astin Bull 43(02):159–187

32.

Miltersen KR, Persson S-A (2003) Guaranteed investment contracts: distributed and undistributed excess return. Scand Actuar J 2003(4):257–279

33.

Oechslin J, Aubry O, Aellig M, Käppeli A, Brönnimann D, Tandonnet A (2007) Replicating embedded options. Life & Pensions Magazine, February

34.

Ramos AR, Simões OA (2013) Valuing the profit share in participating pure-endowment policies with return of premiums. Eur Actuar J 3(2):515–533

35.

Reuß A, Ruß J, Wieland J (2015) Participating life insurance contracts under risk based Solvency frameworks: how to increase capital efficiency by product design. In: Innovations in quantitative risk management, vol 99. Springer Proceedings in Mathematics & Statistics. Springer, pp 185–208

36.

Schmidt J-P (2014) Market-consistent valuation of long-term insurance contracts: valuation framework and application to German private health insurance. Eur Actuar J 4(1):125–153

37.

Seyboth M (2011) Der Market Consistent Appraisal Value und seine Anwendung im Rahmen der wertorientierten Steuerung von Lebensversicherungsunternehmen. PhD thesis. University of Ulm

38.

Tanskanen AJ, Lukkarinen J (2003) Fair valuation of path-dependent participating life insurance contracts. Insur: Math Econ 33(3):595–609

39.

Wagner T (2013) Solvency II: Surplus Funds und Going-Concern-Reserve. Der Aktuar 2(2013):71–74

40.

Wolfsdorf K (1997) Versicherungsmathematik: Teil 1: Personenversicherung. Vieweg + Teubner Verlag, Stuttgart
Appendix
Appendix
We consider the stylized life insurance company as described in Sect. 3. Under normal circumstances, the policyholders receive 70 % of the annual cost surplus (first stage of the surplus participation process). Subsequently, the policyholders' overall share of cost surplus is allocated to individual policyholders based on their gross premium (second stage of the surplus participation process). Table 11 shows the acquisition, administration, and overall cost surplus for the entire insurance portfolio as well as stand-alone for different generations of policyholders (initial in-force business and new business over 3 years).
The administration cost surplus is positive for all policyholder generations. In contrast, the cost surplus of the new business is negative in the first year of the contract since the losses from the acquisition cost surplus exceed the positive administration cost surplus by far. Due to these initial losses, the acquisition cost surplus for the whole insurance portfolio is also negative. However, the balancing with the administration cost surplus results in a positive overall cost surplus.
Table 12 illustrates the balancing effects in both dimensions. It contains the allocation of cost surplus and shows the difference with and without new business being written in the current year. This difference \(\varDelta\) represents the inheritance of cost surplus to the current new business.
1st year's new business causes a negative stand-alone cost surplus of \(-447\) in year 1, which is combined with a positive cost surplus of 654 for the initial portfolio. In stage 1, the resulting overall cost surplus is split between policyholders (+145) and the insurer (+62). In stage 2, even the 1st year's new business receives some cost surplus (7). Compared to a situation without new business, the policyholders of the initial portfolio receive much less profit sharing (138 vs. 458); the company's profit related to the initial portfolio is reduced as well (62 vs. 196).
A similar pattern can be observed in year 2. Note that 1st year's new business exhibits a positive acquisition cost surplus in year 2 (due to amortization charges), which is used to finance acquisition costs for 2nd year's new business. Compared to a situation without new business in year 2, the 1st year's new business receives less profits (7 vs. 25).
The inheritance of cost surplus from existing business to new business continues in year 3 (where 3rd year's new business is financed by the initial portfolio as well as 1st and 2nd year's new business). Overall, this example shows that profit participation for the initial portfolio highly depends on the cost surplus of future new business.
Apart from the vertical balancing, also horizontal balancing effects occur. Table 13 shows that due to the balancing of acquisition and administration cost surplus, the negative acquisition cost surplus can be fully covered by the remaining cost surplus. If the split between policyholders and the insurer were performed separately for both components of the cost surplus (such that the insurance company fully covers the losses of a single source of surplus), the insurance company would incur a loss of \(93-90=3\) due to the overall negative acquisition cost surplus caused by the new business.
Now, Table 14 shows how the funds normally inherited to new business can be used to absorb losses in case of an adverse event. Therefore, we assume that the investment return (which is arbitrarily chosen for illustrative purposes) persistently drops to 1.25 %, i.e. below the guaranteed interest rate of 1.75 %. Since the insurer still has to credit the guaranteed interest to the policyholder accounts, the investment surplus becomes negative. Three scenarios based on different management reactions on the low investment return are considered:
Scenario I: the insurance company continues to write new business and distributes 70 % of the cost surplus to policyholders. Hence, the remaining 30 % of the cost surplus can be used to cover the negative investment surplus.

Scenario II: although the insurance company continues to write new business, it makes use of § 5 MindZV. Hence, the whole cost surplus can be used to cover the losses from the investment surplus.

Scenario III: the insurance company goes into run off, i.e. stops writing new business (thus avoiding the associated acquisition costs). Again, applying § 5 MindZV, additional cost surplus is not shared with policyholders but used to close the gap in the investment surplus.
Table 14 shows that making use of § 5 MindZV and simultaneously going into run off represents a substantial relief for the insurance company. Whereas the mere application of § 5 MindZV only reduces the company's losses occurring in the first 3 years by 16 %, the additional stop of writing new business further reduces the losses by 46 %. Hence, almost half of the losses can be covered by the funds that become available by avoiding the acquisition costs of new business.
Note that under the LVRG rules, reference to the exceptional rules of § 5 MindZV is not required any more. Instead, an offsetting of negative investment surplus by positive cost surplus (as in Scenarios II and III can be achieved directly by applying the modified minimum surplus participation formula (1). This illustrates that the LVRG amplifies balancing effects between generations of policyholders.
About this article
Cite this article
Burkhart, T., Reuß, A. & Zwiesler, HJ. Participating life insurance contracts under Solvency II: inheritance effects and allowance for a Going Concern Reserve. Eur. Actuar. J. 5, 203–244 (2015). https://doi.org/10.1007/s13385-015-0116-5
Received:

Revised:

Accepted:

Published:

Issue Date:
Keywords
Going Concern Reserve

Participating life insurance

Inheritance

Run off

Solvency II