Abstract
In an era where higher education institutions appear increasingly committed to what Sara Ahmed calls 'speech acts' whereby declared goodwill, through stated commitments to diversity, equity, and increasing Indigenous student enrolment and completion have been made; it is undeniable that Indigenous academics are in high demand. With fewer than 430 Indigenous academics currently employed here on the continent now commonly referred to as 'Australia', and 69% of that cohort identifying as female, what does it look like to experience this demand as an Indigenous academic woman? Drawing on data collected from a Nation-wide study in 2019 of 17 one-on-one, face-to-face interviews with Indigenous academic women, using Indigenous research methodologies and poetic transcription, this paper explores the experiences and relational aspects of Indigenous academic women's roles in Australian higher education.
On the lands now commonly referred to as 'Australia' there exists a history of education which spans back millennia, with Indigenous peoples of this continent recognised as the oldest continuous cultures of the world. As a Gamilaroi yinarr (woman) the first author acknowledges that there is no neutral term that encompasses the entire diversity of those included under the banner of Australian Aboriginal or Torres Strait Islander peoples. I acknowledge the diversity in languages and cultures within these populations. To be inclusive, whilst also protecting participants' identities, specific Nation group names will not be used within this paper, but rather the term 'Indigenous' will be used to refer to First Nations peoples of this continent now commonly referred to as 'Australia'.
Introduction to issues in Indigenous staffing
In recent decades, successive Australian Federal governments have engaged in efforts to increase the access, participation, retention and completion rates of Indigenous students within higher education. Increasingly, scholars have argued that Indigenous staffing, Indigenous-led research, and Indigenous knowledges need to be better represented and more fully included within higher education practices, policies, and content. However, "It is indisputable that Indigenous Australians are significantly under-represented in the higher education sector" (Coates et al. 2019, p. 3).
This paper will explore the experiences of Indigenous academic women working within higher education institutions in so-called Australia, as reported in a national study which draws upon 17 one-on-one interviews, analysed utilising Indigenous research methodology, poetic transcription, and a decolonising lens (Glesne 1997; Wilson 2008; Kovach 2010; Tuhiwai Smith 2012). It will explain some of the ways in which Indigenous academic women, in embodying the 'other' within Higher Education during an era of increasing institutional speech acts focussed on 'inclusivity', experience a racialised and gendered positioning within structures and a society which has failed to decolonise. It will firstly examine the existing literature, which indicates the need for and value of Indigenous academics within higher education institutions, already established as being a 'miniscule' workforce (Smith et al. 2015), then shift focus to how these spaces are experienced directly by Indigenous academic women, in their own words.
This paper will draw on participant data to briefly discuss the experiences of positive relationships and experiences with executive members of the university, the way this was at times indicated as being limited to conditional support, and the negative and fraught experiences with broader non-Indigenous members of the collegiate. Drawing on current employment data, literature which speaks of historical, existing, and ongoing gendered and racialised power dynamics, and participant quotes, this paper discusses the inappropriate and exploitative expectations placed on Indigenous academic women, by non-Indigenous collegiate within Australian higher education institutions. With a growing focus on the need for 'visible' Indigenous staffing and inclusion in Higher Education, the impact such a demand has on Indigenous people arguably results in a dehumanisation of the person and devaluing of their work, in favour of objectifying and using them for institutional branding and individual service by non-Indigenous academics. This paper will centre the voices of Indigenous academic women through the use of poetic transcription, before concluding with recommendations.
The problem of education speech acts
In seeking to improve educational outcomes of Indigenous students, various reports and papers highlight recommendations to increase collaboration with and consultation of Indigenous people and Indigenous knowledges within the academy, and a need to increase hiring of Indigenous academic and professional staff within higher education institutions (Rigney 1999; Gray and Beresford 2008; IHEAC 2011; Behrendt et al. 2012; Fredericks et al. 2014; Coates et al. 2019). Indigenous academic women are undervalued in the academy, and the underrepresentation of Indigenous academics sends a negative message regarding the position of Indigenous peoples within the academy to both non-Indigenous and Indigenous peoples (Fredericks et al. 2014). Active, visible, engaging Indigenous staffing and indigenised content positively impacts and contributes to improving enrolment and participation rates of Indigenous students (Asmar and Page 2009).
Various higher education institutions have made 'speech acts' declaring their commitment to diversity, inclusivity, and equity. Sara Ahmed defines speech acts as "those that make claims 'about' or 'on behalf of' an institution" (Amhed 2006, p. 104). How these claims and commitments are met, and who is responsible for delivering these claims is often not specified. Ahmed argues that "speech acts that commit the university to equality, I suggest, are non- performatives… They 'work' precisely by not bringing about the effects that they name" (Amhed 2006, p. 105). Whilst Ahmed is not specifically speaking of an Australian context, within Australian universities research indicates that such dynamics exist and persist. The existence of a Reconciliation Action Plan (RAP) might be considered one such non-performative document, where the existence of one is heralded as 'the' anti-racism work of the university. It has been unclear in research to what extent the work of producing the actual RAP specifically often falls on the Indigenous staff; though existing literature shows that when called upon to enact tasks such as Indigenising their curriculums, non-Indigenous staff turn to their Indigenous colleagues (Asmar and Page 2009).
Literature on Indigenous academics
There is a paucity of literature regarding the motivations and experiences of Indigenous academic women, as academics. The existing literature paints a clear picture of why higher education institutions need Indigenous academics (Behrendt et al. 2012) and establishes that the roles of Indigenous teachers within higher education are "complex and multi-dimensional" reaching across institutions and into communities (Asmar and Page 2009, p. 388; Fredericks et al. 2014). There is a growing body of literature which examines the experiences of Indigenous students within higher education, including the experiences of Indigenous Doctoral students (Trudgett et al. 2016). However, there exist little data on why, once qualified, we as highly qualified, sovereign people actually choose to share our time and knowledges within academia, as academics.
Since invasion, formal education as defined and imposed by colonial governments has been a space of exclusion followed by "deeply hegemonic subjugation" for Indigenous people within Australia, and around the world (Prout Quicke and Biddle 2017, p. 58). In recent decades, the ongoing disparity in outcomes and disadvantage experienced by the sovereign peoples of this continent have seen Indigenous people identified as a 'targeted equity group' within University metrics and policy (Universities Australia 2017) and has become a focus within the Federal Government's 'Closing the Gap' campaign. The six designated equity groups are identified as: people from low socio-economic backgrounds, Indigenous people, people from rural or isolated areas, people with a disability, people from a non-English speaking background, and women, especially women in 'non-traditional' areas of study (Coates and Krause 2005). Indigenous people, including academics, may embody all six equity groups simultaneously. While there have been gains over recent decades, Coates et al. (2019) in their analyses of Indigenous leadership within higher education highlight that "The question on how to best integrate Indigenous Australians into the overall architecture of the institution still remains" (p. 4).
While structural and systemic challenges facing Indigenous students within higher education are well established, there is a dearth of literature which examines how these challenges relate, continue, or dissipate, after graduation, when Indigenous people may return to higher education to engage in roles as academics, researchers, and teachers. Day et al. (2015) comment that "the boundaries between the personal, environmental and academic factors are porous, and students are likely to continue to experience these tensions as they graduate into professional practice" (Day et al. 2015, p. 504). If such tensions exist within academia for students, and arguably carry on into professional roles upon graduation, this must be considered when seeking to understand, support, recruit and retain Indigenous academics.
The number of Indigenous staff who are currently engaged in professional or academic positions in higher education in Australia is 'miniscule' (Smith et al. 2015). Various scholars have argued that Indigenous staffing, Indigenous-led research, and Indigenous knowledges need to be better represented and more fully included within higher education practices and content, to appropriately support Indigenous students (IHEAC 2011; Fredericks et al. 2014; Day et al. 2015; Bodkin-Andrew and Carlson 2016). It is important that any analysis of First Nation academics includes consideration of intersectionality, of the person's position and existence, within the academy (Crenshaw 1991). Scholars have argued that institutions of the so-called United States of America have been built from a foundation of white supremacy (Leonardo 2013) and with consideration of the policies and practices in place when Australian Universities were initially founded the same can be said here. "At an ontological and epistemological level, the Crown and subsequent governments have treated us as their property" (Moreton-Robinson 2015, p. 94). Research is deeply interwoven with colonisation and the chronic problematising of Indigenous peoples (Porsanger 2004; Tuhiwai Smith 2012) and the ongoing colonisation of Australia is built upon and perpetuated with white supremacy at its core. All Australian universities are built on lands stolen from Indigenous peoples, whose sovereignty has never been ceded. In the present day, as institutions make statements and policy whereby they seek to move beyond origins and practices founded during an era of overt white supremacy, there is inevitably considerable work which needs to be done. Such institutional commitments, as expressed through branding, policy, and the creation of documents such as Reconciliation Action Plans, implies a standard contractual responsibility for all staff to engage in their own professional and personal development to be able to appropriately enact such commitments. However, in seeking to indigenise curriculums, for the benefit of Indigenous and non-Indigenous students, research has shown that when universities call upon academic staff to enact these tasks, non-Indigenous staff turn to their Indigenous colleagues for support, service and advice (Asmar and Page 2009; Fredericks et al. 2014). In this way the responsibility of non-Indigenous staff to engage respectfully with Indigenous communities, research, knowledges, programs and histories shifts from a potentially transformative practice, to an additional burden placed on Indigenous academics. In this way, the work of delivering the changes as desired and stated by the institution through branding and speech acts adds to the workloads of Indigenous staff in a way that is often spoken of as being invisible. Additionally, as of 2019 "only 19 out of the 39 universities had appointed an Indigenous senior executive and much of the 'heavy lifting' continues to be done by the Indigenous centres or units of universities" (Coates et al. 2019, p. 6).
Donovan argues that "accessing students' opinions and stories about what they believe works in their schooling has the potential to shed light on how better outcomes for Aboriginal students might be achieved" (Donovan 2015, p. 615). In the same way, I argue that higher education institutions, in seeking to increase Indigenous student numbers and academic and professional staffing numbers, as well as to indigenise their curriculums, need to access and listen to the opinions and stories of Indigenous academics already in the space. Indigenous academics represent a body of individuals who not only presently choose academia as a career, but who have also successfully traversed and navigated the space as students. Academia is acknowledged as an environment "which for Indigenous peoples, and particularly Indigenous women, is 'culturally unsafe'" and yet, "despite the barriers and the obstacles of academia, Indigenous women continue to enter and carve out a place for themselves and for other Indigenous women" (Green et al. 2018, p. 256). By listening to Indigenous academics, a lot can be learnt which can support the academy and the individuals who collectively form the academy, to meet their own speech acts and commitments. However, how such listening is enacted, what is understood, and what is respected—specifically in relation to Indigenous academic women—is a key element of what is discussed here in this paper.
On this continent there are over 120,000 non-Indigenous people employed in higher education institutions today. There are only 1203 Indigenous employees, of which fewer than 430 are academic roles.
There are presently 121,718 people employed within higher education institutions in Australia. Despite being 2.8% of the broader population (ABS 2016), Table 1 shows that the Indigenous workforce represents less than 1% of higher education staffing. When considering the number of academic-specific roles, Indigenous peoples represent just 0.3% of the total higher education workforce. As demands on Indigenous academics do not only come from academic staff, comparing the academic workforce to the broader higher education workforce is appropriate in this context of establishing the sheer statistical burden placed on Indigenous academics. Additionally, the type of employment contract held is also of significance when it comes to analysing and considering roles, responsibilities, and power dynamics between Indigenous and non-Indigenous staff. While tenured employment of non-Indigenous staff sits at 58.4%, this level of employment security is not shared by Indigenous academics, with only 51% of Indigenous academics being in tenurable term positions. Overall, 49% of Indigenous academics being on fixed term contracts is of importance: participants within this study expressed that job security impacts behaviour, how we respond to demands, and voice within the workplace.
Table 2 employment data indicates a high rate of intermittent/fixed term contracts for Indigenous women in the academic workforce. Conversely, Table 3 shows that in Australian Higher Education institutions, 58.4% of non-Indigenous staffing contracts are tenurial term, with 41.2% being limited term. Fredericks et al. (2014) argue that "Treating unequal peoples equally merely entrenches existing inequalities. For significant improvement specific measures will need to be taken to overcome recognised disadvantages" (p. 2). Given the established importance and value of Indigenous academics within Higher Education, the difference and contrast in these employment statistics is particularly interesting.
Indigenous methodology and specific interview methods
This paper draws on data from the study 'Sovereign women: why academia'; collected in 2019 when I travelled through 6 of a possible 8 States and/or Territories of this continent. This study used qualitative research methodology, specifically one-on-one, face-to-face, semi-structured interviews with a total of 17 academics, all of whom identify as Indigenous women. The project framework draws broadly on Indigenous Research Methodology, uses a decolonising lens, and is informed by and founded in Story Telling (Wilson 2008; Kovach 2010; Tuhiwai Smith 2012). Each interview was transcribed and analysed thematically, through an inductive process that identified significant patterns and commonalities of narrative within the interview material. Additionally, the author also undertook poetic transcription of the interview material, which involved a process of uplifting direct sentences of participants, focussing on key moments or emotions of their storying, and re-presenting them in a poem-like format, rather than only using block direct quotes or paraphrasing. Poetic transcription is defined as "the creation of poemlike compositions from the words of interviewees" (Glesne 1997, p. 202). The decision to utilise poetic transcription was informed by wanting to centre the direct words of the participants, but with such a small pool of potential participants, the author was aware that the larger the direct quote of a single participant, the higher the risk of their being identifiable. It was the following quote that prompted the author to consider poetic transcription as an additional layer within this project:
The word itself, 'research' is probably one of the dirtiest words in the indigenous world's vocabulary. When mentioned in many indigenous contexts, it stirs up silence, it conjures up bad memories, it raises a smile that is knowing and distrustful. It is so powerful that indigenous people even write poetry about it.

(Tuhiwai-Smith 2012) Emphasis added.
Poetry is at home in Indigenous research methodology and provided space to centre the direct words and phrasing of these participants, without risking the anonymity which was promised to each.
Only women were interviewed for this study as 69% of the existing Indigenous academic workforce are identified as female, and as Moreton-Robinson articulates:
The relationship between Australian Indigenous women's knowledges and experiences will be different to that of Indigenous men because of our embodiment, our relations to different country, people and ancestral creator beings and our social location … (Moreton-Robinson 2013, p. 339)
Initially, five questions were asked in the interviews, focussed on centring participants' voices, journeys, and ongoing decision to choose academia. I did not specifically ask participants about their hurdles, nor did I ask them to identify barriers or frustrations. However, due to the semi-structured nature of the interviews, where participants wished to discuss hurdles I ensured they were supported and respected. In the reporting of findings I have not named participants when directly quoting them, nor given them pseudonyms or identifying features, to protect the anonymity in what is a minuscule and highly identifiable workforce.
Findings
The findings reveal that the in/visibility of burden on Indigenous academic women called on to be the consulted, collaborator, mentor, developer, and deliverer is impacted by ongoing racialised power imbalances between Indigenous and non-Indigenous academics. Participants shared experiences which indicate experiential differences of working alongside those who engage in inclusive and collegial behaviour, at times referred to as ally ship, and those who, as non-Indigenous academics, simply sought to 'bring on the black performer'. This extended to one participant feeling so exploited by colleagues that they felt positioned like a 'house nigger'. In this context, 'house nigger' references hierarchical divisions between oppressed communities, slavery, and indentured domestic service. Whilst Indigenous people in indentured servitude were forcibly tasked with physical, laborious, and dirty work, this was often intentionally hidden from sight so the white landowner could perform having achieved order and cleanliness. Such treatment is influenced by both race and gender. The use of poetic transcription and storying allows the participants' voice to story these experiences below. A novel finding of this study, and the focus of this paper is that while many participants reported positive relationship and engagement with senior executives at their institutions (people holding Faculty Dean or higher positions); it was expressed that support at times is conditional on being perceived as 'liked', and many also shared examples of fraught relationships and negative engagements with their non-Indigenous collegiate, and with the institution itself.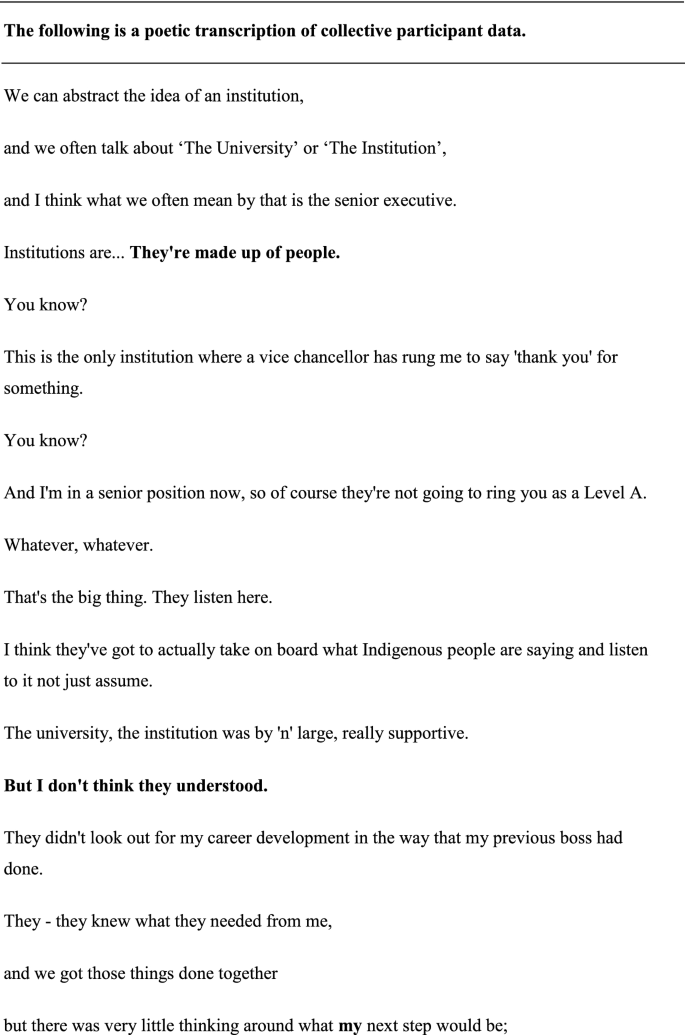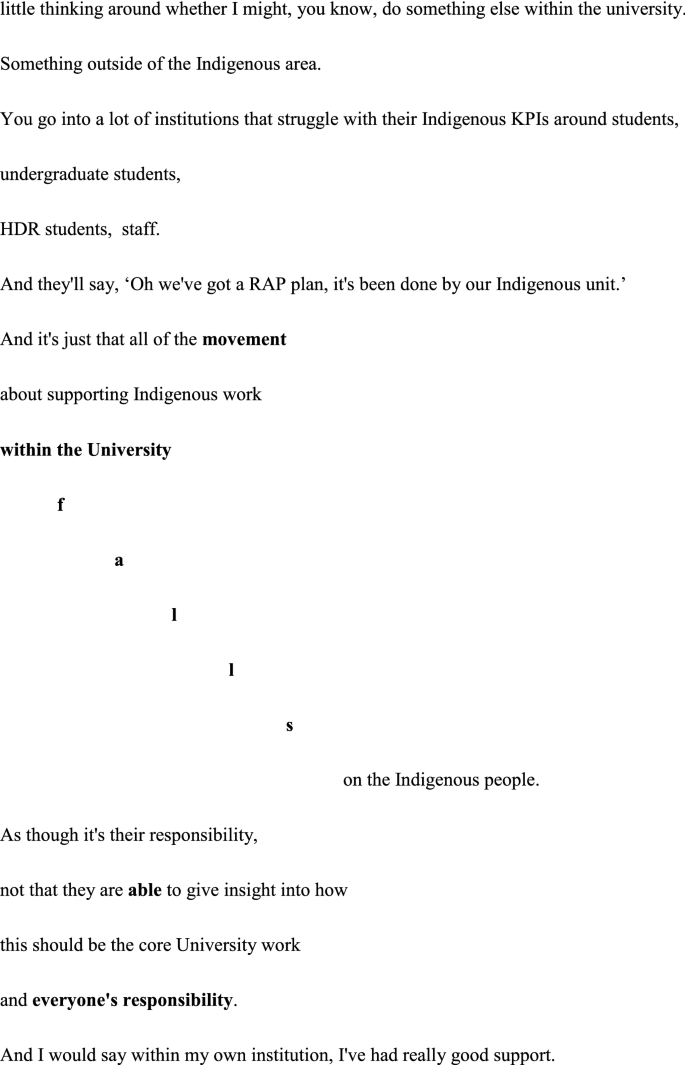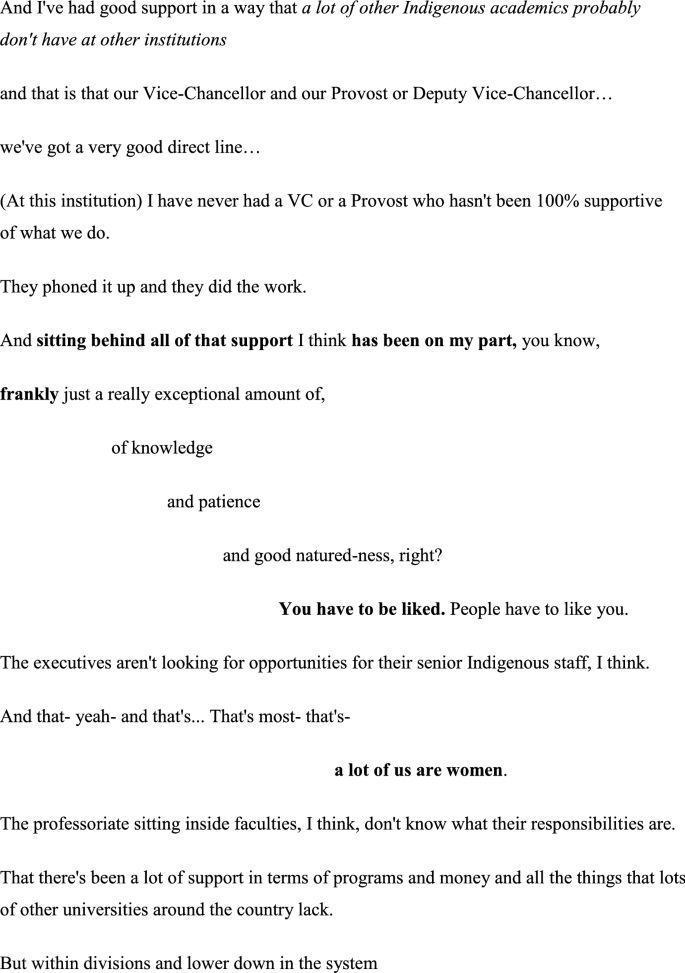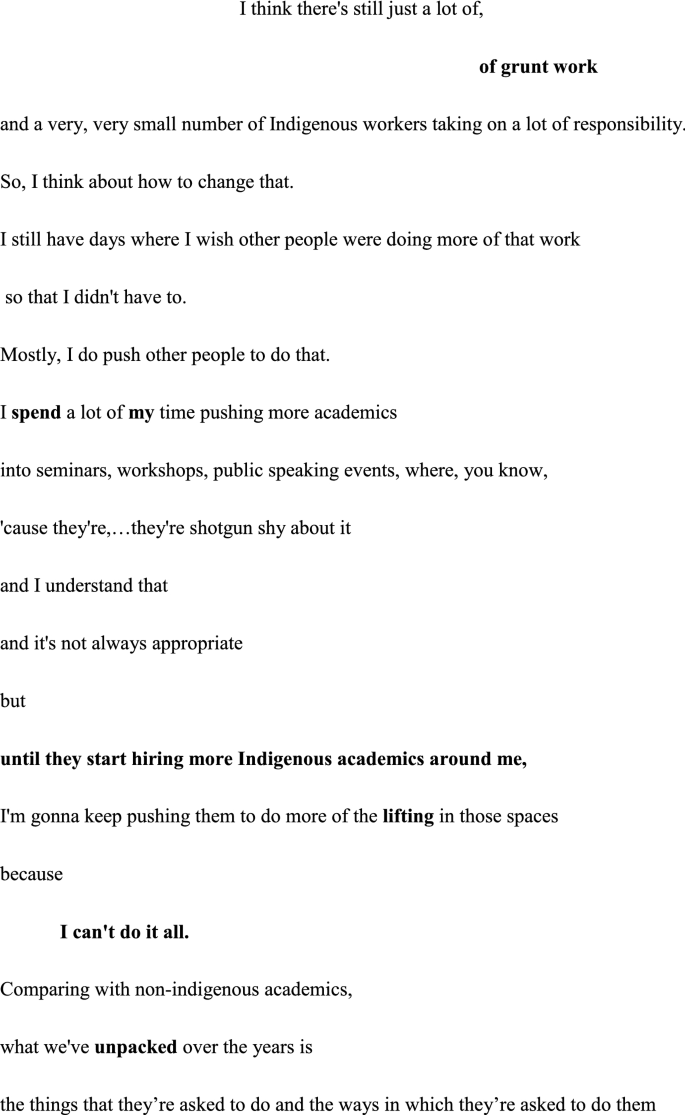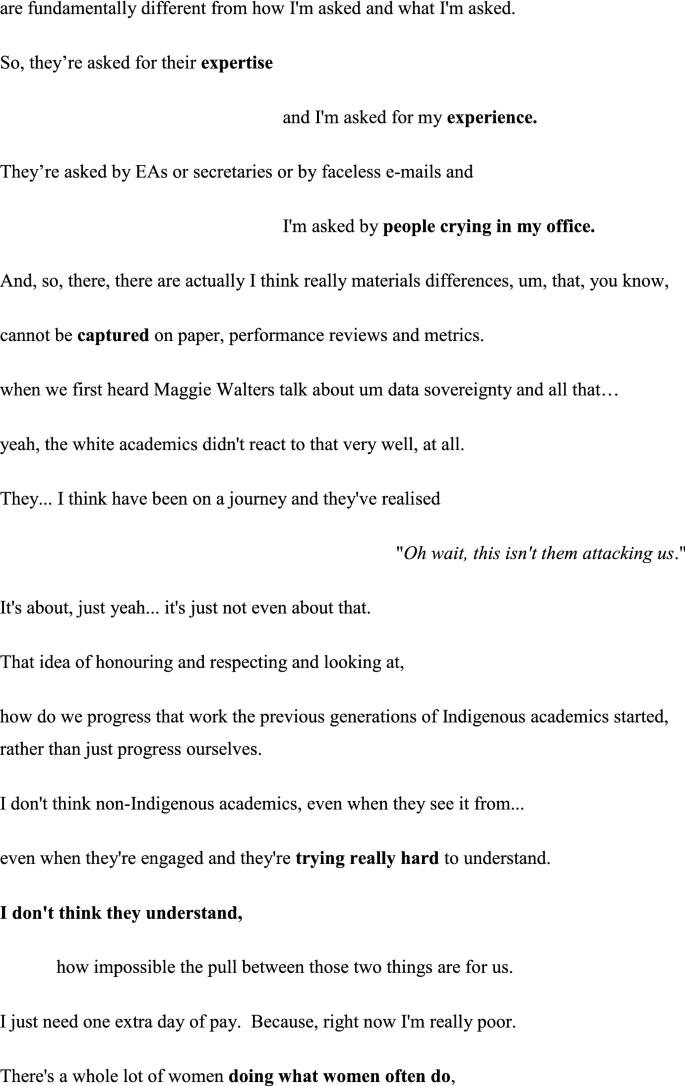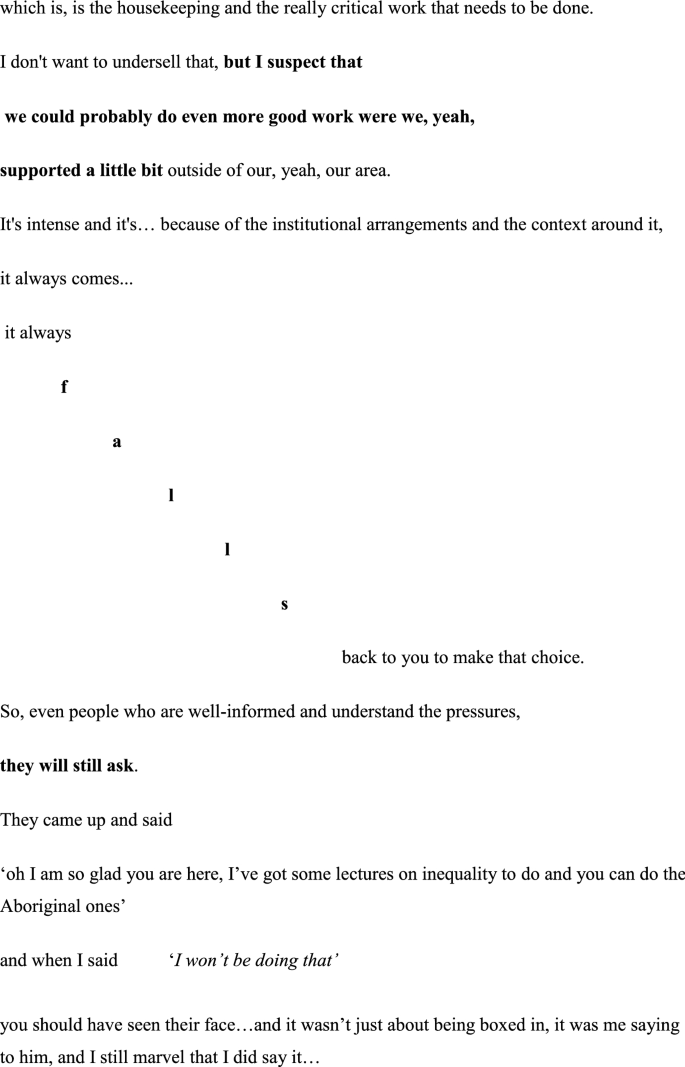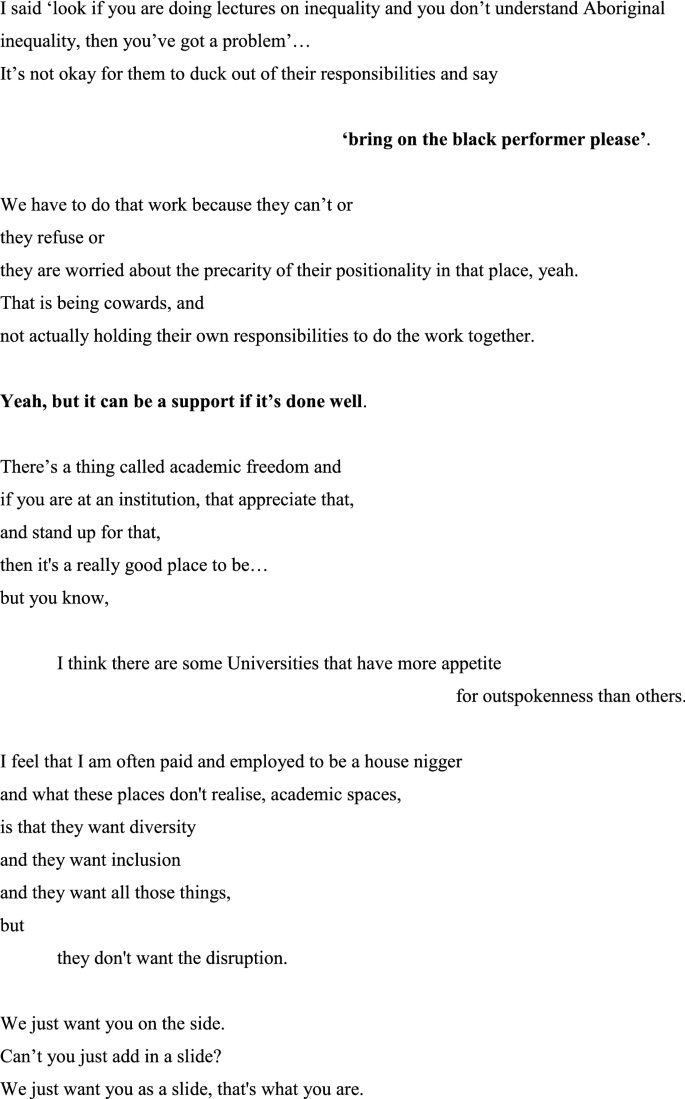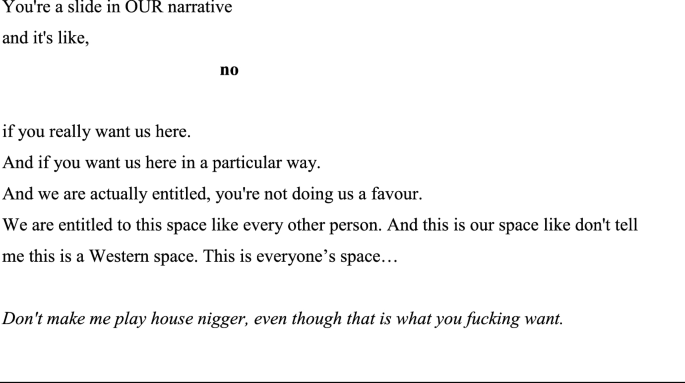 This poetic transcription closes with the powerful reference to feeling positioned as a 'house nigger'. The experience of being treated as 'house nigger' speaks to the hierarchical nature of racial oppression in an Australia which has failed to decolonise and needs to be understood with consideration of the contrasting historical positions of 'house negro' and 'field negro'. Nigger is a slur, and one which has a history here in Australia. However, the participant who used this phrasing also specifically quoted Malcolm X during our interview, and so there are elements of this term which require examination through that context. Malcolm X defined a 'house negro' as the slave who despite being enslaved, imagines themselves to be thought of as kin by the master, because they share the same house. This articulation of the difference between house and field negro draws upon the psychological impact of the enslavement, not just the physical. The conditions, though still forms of oppression and enslavement, vary and thus produce different behaviours and expectations. As Andrew (2014) articulates "House Negro was depicted by Malcolm as playing up to the master, of not being prepared for the necessary radical politics. In contrast, Field Negroes were the masses who hated the master, wanted to destroy the plantation and escape to freedom" (Andrews 2014). This expectation by the Master/Oppressor of being met with a willingness of the oppressed to perform or 'play up' for them, is key to understanding the aforementioned participant quote. Moreton-Robinson's writing also speaks on these power imbalances specifically in an Australian context, their reproduction, and the applied expectation regarding Indigenous peoples positioning as a white possessive (Moreton-Robinson 1998, 2000, 2015). Being positioned as existing to service the oppressor, responsible for the 'hidden' cleaning and domestic work, so that white individuals and organisations may claim to present and be credited with 'clean' and 'tidy' spaces is not new for Indigenous women. As Bartlett argues, "While these dirty labours were hidden to preserve the veneer of a 'natural' white lifestyle of ease, the bodies of these girls were also publicly displayed as domestic commodities being produced on the frontier" (Bartlett 1999, p. 16). Formal indentured servitude of Indigenous people is a matter of living memory here in Australia, and some would argue that with the implementation of programs such as the 'Community Development Program' (CDP) where 83% of 'participants'Footnote 2 are Indigenous, continues.
While Indigenous academics today are not literally in the same position as an indentured servant, this storying demonstrates the ways in which, despite being highly qualified academics, these women experience being expected to respond as though they exist in the academy to be the black performer, at the service of their non-Indigenous collegiate and institution. Support relies on many variables, including being 'liked'. These quotes speak to the ongoing racialised and gendered power dynamics of institutions which speak of decolonisation but achieve less than 1% Indigenous employment. The performative work of Reconciliation Action Plans and the practical work of indigenising curriculums may appear to represent an institution working toward decolonisation, but existing literature, and this study, indicate it is the miniscule pool of Indigenous staff doing the 'grunt work' required.
These interactions, where an expectation of service is placed upon an Indigenous academic woman, costs. If they, as Indigenous academic women, say 'yes' to these approaches, to the crying in their office, they then have to undertake tasks and lectures which were never actually meant to be theirs—exploitative, unfunded, 'invisible' in their formal workload. If they say 'no' and refuse, they risk being positioned as the angry black woman, uncollegial, perhaps not demonstrating the level of 'patience' and 'good natured-ness' required to gain support. White (2000) describes the cost of being Indigenous in educational roles:
This all comes with a great personal and collective cost. For example, each time you give a lecture, it's like you are telling your own story over and over. Daily struggles take their toll. For some it can be too much to cope with, and the result is often burn-out or drop-out. (White 2000, p. 105)
When considering recruitment, retention, and support of Indigenous academics it is of significant importance to factor in the toll, the costs that Indigenous peoples in these spaces already pay daily. While institutions, governments, media, and educational spaces increasingly perform speech acts which emphasise 'inclusion', too often the task of disrupting the enshrined and established exclusive, heteronormative, Anglo-centric practices and content is a burden placed on those already positioned as the 'Other'. These engagements, as demonstrated within this data, are contextualised by the work of Cree scholar Tracey Lindberg and her work 'On Indigenous Academia'. Within her work, based in so-called Canada, Lindberg reflects that:
…it seems to me that it is easy to dismiss the angry Indian. I do not want to be dismissed, and I am still angry. My anger should not defuse/diffuse the message. My anger is part of the message. Don't shoot the messenger just because she's enraged. (Lindberg 2015, p. 82)
These demands, made even by those who 'understand' but do it anyway, add to already fraught institutional power dynamics and challenges Indigenous women navigate daily. Despite their formal position, for those who then question or disrupt the existing power dynamics they risk being positioned as the 'un'—uncivil, unprofessional, and unviable. All the while knowing support may be predicated on something as subjective as being 'liked'. Whether we accept the burdens placed upon us, or refuse them, having to make the choice itself costs, and burdens, and drains, and with half of the small Indigenous academic workforce on fixed term, insecure employment, the cost and threat within such 'choice' is significant.
Discussion
In this era where education institutions claim to be committed to addressing and countering their white supremacy foundations and histories, the study reveals that non-Indigenous academics continue to call on Indigenous academic women to be their personal institutional cleaners, and performers. Current higher education employment data reveal that Indigenous academics represent less than 0.4% of higher education staff, and despite existing literature indicating that Indigenous academics are of significant value to higher education institutions, only 51.29% of the existing pool of Indigenous academics are on tenurable term employment contracts. Indigenous academic women are sovereign beings, on unceded lands, and yet they experience higher levels of insecure employment than the broader higher education workforce, and report being called on to perform for non-Indigenous academics in ways that are described as comparable to being seen as a 'house nigger' and 'black performer'.
As Moreton-Robinson (2015) articulates—"Safety (in racist behaviours) is predicated on certainty, which comes from repetition, and is one of the ways by which normalising processes work" (p. 106). The findings indicate there is a lack of sustainable approaches within higher education when it comes to enacting speech acts of inclusivity, and the indigenisation of course content, research and teaching practices, and the consistency with which participants from numerous institutions spoke of being mistreated, and spoken to inappropriately, indicates ongoing normalisation of such behaviour within the academy. Indigenous academics are regularly expected to perform such acts not only within their own prescribed workloads, but also broadly for non-Indigenous academics and staff who call on them. Calling on Indigenous academics to 'clean' and be a 'black performer' is not sustainable for the institution, nor the Indigenous academics positioned in this way… if they deliver that lecture for their colleague this semester, who will do it next semester? This is a distinct problem from the lack of promotion of existing services to Indigenous students (Jones et al. 2016); or the reliance on professional development from Indigenous education paraprofessionals (Gruppetta et al. 2018) seen in other Indigenous higher education research. Here, Indigenous academics were often asked to relieve the service, professional development and delivery of responsibilities of non-Indigenous staff altogether.
The work of Indigenous academics, by way of reports, writing, and existing presentations, can be drawn on to support many. But if the many call on the Indigenous academics, for personalised, individualised, black performer contributions, there are too few of us to sustain that level of demand. This approach also diminishes and dismisses their actual contracted role, and the right of Indigenous academic women to utilise their own time and expertise to accomplish their own work within a culturally safe environment. "We cannot create a place of subversion and transformation within the academy without creating a culturally safe place" (Behrendt 2019, p. 185). The cost includes the burning out of a limited pool of Indigenous academics, which impacts us personally but also limits our ability to contribute to and support the institution and academy broadly.
Conclusions
In conclusion, the data showed that an identifiable hurdle and frustration for Indigenous academic women in delivering on their own workloads and goals, is the treatment they experience from non-Indigenous academics and staff. This approach burdens the Indigenous academic workforce and exempts non-Indigenous academia from reform. This study highlights that mistreatment of Indigenous academic women, who experience intersectional, racialised and gendered disadvantage within the academy, is an ongoing problem within the academy. Further, while some positive experiences with executive staff were reported, only half of the existing Indigenous academic workforce hold tenurable term contracts. Such conditions limit the choices of the miniscule pool of Indigenous academic women, create barriers for their work, impacting productivity and voice, and indicate continued racialised gendered power imbalances within academia. Given participants recalled non-Indigenous colleagues refusing/rejecting inclusion, action research on non-Indigenous staff reform appears needed.
Notes
1.

The existing employment data from many universities does not allow for academics to formally identify outside of the Eurocentric gender binary of 'male' and 'female'. As such, while this table does accurately capture the number of Indigenous staff, it does not necessarily represent a true scale of gender diversity across Indigenous academics in Australia. It is important to note that within this study, participants who 'identify as female' were invited to participate, reflecting their identified gender rather than the gender assigned to them at birth.

2.

The term 'participants' has been placed in quotations, as Indigenous people on this continent have never ceded sovereignty, are structurally oppressed by systems built on the theft of Indigenous lands, children, and labour, and thus more likely to rely on social security schemes to survive, and in this way participation in the CDP as a scheme is not truly voluntary.
References
Ahmed, S. (2006). The nonperformity of Antiracism. Meridians: Feminisim, Race, Transnationalism, 104–126.

Andrews, K. (2014). From the 'Bad Nigger' to the 'Good Nigga': An unintended legacy of the Black Power movement. Race & Class, 55(3), 22–35.

Asmar, C., & Page, S. (2009). Sources of satisfaction and stress among Indigenous academic teachers: Findings from a national Australian study. Asia Pacific Journal of Education, 29(3), 387–401.

Australian Bureau of Statistics. (2016). 2016 census: Aboriginal and/or Torres Strait Islander peoples. Canberra: Australian Bureau of Statistics.

Bartlett, F. (1999). Clean white girls: Assimilation and women's work. Hecate, 25(1), 10–38.

Behrendt, L. (2019). Indigenous storytelling. In J.-A. Archibald, Q. Xiiem, J. Lee-Morgan, & J. De Santolo (Eds.), Decolonizing research: Indigenous storywork as methodology. London: Zed books.

Behrendt, L., Larkin, S., Griew, R., & Kelly, P. (2012). Review of higher education access and outcomes for Aboriginal and Torres Strait Islander People final report. Australian Government.

Bodkin-Andrew, G., & Carlson, B. (2016). The legacy of racism and Indigenous Australian identity within education. Race Ethnicity and Education, 19(4), 784–807.

Crenshaw, K. (1991). Mapping the margins: Intersectionality, identity politics, and violence against women of color. Stanford Law Review, 43, 1241–1300.

Coates, H., & Krause, K.-L. (2005). Investigating ten years of equity policy in Australian Higher Education. Journal of Higher Education Policy and Management, 27(1), 35–46.

Coates, S. K., Trudgett, M., & Page, S. (2019). Indigenous higher education sector: The evolution of recognised Indigenous Leaders within Australian Universities. The Australian Journal of Indigenous Education.

Day, A., Nakata, V., Nakata, M., & Martin, G. (2015). Indigenous Students' persistence in higher education in Australia: Contextualising models of change from psychology to understand and aid students' practices at a cultural interface. Higher Education Research and Development, 34(3), 501–512.

Department of Education and Training. (2017). Indigenous Higher Education staff data. Special request data spreadsheet. Canberra: Department of Education and Training.

Department of Education and Training. (2018). Higher Education Institutions in Australia—full time and full time fractional employment contracts for non-indigenous staff (n=121,718). Canberra: Department of Education and Training.

Donovan, M. (2015). Aboriginal student stories, the missing voice to guide us towards change. The Australian Educational Researcher, 42(5), 613–625.

Fredericks, B., Mills, K., & White, N. (2014). 'I now know I can do this now': Indigenous women and writing in the Australian higher education sector. Text Journal., 18(1), 1–11.

Glesne, C. (1997). That rare feeling: Re-presenting research through poetic transcription. Qualitative Inquiry, 3(2), 202–221.

Gray, J., & Beresford, Q. (2008). A 'formidable challenge': Australia's quest for equity in Indigenous education. Australian Journal of Education, 52(2), 197–223.

Green, S., Russ-Smith, J., & Tynan, L. (2018). Claiming the space, creating the future. Australian Journal of Education, 62(3), 256–265.

Gruppetta, M., Southgate, E., Ober, R., Cameron, L., Fischetti, J., Thunig, A., et al. (2018). Yarning the way. Newcastle: University of Newcastle.

Indigenous Higher Education Advisory Council. (2011). National Indigenous Higher Education workforce strategy. Canberra: Australian Capital Territory: Australian Government.

Jones, T., Takayama, K., Nye, G., Carter, K., Landrigan, B., Bennell, D., et al. (2016). Improving services to Aboriginal and Torres Strait Islander teachers. New York: Nova.

Kovach, M. (2010). Conversational method in Indigenous research. First Peoples Child and Family Review, 5(1), 40–48.

Leonardo, Z. (2013). The color of supremacy: Beyond the discourse of 'white privilege'. Educational Philosophy and Theory, 36(2), 137–152.

Lindberg, T. (2015). On indigenous academia. In D. Lund (Ed.), Revisiting the Great White North: Reframing whiteness, privilege, and identity in education (pp. 71–87). Canada: Sense Publishers.

Moreton-Robinson, A. (1998). When the Object Speaks, A Postcolonial Encounter: anthropological representations and Aboriginal women's self-presentations. Discourse: Studies in the Cultural Politics of Education, 19(3), 274–279.

Moreton-Robinson, A. (2000). Talkin' Up To the White Woman. St Lucia: University of Queensland Press.

Moreton-Robinson, A. (2013). Towards an Australian indigenous women's standpoint theory. Australian Feminist Studies, 28(78), 331–347.

Moreton-Robinson, A. (2015). The white possessive: Property, power and indigenous sovereignty. Minneapolis: University of Minnesota Press.

Porsanger, J. (2004). An essay about indigenous methodology. Nordlit, 15, 105–120.

Prout Quicke, S., & Biddle, N. (2017). School (non)-attendance and 'mobile cultures': Theoretical and empirical insights from Indigenous Australia. Race Ethnicity and Education, 20(1), 57–71.

Rigney, L. (1999). Internationalisation of an Indigenous anti-colonial cultural critique of research methodologies: A guide to Indigenist research methodology and its principles. Wicazo sa Review, 14(2), 109–121.

Smith, J. A., Trinidad, S., & Larkin, S. (2015). Participation in higher education in Australia among under-represented groups: What can we learn from the Higher Education Participation Program to better support Indigenous learners. Learning Communities: Indigenous Pathways and Transitions into Higher Education, 17, 12–28.

Trudgett, M., Page, S., & Harrison, N. (2016). Brilliant minds: A snapshot of successful Indigenous Australian doctoral students. The Australian Journal of Indigenous Education., 45(1), 70.

Tuhiwai-Smith, S. (2012). Decolonising methodologies: Research and indigenous peoples. London: Zed books.

Universities Australia. (2017). Indigenous strategy 2017–2020. Canberra: Australian Capital Territory.

Wilson, S. (2008). Research is ceremony: Indigenous research methods. Black Point, NS: Fernwood Publishing.

White, N. (2000). Creativity is the name of the game. In M. A. Bin-Sallik (Ed.), Aboriginal women by degrees (p. 105). St Lucia: University of Queensland Press.
Additional information
Publisher's Note
Springer Nature remains neutral with regard to jurisdictional claims in published maps and institutional affiliations.
About this article
Cite this article
Thunig, A., Jones, T. 'Don't make me play house-n***er': Indigenous academic women treated as 'black performer' within higher education. Aust. Educ. Res. 48, 397–417 (2021). https://doi.org/10.1007/s13384-020-00405-9
Received:

Accepted:

Published:

Issue Date:
Keywords
Indigenous

Australia

Higher education

Academia

Female

Discrimination

Sovereignty

Colonisation

Aboriginal