Abstract
The primary research output of a contemporary doctoral journey is no longer limited to a traditional thesis. Amongst other possibilities, current doctoral candidates may choose to produce a Thesis by Publication (TBP). However, very little is known about the factors shaping doctoral candidates' decisions to adopt a TBP approach during their doctoral journey. This paper reports on quantitative and qualitative data collected in 2018 and 2019 from 246 recent doctoral graduates from Australian universities who completed a TBP. It reports on data exploring when candidates made the decision to select this option, who influenced their decision, and their reasons for choosing the TBP approach. We found that candidates typically adopted a TBP approach early, strongly influenced by their supervisors, to meet vocational, promotional and process goals. The study has implications for administrators, supervisors and candidates in selecting the thesis mode that suits the unique needs of each candidate.
Access options
Buy single article
Instant access to the full article PDF.
USD 39.95
Price excludes VAT (USA)
Tax calculation will be finalised during checkout.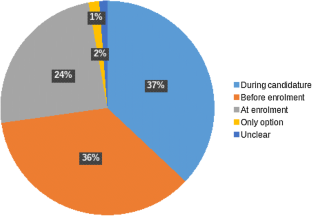 References
Braun, V., & Clarke, V. (2006). Using thematic analysis in psychology. Qualitative Research in Psychology, 3(2), 77–101.

Brien, D.L. (2008). Publish or perish?: Investigating the doctorate by publication in writing. In: The creativity and uncertainty papers: The refereed proceedings of the 13th conference of the Australian Association of Writing Programs, Sydney. Retrieved from https://www.aawp.dreamhosters.com/wp-content/uploads/2015/03/Brien1.pdf.

Dinham, S., & Scott, C. (2001). The experience of disseminating the results of doctoral research. Journal of Further and Higher Education, 25(1), 45–55.

Edwards, D., Bexley, E., & Richardson, S. (2011). Regenerating the academic workforce: The careers, intentions and motivations of higher degree research students in Australia: Findings of the National Research Student Survey (NRSS). Retrieved from https://research.acer.edu.au/higher_education/23.

Francis, K., Mills, J., Chapman, Y., & Birks, M. (2009). Doctoral dissertations by publication: Building scholarly capacity whilst advancing new knowledge in the discipline of nursing. International Journal of Doctoral Studies, 4, 97–106.

Griffith University. (2019). Higher degree research policy. Retrieved from https://policies.griffith.edu.au/pdf/Higher%20Degree%20Research%20Policy.pdf.

Jackson, D. (2013). Completing a PhD by publication: A review of Australian policy and implications for practice. Higher Education Research & Development, 32(3), 355–368. https://doi.org/10.1080/07294360.2012.692666.

Johnson, R. B., & Onwuegbuzie, A. J. (2004). Mixed methods research: A research paradigm whose time has come. Educational Researcher, 33(7), 14–26.

Lobo, A., & Poyatos Matas, C. (2010). War of Attrition. A prognostic remedial approach to student retention. Saarbrücken, Germany: Lambert.

Macquarie University. (n.d.). Macquarie University—Thesis by publication model. Retrieved from https://www.mq.edu.au/research/research-centres-groups-and-facilities/healthy-people/centres/macquarie-university-special-education-centre-musec/postgraduate-research/thesis-by-publication-model

Mantai, L. (2019). "Feeling more academic now": Doctoral stories of becoming an academic. The Australian Educational Researcher, 46(1), 137–153.

Mason, S., & Merga, M. K. (2018). A current view of the Thesis by publication in the humanities and social sciences. International Journal of Doctoral Studies, 13, 139–154.

Mason, S., Merga, M. K., & Morris, J. E. (2019). Typical scope of time commitment and research outputs of thesis by publication in Australia. Higher EducationResearch & Development. https://doi.org/10.1080/07294360.2019.167425

Merga, M. K. (2015). Thesis by publication in education: An autoethnographic perspective for educational researchers. Issues in Educational Research, 25(3), 291–308.

Merga, M. K., Mason, S., & Morris, J. E. (2019a). 'The constant rejections hurt': Skills and personal attributes needed to successfully complete a thesis by publication. Learned Publishing, 32(3), 1–11. https://doi.org/10.28945/3983.

Merga, M. K., Mason, S., & Morris, J. E. (2019b). 'What do I even call this?' Challenges and possibilities of undertaking a thesis by publication. Journal of Furtherand Higher Education. https://doi.org/10.1080/0309877X.2019.167196.

Molla, T., & Cuthbert, D. (2015). The issue of research graduate employability in Australia: An analysis of the policy framing (1999–2013). The Australian Educational Researcher, 42(2), 237–256.

Morse, J. M. (2009). Negotiating authorship for doctoral dissertation publications. Qualitative Health Research, 19(1), 3–4.

Norton, A., & Cakitaki, B. (2016). Mapping Australian higher education 2016. Grattan Institute.

Office for Teaching and Learning. (2017). Reframing the PhD for Australia's future universities. Retrieved from https://reframingphd.com.au/.

Organisation for Economic Co-operation and Development. (2016). OECD science, technology and innovation outlook 2016. Paris: OECD Publishing. https://doi.org/10.1787/sti_in_outlook-2016-en

Poyatos Matas, C. (2012). Doctoral education and skills development: An international perspective. Revista de Docencia Universitaria, 10(2), 163–191. https://doi.org/10.4995/redu.2012.6102.

Robertson, M., (2017). Aspects of mentorship in team supervision of doctoral students in Australia. The Australian Educational Researcher, 44(4–5), 409–424. https://doi.org/10.1007/s13384-017-0241-z.

Robins, L., & Kanowski, P. (2008). PhD by publication: A student's perspective. Journal of Research Practice, 4(2), 1–20.

Ryan, R. M., & Deci, E. L. (2000). Self-determination theory and the facilitation of intrinsic motivation, social development, and well-being. American Psychologist, 55(1), 68–78.

Sharmini, S., Spronken-Smith, R., Golding, C., & Harland, T. (2015). Assessing the doctoral thesis when it includes published work. Assessment & Evaluation in Higher Education, 40(1), 89–102.

Siniscalco, M. T., & Auriat, N. (2005). Questionnaire design: Quantitative research methods in educational planning. Paris: UNESCO International Institute for Educational Planning.

Stoilescu, D., & McDougall, D. (2010). Starting to publish academic research as a doctoral student. International Journal of Doctoral Studies, 5(7), 79–92.

Tarvid, A. (2014). Motivation to study for PhD degree: Case of Latvia. Procedia Economics and Finance, 14, 585–594.

Wigfield, A., & Eccles, J. S. (2000). Expectancy–value theory of achievement motivation. Contemporary Educational Psychology, 25(1), 68–81.
Additional information
Publisher's Note
Springer Nature remains neutral with regard to jurisdictional claims in published maps and institutional affiliations.
About this article
Cite this article
Mason, S., Merga, M.K. & Morris, J.E. Choosing the Thesis by Publication approach: motivations and influencers for doctoral candidates. Aust. Educ. Res. 47, 857–871 (2020). https://doi.org/10.1007/s13384-019-00367-7
Received:

Accepted:

Published:

Issue Date:

DOI: https://doi.org/10.1007/s13384-019-00367-7
Keywords
Doctoral education

Thesis by Publication

Student motivation