Abstract
This paper explores how cultural and migrant backgrounds affect boys' and girls' high-school academic performance. Scores from the 2015 Programme for International Student Assessment are analysed for Australian children from migrant and non-migrant families, conditional upon a measure of gender equity in secondary education in their country of ancestry. Australia is a particularly pertinent case study as it has the third highest migrant (foreign-born) proportion among OECD countries (27.4% of population). We find that children from migrant backgrounds affording lower schooling access to children of their own gender achieve lower scores on PISA reading, mathematics and science tests. This holds when the sample is restricted to children born in Australia, providing strong evidence that the effect is cultural, with further analysis showing this effect to be more pronounced for boys.
Access options
Buy single article
Instant access to the full article PDF.
US$ 39.95
Tax calculation will be finalised during checkout.
Subscribe to journal
Immediate online access to all issues from 2019. Subscription will auto renew annually.
US$ 79
Tax calculation will be finalised during checkout.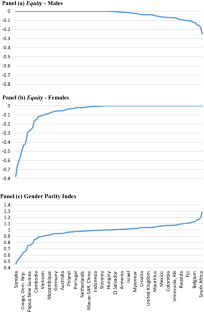 Notes
1.

An R2 of around 0.20 appears reasonable in the context of existing studies modelling PISA test scores. Models reported in Dronkers and Kornder (2014) and Nollenberger et al. (2016), for example, achieve R2 values ranging between 0.30 and 0.40 despite the inclusion of a large number of dummy variables capturing source- and destination-country effects that could not be included given our research design. Entorf and Minoiu (2005) report R2 values of around 0.10 for within-country models.
References
Addabbo, T., Davoli, M., & Murat, M. (2018). Is there an immigrant-gender gap in education? An empirical investigation based on PISA data from Italy, Marco Biagi Department of Economics 0124. Modena: University of Modena and Reggio Emilia.

Alesina, A., Giuliano, P., & Nunn, N. (2013). On the origins of gender roles: Women and the plough. The Quarterly Journal of Economics,128(2), 469–530.

Aloisi, C., & Tymms, P. (2017). PISA trends, social changes, and education reforms. Educational Research and Evaluation,23(5–6), 180–220.

Auld, E., & Morris, P. (2016). PISA, policy and persuasion: Translating complex conditions into education 'best practice'. Comparative Education,52(2), 202–229.

Bedard, K., & Dhuey, E. (2006). The persistence of early childhood maturity: International evidence of long-run age effects. The Quarterly Journal of Economics,121(4), 1437–1472.

Benoliel, P., & Berkovich, I. (2017). A cross-national examination of the effect of the Schwartz cultural dimensions of PISA performance assessments. Social Indicators Research,139, 825–845.

Cattaneo, M., & Wolter, S. (2015). Better migrants, better PISA results: Findings from a natural experiment. IZA Journal of Migration and Development,4(1), 1–19.

Dronkers, J., & Kornder, N. (2014). Do migrant girls perform better than migrant boys? Deviant gender differences between the reading scores of 15-year-old children of migrants compared to native pupils. Educational Research and Evaluation,20(1), 44–66.

Dronkers, J., & Kornder, N. (2015). Can gender differences in educational performance of 15-year-old migrant pupils be explained by societal gender equality in origin and destination countries? Compare,45(4), 610–634.

Entorf, H., & Minoiu, N. (2005). What a difference immigration policy makes: A comparison of PISA scores in Europe and traditional countries of immigration. German Economic Review,6(3), 355–376.

Fernández, R. (2011). Does culture matter? In J. A. Benhabib, A. Bisin, & M. O. Jackson (Eds.), The handbook of social economics (Vol. 1, pp. 481–510). Amsterdam: North Holland.

Fernández, R., & Fogli, A. (2005). Culture: An empirical investigation of beliefs, work, and fertility. NBER working paper no. 11268. Cambridge, MA: NBER.

Fernández, R., Fogli, A., & Olivetti, C. (2004). Mothers and sons: Preference formation and female labor force dynamics. The Quarterly Journal of Economics,119(4), 1249–1299.

Figlio, D., Giuliano, P., Özek, U. & Sapienza, P. (2016). Long-term orientation and educational performance. IZA discussion paper no. 10147. Bonn: IZA.

Fleischmann, F., & Kristen, C. (2014). Gender inequalities in the education of the second generation in western countries. Sociology of Education,87(3), 143–170.

Fryer, R. G., & Levitt, S. D. (2010). An empirical analysis of the gender gap in mathematics. American Economic Journal: Applied Economics,2(2), 210–240.

Grek, S. (2009). Governing by numbers: The Pisa "effect" in Europe. Journal of Education Policy,24(1), 23–37.

Guiso, L., Monte, F., Sapienza, P., & Zingales, L. (2008). Culture, gender and math. Science,320(5880), 1164–1165.

Guiso, L., Sapienza, P., & Zingales, L. (2006). Does culture affect economic outcomes? Journal of Economic Perspectives,20(2), 23–48.

Lewis, S., & Holloway, J. (2019). Datafying the teaching 'profession': Remaking the professional teacher in the image of data. Cambridge Journal of Education,49(1), 35–51.

Li, I. W., & Miller, P. W. (2009). Academic performance and graduate outcomes: Does age matter? In E. Balistreri & G. DeNino (Eds.), New research in education: Adult, medical and vocational (pp. 1–26). New York: Nova Science Publishers Inc.

Marginson, S., Tytler, R., Freeman, B., & Roberts, K. (2013). STEM: Country comparisons: International comparisons of science, technology, engineering and mathematics (STEM) education. Final report. Melbourne, Australia: Australian Council of Learner Academies.

Marks, G. (2008). Accounting for gender gaps in student performance in reading and mathematics: Evidence from 31 countries. Oxford Review of Education,34(1), 89–109.

Marks, G. (2014). Demographic and socioeconomic inequalities in student achievement over the school career. Australian Journal of Education,58(3), 223–247.

Nollenberger, N., Rodríguez-Planas, N., & Sevilla, A. (2016). The math gender gap: The role of culture. American Economic Review,106(5), 257–261.

OECD (Organisation for Economic Cooperation and Development). (2009). PISA data analysis manual: SAS (2nd ed.). Paris: OECD Publishing.

OECD (Organisation for Economic Cooperation and Development). (2016). PISA 2015 results, excellence and equity in education (Vol. 1). Paris: OECD Publishing.

OECD (Organisation for Economic Cooperation and Development). (2017a). Foreign-born population (indicator). Paris: OECD. https://doi.org/10.1787/5a368e1b-en.

OECD (Organisation for Economic Cooperation and Development). (2017b). About—PISA. Paris: OECD. http://www.oecd.org/pisa/aboutpisa/.

OECD (Organisation for Economic Cooperation and Development). (2017c). PISA international data explorer. Paris: OECD. http://piaacdataexplorer.oecd.org/ide/idepisa.

Portes, A. (1998). Social capital: Its origins and applications in modern sociology. Annual Review of Sociology,24, 1–24.

Portes, A., & MacLeod, D. (1996). Educational progress of children of immigrants: The roles of class, ethnicity, and school context. Sociology of Education,69(4), 255–275.

Portes, A., & Rivas, A. (2011). The adaptation of migrant children. The Future of Children,21(1), 219–246.

Portes, A., & Zhou, M. (1993). The new second generation: Segmented assimilation theory and its variants. The Annals of the American Academy of Political and Social Science,530, 74–96.

Rautalin, M., Alasuutari, P., & Vento, E. (2018). Globalisation of education policies: Does PISA have an effect? Journal of Education Policy. https://doi.org/10.1080/02680939.2018.1462890.

Selwyn, N. (2018). Data points: Exploring data-driven reforms of education. British Journal of Sociology of Education,39(5), 733–741.

Thomson, S., De Bortoli, L., & Underwood, C. (2016). PISA 2015: A first look at Australia's results. Melbourne: Australian Council of Educational Research.

Tienken, C. H. (2017). Understanding PISA results. Kappa Delta Pi Record,53(1), 6–8.

Warner, W. L., & Srole, L. (1945). The social systems of American ethnic groups. New Haven: Yale University Press.

World Bank. (2017). School enrolment, secondary (Gross), Gender Parity Index. http://data.worldbank.org/indicator/SE.ENR.SECO.FM.ZS.
Acknowledgements
The authors would like to acknowledge the valuable role of anonymous referees in prompting a fuller consideration of migrant selection effects in our analyses.
Ethics declarations
Conflict of interest
The authors declare that they have no competing interests.
Additional information
Publisher's Note
Springer Nature remains neutral with regard to jurisdictional claims in published maps and institutional affiliations.
About this article
Cite this article
Dockery, A.M., Koshy, P. & Li, I.W. Culture, migration and educational performance: a focus on gender outcomes using Australian PISA tests. Aust. Educ. Res. 47, 39–59 (2020). https://doi.org/10.1007/s13384-019-00321-7
Received:

Accepted:

Published:

Issue Date:
Keywords
Migrants

Culture

Academic performance

PISA (Programme for International Student Assessment)

Gender