Abstract
The import of professional learning in support of quality teaching is well established. Moreover, demonstrating active engagement with ongoing professional learning is now a requirement of maintaining teacher accreditation. For example, within an education policy climate that monitors the achievements of Indigenous learners closely, the evaluation and efficacy of educators with constructively addressing the experiences of these students is under increasing scrutiny, and hence, the significance of professional learning is further heightened. But, what sort of professional learning is well suited and effective in contributing to this undertaking? This systematic review investigated the veracity of the evidence underpinning professional learning research projects that aimed to make a positive change in the approach and abilities of schools to effectively improve the learning experiences of Indigenous students in Australia over the last 10 years. The themes that emerged from the review emphasise the import of future professional learning practices finding ways to more genuinely ensure that Indigenous peoples contribute to leading these activities, explicitly address issues to do with culture, (anti) racism, power and relationships in schooling, and localise the politics of knowledge construction through the alignment of curriculum, pedagogy and context.
Access options
Buy single article
Instant access to the full article PDF.
USD 39.95
Price excludes VAT (USA)
Tax calculation will be finalised during checkout.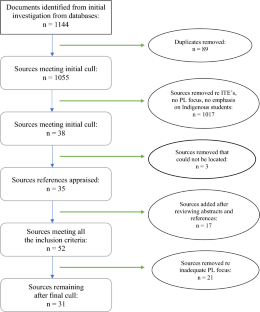 Notes
The authors note that Indigenous is used to refer to Australia's First Nations Aboriginal and Torres Islander peoples, the plural serving as a reminder that the terms refer to culturally diverse communities, and people will identify with their cultural identities accordingly (Gillan et al. 2017, p. 1). This understanding is taken up in this paper.

This systematic review is part of the broader Aboriginal Voices project, an initiative led by Aboriginal educator and research Dr Kevin Lowe. It is a collaborative undertaking that involves the construction of ten systematic reviews on various topics related to Indigenous education. To complete this work, he has enlisted a number of non-Indigenous contributors such as myself, in the project.
References
Amadio, K., Brooks, M., Collins, A., & Power, K. (2007). More than one bridge is built: The benefits of an academic research project in a small rural preschool. Journal of Australian Research in Early Childhood Education, 14(2), 107–115.

Armour, D., Warren, E., & Miller, J. (2016). Working together: Strategies that support cross-cultural engagement of Indigenous teacher assistants working in Indigenous contexts. Asia-Pacific Journal of Teacher Education, 44(5), 421–435.

Australian Institute for Teaching and School Leadership (AITSL). (2012). Australian charter for the professional learning of teachers and school leaders: A shared responsibility and commitment. Carlton South, VIC: Education Services Australia.

Ball, S., Maguire, M., & Braun, A. (2012). How do schools do policy? Policy enactments in secondary schools. Abingdon: Routledge.

Baturo, A., Cooper, T. & Doyle, K. (2007). Authority and esteem effects of enhancing remote Indigenous teacher-assistants' mathematics-education knowledge skills. In Woo, J., Lew, H., Park, K. & Seo, D. (Eds.), Proceedings 31st annual conference of the international group for the psychology of mathematics education, Seoul, Korea (pp. 57–64).

Baynes, R. (2016). Teachers' attitudes to including Indigenous knowledges in the Australian Science curriculum. The Australian Journal of Indigenous Education, 45(1), 80–90.

Beveridge, L., & McLeod, J. (2009). Action learning through Indigenous literature. Intercultural Education, 20(2), 187–197.

Bishop, R., Berryman, M., & Wearmouth, J. (2014). Te Kotahitanga: Towards effective education reforms for indigenous and other minoritised students. Wellington, NZ: NZCER Press.

Burgess, C. (2017). Beyond cultural competence: Transforming teacher professional learning through Aboriginal community-controlled cultural immersion. Critical Studies in Education. https://doi.org/10.1080/17508487.2017.1306576.

Burgess, C., & Cavanagh, P. (2013). Opening up to local communities: You must have a heart miss. None of them other teachers ever go there. Final report of the External Research Team on the implementation of the Connecting to Country Program. Department of Education and Communities: Darlinghurst.

Burgess, C., & Cavanagh, P. (2016). Cultural immersion: Developing a community of practice of teachers and Aboriginal community members. The Australian Journal of Indigenous Education, 45(1), 48–55.

Burridge, N., Riordan, G., Aubusson, P., Evans, C., Vaughan, K., Kenney, S., et al. (2009). Evaluation study of professional learning on teacher awareness of Aboriginal cultural knowledge and its impact on teaching. Sydney: NSW DET and UTS.

Burridge, N., Whalan, F., & Vaughan, K. (2012). Indigenous education: A learning journey for teachers, schools and communities. Rotterdam: Sense.

Castagno, A., & Brayboy, B. (2008). Culturally responsive schooling for Indigenous youth: A review of the literature. Review of Educational Research, 78(4), 941–993.

Commonwealth of Australia. (2018). Closing the gap: Prime Minister's report 2018. Canberra: Department of the Prime Minister and Cabinet.

Craven, R. (2003). Shaping a glad tomorrow: Mandatory Indigenous studies teacher education courses as an international educational priority. In S. Van Etten & D. McInerney (Eds.), Sociocultural influences and teacher education programs (pp. 165–197). Greenwich, CT: Information Age Publishing.

Craven, R., Yeung, A., & Han, F. (2014). The impact of professional development and Indigenous education officers on Australian teachers' Indigenous teaching and learning. Australian Journal of Teacher Education, 39(8), 85–108.

Dixon-Woods, M. (2016). Systematic reviews and qualitative studies. In D. Silverman (Ed.), Qualitative research (4th ed., pp. 379–394). London: Sage.

Dodson, M. (2010). Challenges and opportunities in Australian Indigenous education. In I. Snyder & J. Nieuwenhuysen (Eds.), Closing the gap in education: Improving outcomes in southern world societies (pp. 1–16). Clayton, VIC: Monash University Press.

Ewing, B., Cooper, T., Baturo, A., Matthews, C., & Sun, V. (2010). Contextualising the teaching and learning of measurement within Torres Strait Islander schools. The Australian Journal of Indigenous Education, 39, 11–23.

Fredericks, B. (2008). The need to extend beyond the knowledge gained in cross-cultural awareness training. The Australian Journal of Indigenous Education, 37, 81–89.

Freire, P. (1996). Pedagogy of the oppressed. London: Penguin.

Gillan, K., Mellor, S., & Krakouer, J. (2017). The case for urgency: Advocating for Indigenous voice in education. Camberwell, VIC: ACER Press.

Hammerness, K., Darling-Hammond, L., Bransford, J., Berliner, D., Cochran-Smith, M., McDonald, M., et al. (2005). How teachers learn and develop. In L. Darling-Hammond & J. Bransford (Eds.), Preparing teachers for a changing world: What teachers should learn and be able to do (pp. 358–389). San Francisco, CA: Jossey-Bass.

Harper, H. (2012). Teachers' emotional responses to new pedagogical tools in high challenge settings: Illustrations from the Northern Territory. The Australian Educational Researcher, 39, 447–461.

Harper, H., Helmer, J., Lea, T., Chalkiti, K., Emmett, S., & Wolgemuth, J. (2012). ABRACADABRA for magic under which conditions? Case studies of a web-based literacy intervention in the Northern Territory. Australian Journal of Language and Literacy, 35(1), 33–50.

Hayes, D., Mills, M., Christie, P., & Lingard, B. (2006). Teachers and schooling making a difference: Productive pedagogies, assessment and performance. Crows Nest, NSW: Allen & Unwin.

Helmer, J., Bartlett, C., Wolgemuth, J., & Lea, T. (2011). Coaching (and) commitment: Linking ongoing professional development, quality teaching and student outcomes. Professional Development in Education, 37(2), 197–211.

Helmer, J., Wolgemuth, J., Ehrich, J., Bartlett, C., Lea, T., & Smith H. (2009). The trials and tribulations of conducting early childhood literacy research in remote Australia. In: AARE 2009: international education research conference (pp. 1–27). Australia: AARE.

Keys, P. (2008). The role of early career scientists working in the classroom. Teaching Science, 54(3), 49–53.

Kirkby, L. (2015). Leading teacher professional learning in the middle years. In S. Groundwater-Smith & N. Mockler (Eds.), Big fish, little fish: Teaching and learning in the middle years (pp. 236–249). Cambridge: Port Melbourne, Vic.

Konza, D., & Michael, M. (2010). Supporting the literacy of diverse students in secondary schools. The International Journal of Learning, 17(7), 193–207.

Ladson-Billings, G. (2014). Culturally relevant pedagogy 2.0: a.k.a. the remix. Harvard Educational Review, 84(1), 74–84.

Leonardo, Z., & Grubb, W. N. (2014). Education and racism: A primer on issues and dilemmas. New York: Routledge.

Lowe, K. (2009). Opening the doors—Collaborative community and schools engagement to establish a sustainable Aboriginal language. Journal of Australian Indigenous Issues, 12, 333–348.

Lowe, K., Tennent, C., Guenther, J., Harrison, N., Burgess, C., Moodie, N., & Vass, G. (this issue) Aboriginal voices': An overview of the methodology applied in the systematic review of recent research across ten key areas of Australian Indigenous education. Australian Education Researcher.

Ma Rhea, Z. (2015). Leading and managing Indigenous education in the postcolonial world. Abingdon: Routledge.

Osborne, S. (2013). Kulintja Nganampa Maa-kunpuntjaku (Strengthening our thinking): Place-based approaches to mental health and wellbeing in Anangu Schools. The Australian Journal of Indigenous Education, 42(2), 182–193.

Owens, K. (2015). Changing the teaching of mathematics for improved Indigenous education in a rural Australian city. Journal of Math Teacher Education, 18, 53–78.

Reading, C. (2008). Embedding ICT in learning: Engaging Indigenous students and their teachers. In: Proceedings of the narrowing the gap: Addressing educational disadvantage conference (2007) (pp. 11–18). Armidale, NSW: University of New England.

Rizvi, F., & Lingard, B. (2010). Globalizing education policy. Abingdon: Routledge.

Smith, M., & Trinidad, S. (2008). The Western Australian experience: Blogging in the bush. In Boylan, C. (Ed.), The face of learning generation M. SPERA Conference, Melbourne, August (pp. 114–124).

Sparrow, L., Frid, S., & Smith, M. (2008). Interactive whiteboards at a remote school as a catalyst for teacher professional learning. In Boylan, C. (Ed.), The face of learning generation M. SPERA Conference, Melbourne, August (pp. 125–134).

Thorpe, K., & Burgess, C. (2016). Challenging lecturer assumptions about preservice teacher learning in mandatory Indigenous studies. The Australian Journal of Indigenous Education, 45(2), 119–128.

Trinidad, S., & Broadley, T. (2009). What can nature teach us? Connecting digitally to improve learning outcomes. In C. Boylan (Ed.), Education in a digital present: Enriching rural communities (pp. 103–109). Adelaide: Society for the Provision of Education in Rural Australia, Flinders University.

Trinidad, S., & Broadley, T. (2010). Connecting and collaborating in regional, rural and remote Western Australia. Australian Educational Computing, 25(2), 22–26.

Warren, E., Cooper, T., & Baturo, A. (2009). Bridging the educational gap: Indigenous and non-Indigenous beliefs, attitudes and practices in a remote Australian school. In Zajda, J. & Freeman, K. (Eds.), Race, ethnicity and gender in Education. Globalisation, Comparative Education and Policy Research (12-volume Book Series (Springer)), vol 6. Dorkect: Springer.

Warren, E., & Quine, J. (2013). A holistic approach to supporting the learning of young Indigenous students: One case study. The Australian Journal of Indigenous Education, 42(1), 12–23.

Young, J. (2010). Taking full advantage and engaging teacher aides with literacy in the Prep Year. Journal of Catholic Studies, 82(1), 81–89.

Yunkaporta, T., & McGinty, S. (2009). Reclaiming Aboriginal knowledge at the cultural interface. The Australian Educational Researcher, 36(2), 55–72.
Additional information
Publisher's Note
Springer Nature remains neutral with regard to jurisdictional claims in published maps and institutional affiliations.
The original version of this article was revised: The co-authors' names were missed in the author group. The author group has been updated.
About this article
Cite this article
Vass, G., Lowe, K., Burgess, C. et al. The possibilities and practicalities of professional learning in support of Indigenous student experiences in schooling: A systematic review. Aust. Educ. Res. 46, 341–361 (2019). https://doi.org/10.1007/s13384-019-00313-7
Received:

Accepted:

Published:

Issue Date:

DOI: https://doi.org/10.1007/s13384-019-00313-7
Keywords
Professional learning

Education

Indigenous students

Teacher–student relationships

Schooling practices