Abstract
Communities and families that substantially exist outside of mainstream society because of a different world view must cope with a range of difficulties in accessing formal education for their children. In the stronger economies however it should be expected that inclusive public systems of education, health, transport and housing are made available for all citizens regardless of background. This paper indicates that for UK Roma Gypsies and Indigenous Australians this is often not the case. Socio-cultural and economic factors that distinguish various communities set up major contradictions with systems of schooling that frustrate and alienate children and which distract from learning. Drawing on national and international scholarship, a number of epistemological principles are discussed that may assist both groups to participate in schooling, recognising that adoption of such principles will require significant educational change. The concepts of 'discursive learning' and 'bricolage' are advanced as a philosophical framework for researching and guiding policy and practice as the basis of more equitable and democratic schooling for all children.
This is a preview of subscription content, log in to check access.
Access options
Buy single article
Instant access to the full article PDF.
US$ 39.95
Tax calculation will be finalised during checkout.
Subscribe to journal
Immediate online access to all issues from 2019. Subscription will auto renew annually.
US$ 99
Tax calculation will be finalised during checkout.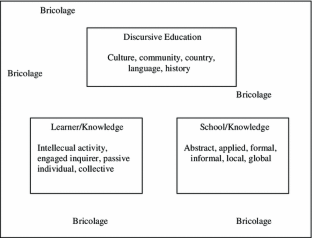 Notes
1.

There is fluidity in the use of terms to describe this group. This is an outcome both of shifts in policy usage and also to changing preferences with regard to self-ascription. For many years in the UK, there was a preference in policy documents and amongst practitioners to use the term 'Travellers'. The word 'Gypsy' had been used pejoratively in the media, and this seemed neutral. However, the term 'Travellers' fails to acknowledge any rights as a separate ethnic group, and is based purely on lifestyle. Moreover, there was resentment within the group of New Age or New Travellers who were often linked to the traditional Travellers and were perceived by many as having brought about repressive legislation, restricting movement. Within schools, younger members of the group have often opted for the term 'Traveller', as it is neutral, but this varies. In recent years, the term 'Roma' has begun to be used more widely. This provides a means of differentiating between the communities who are long-established in the UK and those who have arrived in recent years from Central and Eastern Europe. At the same time, it should be noted that many of British born Gypsies would also describe themselves as Roma. And once again, within the group many who perceive themselves as 'true Roma' do not include other Travellers, such as those from Irish or Scottish Traveller backgrounds, within that category.

2.

The term 'Indigenous' refers to Aboriginal peoples on the mainland of Australia and the island state of Tasmania and to the Torres Strait Islander people of the Torres Strait between the state of Queensland and Papua New Guinea. A capital letter is used for Indigenous in the same way that capital letters are used for English, French, or New Zealand peoples. There is discussion in Australia regarding the difference between the words Aboriginal and Indigenous and how they are interpreted by different groups of people.
References
ANKN (2013). Alaska Native Knowledge Network. Retrieved October 2013, from http://www.ankn.uaf.edu.

Barnhadt, R. (2005). Culture, community and place in Alaska native education. Retrieved October 2013, from http://www.ankn.uaf.edu/curriculu/Articles/BarnhadtKwagley/ccc.html.

Barnhardt, R., & Kawagley, A.O. (2008). Indigenous knowledge systems and Alaska native ways of knowing. Anthropology & Education Quarterly, 36(1), 8–23.

Bourdieu, P. (1993). The field of cultural production: Essays on art and literature. Cambridge: Polity.

Bourdieu, P., & Passeron, J.-C. (1977). Reproduction in education, society and culture. London: SAGE Publications.

Bourdieu, P., & Wacquant, L. J. D. (1992). An invitation to reflexive sociology. Cambridge: Polity.

Council of Europe (2013). Council of Europe: Roma and travellers. Retrieved October 2013, from http://www.coe.int/t/dg3/romatravellers/default_en.asp.

DCSF (2008). The inclusion of gypsy, Roma and traveller children and young people, Department for children, schools and families, UK. Retrieved December, from http://www.lancsngfl.ac.uk/projects/ema/getfile.php?src=74/Inclusion+of+Gypsy+Roma.pdf.

Denzin, N. K., & Lincoln, Y. S. (2000). SAGE handbook of qualitative research (2nd ed.). Thousand Oaks, CA: SAGE Publications.

Fraser, A. (1995). The Gypsies (2nd ed.). Oxford: Blackwell.

Gale, T. (2011, December). Troubling equity in Australian education policy and research. Paper presented at Annual Conference of Australian Association for Research in Education, Hobart.

Gonzalez, N., Moll, L. C., & Amanti, C. (2009). Funds of knowledge: Theorising practices in households communities and classrooms. New York: Routledge.

Hawes, D., & Perez, B. (1995). The gypsy and the state: The ethnic cleansing of British society. Bristol: SAUS.

Hooley, N. (2009). Narrative life: Democratic curriculum and indigenous learning. Rotterdam: Springer.

Khazanov, A. M. (1994). Nomads and the Outside World (2nd ed.). Madison: University of Wisconsin Press.

Kincheloe, J. L. (2011). Describing the bricolage: Conceptualising new rigour in qualitative research. In K. Hayes, S. R. Steinberg, & K. Tobin (Eds.), Key works in critical pedagogy (pp. 177–190). Rotterdam: Sense Publishers.

Lehtola, V.-P. (2004). The sami people: Traditions in transition. Fairbanks: University of Alaska Press.

Levinson, M. P. (2007). Literacy in English Gypsy communities: Cultural capital manifested as negative assets. American Educational Research Journal, 44(1), 5–39.

Levinson, M. P. (2008). Not just content but style: Gypsy children traversing boundaries. Research in Comparative and International Education, 3(3), 235–249. In A. Cleghorn, & L. Prochner (Eds.), Early childhood education and care, Special issue.

Levinson, M. P., & Hooley, N. (2013). Supporting the learning of nomadic communities across transnational contexts: Exploring parallels in the education of UK Roma Gypsies and Indigenous Australians. Research Papers in Education, 28(2), 1–17.

Levinson, M. P., & Sparkes, A. C. (2004). Gypsy identity and orientations to space. Journal of Contemporary Ethnography, 33(6), 704–734.

Levi-Strauss, C. (1966). The savage mind. Chicago: Chicago University Press.

Liégeois, J.-P. (2009). Foreword. Educating migrants: A model for the world. In P. A. Danaher, M. Kenny, & J. R. Leder (Eds.), Traveller, nomadic and migrant education (pp. xix–xxi). New York: Routledge.

McIntyre, S., & Clark, A. (2003). The history wars. Carlton: Melbourne University Press.

Nakata, M. (2007). The cultural interface. The Australian Journal of Indigenous Education, 36(Supplement), 7–14.

NAPLAN (2013). National assessment program literacy and numeracy. Retrieved October 2013, from http://www.vcaa.vic.edu.au/Pages/prep10/naplan/schools/faqs.aspx.

Perry, L. and McConney, A. (2011, December). Achievement gaps by student and school socio-economic status: A comparison of Australia and Canada. Paper presented at Annual Conference of Australian Association for Research in Education, Hobart.

PISA (2013). Programme for international student assessment. Retrieved October 2013, from http://www.acer.edu.au/ozpisa.

Shields, C. M., Bishop, R., & Mazawi, A. E. (2005). Pathologizing practices: The impact of deficit thinking on education. New York: Peter Lang.

Snyder, I. (2008). The literacy wars: Why teaching children to read and write is a battleground in Australia. Melbourne: Allen & Unwin.

UN (2007). United Nations adopts Declaration on Rights of Indigenous Peoples Retrieved October 2013, from http://www.un.org/apps/news/story.asp?NewsID=23794&Cr=indigenous&Cr1#.Uly3eaxyPQo.

Valencia, R. R. (2010). Dismantling contemporary deficit thinking: educational thought and practice. New York and London: Routledge.

Wilkin, A., Derrington, C., White, R., Martin, K., Foster, B., Kinder, K., et al. (2010). Improving the outcomes for Gypsy, Roma and Traveller pupils. Slough: NFER.
About this article
Cite this article
Hooley, N., Levinson, M. Investigating networks of culture and knowledge: a critical discourse between UK Roma Gypsies, Indigenous Australians and education. Aust. Educ. Res. 41, 139–153 (2014). https://doi.org/10.1007/s13384-013-0128-6
Received:

Accepted:

Published:

Issue Date:
Keywords
UK Roma gypsies

Indigenous Australians

Discursive education

Bricolage