Abstract
This study surveyed perspectives held by school teachers regarding factors that contribute to successful transition to school. In addition, this study explored practices in place to enhance children's transition to school. Participants were self-nominated, preparatory teachers from publicly funded primary schools in Victoria, Australia. From 250 surveys sent to randomly selected Melbourne metropolitan schools, 153 were returned (61.2 % return rate). Numerical data were analysed descriptively and responses to open-ended questions were coded and analysed to derive common themes. All respondents identified formal processes used to assist children to transition into the first year of primary school. They also identified various child-related factors they considered important for school readiness. Factors fell broadly into cognitive, social, self-care, emotional and language domains. When asked, the majority of educators felt that age was a critical factor. Less commonly identified issues were those related to the children's physical abilities, and their capacity to engage in learning tasks. Whilst factors identified were broad, there was a relative consistency across respondents. These findings contribute to the discourse in regards to identifying and consistently applying strategies to support children's successful transition into school.
Access options
Buy single article
Instant access to the full article PDF.
USD 39.95
Price includes VAT (USA)
Tax calculation will be finalised during checkout.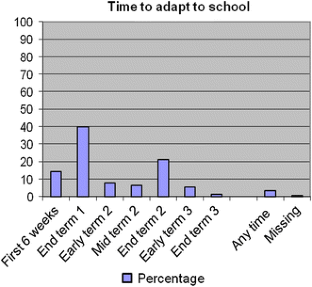 References
Crnic, K., & Lamberty, G. (1994). Reconsidering school readiness: Conceptual and applied perspectives. Early education and development, 5(2), 91–105.

Department of Education and Early Childhood Development. (2009), "Victorian early years learning and development framework: For all children from birth to eight years.", Department of Education and Early Childhood Development (Ed.). City: State Government of Victoria, Melbourne.

Dockett, S., & Perry, B. (2004). Starting school: Perspectives of Australian children, parents and educators. Journal of Early Childhood Research, 2, 171–189.

Eisenberg, N., Valiente, C., & Eggum, N. D. (2010). Self regulation and school readiness. Early Education and Development, 21(5), 681–698.

Forget-Dubois, N., Dionne, G., Lemelin, J., Perusse, D., Tremblay, R. E., & Boivan, M. (2009). Early child language mediates the relation between home environment and school readiness. Child Development, 80(3), 736–749.

Gesell Institute of Child Development. (1987). The Gesell Institute responds. Young Children, 42, 7–8.

Johnson, L. J., Gallagher, R. J., Cook, M., & Wong, P. (1995). Critical skills for kindergarten: Perceptions from kindergarten teachers. Journal of Early Intervention, 19, 315–327.

Ladd, G. W., Herald, S. L., & Kochel, K. P. (2011). School readiness: Are there social prerequisites? Early Education and Development, 17(1), 115–150.

Lara-Cinisomo, S., Fuligni, A. S., Ritchie, S., Howes, C., & Karoly, L. (2008). Getting ready for school: An examination of early childhood educators' belief systems. Early Childhood Education Journal, 35, 343–349.

Lin, H., Lawrence, F. R., & Gorrell, J. (2003). Kindergarten teachers' views of children's readiness for school. Early Childhood Research Quarterly, 18, 225–237.

Luster, T., & McAdoo, H. P. (1996). Family and child influences on educational attainment: A secondary analysis of the high/scope Perry Preschool data. Developmental Psychology, 32, 26–39.

Mashburn, A. J., & Pianta, R. C. (2006). Social relationships and school readiness. Early Education and Development, 17(1), 151–176.

Ripich, D. N., & Spinelli, F. M. (1985). Some conclusions about school talk. In D. N. Ripich & F. M. Spinelli (Eds.), School discourse problems (pp. 226–259). London: Taylor & Francis.

Scarpati, S., & Silver, P. G. (1992). Readiness for academic achievement in preschool children. In E. V. Nuttal, I. Romero & J. Kalesnik (Eds.), Assessing and screening preschoolers: Psychological and educational domains, Chapter 14 (2nd ed.). Boston: Allyn and Bacon.

Tattershall, S., & Creaghead, N. (1985). A comparison of communication at home and at school. In D. N. Ripich & F. M. Spinelli (Eds.), School discourse problems (pp. 226–259). London: Taylor & Francis.

Wesley, P. W., & Buyesse, V. (2003). Making meaning of school readiness in schools and communities. Early Childhood Research Quarterly, 18, 351–375.

Zuckerman, B., & Halfon, N. (2003). School readiness: An idea whose time has arrived. Pediatrics, 111(6), 1433–1436.
Acknowledgments
This study was supported by a La Trobe University Faculty of Health Science Grant. We acknowledge the roles and contributions of previous members of the research group, Anne Ozanne, Patricia Eadie and Linda Santamaria. Deb Benetti supported the data collection process with great efficiency. We thank the many teachers who took the time to respond to our survey.
About this article
Cite this article
Serry, T., Imms, C., Froude, E. et al. Preparatory teachers' perceptions of school readiness: a survey of Victorian teachers. Aust. Educ. Res. 41, 109–124 (2014). https://doi.org/10.1007/s13384-013-0126-8
Received:

Accepted:

Published:

Issue Date:
Keywords
School readiness

Preparatory year

Successful transition

School teacher

Preschool teacher