Abstract
Failure mode and effect analysis (FMEA) is a method used to detect causes of failures that may occur in a product or process, and FMEA is more important to prevent a failure before existing by computerized controllers in many industries. The control mechanism must have the ability to calculate and interpret the risk priority number (RPN) value for a fault mode. RPN consists of the ratio values of severity, occurrence, and detectability in FMEA for failure prioritization in order to provide a proper mechanism under this uncertain environment. So, this study is to develop a new grey failure mode and effect analysis (GFMEA) approach by combining grey relational analysis (GRA) with the mass gravity theory (MGT). A new RPN calculation technique based on the mass gravity law has been developed by calculating the relationship between the weights of each process for the production process. The problems resolved within the company without reflection to customers and were detected in the next operations for a steel-door manufacturing process. Hence, the new RPN values are more reliable for decision-makers in the process of production and operations management and obtained with efficient solutions for use to computerized FMEA process.
Access options
Buy single article
Instant access to the full article PDF.
USD 39.95
Price excludes VAT (USA)
Tax calculation will be finalised during checkout.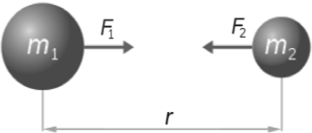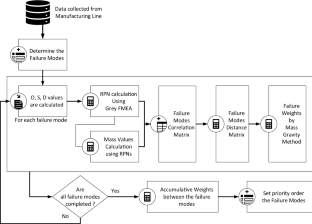 References
Fattahi, R.; Khalilzadeh, M.: Risk evaluation using a novel hybrid method based on FMEA, extended MULTIMOORA, and AHP methods under fuzzy environment. Saf. Sci. 102, 290–300 (2018)

Dutta, C.B.; Biswas, U.: Failure diagnosis in real time stochastic discrete event systems. Eng. Sci. Technol. Int. J. 18(4), 616–633 (2015)

Bicen, Y.: Propositional logic concept for fault diagnosis in complex systems. Eng. Sci. Technol. Int. J. 23(5), 1068–1073 (2020)

MIL-STD-1629A: Procedures for performing a failure mode effects and criticality analysis, US Department of Defense, Washington, D.C., USA, (1980).

IEC-60812: Analysis techniques for system reliability-procedures for failure mode and effect analysis. In: International Electrotechnical Commission, Geneva, Switzerland, (1985).

QS-9000: ISO 9001:2015 standards. In: International Organization of Standards (ISO), Geneva, Switzerland (2017).

Pillay, A.; Wang, J.: Modified failure mode and effects analysis using approximate reasoning. Reliability Eng. Syst. Safety 79(1), 69–85 (2003)

Geum, Y.; Cho, Y.; Park, Y.: A systematic approach for diagnosing service failure: service-specific FMEA and grey relational analysis approach. Math. Comput. Model. 54(11–12), 3126–3142 (2011)

Xiao, N.; Hong-Zhong, H.; Li, Y.; He, L.; Jin, T.: Multiple failure modes analysis and weighted risk priority number evaluation in FMEA. Eng. Fail. Anal. 18(4), 1162–1170 (2011)

Kutlu, C.; Ekmekçioğlu, M.: Fuzzy failure modes and effects analysis by using fuzzy TOPSIS-based fuzzy AHP. Expert Syst. Appl. 39(1), 61–67 (2012)

Ben-Daya, M.; Raouf, A.: A revised failure mode and effects analysis model. Int. J. Quality Reliab. Manag. 13(1), 43–47 (1996)

Liu, H.-C.; Liu, L.; Liu, N.: Risk evaluation approaches in failure mode and effects analysis: a literature review. Expert Syst. Appl. 40(2), 828–838 (2013)

Bowles, J.B.; Peláez, C.E.: Fuzzy logic prioritization of failures in a system failure mode, effects and criticality analysis. Reliab. Eng. Syst. Saf. 50(2), 203–213 (1995)

Chang, C.-L.; Liu, P.-H.; Wei, C.-C.: Failure mode and effects analysis using grey theory. Integr. Manuf. Syst. 12(3), 211–216 (2001)

Goyal, S.; Grover, S.: Applying fuzzy grey relational analysis for ranking the advanced manufacturing systems. Grey Syst. Theory Appl. 2(2), 284–298 (2012)

Sofyalioglu, C.: Grey evaluation model of process failure mode effect analysis. Ege Academic Rev. 11(1), 151–164 (2011)

Case, F.; Nor, A.; Teoh, P.C.: A diagnostic service tool using FMEA. Int. J. Comput. Integr. Manuf. 23(7), 640–654 (2010)

Mentes, A.; Ozen, E.: A hybrid risk analysis method for a yacht fuel system safety. Safety Sci. 79, 94–104 (2015)

Chang, K.-H.; Cheng, C.-H.: Evaluating the risk of failure using the fuzzy OWA and DEMATEL method. J. Intell. Manuf. 22(2), 113–129 (2011)

Song, W.; Ming, X.; Wu, Z.; Zhu, B.: Failure modes and effects analysis using integrated weight-based fuzzy TOPSIS. Int. J. Comput. Integr. Manuf. 26(12), 1172–1186 (2013)

Liu, H.-C.; You, J.-X.; Lin, Q.-L.; Li, H.: Risk assessment in system FMEA combining fuzzy weighted average with fuzzy decision-making trial and evaluation laboratory. Int. J. Comput. Integr. Manuf. 28(7), 701–714 (2015)

Zhou, Q.; Thai, V.V.: Fuzzy and grey theories in failure mode and effect analysis for tanker equipment failure prediction. Saf. Sci. 83, 74–79 (2016)

Battirola Filho, J.; Piechnicki, F.; Loures, E.; Santos, E.: Process-aware FMEA framework for failure analysis in maintenance. J. Manuf. Technol. Manag. 28(6), 822–848 (2017)

Can, G.F.: An intutionistic approach based on failure mode and effect analysis for prioritizing corrective and preventive strategies. Human Factors Ergonom. Manuf. Service Ind. 28(3), 130–147 (2018)

Zhao, X.S.; Chen, T.H.; Zhang, K.; Wang, M.-J.J.: Applying an improved failure mode effect analysis method to evaluate the safety of a three-in-one machine tool. Human Fact. Ergonom. Manuf. Service Ind. 30(1), 71–82 (2020)

Teoh, P.C.; Case, K.: An evaluation of failure modes and effects analysis generation method for conceptual design. Int. J. Comput. Integr. Manuf. 18(4), 279–293 (2005)

Puente, J.; Pino, R.; Priore, P.; De La Fuente, D.: A decision support system for applying failure mode and effects analysis. Int. J. Quality Reliab. Manag. 19(2), 137–150 (2002)

Stamatis, D.H.: Failure mode and effect analysis: FMEA from theory to execution, Milwauke. ASQ Quality Press, USA (2003)

Aldridge, J.; Taylor, J.; Dale, B.: The application of failure mode and effects analysis at an automotive components manufacturer. Int. J. Quality Reliab. Manag. 8(3), 44–56 (1991)

Deng, J.: Introduction to grey system theory. J. Grey Syst. 1(1), 1–24 (1989)

Aydemir, E.; Bedir, F.; Ozdemir, G.: Degree of greyness approach for an EPQ model with imperfect items in copper wire industry. J. Grey Syst. 27(2), 13–27 (2015)

Liu, S.; Yang, Y.; Xie, N.; Forrest, J.: New progress of Grey system theory in the new millennium. Grey Systems: Theory and Application 6(1), 2–31 (2016)

Wu, H.-H.: A comparative study of using grey relational analysis in multiple attribute decision making problems. Qual. Eng. 15(2), 209–217 (2002)

Kuo, Y.; Yang, T.; Huang, G.-W.: The use of grey relational analysis in solving multiple attribute decision-making problems. Comput. Ind. Eng. 55(1), 80–93 (2008)

Cao, X.; Deng, H.; Lan, W.: Use of the grey relational analysis method to determine the important environmental factors that affect the atmospheric corrosion of Q235 carbon steel. Anti-Corrosion Methods Mater. 62(1), 7–12 (2015)

Dong, W.; Liu, S.; Fang, Z.: On modeling mechanisms and applicable ranges of grey incidence analysis models. Grey Syst. Theory Appl. 8(4), 448–461 (2018)

Xie, N.; Liu, S.: A novel grey relational model based on grey number sequences. Grey Syst. Theory Appl. 1(2), 117–128 (2011)

Spears, W.; Gordon, D.: Using artificial physics to control agents, In: IEEE International Conference on Information, Intelligence, and Systems, Bethesda, MD (1999).

Xie, L.; Zeng, J.; Cui, Z.: General framework of artificial physics optimization algorithm, In: World Congress On Nature & Biologically Inspired Computing (Nabic), Coimbatore, (2009a).

Xie, L.; Zeng, J.; Cui, Z.: On mass effects to artificial physics optimisation algorithm for global optimisation problems. Int. J. Innovative Comput. Appl. 2, 69–76 (2009)

Xie, L.; Zeng, J.: The performance analysis of artificial physics optimization algorithm driven by different virtual forces. ICIC Express Letters 4, 239–244 (2010)

Gorbenko, A.; Popov, V.: Task resource scheduling problem. Int. J. Autom. Comput. 9(4), 429–441 (2012)
About this article
Cite this article
Yaşbayır, M., Aydemir, E. An Improved Grey Failure Mode and Effect Analysis for a Steel-Door Industry. Arab J Sci Eng 47, 3789–3803 (2022). https://doi.org/10.1007/s13369-021-06169-3
Received:

Accepted:

Published:

Issue Date:

DOI: https://doi.org/10.1007/s13369-021-06169-3
Keywords
Grey failure mode and effect analysis

Mass gravity law

Grey relational analysis

Risk priority number

Uncertainty