Abstract
The aim of the present study was to synthesize safe and economical cobalt nanoparticles by using secondary metabolites from Celosia argentea plant extract and to further evaluate their antioxidant, antibacterial and hemolytic activities. Catalytic activity of these green synthesized nanoparticles was evaluated for the degradation studies of cationic methylene dye in the presence and absence of anionic surfactant (sodium dodecyl sulfate). Different parameters affecting the dye degradation procedure were investigated and optimized. Fourier transform infrared spectroscopy studies identified the functional groups present in bioactive compounds which were responsible for the reduction and stabilization of the cobalt nanoparticles. The green synthesized cobalt nanoparticles were characterized by X-ray diffraction, scanning electron microscope and energy-dispersive X-ray spectroscopy. Cobalt nanoparticles (CoNPs) exhibited good antioxidant activity against 2,2-diphenyl-1-picrylhydrazyl radical, and its scavenging power was found to be increased with increasing concentration. CoNPs also displayed good antimicrobial activity against tested microbes. Moreover, they showed very less toxicity and efficient activity toward dye degradation.
Access options
Buy single article
Instant access to the full article PDF.
US$ 39.95
Tax calculation will be finalised during checkout.
Subscribe to journal
Immediate online access to all issues from 2019. Subscription will auto renew annually.
US$ 79
Tax calculation will be finalised during checkout.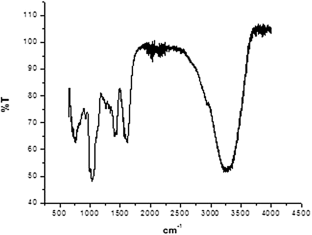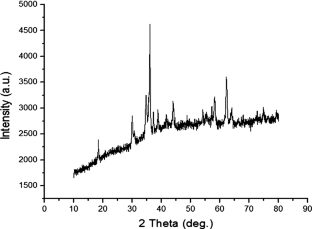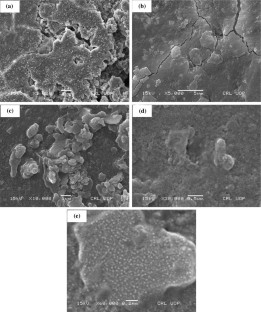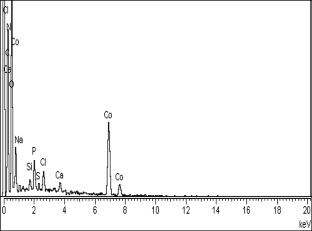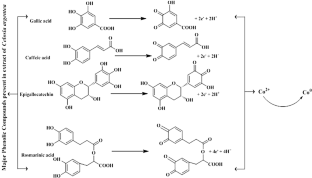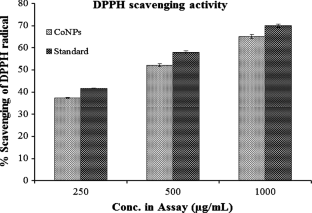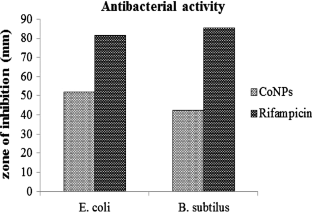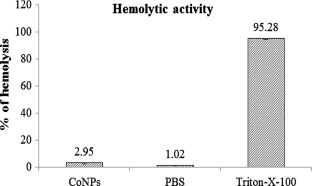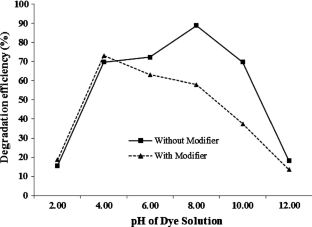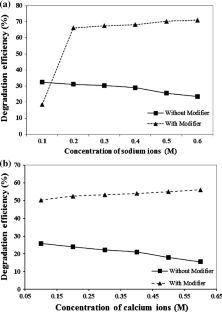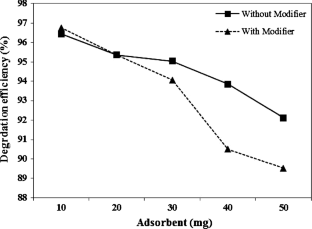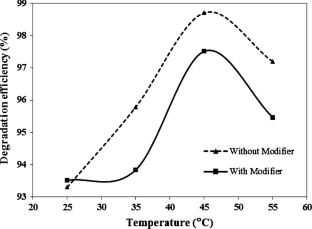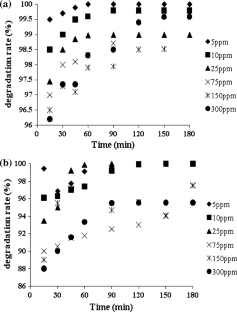 References
1.

Iravani, S.: Green synthesis of metal nanoparticles using plants. Green Chem. 13(10), 2638–2650 (2011)

2.

Arunachalama, R.; Dhanasingha, S.; Kalimuthua, B.; Uthirappana, M.; Rosea, C.; Mandal, A.B.: Colloids Surf. 94B, 226–230 (2012)

3.

Kuppusamy, P.; Yusoff, M.M.; Maniam, G.P.; Govindan, N.: Biosynthesis of metallic nanoparticles using plant derivatives and their new avenues in pharmacological applications—an updated report. Saudi Pharm. J. 24(4), 473–484 (2016)

4.

Singh, P.; Kim, Y.J.; Zhang, D.C.; Yang, D.: Biological synthesis of nanoparticles from plants and microorganisms. Trends Biotechnol. 34(7), 588–599 (2016)

5.

Khan, H.A.A.; Naseem, B.; Vardhini, V.: Synthesis of nanoparticles from plant extracts. Int. J. Mod. Chem. Appl. Sci. 2(3), 195–203 (2015)

6.

Varaprasad, T.; Govindh, B.; Rao, V.B.: Green synthesized cobalt nanoparticles using Asparagus racemosus root extract and evaluation of antibacterial activity. Int. J. Chem. Tech. Res. 10(8), 339–345 (2017)

7.

Sharma, D.; Kanchi, S.; Bisetty, K.: Biogenic synthesis of nanoparticles: a review. Arab. J. Chem. (2015). https://doi.org/10.1016/j.arabjc.2015.11.002

8.

Savithramma, N.; Rao, M.L.; Rukmini, K.; Devi, P.S.: Antimicrobial activity of silver nanoparticles synthesized by using medicinal plants. Int. J. Chem. Tech. Res. 3(3), 1394–1402 (2011)

9.

Rice-Evans, C.: Flavonoids and isoflavones: absorption, metabolism and bioactivity. Free Rad. Biol. 36, 827–828 (2004)

10.

Nasrollahzadeh, M.; Sajadi, S.M.: Green synthesis of copper nanoparticles using Ginkgo biloba L. leaf extract and their catalytic activity for the Huisgen [3 + 2] cycloaddition of azides and alkynes at room temperature. J. Colloid Interface Sci. 457, 141–147 (2015)

11.

Bakar, A.D.; Ahmed, A.B.; Taha, M.R.: In vitro callus induction and plant regeneration of Celosia argentea: an important medicinal plant. Braz. Arch. Biol. Technol. 57(6), 860–866 (2014)

12.

Varadharaj, V.; Muniyappan, J.: Phytochemical and phytotherapeutic properties of Celosia species a review. Int. J. Pharm. Phys. Res. 9(6), 820–825 (2017)

13.

Diallo, A.; Beye, A.C.; Doyle, T.B.; Park, E.; Maaza, M.: Green synthesis of Co3O4 nanoparticles via Aspalathus linearis: physical properties. Green Chem. Lett. Rev. 8(3–4), 30–36 (2015)

14.

Koyyati, R.; Kudle, K.R.; Padigya, P.R.M.: Evaluation of antibacterial and cytotoxic activity of green synthesized cobalt nanoparticles using Raphanus sativus var. longipinnatus leaf extract. Int. J. Pharm. Tech. Res. 9(3), 466–472 (2016)

15.

Khalil, A.T.; Ovais, M.; Ullah, I.; Ali, M.; Shinwari, Z.K.; Maaza, M.: Physical properties, biological applications and biocompatibility studies on biosynthesized single phase cobalt oxide (Co3O4) nanoparticles via Sageretia thea (Osbeck.). Arab. J. Chem. (2017). https://doi.org/10.1016/j.arabjc.2017.07.004

16.

Igwe, O.U.; Ekebo, E.S.: Biofabrication of cobalt nanoparticles using leaf extract of Chromolaena odorata and their potential antibacterial application. Res. J. Chem. Sci. 8(1), 11–17 (2018)

17.

Kuchekar, S.R.; Dhage, P.M.; Aher, H.R.; Han, S.H.: Green synthesis of cobalt nanoparticles, its characterization and antimicrobial activities. Int. J. Phys. Chem. Sci. 7(12), 190–198 (2018)

18.

Dubey, S.; Kumar, J.; Kumar, A.; Sharma, Y.C.: Facile and green synthesis of highly dispersed cobalt oxide (Co3O4) nano powder: characterization and screening of its eco-toxicity. Adv. Powder Technol. 29(11), 2583–2590 (2018)

19.

Naz, S.; Khaskheli, A.R.; Aljabour, A.; Kara, H.; Talpur, F.N.; Sherazi, S.T.H.; Khaskheli, A.A.; Jawaid, S.: Synthesis of highly stable cobalt nanomaterial using gallic acid and its application in catalysis. Adv. Chem. (2014). https://doi.org/10.1155/2014/686925

20.

Siada, R.S.O.: Green synthesized cobalt nano particles for using as a good candidate for sensing organic compounds. J. Electrochem. Sci. Technol. 6(4), 111–115 (2015)

21.

Lee, K.; Shibamoto, T.: Antioxidant property of aroma extract isolated from clove bud [Syzygiun aromaticum (L.) Merr. et Perry]. Food Chem. 74, 443–448 (2001)

22.

CLSI (The Clinical Laboratory Standard Institute): Agar dilution and disk diffusion susceptibility testing of campylobacter spp. J. Clin. Microbiol. 45(8), 2758–2759 (2010)

23.

Powell, W.A.; Catranis, C.M.; Maynard, C.A.: Design of self-processing antimicrobial peptides for plant protection. Lett. Appl. Microbiol. 31(2), 163–165 (2000)

24.

Sharma, P.; Sharma, J.D.: In vitro hemolysis of human erythrocytes by plant extracts with antiplasmodial activity. J. Ethnopharm. 74, 239–243 (2001)

25.

Keyhanian, F.; Shariati, S.; Faraji, M.; Hesabi, M.: Magnetite nanoparticles with surface modification for removal of methyl violet from aqueous solutions. Arab. J. Chem. 9, S348–S354 (2016)

26.

Priyadarshini, S.; Gopinath, V.; Priyadharsshini, N.M.; Mubarak, A.D.; Velusamy, P.: Synthesis of anisotropic silver nanoparticles using novel strain, Bacillus flexus and its biomedical application. Colloids Surf. B 102, 232–237 (2012)

27.

Begum, N.A.; Mondal, S.; Basu, S.; Laskar, R.A.; Mandal, D.: Biogenic synthesis of Au and Ag nanoparticles using aqueous solutions of black tea leaf extracts. Colloids Surf. B 71, 113–118 (2009)

28.

Kasthuri, J.; Veerapandian, S.; Rajendiran, N.: Biological synthesis of silver and gold nanoparticles using apiin as reducing agent. Colloids Surf. B 68, 55–60 (2009)

29.

Gopinath, V.; Priyadarshini, S.; Priyadharsshini, N.M.; Pandian, K.; Velusamy, P.: Biogenic synthesis of antibacterial silver chloride nanoparticles using leaf extracts of Cissus quadrangularis. Linn. Mater. Lett. 91, 224–227 (2013)

30.

Vaishnava, J.; Subhaa, V.; Kirubanandana, S.; Arulmozhib, M.; Renganathana, S.: Green synthesis of zinc oxide nanoparticles by Celosia argentea and its characterization. J. Optoelectron. Biomed. Mater. 9(1), 59–71 (2017)

31.

Ahmed, K.; Tariq, I.; Siddiqui, S.U.; Mudassir, M.: Green synthesis of cobalt nanoparticles by using methanol extract of plant leaf as reducing agent. Pure Appl. Biol. 5(3), 453–457 (2016)

32.

Diallo, A.; Beye, A.C.; Doyle, T.B.; Park, E.; Maaza, M.: Green synthesis of Co3O4 nanoparticles via Aspalathus linearis: physical properties. Green Chem. Lett. Rev. 8, 30–36 (2015)

33.

Truskewycza, A.; Shuklab, R.; Ball, S.A.: Iron nanoparticles synthesized using green tea extracts for the fenton-like degradation of concentrated dye mixtures at elevated temperatures. J. Environ. Chem. Eng. 4, 4409–4417 (2016)

34.

Das, J.; Velusamy, P.: Catalytic reduction of methylene blue using biogenic gold nanoparticles from Sesbania grandiflora L. J. Taiwan Inst. Chem. Eng. 45(5), 2280–2285 (2014)

35.

Fu, L.; Fu, Z.: Plectranthus amboinicus leaf extract-assisted biosynthesis of ZnO nanoparticles and their photocatalytic activity. Ceram. Int. 41(2), 2492–2496 (2015)

36.

Raja, S.; Ramesh, V.; Thivaharan, V.: Green biosynthesis of silver nanoparticles using Calliandra haematocephala leaf extract, their antibacterial activity and hydrogen peroxide sensing capability. Arab. J. Chem. 10(2), 253–261 (2017)

37.

Molehin, O.R.; Adefegha, S.A.; Oboh, G.; Saliu, J.A.; Athayde, M.L.; Boligon, A.A.: Comparative study on the phenolic content, antioxidant properties and HPLC fingerprinting of three varieties of Celosia species. J. Food Biochem. 38, 575–583 (2014)

38.

Shen, S.; Ding, X.; Ouyang, M.A.; Wu, Z.J.; Xie, L.H.: A new phenolic glycoside and cytotoxic constituents from Celosia argentea. J. Asian Nat. Prod. Res. 12, 821–827 (2010)

39.

Kalaiyarasu, T.; Karthi, N.; Sharmila, G.V.; Manju, V.: In vitro assessment of antioxidant and antibacterial activity of green synthesized silver nanoparticles from Cigitaria radicosa leaves. Asian J. Pharm. Clin. Res. 9(1), 297–302 (2016)

40.

Kapil, A.: The challenge of antibiotic resistance: need to contemplate. Indian J. Med. Res. 121(2), 83–91 (2005)

41.

Patil, S.P.A.; Kumbhar, S.T.: Antioxidant, antibacterial and cytotoxic potential of silver nanoparticles synthesized using terpenes rich extract of Lantana camara L. leaves. Biochem. Biophys. Rep. 10, 76–81 (2017)

42.

Golubeva, O.Y.; Shamova, O.V.; Orlov, D.S.; Pazina, T.Y.; Boldina, A.S.; Kokryakov, V.N.: Study of antimicrobial and hemolytic activities of silver nanoparticles prepared by chemical reduction. Glass Phys. Chem. 36(5), 628–634 (2010)

43.

Raju, C.A.I.; Bharadwaj, M.S.; Prem, K.; Satyanandam, K.: Green synthesis of iron nanoparticles using Albizia lebbeck leaves for synthetic dyes decolorization. Int. J. Sci. Eng. Technol. Res. 5(12), 3429–3434 (2016)

44.

Mahmoodi, N.; Abdi, J.; Bastani, D.: Direct dyes removal using modified magnetic ferrite nanoparticle. J. Environ. Health Sci. Eng. 12(1), 96 (2014)

45.

Yang, W.W.; Zhong, L.; Li, W.H.; Cui, S.Y.; Wei, J.: Fast removal of methylene blue from aqueous solution by adsorption onto poorly crystalline hydroxyapatite nanoparticles. Dig. J. Nanomater. Biostruct. 10(4), 1343–1363 (2015)

46.

Sahoo, C.; Gupta, A.K.; Sasidharan, P.I.M.: Photocatalytic degradation of methylene blue dye from aqueous solution using silver ion-doped TiO2 and its application to the degradation of real textile wastewater. J. Environ. Sci. Health A Tox. Hazard Subst. Environ. Eng. 47(10), 1428–1438 (2012)

47.

Tan, K.A.; Morad, N.; Teng, T.T.; Norli, I.; Panneerselvam, P.: Removal of cationic dye by magnetic nanoparticle (Fe3O4) impregnated onto activated maize cob powder and kinetic study of dye waste adsorption. APCBEE Proc. 1, 83–89 (2012)

48.

Seow, T.W.; Lim, C.K.: Removal of dye by adsorption: a review. Int. J. Appl. Eng. Res. 11(4), 2675–2679 (2016)

49.

Mohammadi, A.; Karimi, A.A.: Methylene blue removal using surface-modified TiO2 nanoparticles: a comparative study on adsorption and photocatalytic degradation. J. Water Environ. Nanotechnol. 2(2), 118–128 (2017)

50.

Edison, J.I.T.; Sethuraman, M.G.: Instant green synthesis of silver nanoparticles using Terminalia chebula fruit extract and evaluation of their catalytic activity on reduction of methylene blue. Process Biochem. 47, 135–1351 (2012)

51.

Ahuja, N.; Chopra, K.A.; Ansari, A.A.: Removal of colour from aqueous solutions by using zero valent iron nanoparticles. IOSR J. Environ. Sci. Toxicol. Food Technol. 10(1), 4–14 (2016)
Acknowledgement
The authors are thankful to Higher Education Commission of Pakistan for financial support.
About this article
Cite this article
Shahzadi, T., Zaib, M., Riaz, T. et al. Synthesis of Eco-friendly Cobalt Nanoparticles Using Celosia argentea Plant Extract and Their Efficacy Studies as Antioxidant, Antibacterial, Hemolytic and Catalytical Agent. Arab J Sci Eng 44, 6435–6444 (2019). https://doi.org/10.1007/s13369-019-03937-0
Received:

Accepted:

Published:

Issue Date:
Keywords
Celosia argentea

Plant extract

Cobalt nanoparticles

Antioxidant

Antibacterial

Hemolytic activity

Methylene blue