Abstract
In the present study, the hydrothermal method is successfully used to prepare cadmium oxide (CdO) nanosheets. X-ray diffraction pattern of powder confirmed the pure CdO with hexagonal crystal structure, and no impurity phases were present. Lattice parameters were found to be a = 0.321 nm and c = 0.519 nm. Field emission scanning electron microscopy and transmission electron microscopy were used to study the morphology of the nanostructures which show a high yield of nanomaterials and two-dimensional sheet like morphology. Brunauer–Emmett–Teller analysis showed specific surface area and pore size of 26 m2/g and 1.66 nm, respectively. Photoluminescence spectrum reveals the presence of multiple emission bands in the UV–Vis region. Photocatalytic activity of the CdO nanosheets was also performed on Coomassie Brilliant Blue. CdO nanosheets have shown higher degradation rate (0.47 min−1) as compare to other morphologies.
Access options
Buy single article
Instant access to the full article PDF.
USD 39.95
Price excludes VAT (USA)
Tax calculation will be finalised during checkout.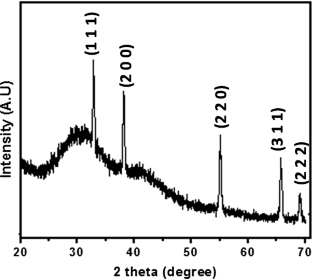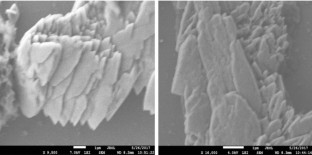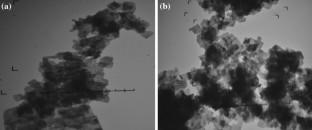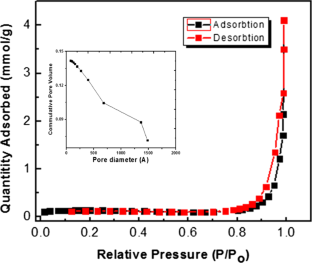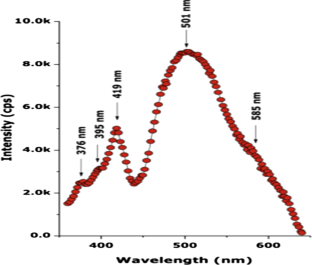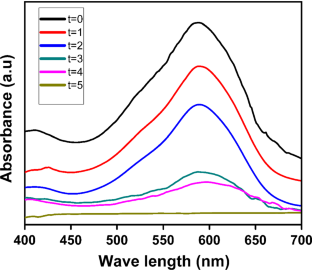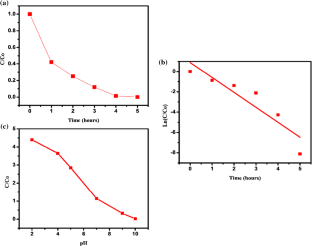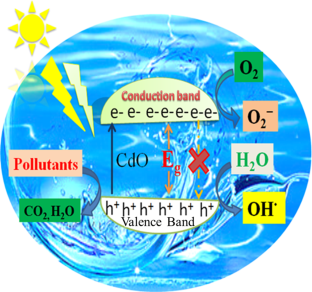 References
Gupta, V.K.; et al.: Zn doped CdO nanoparticles: structural, morphological, optical, photocatalytic and anti-bacterial properties. J. Colloid Interface Sci. 504, 164 (2017)

Clavero, C.: Plasmon-induced hot-electron generation at nanoparticle/metal-oxide interfaces for photovoltaic and photocatalytic devices. Nat. Photonics 8(2), 95 (2014)

Wetchakun, K.; et al.: Semiconducting metal oxides as sensors for environmentally hazardous gases. Sens. Actuators B 160(1), 580 (2011)

Jia, Z.; et al.: Shape-controlled synthesis of single-crystalline CdCO3 and corresponding porous CdO nanostructures. Cryst. Growth Des. 8(7), 2116 (2008)

Khan, S.A.; et al.: Electronic structure and optical properties of CdO from bulk to nanosheet: DFT approach. Opt. Mater. 47, 372–378 (2015)

Majid, A.; Bibi, M.: Cadmium-based nanomaterials. In: Majid, A., Bibi, M. (eds.) Cadmium Based II–VI Semiconducting Nanomaterials, p. 7. Springer, Gewerbestrasse (2018)

Thambidurai, M.; Dang, C.: Structural, morphological and optical properties of CdO nanostructures synthesized by chemical bath deposition method. Mater. Lett. 221, 244–247 (2018)

Karthik, K.; et al.: Multifunctional properties of CdO nanostructures synthesised through microwave assisted hydrothermal method. Mater. Res. Innov. (2018). https://doi.org/10.1080/14328917.2018.1475443

Krishnakumar, T.; et al.: CdO-based nanostructures as novel CO2 gas sensors. Nanotechnology 22(32), 325501 (2011)

Zhai, T.; et al.: A comprehensive review of one-dimensional metal-oxide nanostructure photodetectors. Sensors 9(8), 6504–6529 (2009)

Minami, T.: Transparent conducting oxide semiconductors for transparent electrodes. Semicond. Sci. Technol. 20(4), S35 (2005)

Ranjithkumar, R.; et al.: Synthesis and properties of CdO and Fe doped CdO nanoparticles. Mater. Today: Proc. 3(6), 1378 (2016)

Yakuphanoglu, F.: Nanocluster n-CdO thin film by sol–gel for solar cell applications. Appl. Surf. Sci. 257(5), 1413–1419 (2010)

Heidari, A.; Brown, C.: Study of composition and morphology of cadmium oxide (CdO) nanoparticles for eliminating cancer cells. J. Nanomed. Res. 2(5), 1–20 (2015)

Shukla, M.; et al.: Potent antibacterial activity of nano CdO synthesized via microemulsion scheme. J. Mater. Environ. Sci. 3(4), 678–685 (2012)

Guo, Z.; Li, M.; Liu, J.: Highly porous CdO nanowires: preparation based on hydroxy-and carbonate-containing cadmium compound precursor nanowires, gas sensing and optical properties. Nanotechnology 19(24), 245611 (2008)

Rahman, M.M.; et al.: Photocatalytic degradation of remazol brilliant orange 3R using wet-chemically prepared CdO–ZnO nanofibers for environmental remediation. Mater. Express 6(2), 137–148 (2016)

Shanmugam, N.; Saravanan, B.; Reagan, R.; Kannadasan, N.; Sathishkumar, K.; Cholan, S.: (2014) Effect of thermal annealing on the Cd (OH) 2 and preparation of Cdo nanocrystals. Modern Chem. Appl. 2(1), 1000124

Karami, H.: Investigation of sol–gel synthesized CdO–ZnO nanocomposite for CO gas sensing. Int. J. Electrochem. Sci. 5, 720–730 (2010)

Reddy, S.; et al.: Synthesis of CdO nanoparticles and their modified carbon paste electrode for determination of dopamine and ascorbic acid by using cyclic voltammetry technique. Int. J. Electrochem. Sci. 5, 10–17 (2010)

Mostafa, A.M.; et al.: Synthesis of cadmium oxide nanoparticles by pulsed laser ablation in liquid environment. Optik 144, 679–684 (2017)

Sathya Raj, D.; et al.: CO sensing characteristics of hexagonal-shaped CdO nanostructures prepared by microwave irradiation. Sensors Actuators B: Chem. 171–172, 853–859 (2012)

Ferro, R.; et al.: Some physical properties of F-doped CdO thin films deposited by spray pyrolysis. Thin Solid Films 347(1), 295–298 (1999)

Balamurugan, S.; et al.: Synthesis of CdO nanopowders by a simple soft chemical method and evaluation of their antimicrobial activities. Pac. Sci. Rev. A: Nat. Sci. Eng. 18(3), 228 (2016)

Zhang, G.; et al.: Hierarchical microspheres: in situ assembly of CdS quantum dots on Cd2SnO4 nanosheets with enhanced visible light photocatalytic properties. RSC Adv. 5(102), 83922 (2015)

Sajid, M.M.; et al.: Synthesis of Zn3(VO4)2/BiVO4 heterojunction composite for the photocatalytic degradation of methylene blue organic dye and electrochemical detection of H2O2. RSC Adv. 8(62), 35403–35412 (2018)

Shad, N.A.; et al.: Synthesis of flake-like bismuth tungstate (Bi2WO6) for photocatalytic degradation of Coomassie Brilliant Blue (CBB). Inorg. Chem. Commun. 86, 213–217 (2017)

Al-Amri, S.; et al.: Ni doped CuO nanoparticles: structural and optical characterizations. Curr. Nanosci. 11(2), 191 (2015)

Thovhogi, N.; et al.: Physical properties of CdO nanoparticles synthesized by green chemistry via Hibiscus sabdariffa flower extract. J. Alloys Compd. 655, 314–320 (2016)

Tadjarodi, A.; et al.: Preparation of CdO rhombus-like nanostructure and Its photocatalytic degradation of azo dyes from aqueous solution. Nanomater. Nanotechnol. 4, 16 (2014)

Bharti, D.B.; Bharati, A.V.: Photocatalytic degradation of Alizarin Red dye under visible light using ZnO & CdO nanomaterial. Optik 160, 371–379 (2018)

Tadjarodi, A.; Imani, M.; Kerdari, H.: Experimental design to optimize the synthesis of CdO cauliflower-like nanostructure and high performance in photodegradation of toxic azo dyes. Mater. Res. Bull. 48(3), 935–942 (2013)
About this article
Cite this article
Shad, N.A., Sajid, M.M., Haq, AU. et al. Photocatalytic Investigation of Cadmium Oxide Nanosheets Prepared by Hydrothermal Method. Arab J Sci Eng 44, 6669–6675 (2019). https://doi.org/10.1007/s13369-019-03897-5
Received:

Accepted:

Published:

Issue Date:

DOI: https://doi.org/10.1007/s13369-019-03897-5
Keywords
Cadmium oxide

Nanosheets

Hydrothermal

Photoluminescence

Photocatalysis