Abstract
The analysis of traces ignitable liquids on a burned carpet could provide information to a forensic investigation. While the research on this field is still limited, this study illustrates the capabilities of the solid-phase microextraction coupled with gas chromatography-mass spectrometry to detect and identify gasoline residue from fire debris. The technique proved to be rapid, simple and efficient; it does not require specific skills or solvents for the extraction. The obtained results indicate that the amount of fuel used to ignite the carpet samples and a carpet thickness, play an important role on the presence and survival of the gasoline residues. This depends on the adsorption capacity of the burned carpet, where it is preferred to take samples from thin carpets rather than thick one, i.e., gasoline traces were detected up to 5 h, above carpet of 5mm thickness using 2mL accelerant.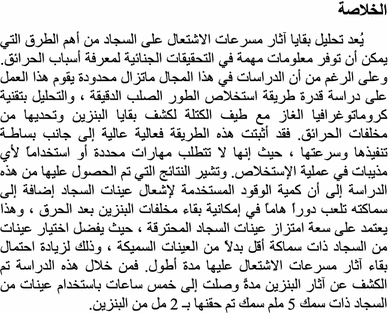 Access options
Buy single article
Instant access to the full article PDF.
USD 39.95
Price excludes VAT (USA)
Tax calculation will be finalised during checkout.
References
DeHaan, J.: Kirk's Fire Investigation, 5 edn. Pretence Hall, Upper Saddle River (2002)

Muller D., Levy A., Shelef R.: Detection of gasoline on arson suspects' hands. Forensic Sci. Int. 206, 150 (2011)

Pert A.D., Baron M.G., Birkett J.W.: Review of analytical techniques for arson residues. J. Forensic Sci. 51, 1033 (2006)

Stauffer E., Dolan J.A., Newman R.: Fire Debris Analysis. Academic Press, New York (2007)

Montani I., Comment S., Delemont O.: The sampling of ignitable liquids on suspects' hands. Forensic Sci. Int. 194, 115 (2010)

Lu Y., Chen P., Harrington P.B.: Comparison of differential mobility spectrometry and mass spectrometry for gas chromatographic detection of ignitable liquids from fire debris using projected difference resolution. Anal. Bioanal. Chem. 394, 2061 (2009)

Sigman M.E., Williams M.R.: Covariance mapping in the analysis of ignitable liquids by gas chromatography/mass spectrometry. Anal. Chem. 78, 1713 (2006)

Borusiewicz R., Zadora G., Zieba-Palus J.: Application of head-space analysis with passive adsorption for forensic purposes in the automated thermal desorption-gas chromatography-mass spectrometry system. Chromatographia 60, S133 (2004)

Baechler S., Comment S., Delemont O.: Extraction and concentration of vapors from fire debris for forensic purposes: evaluation of the use of Radiello passive air sampler. Talanta 82, 1247 (2010)

Stauffer, E.: The Role of the Forensic Scientist in the New Millennium with the Example of Fire Debris Analysis (2006). http://www.aafs.org/yfsf/Essays/StaufferEssay.htm

Tan B., Hardy J.K., Snavely R.E.: Accelerant classification by gas chromatography/mass spectrometry and multivariate pattern recognition. Analytica Chimica Acta 422, 37 (2000)

Choodum A., Daeid N.N.: Development and validation of an analytical method for hydrocarbon residues using gas chromatography-mass spectrometry. Anal. Methods 3, 1136 (2011)

Borusiewicz R., Zadora G., Zieba-Palus J.: Application of head-space analysis with passive adsorption for forensic purpose in the automated thermal desorption-gas chromatography-mass spectrometry system. Chromatographia 60, S133 (2004)

Cavanagh K., Pasquier E.D., Lennard C.: Background interference from car carpets-the evidential value of petrol residues in cases of suspected vehicle arson. Forensic Sci. Int. 125, 22 (2002)

Borusiewicz R., Zieba-Palus J., Zadora G.: The influence of the type of accelerant, type of burned material, time of burning and availability of air on the possibility of detection of accelerants traces. Forensic Sci. Int. 160, 115 (2006)

Choodum A., Daeid N.N.: Evaluating the performance of three GC columns commonly used for the analysis of ignitable liquid mixtures encountered in fire debris. Anal. Methods 3, 1525 (2011)

Arthur C.L., Pawliszyn J.: Solid phase microextraction with thermal desorption using fused silica optical fibers. Anal. Chem. 62, 2145 (1990)

Almirall, J.R. Furton, K.G.: Sample preparation in field and laboratory. In: Pawliszyn, J.B. (Ed.) Elsevier, Amsterdam (2002)

Harris A.C., Wheeler J.F.: GC-MS of ignitable liquids using solvent-desorbed SPME for automated analysis. J. Forensic Sci. 48, 41 (2003)

Stahl D.C., Tilotta D.C.: Partition infrared method for total gasoline range organics in water based on solid phase microextraction. Environ. Sci. Technol. 33, 814 (1999)

Lavine B.K., Ritter J., Moores A.J., Wilson M., Faruque A., Mayfield H.T.: Source identification of underground fuel spills by solid-phase microextraction/high-resolution gas chromatography/genetic algorithms. Anal. Chem. 72, 423 (2000)

Dewsbury P., Thornton S.F., Lerner D.N.: Improved analysis of MTBE, TAME and TBA in petroleum fuel-contaminated groundwater by SPME using deuterated internal standards with GC-MS. Environ. Sci. Technol. 37, 1392 (2003)

Furton K.G., Wang J., Hsu Y.L., Walton J., Almirall J.R.: The use of solid-phase microextraction-gas chromatography in forensic analysis. J. Chromatogr. Sci. 38, 297 (2000)

Almirall J.R., Wang J., Lothridge K., Furton K.G.: The detection and analysis of ignitable liquid residues extracted from human skin using SPME/GC. J. Forensic Sci. 45, 453 (2000)

Furton K.G., Almirall J.R., Bi M., Wang J., Wu L.: Application of solid-phase microextraction to the recovery of explosives and ignitable liquid residues from forensic specimens. J. Chromatogr. A 885, 419 (2000)

Calderara S., Gardebas D., Martinez F.: Solid phase micro extraction coupled with on-column GC/ECD for the post-blast analysis of organic explosives Forensic Sci. Int. 137, 6 (2003)

Almirall J.R., Bruna J., Furton K.G.: The recovery of accelerants in aqueous samples from fire debris using solid-phase microextraction (SPME). Sci. Justice 36, 283 (1996)

Furton K.G., Bruna J., Almirall J.R.: A simple, inexpensive, rapid, sensitive and solventless technique for the analysis of accelerants in fire debris based on SPME. J. High Resolut. Chromatogr. 18, 625 (1995)

Furton K.G., Almirall J.R., Wang J.: In investigation and forensic science technologies. K. Higgins. Proc. SPIE-Int. Soc. Opt. Eng. 3576, 136 (1999)

Darrer M., Jacquemet-Papilloud J., Delemont O.: Gasoline on hands: preliminary study on collection and persistence. Forensic Sci. Int. 175, 171 (2008)

Whyte C., Wyche K.P., Kholia M., Ellis A.M., Monks P.S.: Fast fingerprinting of arson accelerants by proton transfer reaction time-of-flight mass spectrometry Int. J. Mass Spectrom. 263, 222 (2007)

Bodle E., Hardy J.K.: Multivariate pattern recognition of petroleum-based accelerants by solid-phase microextraction gas chromatography with flame ionization detection. Analytica Chimica Acta 589, 247 (2007)

Monfreda M., Gregori A.: Differentiation of unevaporated gasoline samples according to their brands, by SPME-GC-MS and multivariate statistical analysis. J. Forensic Sci. 56, 372 (2011)

Sandercock P.M.: Fire investigation and ignitable liquid residue analysis—a review: 2001–2007. Forensic Sci. Int. 176, 93 (2008)

Vas G., Vekey K.: Solid-phase microextraction: a powerful sample preparation tool prior to mass spectrometric analysis. J. Mass Spectrom. 39, 233 (2004)

Bell S.: Forensic Chemistry. Prentice Hall, Englewood Cliffs (2005)

Pawliszyn J.: Solid Phase Microextraction, Theory and Practice. Wiley, New York (1997)

Wercinski S.A.: Solid Phase Extraction, A Practical Guide. Marcel Dekker, New York (1999)

American Society for Testing and Materials, ASTM Method E 1618-01 Standard Test Method for Ignitable Liquid Residues in Extracts from Fire Debris Samples by Gas Chromatograph-Mass Spectrometry, Annual Book of ASTM Standards, (2002)

Coulson S.A., Morgan-Smith R.K.: The transfer of petrol on to clothing and shoes while pouring petrol around a room. Forensic Sci. Int. 112, 135 (2000)
About this article
Cite this article
Dhabbah, A.M., Al-Jaber, S.S., Al-Ghamdi, A.H. et al. Determination of Gasoline Residues on Carpets by SPME–GC-MS Technique. Arab J Sci Eng 39, 6749–6756 (2014). https://doi.org/10.1007/s13369-014-1233-1
Received:

Accepted:

Published:

Issue Date:

DOI: https://doi.org/10.1007/s13369-014-1233-1
Keywords