Abstract
Research on information systems development methodologies (ISDM) adoption has been widely undertaken to highlight the experience of developed countries. Studies concerned with the status of ISDM in developing economies including the factors that influence and motivate their use, current trends, difficulties, and barriers to adoption are lacking. This paper explores these issues in a developing economy, namely Oman, and proposes an ISDM adoption decision model using analytical hierarchy process analysis informed by a survey and Delphi consultation. The findings from the survey reveal a lack of knowledge of ISDM amongst Omani Information Systems developers and the reliance on ad-hoc software development methods. Conversely, analyzed data reveals a trend whereby a majority of Omani organizations are gradually moving towards increased ISDM adoption and deployment. This has motivated the development of an adoption decision model to assist software companies to select the right ISDM adapted to their organizational needs in Oman. This model has a generic dimension and can be adapted to other socio-organizational contexts.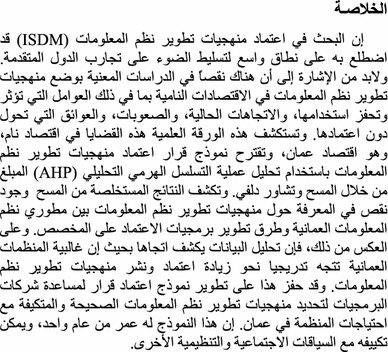 Access options
Buy single article
Instant access to the full article PDF.
USD 39.95
Price excludes VAT (USA)
Tax calculation will be finalised during checkout.
References
Avison, D.E.; Fitzgerald, G.:Where now for development methodologies. Commun. ACM 46(1), 78–82 (2003)

Avison, D.E.; Fitzgerald, G.: Information Systems Development: Methodologies, Techniques & Tools. McGraw-Hill Publishing Co., New York (2006)

Cockburn, A.: Agile Software Development, 2nd edn. Addison-Wesley, Reading (2006)

Karlsson, F.; Agerfalk, P.: Method configuration with development tracks and generic project types. In: The 6th CAiSE/IFIP8.1 International Workshop on Evaluation of Modelling Methods in System Analysis and Design, Switzerland (2001)

Jayaratna, N.: Understanding and Evaluating Methodologies. McGraw Hill Book Company, London (1994)

Huisman, H.; Iivari, J.: Adaptation and the deployment of systems development methodologies. In: Proceedings of the International Conference on Computer, Communication and Control Technologies, Tampa, Florida, USA (2003)

Fitzgerald, B.; Russo, L.: Information system Development: Method in Action. McGraw-Hill Education, New York (2002)

Beynon-Davies, P.; Williams, D.M.: The diffusion of information system development methods. J. Strategic Inf. Syst. 12, 29–46 (2003)

Wynekoop, J.; Russo, L.: Studying system development methodologies: an examination of research methods. Inf. Syst. J. 7, 47–65 (1997)

Business Monitor International: Oman Information Technology Report. London, UK (2011)

Leonard-Barton, D.: Implementation as mutual adaptation of technology and organization. Res. Policy 17, 251–267 (1988)

Vorakulpipat, C.; Rezgui, Y.: Exploring the influence of collectiveness on value creation adoption in an IT organization. In: León, G., Bernardos, A., Casar, J., Kautz, K., DeGross, J. (eds.) IFIP International Federation for Information Processing, Open IT-Based Innovation: Moving Towards Cooperative IT Transfer and Knowledge Diffusion. Springer, Boston (2008)

Archibugi, D.; Pietrobelli, C.: The Globalisation of Technology and its Implications for Developing Countries: Windows of Opportunity or Further Burden? Technol Forecast Social Change 70, 861–883 (2003)

Cyamukungu, M.: Development strategies for an African computer network. Inf. Technol. Dev. 7, 91–94 (1996)

Straub, D.; Loch, K.; Hill, C.E.: Transfer of information technology to developing countries: a test of cultural influence modeling in the arab world. J. Global Inf. Manage. 9(4), 6–28 (2001)

Al-Mandhary, F.R.: Future Prospects for the Establishment of an Information Technology Industry in the Sultanate of Oman. Al-Markazy (September/October 2002)

Central Bank of Oman. Annual Report 2003. AL-MARKAZI (2003)

Huisman, H.; Iivari, J.: The individual deployment of systems development methodologies. In: Lecture notes in Computer Science, vol. 2348, pp. 134–150. Springer, Berlin (2002)

Vidgen, R.; Madsen, S.; Kautz, K.: Mapping the Information System Development Process. In: IFIP International Federation for Information Processing, vol. 141/2004, 157–171. doi:10.1007/1-4020-8000-X_9 (2004)

Lycett, M.; Kanellis, P.; Paul, R.J.: Requirements modeling. In: IEEE International Symposium Requirement Engineering (1997)

Westrup, C.: American Programmer. Information Systems Methodologies in Use. J. Inf. Technol. 8, 267–275 (1993)

Hardy, C.; Thompson, B.; Edwards, H.: The use of systems development methodologies in practice: a field study. Inf. Syst. J. 7(3), 201–212 (1995)

Iivari, J.; Maansaari, J.: The usage of systems development methods: are we stuck to old practices? Inf. Softw. Technol. 40(9), 501–510 (1998)

Fitzgerald, B.: An empirical investigation into the adoption of system development methodologies. Inf. Manage. 34(6), 317–328 (1998)

Rahim, M.; Seyal, H.: Use of software system development methods. An empirical study in Brunei Darussalam. Inf. Softw. Technol. 39, 949–963 (1998)

Yazrina, Y.; Maritay, M.; Yusof, Y.; Nazlia, O.: The use of information system development methodology in Malaysia. Jurnal Antarabangsa (Teknologi Maklumat) 2, 15–34 (2002)

Walsham. G.; Robey, D.; Sahay, S.: Special issue on information systems in developing countries. MIS Q 31(2), 317–326 (2007)

Burns, T.; Deek, F.: A methodology tailoring model for practitioner based information systems development informed by the principles of general systems theory. J. Inf. Syst. Appl. Res. 4(2), 36–38 (2011)

Maryati, M..; Yusof, Z.; Azlan, A.: A hybrid approach for selecting suitable information systems development methodology. Inf. Technol. J. 10, 1031–1037 (2011)

Mursu, A.: Information Systems Development in Developing Countries: Risk Management and Sustainability Analysis in Nigerian Software Companies. University of Jyväskylä (2002)

Sanford, C.; Bhattacherjee, A.: IT Implementation in a developing country municipality: a sociocognitive analysis. J. Global Inf. Manage 15(3) (2007)

National Association of Software and Service Companies (NASSCOM). Strategic Review: The IT Industry in India (2007). Retrieved July 27, 2008. http://www.nasscom.org/

Carmel, E.: Global software teams: collaborating across borders and time zones. Prentice Hall, Upper Saddle River (1999)

Yadav, V.; Nath, D.; Adya, M.; Sridhar, V.: Investigating an agile-rigid approach in globally distributed requirements analysis. In: Proceedings: 11th Pacific-Asia Conference on Information Systems (PACIS), Auckland, New Zealand (2007)

Nath, D.; Sridhar, V.; Adya, M.; Malik, A.: Project quality of off-shore virtual teams engaged in software requirements analysis: an exploratory comparative study. J. Glabal Inf. Manage 16(4) (2008)

Levary, R.; Han, D.: Choosing a Technological Forecasting Method, IM: 14-18 (1995)

Forman, H.; Selly, M.: Decision by objectives: how to convince others that you are right. Word Scientific, London (2001)

Dennis, A.; Wixom, B.H.; Roth, R.: Systems Analysis and Design. Wiley, New York (2009)

Saaty, T.: Decision Making for Leaders: The Analytic Hierarchy process for Decisions in a Complex World. RWS Publications, Pittsburgh (1999)

Whitten, J.; Bentley, D.: Systems Analysis and Design Methods. McGraw Hill, New York (2008)

Kendall, K.; Kendall, J.: Systems Analysis and Design. Prentice Hall, Upper Saddle River (2011)

Rogers, E.: Diffusion of Innovations. Free Press, New York (1995)

Dalkey, N.: The Delphi Method: An Experimental Study of Group Opinion. The Rand Corporation, Santa Monica (1969)

Khisty, J.: Soft-systems methodology as learning and management tools. J. Urban Plan. Dev. (1995)

Fruhling, A.: Field Experiences with eXtreme Programming: Developing an Emergency Response System. J. Manage. Inf. Syst. Arch. 22(4), 181–185 (2006)

Saaty, T.; Vargas, G.: The allocation of intangible resources: the analytic hierarchy process and linear programming. Socio-Econom. Plan. Sci. 37(3), 169–184 (2003)

Saaty, T.: The Analytic Hierarchy Process. McGraw-Hill, New York (1980)

Agresti, A.; Finlay, B.: Statistical Methods for the Social Sciences. Prentice Hall, Upper Saddle River (1997)

Edwards, K.; Sridhar, V.: Collaborative software requirements engineering exercises in a distributed virtual team environment. In: Hunter, G., Tan, F. (eds.) Advanced Topics of Global Information Management, vol. 5, pp. 178–197. Idea Group Publishing, Hershey, PA, USA (2006)

Sakthivel, S.: Development Methodology. International Resources Management Association International Conference, Atlanta, Georgia. May 21–24 (1992)
About this article
Cite this article
Rezgui, Y., Marks, A., AL-Hajri, H. et al. Developing an ISDM Adoption Decision Model Using Delphi and AHP. Arab J Sci Eng 39, 2799–2815 (2014). https://doi.org/10.1007/s13369-013-0904-7
Received:

Accepted:

Published:

Issue Date:

DOI: https://doi.org/10.1007/s13369-013-0904-7
Keywords