Abstract
A 7-year-old boy that presented an encephalomyeloradiculitis and no classic symptoms of arboviruses. Zika virus (ZIKV) was confirmed by molecular analyses of cerebrospinal fluid and 1 year later by plaque reduction neutralization test. This case demonstrates that ZIKV can be associated with diffuse nervous system infection in children.
Access options
Buy single article
Instant access to the full article PDF.
US$ 39.95
Tax calculation will be finalised during checkout.
Subscribe to journal
Immediate online access to all issues from 2019. Subscription will auto renew annually.
US$ 79
Tax calculation will be finalised during checkout.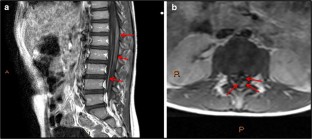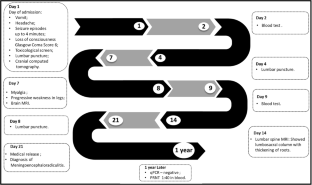 References
Brazil Ministry of Health (2017) Integrated monitoring of changes in growth and development related to Zika virus infection and other infectious etiologies. Bol Epidemiol 48(6):1–18

Carteaux G, Maquart M, Bedet A, Contou D, Brugières P, Fourati S, Cleret de Langavant L, de Broucker T, Brun-Buisson C, Leparc-Goffart I, Mekontso Dessap A (2016) Zika virus associated with meningoencephalitis. N Engl J Med 374(16):1595–1596

da Silva IRF, Frontera JA, Bispo de Filippis AM, Nascimento OJMD, Group R-G-ZR (2017) Neurologic complications associated with the Zika virus in Brazilian adults. JAMA Neurol 74(10):1190–1198

Duca LM, Beckham JD, Tyler KL, Pastula DM (2017) Zika virus disease and associated neurologic complications. Curr Infect Dis Rep 19(1):4

Krauer F, Riesen M, Reveiz L, Oladapo OT, Martínez-Vega R, Porgo TV (2017) Zika virus infection as a cause of congenital brain abnormalities and Guillain–Barré syndrome: systematic review. PLoS Med 14(1):1–27

Lanciotti RS, Kosoy OL, Laven JJ, Velez JO, Lambert AJ, Johnson AJ, Stanfield SM, Duffy MR (2008) Genetic and serologic properties of Zika virus associated with an epidemic, Yap State, Micronesia, 2007. Emerg Infect Dis 14(8):1232–1239

Muñoz LS, Parra B, Pardo CA, NEitA S (2017) Neurological implications of Zika virus infection in adults. J Infect Dis 216(suppl_10):S897–S905

Pradhan F, Burns JD, Agameya A, Patel A, Alfaqih M, Small JE, Ooi W (2017) Case report: Zika virus meningoencephalitis and myelitis and associated magnetic resonance imaging findings. Am J Trop Med Hyg 97(2):340–343

Tyler KL, Roos KL (2017) The expanding Spectrum of Zika virus infections of the nervous system. JAMA Neurol 74(10):1169–1117
Funding
The authors received financial support from the Conselho Nacional de Desenvolvimento Científico e Tecnológico (CNPq), Coordenação de Aperfeiçoamento de Pessoal de Nível Superior(CAPES), Departamento de Ciência e Tecnologia (DECIT) do Ministério da Saúde and Fundação de Amparo à Pesquisa do Estado de Minas Gerais (FAPEMIG). EGK is a fellow from CNPq.
Ethics declarations
Conflict of interest
The authors have no conflict of interest.
Additional information
Publisher's note
Springer Nature remains neutral with regard to jurisdictional claims in published maps and institutional affiliations.
About this article
Cite this article
Marinho, P.E.S., Alvarenga, P.P.M., Lima, M.T. et al. Central and peripheral nervous system involvement in Zika virus infection in a child. J. Neurovirol. 25, 893–896 (2019). https://doi.org/10.1007/s13365-019-00770-x
Received:

Revised:

Accepted:

Published:

Issue Date:
Keywords
Zika virus

Central nervous system

Children

Peripheral nervous system