Abstract
HIV-1 infection of the central nervous system causes HIV-associated neurocognitive disorders, even in aviremic patients. Although astrocyte malfunction was associated to these disorders, their implication is overshadowed by contributions of microglia and macrophages. Astrocytes are infected with HIV-1 in vivo and express a relevant amount of viral protein Nef. Nef was shown to stimulate its own release in exosomes from diverse cell types, which in turn have damaging effects on neighboring cells. Using immunoblotting and electron microscopy, we showed that human astrocytes expressing Nef.GFP similarly release Nef in exosomes. Importantly, Nef.GFP expression increases the secretion of exosomes from human astrocytes up to 5.5-fold, as determined by total protein content and nanoparticle tracking analysis. Protein analysis of exosomes and viruses separated on iodixanol gradient further showed that native or pseudotyped HIV-1-infected human astrocytes release exosomes, which contain Nef. Our results provide the basis for future studies of the damaging role of Nef-exosomes produced by HIV-infected astrocytes on the central nervous system.
This is a preview of subscription content, log in to check access.
Access options
Buy single article
Instant access to the full article PDF.
US$ 39.95
Tax calculation will be finalised during checkout.
Subscribe to journal
Immediate online access to all issues from 2019. Subscription will auto renew annually.
US$ 99
Tax calculation will be finalised during checkout.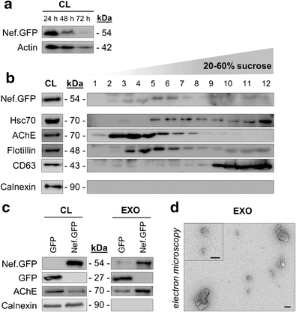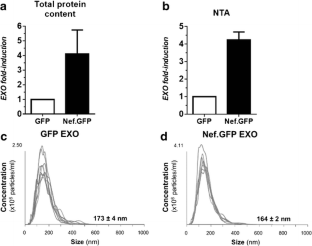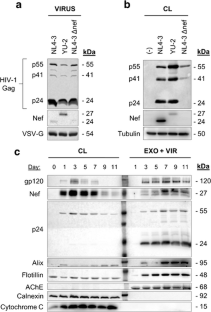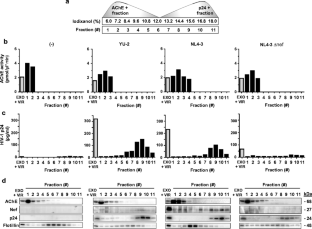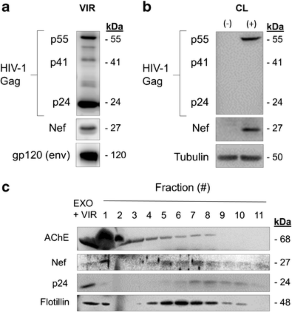 References
Ali SA, Huang MB, Campbell PE, Roth WW, Campbell T, Khan M, Newman G, Villinger F, Powell MD, Bond VC (2010) Genetic characterization of HIV type 1 Nef-induced vesicle secretion. AIDS Res Hum Retrovir 26:173–192

Anthony IC, Ramage SN, Carnie FW, Simmonds P, Bell JE (2005) Influence of HAART on HIV-related CNS disease and neuroinflammation. J Neuropathol Exp Neurol 64:529–536

Aqil M, Mallik S, Bandyopadhyay S, Maulik U, Jameel S (2015) Transcriptomic analysis of mRNAs in human monocytic cells expressing the HIV-1 Nef protein and their exosomes. Biomed Res Int 2015:492395

Arenaccio C, Anticoli S, Manfredi F, Chiozzini C, Olivetta E, Federico M (2015) Latent HIV-1 is activated by exosomes from cells infected with either replication-competent or defective HIV-1. Retrovirology 12:87

Arenaccio C, Chiozzini C, Columba-Cabezas S, Manfredi F, Affabris E, Baur A, Federico M (2014) Exosomes from human immunodeficiency virus type 1 (HIV-1)-infected cells license quiescent CD4+ T lymphocytes to replicate HIV-1 through a Nef- and ADAM17-dependent mechanism. J Virol 88:11529–11539

Bagasra O, Lavi E, Bobroski L, Khalili K, Pestaner JP, Tawadros R, Pomerantz RJ (1996) Cellular reservoirs of HIV-1 in the central nervous system of infected individuals: identification by the combination of in situ polymerase chain reaction and immunohistochemistry. AIDS 10:573–585

Brack-Werner R (1999) Astrocytes: HIV cellular reservoirs and important participants in neuropathogenesis. AIDS 13:1–22

Canki M, Thai JN, Chao W, Ghorpade A, Potash MJ, Volsky DJ (2001) Highly productive infection with pseudotyped human immunodeficiency virus type 1 (HIV-1) indicates no intracellular restrictions to HIV-1 replication in primary human astrocytes. J Virol 75:7925–7933

Cantin R, Diou J, Belanger D, Tremblay AM, Gilbert C (2008) Discrimination between exosomes and HIV-1: purification of both vesicles from cell-free supernatants. J Immunol Methods 338:21–30

Carroll-Anzinger D, Al-Harthi L (2006) Gamma interferon primes productive human immunodeficiency virus infection in astrocytes. J Virol 80:541–544

Chauhan A, Mehla R, Vijayakumar TS, Handy I (2014) Endocytosis-mediated HIV-1 entry and its significance in the elusive behavior of the virus in astrocytes. Virology 457:1–19

Chompre G, Cruz E, Maldonado L, Rivera-Amill V, Porter JT, Noel RJ Jr (2013) Astrocytic expression of HIV-1 Nef impairs spatial and recognition memory. Neurobiol Dis 49:128–136

Churchill MJ, Gorry PR, Cowley D, Lal L, Sonza S, Purcell DF, Thompson KA, Gabuzda D, McArthur JC, Pardo CA, Wesselingh SL (2006) Use of laser capture microdissection to detect integrated HIV-1 DNA in macrophages and astrocytes from autopsy brain tissues. J Neuro-Oncol 12:146–152

Churchill MJ, Wesselingh SL, Cowley D, Pardo CA, McArthur JC, Brew BJ, Gorry PR (2009) Extensive astrocyte infection is prominent in human immunodeficiency virus-associated dementia. Ann Neurol 66:253–258

Costa LJ, Chen N, Lopes A, Aguiar RS, Tanuri A, Plemenitas A, Peterlin BM (2006) Interactions between Nef and AIP1 proliferate multivesicular bodies and facilitate egress of HIV-1. Retrovirology 3:33

Deiva K, Khiati A, Hery C, Salim H, Leclerc P, Horellou P, Tardieu M (2006) CCR5-, DC-SIGN-dependent endocytosis and delayed reverse transcription after human immunodeficiency virus type 1 infection in human astrocytes. AIDS Res Hum Retrovir 22:1152–1161

Di Rienzo AM, Aloisi F, Santarcangelo AC, Palladino C, Olivetta E, Genovese D, Verani P, Levi G (1998) Virological and molecular parameters of HIV-1 infection of human embryonic astrocytes. Arch Virol 143:1599–1615

Donati D, Martinelli E, Cassiani-Ingoni R, Ahlqvist J, Hou J, Major EO, Jacobson S (2005) Variant-specific tropism of human herpesvirus 6 in human astrocytes. J Virol 79:9439–9448

Drogemuller K, Helmuth U, Brunn A, Sakowicz-Burkiewicz M, Gutmann DH, Mueller W, Deckert M, Schluter D (2008) Astrocyte gp130 expression is critical for the control of toxoplasma encephalitis. J Immunol 181:2683–2693

Epstein LG, Sharer LR, Cho ES, Myenhofer M, Navia B, Price RW (1984) HTLV-III/LAV-like retrovirus particles in the brains of patients with AIDS encephalopathy. AIDS Res 1:447–454

Fevrier B, Raposo G (2004) Exosomes: endosomal-derived vesicles shipping extracellular messages. Curr Opin Cell Biol 16:415–421

Foster JL, Molina RP, Luo T, Arora VK, Huang Y, Ho DD, Garcia JV (2001) Genetic and functional diversity of human immunodeficiency virus type 1 subtype B Nef primary isolates. J Virol 75:1672–1680

Geyer M, Peterlin BM (2001) Domain assembly, surface accessibility and sequence conservation in full length HIV-1 Nef. FEBS Lett 496:91–95

Gonzalez-Scarano F, Martin-Garcia J (2005) The neuropathogenesis of AIDS. Nat Rev Immunol 5:69–81

Gorry P, Purcell D, Howard J, McPhee D (1998) Restricted HIV-1 infection of human astrocytes: potential role of nef in the regulation of virus replication. J Neuro-Oncol 4:377–386

Gorry PR, Howard JL, Churchill MJ, Anderson JL, Cunningham A, Adrian D, McPhee DA, Purcell DF (1999) Diminished production of human immunodeficiency virus type 1 in astrocytes results from inefficient translation of Gag, Env, and Nef mRNAs despite efficient expression of Tat and Rev. J Virol 73:352–361

Gray LR, Turville SG, Hitchen TL, Cheng WJ, Ellett AM, Salimi H, Roche MJ, Wesselingh SL, Gorry PR, Churchill MJ (2014) HIV-1 entry and trans-infection of astrocytes involves CD81 vesicles. PLoS One 9:e90620

Hult B, Chana G, Masliah E, Everall I (2008) Neurobiology of HIV. Int Rev Psychiatry 20:3–13

Kaul M, Zheng J, Okamoto S, Gendelman HE, Lipton SA (2005) HIV-1 infection and AIDS: consequences for the central nervous system. Cell Death Differ 12:878–892

Kestler HW 3rd, Ringler DJ, Mori K, Panicali DL, Sehgal PK, Daniel MD, Desrosiers RC (1991) Importance of the Nef gene for maintenance of high virus loads and for development of AIDS. Cell 65:651–662

Khan MB, Lang MJ, Huang MB, Raymond A, Bond VC, Shiramizu B, Powell MD (2016) Nef exosomes isolated from the plasma of individuals with HIV-associated dementia (HAD) can induce Abeta(1-42) secretion in SH-SY5Y neural cells. J Neuro-Oncol 22:179–190

Lee JH, Schierer S, Blume K, Dindorf J, Wittki S, Xiang W, Ostalecki C, Koliha N, Wild S, Schuler G, Fackler OT, Saksela K, Harrer T, Baur AS (2016) HIV-Nef and ADAM17-containing plasma extracellular vesicles induce and correlate with immune pathogenesis in chronic HIV infection. EBioMedicine 6:103–113

Lehmann MH, Masanetz S, Kramer S, Erfle V (2006) HIV-1 Nef upregulates CCL2/MCP-1 expression in astrocytes in a myristoylation- and calmodulin-dependent manner. J Cell Sci 119:4520–4530

Lenassi M, Cagney G, Liao M, Vaupotic T, Bartholomeeusen K, Cheng Y, Krogan NJ, Plemenitas A, Peterlin BM (2010) HIV Nef is secreted in exosomes and triggers apoptosis in bystander CD4+ T cells. Traffic 11:110–122

Li J, Liu Y, Park IW, He JJ (2002) Expression of exogenous Sam68, the 68-kilodalton SRC-associated protein in mitosis, is able to alleviate impaired Rev function in astrocytes. J Virol 76:4526–4535

Liu X, Kumar A (2015) Differential signaling mechanism for HIV-1 Nef-mediated production of IL-6 and IL-8 in human astrocytes. Sci Rep 5:9867

Liu X, Shah A, Gangwani MR, Silverstein PS, Fu M, Kumar A (2014) HIV-1 Nef induces CCL5 production in astrocytes through p38-MAPK and PI3K/Akt pathway and utilizes NF-kB, CEBP and AP-1 transcription factors. Sci Rep 4:4450

Liu Y, Liu H, Kim BO, Gattone VH, Li J, Nath A, Blum J, He JJ (2004) CD4-independent infection of astrocytes by human immunodeficiency virus type 1: requirement for the human mannose receptor. J Virol 78:4120–4133

Luo X, Fan Y, Park IW, He JJ (2015) Exosomes are unlikely involved in intercellular Nef transfer. PLoS One 10:e0124436

Madrid R, Janvier K, Hitchin D, Day J, Coleman S, Noviello C, Bouchet J, Benmerah A, Guatelli J, Benichou S (2005) Nef-induced alteration of the early/recycling endosomal compartment correlates with enhancement of HIV-1 infectivity. J Biol Chem 280:5032–5044

McArthur JC, Brew BJ (2010) HIV-associated neurocognitive disorders: is there a hidden epidemic? AIDS 24:1367–1370

Muratori C, Cavallin LE, Kratzel K, Tinari A, De Milito A, Fais S, D'Aloja P, Federico M, Vullo V, Fomina A, Mesri EA, Superti F, Baur AS (2009) Massive secretion by T cells is caused by HIV Nef in infected cells and by Nef transfer to bystander cells. Cell Host Microbe 6:218–230

Neumann M, Afonina E, Ceccherini-Silberstein F, Schlicht S, Erfle V, Pavlakis GN, Brack-Werner R (2001) Nucleocytoplasmic transport in human astrocytes: decreased nuclear uptake of the HIV Rev shuttle protein. J Cell Sci 114:1717–1729

Ohi M, Li Y, Cheng Y, Walz T (2004) Negative staining and image classification—powerful tools in modern electron microscopy. Biol Proced Online 6:23–34

Priceputu E, Hanna Z, Hu C, Simard MC, Vincent P, Wildum S, Schindler M, Kirchhoff F, Jolicoeur P (2007) Primary human immunodeficiency virus type 1 nef alleles show major differences in pathogenicity in transgenic mice. J Virol 81:4677–4693

Ranki A, Nyberg M, Ovod V, Haltia M, Elovaara I, Raininko R, Haapasalo H, Krohn K (1995) Abundant expression of HIV Nef and Rev proteins in brain astrocytes in vivo is associated with dementia. AIDS 9:1001–1008

Raposo G, Nijman HW, Stoorvogel W, Liejendekker R, Harding CV, Melief CJ, Geuze HJ (1996) B lymphocytes secrete antigen-presenting vesicles. J Exp Med 183:1161–1172

Raposo G, Stoorvogel W (2013) Extracellular vesicles: exosomes, microvesicles, and friends. J Cell Biol 200:373–383

Raymond AD, Campbell-Sims TC, Khan M, Lang M, Huang MB, Bond VC, Powell MD (2011) HIV type 1 Nef is released from infected cells in CD45(+) microvesicles and is present in the plasma of HIV-infected individuals. AIDS Res Hum Retrovir 27:167–178

Raymond AD, Diaz P, Chevelon S, Agudelo M, Yndart-Arias A, Ding H, Kaushik A, Jayant RD, Nikkhah-Moshaie R, Roy U, Pilakka-Kanthikeel S, Nair MP (2016) Microglia-derived HIV Nef+ exosome impairment of the blood-brain barrier is treatable by nanomedicine-based delivery of Nef peptides. J Neuro-Oncol 22:129–139

Saito Y, Sharer LR, Epstein LG, Michaels J, Mintz M, Louder M, Golding K, Cvetkovich TA, Blumberg BM (1994) Overexpression of nef as a marker for restricted HIV-1 infection of astrocytes in postmortem pediatric central nervous tissues. Neurology 44:474–481

Sami Saribas A, Cicalese S, Ahooyi TM, Khalili K, Amini S, Sariyer IK (2017) HIV-1 Nef is released in extracellular vesicles derived from astrocytes: evidence for Nef-mediated neurotoxicity. Cell Death Dis 8:e2542

Sardo L, Iordanskiy S, Klase Z, Kashanchi F (2015) HIV-1 Nef blocks autophagy in human astrocytes. Cell Cycle 14:3781–3782

Sarzotti-Kelsoe M, Bailer RT, Turk E, Lin CL, Bilska M, Greene KM, Gao H, Todd CA, Ozaki DA, Seaman MS, Mascola JR, Montefiori DC (2014) Optimization and validation of the TZM-bl assay for standardized assessments of neutralizing antibodies against HIV-1. J Immunol Methods 409:131–146

Savina A, Vidal M, Colombo MI (2002) The exosome pathway in K562 cells is regulated by Rab11. J Cell Sci 115:2505–2515

Schweighardt B, Atwood WJ (2001) HIV type 1 infection of human astrocytes is restricted by inefficient viral entry. AIDS Res Hum Retrovir 17:1133–1142

Semmler A, Okulla T, Sastre M, Dumitrescu-Ozimek L, Heneka MT (2005) Systemic inflammation induces apoptosis with variable vulnerability of different brain regions. J Chem Neuroanat 30:144–157

Shahabuddin M, Volsky B, Kim H, Sakai K, Volsky DJ (1992) Regulated expression of human immunodeficiency virus type 1 in human glial cells: induction of dormant virus. Pathobiology 60:195–205

Sofroniew MV, Vinters HV (2010) Astrocytes: biology and pathology. Acta Neuropathol 119:7–35

Sonoda Y, Ozawa T, Hirose Y, Aldape KD, McMahon M, Berger MS, Pieper RO (2001) Formation of intracranial tumors by genetically modified human astrocytes defines four pathways critical in the development of human anaplastic astrocytoma. Cancer Res 61:4956–4960

Stumptner-Cuvelette P, Jouve M, Helft J, Dugast M, Glouzman AS, Jooss K, Raposo G, Benaroch P (2003) Human immunodeficiency virus-1 Nef expression induces intracellular accumulation of multivesicular bodies and major histocompatibility complex class II complexes: potential role of phosphatidylinositol 3-kinase. Mol Biol Cell 14:4857–4870

Takahashi K, Wesselingh SL, Griffin DE, McArthur JC, Johnson RT, Glass JD (1996) Localization of HIV-1 in human brain using polymerase chain reaction/in situ hybridization and immunocytochemistry. Ann Neurol 39:705–711

Tauro BJ, Greening DW, Mathias RA, Ji H, Mathivanan S, Scott AM, Simpson RJ (2012) Comparison of ultracentrifugation, density gradient separation, and immunoaffinity capture methods for isolating human colon cancer cell line LIM1863-derived exosomes. Methods 56:293–304

Thery C, Boussac M, Veron P, Ricciardi-Castagnoli P, Raposo G, Garin J, Amigorena S (2001) Proteomic analysis of dendritic cell-derived exosomes: a secreted subcellular compartment distinct from apoptotic vesicles. J Immunol 166:7309–7318

Thompson KA, Cherry CL, Bell JE, McLean CA (2011) Brain cell reservoirs of latent virus in presymptomatic HIV-infected individuals. Am J Pathol 179:1623–1629

Tornatore C, Chandra R, Berger JR, Major EO (1994) HIV-1 infection of subcortical astrocytes in the pediatric central nervous system. Neurology 44:481–487

Trillo-Pazos G, Diamanturos A, Rislove L, Menza T, Chao W, Belem P, Sadiq S, Morgello S, Sharer L, Volsky DJ (2003) Detection of HIV-1 DNA in microglia/macrophages, astrocytes and neurons isolated from brain tissue with HIV-1 encephalitis by laser capture microdissection. Brain Pathol 13:144–154

van Marle G, Henry S, Todoruk T, Sullivan A, Silva C, Rourke SB, Holden J, McArthur JC, Gill MJ, Power C (2004) Human immunodeficiency virus type 1 Nef protein mediates neural cell death: a neurotoxic role for IP-10. Virology 329:302–318

Wang T, Gong N, Liu J, Kadiu I, Kraft-Terry SD, Schlautman JD, Ciborowski P, Volsky DJ, Gendelman HE (2008) HIV-1-infected astrocytes and the microglial proteome. J NeuroImmune Pharmacol 3:173–186
Acknowledgements
We thank Prof. Robert Zorec, PhD, for the access to the Nucleofector 2b, Prof. Yifan Cheng, PhD, for help with TEM imaging and Anja Kejžar, PhD, for helping us with the NTA measurements. This work was supported by research grants J3-5499 and P1-0170 funded by the Slovenian Research Agency (ARRS).
Ethics declarations
Conflict of interest
The authors declare that they have no conflict of interest.
About this article
Cite this article
Pužar Dominkuš, P., Ferdin, J., Plemenitaš, A. et al. Nef is secreted in exosomes from Nef.GFP-expressing and HIV-1-infected human astrocytes. J. Neurovirol. 23, 713–724 (2017). https://doi.org/10.1007/s13365-017-0552-x
Received:

Revised:

Accepted:

Published:

Issue Date:
Keywords
Astrocytes

HIV-1

Nef

Extracellular vesicles

Exosomes

Central nervous system