Abstract
Neurocognitive impairment (NCI) remains prevalent in HIV infection. Randomized trials have shown that physical exercise improves NCI in non-HIV-infected adults, but data on HIV-infected populations are limited. Community-dwelling HIV-infected participants (n = 335) completed a comprehensive neurocognitive battery that was utilized to define both global and domain-specific NCI. Participants were divided into "exercise" (n = 83) and "no exercise" (n = 252) groups based on whether they self-reported engaging in any activity that increased heart rate in the last 72 h or not. We also measured and evaluated a series of potential confounding factors, including demographics, HIV disease characteristics, substance use and psychiatric comorbidities, and physical functioning. Lower rates of global NCI were observed among the exercise group (15.7 %) as compared to those in the no exercise group (31.0 %; p < 0.01). A multivariable logistic regression controlling for potential confounds (i.e., education, AIDS status, current CD4+ lymphocyte count, self-reported physical function, current depression) showed that being in the exercise group remained significantly associated with lower global NCI (odds ratio = 2.63, p < 0.05). Similar models of domain-specific NCI showed that exercise was associated with reduced impairment in working memory (p < 0.05) and speed of information processing (p < 0.05). The present findings suggest that HIV-infected adults who exercise are approximately half as likely to show NCI as compared to those who do not. Future longitudinal studies might be best suited to address causality, and intervention trials in HIV-infected individuals will determine whether exercise can prevent or ameliorate NCI in this population.
Access options
Buy single article
Instant access to the full article PDF.
US$ 39.95
Tax calculation will be finalised during checkout.
Subscribe to journal
Immediate online access to all issues from 2019. Subscription will auto renew annually.
US$ 79
Tax calculation will be finalised during checkout.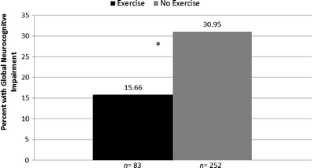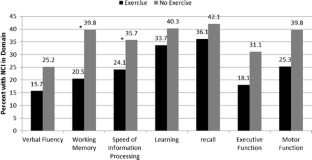 References
Aboud M, Elgalib A, Kulasegaram R, Peters B (2007) Insulin resistance and HIV infection: a review. Int J Clin Pract 61:463–472

Ahlskog JE, Geda YE, Graff-Radford NR, Petersen RC (2011) Physical exercise as a preventive or disease-modifying treatment of dementia and brain aging. Mayo Clin Proc 86:876–884

Antinori A, Arendt G, Becker JT, Brew BJ, Byrd DA, Cherner M, Clifford DB, Cinque P, Epstein LG, Goodkin K, Gisslen M, Grant I, Heaton RK, Joseph J, Marder K, Marra CM, McArthur JC, Nunn M, Price RW, Pulliam L, Robertson KR, Sacktor N, Valcour V, Wojna VE (2007) Updated research nosology for HIV-associated neurocognitive disorders. Neurology 69:1789–1799

Artiola L, Hermosillo D, Heaton R, Pardee R (1999) Manual De Normas Y Procedimientos Para La Bateria Neuropsicologica En Espanol. m Press, Tucson

Beck AT, Steer RA, Brown GK (1996) Manual for the Beck Depression Inventory-II. Psychological Corporation, San Antonio

Benedict R (1997) Brief visuospatial memory test—revised. Psychological Assessment Resources, Odessa

Benedict RHB, Schretlen D, Groninger L, Brandt J (1998) Hopkins verbal learning test revised: normative data and analysis of inter-form and test-retest reliability. Clin Neuropsychol 12:43–55

Blackstone K, Moore DJ, Heaton RK, Franklin DR Jr, Woods SP, Clifford DB, Collier AC, Marra CM, Gelman BB, McArthur JC, Morgello S, Simpson DM, Rivera-Mindt M, Deutsch R, Ellis RJ, Hampton Atkinson J, Grant I (2012) Diagnosing symptomatic HIV-associated neurocognitive disorders: self-report versus performance-based assessment of everyday functioning. J Int Neuropsychol Soc 18:79–88

Carey CL, Woods SP, Gonzalez R, Conover E, Marcotte TD, Grant I, Heaton RK (2004) Predictive validity of global deficit scores in detecting neuropsychological impairment in HIV infection. J Clin Exp Neuropsychol 26:307–319

Castro KG, Ward JW, Slutsker L, Buehler JW, Jaffe HW, Berkelman RL (1992) 1993 revised classification system for HIV infection and expanded surveillance case definition for AIDS among adolescents and adults. US Department of Health and Human Services.

Colcombe S, Kramer AF (2003) Fitness effects on the cognitive function of older adults: a meta-analytic study. Psychol Sci 14:125–130

DeCarli C, Murphy DG, Tranh M, Grady CL, Haxby JV, Gillette JA, Salerno JA, Gonzales-Aviles A, Horwitz B, Rapoport SI et al (1995) The effect of white matter hyperintensity volume on brain structure, cognitive performance, and cerebral metabolism of glucose in 51 healthy adults. Neurology 45:2077–2084

Diehr MC, Heaton RK, Miller W, Grant I (1998) The Paced Auditory Serial Addition Task (PASAT): norms for age, education, and ethnicity. Assessment 5:375–387

Fabbiani M, Ciccarelli N, Tana M, Farina S, Baldonero E, Di Cristo V, Colafigli M, Tamburrini E, Cauda R, Silveri M, Grima P, Di Giambenedetto S (2012) Cardiovascular risk factors and carotid intima-media thickness are associated with lower cognitive performance in HIV-infected patients. HIV Med 14:136–144

Fillipas S, Oldmeadow LB, Bailey MJ, Cherry CL (2006) A six-month, supervised, aerobic and resistance exercise program improves self-efficacy in people with human immunodeficiency virus: a randomised controlled trial. Aust J Physiother 52:185–190

Foley J, Ettenhofer M, Wright MJ, Siddiqi I, Choi M, Thames AD, Mason K, Castellon S, Hinkin CH (2010) Neurocognitive functioning in HIV-1 infection: effects of cerebrovascular risk factors and age. Clin Neuropsychol 24:265–285

Gladsjo JA, Schuman CC, Evans JD, Peavy GM, Miller SW, Heaton RK (1999) Norms for letter and category fluency: demographic corrections for age, education, and ethnicity. Assessment 6:147–178

Golden CJ (1978) The Stroop color and word test. Stoetling Company, Chicago

Gorelick PB, Scuteri A, Black SE, Decarli C, Greenberg SM, Iadecola C, Launer LJ, Laurent S, Lopez OL, Nyenhuis D, Petersen RC, Schneider JA, Tzourio C, Arnett DK, Bennett DA, Chui HC, Higashida RT, Lindquist R, Nilsson PM, Roman GC, Sellke FW, Seshadri S (2011) Vascular contributions to cognitive impairment and dementia: a statement for healthcare professionals from the American Heart Association/American Stroke Association. Stroke 42:2672–2713

Grinspoon S, Carr A (2005) Cardiovascular risk and body-fat abnormalities in HIV-infected adults. N Engl J Med 352:48–62

Hand GA, Lyerly GW, Jaggers JR, Dudgeon WD (2009) Impact of aerobic and resistance exercise on the health of HIV-infected persons. American Journal of Lifestyle Medicine 3:489–499

Heaton RK, Clifford DB, Franklin DR Jr, Woods SP, Ake C, Vaida F, Ellis RJ, Letendre SL, Marcotte TD, Atkinson JH, Rivera-Mindt M, Vigil OR, Taylor MJ, Collier AC, Marra CM, Gelman BB, McArthur JC, Morgello S, Simpson DM, McCutchan JA, Abramson I, Gamst A, Fennema-Notestine C, Jernigan TL, Wong J, Grant I (2010) HIV-associated neurocognitive disorders persist in the era of potent antiretroviral therapy: charter study. Neurology 75:2087–2096

Heaton RK, Grant I, Butters N, White DA, Kirson D, Atkinson JH, McCutchan JA, Taylor MJ, Kelly MD, Ellis RJ et al (1995) The HNRC 500–neuropsychology of HIV infection at different disease stages. HIV Neurobehavioral Research Center. J Int Neuropsychol Soc 1:231–251

Heaton RK, Grant I, Matthews CG (1991) Comprehensive norms for an expanded Halstead-Reitan battery: demographic corrections, research findings, and clinical applications. Psychological Assessment Resources, Odessa

Heaton RK, Marcotte TD, Mindt MR, Sadek J, Moore DJ, Bentley H, McCutchan JA, Reicks C, Grant I (2004) The impact of HIV-associated neuropsychological impairment on everyday functioning. JINS 10:317–331

Heaton RK, Taylor MJ, Manly J (2003) WMS-III. Clinical interpretation of the WAIS-III and WMS-III: 181

Heyn P, Abreu BC, Ottenbacher KJ (2004) The effects of exercise training on elderly persons with cognitive impairment and dementia: a meta-analysis. Arch Phys Med Rehabil 85:1694–1704

Honn VJ, Para MF, Whitacre CC, Bornstein RA (1999) Effect of exercise on neuropsychological performance in asymptomatic HIV infection. AIDS Behav 3:67–74

Hurling R, Catt M, Boni MD, Fairley BW, Hurst T, Murray P, Richardson A, Sodhi JS (2007) Using internet and mobile phone technology to deliver an automated physical activity program: randomized controlled trial. J of Med Int Res 9:e7

Jerant A, DiMatteo R, Arnsten J, Moore-Hill M, Franks P (2008) Self-report adherence measures in chronic illness: retest reliability and predictive validity. Med Care 46:1134–1139

Kang M, Marshall SJ, Barreira TV, Lee JO (2009) Effect of pedometer-based physical activity interventions: a meta-analysis. Res Quarterly for Exercise Sport 80:648–655

Kennedy KM, Raz N (2009) Aging white matter and cognition: differential effects of regional variations in diffusion properties on memory, executive functions, and speed. Neuropsychologia 47:916–927

Kongs SK, Thompson LL, Iverson GL, Heaton RK (2000) Wisconsin card sorting test: 64-card version (Wcst–64). Psychological Assessment Resources, Odessa

Lautenschlager NT, Cox KL, Flicker L, Foster JK, van Bockxmeer FM, Xiao J, Greenop KR, Almeida OP (2008) Effect of physical activity on cognitive function in older adults at risk for Alzheimer disease: a randomized trial. JAMA 300:1027–1037

Lista I, Sorrentino G (2010) Biological mechanisms of physical activity in preventing cognitive decline. Cell Mol Neurobiol 30:493–503

Marcotte TD, Heaton RK, Wolfson T, Taylor MJ, Alhassoon O, Arfaa K, Ellis RJ, Grant I (1999) The impact of HIV-related neuropsychological dysfunction on driving behavior. The HNRC Group. JINS 5:579–592

McCutchan JA, Marquie-Beck JA, Fitzsimons CA, Letendre SL, Ellis RJ, Heaton RK, Wolfson T, Rosario D, Alexander TJ, Marra C, Ances BM, Grant I (2012) Role of obesity, metabolic variables, and diabetes in HIV-associated neurocognitive disorder. Neurology 78:485–492

Napper LE, Fisher DG, Reynolds GL, Johnson ME (2010) HIV risk behavior self-report reliability at different recall periods. AIDS Behav 14:152–161

O'Brien K, Nixon S, Tynan AM and Glazier R (2010) Aerobic exercise interventions for adults living with HIV/AIDS. Cochrane Database Syst Rev: CD001796

Pijnenborg GH, Withaar FK, Brouwer WH, Timmerman ME, van den Bosch RJ, Evans JJ (2010) The efficacy of SMS text messages to compensate for the effects of cognitive impairments in schizophrenia. The Bri J of Clin Psychol/the Bri Psychol Soc 49:259–274

Raz N, Rodrigue KM, Acker JD (2003) Hypertension and the brain: vulnerability of the prefrontal regions and executive functions. Behav Neurosci 117:1169–1180

Revicki DA, Sorensen S, Wu AW (1998) Reliability and validity of physical and mental health summary scores from the Medical Outcomes Study HIV Health Survey. Med Care 36:126–137

Rosenberg DE, Kerr J, Sallis JF, Norman GJ, Calfas K, Patrick K (2012) Promoting walking among older adults living in retirement communities. J of Aging and Physical Activity 20:379–394

Smith PJ, Blumenthal JA, Hoffman BM, Cooper H, Strauman TA, Welsh-Bohmer K, Browndyke JN, Sherwood A (2010) Aerobic exercise and neurocognitive performance: a meta-analytic review of randomized controlled trials. Psychosomatic Med 72:239–252

Thames AD, Arentoft A, Rivera-Mindt M, Hinkin CH (2012) Functional disability in medication management and driving among individuals with HIV: a 1-year follow-up study. Journal of Clinical and Experimental Neuropsychology 35:49–58

Wechsler D (1997) Wechsler adult intelligence scale' third edition and Wechsler memory scale' third edition technical manual. The Psychological Corporation, San Antonio

Wittchen HU (1994) Reliability and validity studies of the WHO—Composite International Diagnostic Interview (CIDI): a critical review. J Psychiatr Res 28:57–84

Wright EJ, Grund B, Robertson K, Brew BJ, Roediger M, Bain MP, Drummond F, Vjecha MJ, Hoy J, Miller C, Penalva de Oliveira AC, Pumpradit W, Shlay JC, El-Sadr W, Price RW (2010) Cardiovascular risk factors associated with lower baseline cognitive performance in HIV-positive persons. Neurology 75:864–873

Wu AW, Revicki DA, Jacobson D, Malitz FE (1997) Evidence for reliability, validity and usefulness of the Medical Outcomes Study HIV Health Survey (MOS-HIV). Qual of Life Res : An int J of Quality of Life Aspects of Treat, Care and Rehabil 6:481–493
Acknowledgments
The HIV Neurobehavioral Research Center (HNRC) is supported by Center award P30MH062512 from NIMH.
The San Diego HIV Neurobehavioral Research Program group is affiliated with the University of California, San Diego; the Naval Hospital, San Diego; and the Veterans Affairs San Diego Healthcare System, and includes: Director: Robert K. Heaton, Ph.D.; Co-Director: Igor Grant, M.D.; Associate Directors: J. Hampton Atkinson, M.D., Ronald J. Ellis, M.D., Ph.D., and Scott Letendre, M.D.; Center Manager: Thomas D. Marcotte, Ph.D., Jennifer Marquie-Beck, M.P.H., Melanie Sherman; Neuromedical Component: Ronald J. Ellis, M.D., Ph.D. (P.I.), Scott Letendre, M.D., J. Allen McCutchan, M.D., Brookie Best, Pharm.D., Rachel Schrier, Ph.D., Terry Alexander, R.N., Debra Rosario, M.P.H.; Neurobehavioral Component: Robert K. Heaton, Ph.D. (P.I.), J. Hampton Atkinson, M.D., Steven Paul Woods, Psy.D., Thomas D. Marcotte, Ph.D., Mariana Cherner, Ph.D., David J. Moore, Ph.D., Matthew Dawson; Neuroimaging Component: Christine Fennema-Notestine, Ph.D. (P.I.), Terry Jernigan, Ph.D., Monte S. Buchsbaum, M.D., John Hesselink, M.D., Sarah L. Archibald, M.A., Gregory Brown, Ph.D., Richard Buxton, Ph.D., Anders Dale, Ph.D., Thomas Liu, Ph.D.; Neurobiology Component: Eliezer Masliah, M.D. (P.I.), Cristian Achim, M.D., Ph.D., Ian Everall, FRCPsych., FRCPath., Ph.D.; Neurovirology Component: David M. Smith, M.D. (P.I.), Douglas Richman, M.D.; International Component: J. Allen McCutchan, M.D., (P.I.), Mariana Cherner, Ph.D.; Developmental Component: Cristian Achim, M.D., Ph.D.; (P.I.), Stuart Lipton, M.D., Ph.D.; Participant Accrual and Retention Unit: J. Hampton Atkinson, M.D. (P.I.), Jennifer Marquie-Beck, M.P.H.; Data Management and Information Systems Unit: Anthony C. Gamst, Ph.D. (P.I.), Clint Cushman; Statistics Unit: Ian Abramson, Ph.D. (P.I.), Florin Vaida, Ph.D. (Co-PI), Reena Deutsch, Ph.D., Anya Umlauf, M.S., Christi Kao, M.S.
Conflict of interest
Nothing to disclose.
Disclaimer
The views expressed herein are those of the authors and do not reflect the official policy or position of the US government.
About this article
Cite this article
Dufour, C.A., Marquine, M.J., Fazeli, P.L. et al. Physical exercise is associated with less neurocognitive impairment among HIV-infected adults. J. Neurovirol. 19, 410–417 (2013). https://doi.org/10.1007/s13365-013-0184-8
Received:

Revised:

Accepted:

Published:

Issue Date:
Keywords
HIV/AIDS

Mild neurocognitive impairment

Physical exercise

Cognition

Lifestyle

Neuropsychology