Abstract
NeuroAIDS persists in the era of combination antiretroviral therapies. We describe here the recovery of brain structure and function following 6 months of therapy in a treatment-naive patient presenting with HIV-associated dementia. The patient's neuropsychological test performance improved and his total brain volume increased by more than 5 %. Neuronal functional connectivity measured by magnetoencephalography changed from a pattern identical to that observed in other HIV-infected individuals to one that was indistinguishable from that of uninfected control subjects. These data suggest that at least some of the effects of HIV on the brain can be fully reversed with treatment.
Access options
Buy single article
Instant access to the full article PDF.
USD 39.95
Price excludes VAT (USA)
Tax calculation will be finalised during checkout.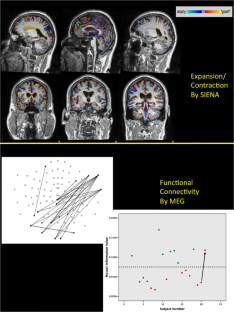 References
Becker JT, Fabrizio M, Sudre G et al (2012a) Potential utility of resting-state magnetoencephalography power spectra as a biomarker of CNS abnormality in HIV disease. J Neurosci Methods 206:176–182

Becker JT, Bajo R, Fabrizio M et al. (2012) Functional connectivity measured with magnetoencephalography identifies persons with HIV disease. Brain Imaging Behav doi:10.1007/s11682-012-9149-4

Crawford JR, Garthwaite PH, Porter S (2010) Point and interval estimates of effect sizes for the case–controls design in neuropsychology: rationale, methods, implementations, and proposed reporting standards. Cogn Neuropsychol 27(3):245–260

Cysique LA, Brew BJ, Halman M et al (2005) Undetectable cerebrospinal fluid HIV RNA and beta-2 microglobulin do not indicate inactive AIDS dementia complex in highly active antiretroviral therapy-treated patients. J Acquir Immune Defic Syndr 39(4):426–429

Dore GJ, Correll PK, Li Y, Kaldor JM, Cooper DA, Brew BJ (1999) Changes to AIDS dementia complex in the era of highly active antiretroviral therapy. AIDS 13(10):1249–1253

Heaton RK, Taylor MJ (2004) Revised comprehensive norms for an expanded Halstead–Reitan Battery: demographically adjusted neuropsychological norms for African American and Caucasian adults. Psychological Assessment Resources, Odessa

Hlaváčková-Schindler K, Paluš M, Velmejka M, Bhattacharya J (2007) Causality detection based on information-theoretic approaches in time series analysis. Phys Rep 441(1):1–46

Mueller SG, Weiner MW, Thal LJ et al (2005) The Alzheimer's disease neuroimaging initiative. Neuroimaging Clin N Am 15(4):869–877

Price RW, Epstein LG, Becker JT et al (2007) Biomarkers of HIV-1 CNS infection and injury. Neurology 69(18):1781–1788

Sacktor N, Lyles RH, Skolasky R et al (2001) HIV-associated neurologic disease incidence changes: Multicenter AIDS Cohort Study, 1990–1998. Neurology 56:257–260

Sacktor N, McDermott MP, Marder K et al (2002) HIV-associated cognitive impairment before and after the advent of combination therapy. J Neurovirol 8:136–142

Simioni S, Cavassini M, Annoni JM et al (2010) Cognitive dysfunction in HIV patients despite long-standing suppression of viremia. AIDS 24(9):1243–1250

Smith SM, Zhang Y, Jenkinson M, Chen J, Matthews PM, Federico A, De Stefano N (2002) Accurate, robust and automated longitudinal and cross-sectional brain change analysis. NeuroImage 17(1):479–489

Woods SP, Rippeth JD, Frol AB et al (2004) Interrater reliability of clinical ratings and neurocognitive diagnoses in HIV. J Clin Exp Neuropsychol 26(6):759–778
Acknowledgments
This work was supported in part by funds from the National Institute of Mental Health (R03-MH081721). The sponsor had no role in the design, analysis, or interpretation of this study. The authors are grateful to D. Martineck and L. Teverovsky for their assistance with this research.
About this article
Cite this article
Becker, J.T., Cuesta, P., Fabrizio, M. et al. Brain structural and functional recovery following initiation of combination antiretroviral therapy. J. Neurovirol. 18, 423–427 (2012). https://doi.org/10.1007/s13365-012-0115-0
Received:

Accepted:

Published:

Issue Date:

DOI: https://doi.org/10.1007/s13365-012-0115-0
Keywords
HIV disease

NeuroAIDS

Magnetoencephalography

Functional connectivity