Abstract
The development of increasingly affordable ultrasonic detectors and automatic classifiers has increasingly boosted the use of acoustic recording of echolocation calls to survey bats all over the world. Echolocation call keys are crucial to reliably classify acoustic recordings, but those are not available for many regions, such as China. In the present study, we conducted a systematic review of bat echolocation studies across continental China and developed an acoustic identification key. Based on 130 studies, published from 1999 to 2020, we obtained echolocation parameters from 64 bat species (47.4% of the total echolocating species known from the country). This review highlights the lack of echolocation references from continental China for 71 species, from which, the echolocation of 21 has never been described. Additionally, we developed the Bat Knowledge Index, an indicator that allows the identification of key priority areas for future research on bat acoustics and geographic biases in the existing studies, further highlighting the lack of studies in the northwestern regions of the country. The compiled identification key provides easy-to-follow identification steps to classify the echolocation calls of 114 species (84.5% of all Chinese echolocating species) to either species (11.4%) or phonic group level (88.6%). This key represents a useful baseline tool and a further step to increase bioacoustic studies' suitability in China.
Access options
Buy single article
Instant access to the full article PDF.
USD 39.95
Price includes VAT (USA)
Tax calculation will be finalised during checkout.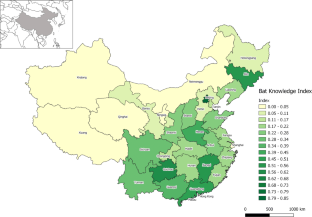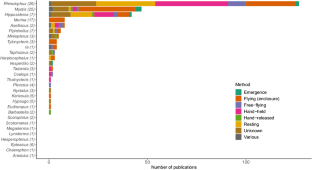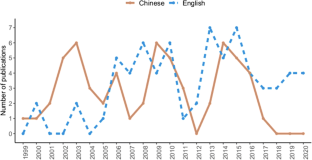 References
Adams MD, Law BS, Gibson MS (2010) Reliable automation of bat call identification for eastern New South Wales, Australia, using classification trees and AnaScheme software. Acta Chiropterol 12(1):231–245

Ahlen I, Baagøe HJ (1999) Use of ultrasound detectors for bat studies in Europe: experiences from field identification, surveys, and monitoring. Acta Chiropterol 1(2):137–150

Arias-Aguilar A, Hintze F, Aguiar LMS, Rufray V, Bernard E, Pereira MJR (2018) Who's calling? Acoustic identification of Brazilian bats. Mammal Res 63(3):231–253. https://doi.org/10.1007/s13364-018-0367-z

Barataud M (2015) Acoustic ecology of European bats, Species, Identification, Study of Their Habitats and Foraging Behaviour. Biotope, Mèze

Barclay RMR (1999) Bats are not birds–a cautionary note on using echolocation calls to identify bats: a comment. J Mammal 80(1):290–296. https://doi.org/10.2307/1383229

Barré K, Le Viol I, Julliard R, Pauwels J, Newson SE, Julien JF et al (2019) Accounting for automated identification errors in acoustic surveys. Methods Ecol Evol 10(8):1171–1188. https://doi.org/10.1111/2041-210X.13198

Bates PJJ, Nwe T, Pearch MJ, Swe KM, Bu SSH, Tun T (2000) A review of bat research in Myanmar ( Burma) and results of a recent survey. Acta Chiropterol 02(1)

Britzke ER, Gillam EH, Murray KL (2013) Current state of understanding of ultrasonic detectors for the study of bat ecology. Acta Theriol 58(2):109–117. https://doi.org/10.1007/s13364-013-0131-3

Bumrungsri S, Harrison DL, Satasook C, Prajukjitr A, Thong-aree S, Bates PJJ (2006) A review of bat research in Thailand with eight new species records for the country. Acta Chiropterol 8(2):325–359

Butchart SHM, Walpole M, Collen B, van Strien A, Scharlemann JPW, Almond REA, Baillie JEM, Bomhard B, Brown C, Bruno J, Carpenter KE, Carr GM, Chanson J, Chenery AM, Csirke J, Davidson NC, Dentener F, Foster M, Galli A, Galloway JN, Genovesi P, Gregory RD, Hockings M, Kapos V, Lamarque JF, Leverington F, Loh J, McGeoch MA, McRae L, Minasyan A, Morcillo MH, Oldfield TEE, Pauly D, Quader S, Revenga C, Sauer JR, Skolnik B, Spear D, Stanwell-Smith D, Stuart SN, Symes A, Tierney M, Tyrrell TD, Vie JC, Watson R (2010) Global biodiversity: indicators of recent declines. Science 328(5982):1164–1168. https://doi.org/10.1126/science.1187512

Estrada-Villegas S, Meyer CFJ, Kalko EKV (2010) Effects of tropical forest fragmentation on aerial insectivorous bats in a land-bridge island system. Biol Conserv 143(3):597–608. https://doi.org/10.1016/j.biocon.2009.11.009

Feijó A, Wang Y, Sun J, Li F, Wen Z, Ge D, Xia L, Yang Q (2019) Research trends on bats in China: a twenty-first century review. Mamm Biol 98:163–172. https://doi.org/10.1016/j.mambio.2019.09.002

Fenton BM (1986) Design of bat echolocation calls: implications for foraging ecology and communication. Mammalia. 50. https://doi.org/10.1515/mamm.1986.50.2.193

Fenton MB (2003) Eavesdropping on the echolocation and social calls of bats. Mammal Rev 33(3-4):193–204. https://doi.org/10.1046/j.1365-2907.2003.00019.x

Fenton MB, Bell GP (1981) Recognition of species of insectivorous bats by their echolocation calls. J Mammal 62(2):233–243. https://doi.org/10.2307/1380701

Flaquer C, Torre I, Arrizabalaga A (2007) Comparison of sampling methods for inventory of bat communities. J Mammal 88(2):526–533. https://doi.org/10.1644/06-mamm-a-135r1.1

Fu ZY, Dai XY, Xu N, Shi Q, Li GJ, Li B, Li J, Li J, Tang J, Jen PHS, Chen QC (2015) Sexual dimorphism in echolocation pulse parameters of the CF-FM bat, hipposideros pratti. Zool Stud 54(MAY):1–9. https://doi.org/10.1186/s40555-015-0123-x

Fukui D, Agetsuma N, Hill DA (2004) Acoustic identification of eight species of bat (Mammalia: Chiroptera) inhabiting forests of Southern Hokkaido, Japan: potential for conservation monitoring. Zool Sci 21(9):947–955. https://doi.org/10.2108/zsj.21.947

Furey NM, Mackie IJ, Racey PA (2009) The role of ultrasonic bat detectors in improving inventory and monitoring surveys in Vietnamese karst bat assemblages. Curr Zool 55(5):327–341

Gibb R, Browning E, Glover-Kapfer P, Jones KE (2019) Emerging opportunities and challenges for passive acoustics in ecological assessment and monitoring. Methods Ecol Evol 10(2):169–185. https://doi.org/10.1111/2041-210X.13101

He C, Liu Z, Tian J, Ma Q (2014) Urban expansion dynamics and natural habitat loss in China: a multiscale landscape perspective. Glob Chang Biol 20(9):2886–2902. https://doi.org/10.1111/gcb.12553

Hill AP, Prince P, Piña Covarrubias E, Doncaster CP, Snaddon JL, Rogers A (2018) AudioMoth: evaluation of a smart open acoustic device for monitoring biodiversity and the environment. Methods Ecol Evol 9(5):1199–1211

Hiryu S, Katsura K, Lin L-K, Riquimaroux H, Watanabe Y (2005) Doppler-shift compensation in the Taiwanese leaf-nosed bat (Hipposideros terasensis) recorded with a telemetry microphone system during flight. J Acoustic Soc Am 118(6):3927–3933. https://doi.org/10.1121/1.2130940

Hooper DU, Adair EC, Cardinale BJ, Byrnes JEK, Hungate BA, Matulich KL, Gonzalez A, Duffy JE, Gamfeldt L, O'Connor MI (2012) A global synthesis reveals biodiversity loss as a major driver of ecosystem change. Nature 486(7401):105–108. https://doi.org/10.1038/nature11118

Hughes AC, Satasook C, Bates PJJ, Soisook P, Sritongchuay T, Jones G, Bumrungsri S (2011) Using echolocation calls to identify Thai bat species: Vespertilionidae, Emballonuridae, Nycteridae and Megadermatidae. Acta Chiropterol 13(2):447–455. https://doi.org/10.3161/150811011x624938

Hutson AM, Mickleburgh SP (2001) Microchiropteran bats: global status survey and conservation action plan, vol 56. IUCN

Ith S, Bumrungsri S, Thomas NM, Bates PJJ, Willette DA, Khan FAA et al (2016) Geographical variation of Rhinolophus affinis (Chiroptera: Rhinolophidae) in the Sundaic subregion of Southeast Asia, including the Malay Peninsula, Borneo and Sumatra. Acta Chiropterol 18(1):141–161

Jennings N, Parsons S, Pocock MJO (2008) Human vs. machine: identification of bat species from their echolocation calls by humans and by artificial neural networks. Can J Zool 86(5):371–377. https://doi.org/10.1139/Z08-009

Jiang F, Min C, Ying L, Zhenxin L, Xichen Z, Jiang Z, Shuyi Z (2003) Sexual differences in morphology and echolocation calls in five Chinese bat species. Acta Zool Sin 49(6):742–747 Retrieved from http://europepmc.org/abstract/CBA/522259

Jiang T, Liu R, Metzner W, You Y, Li S, Liu S, Feng J (2010a) Geographical and individual variation in echolocation calls of the intermediate leaf-nosed bat, Hipposideros larvatus. Ethology 116(8):691–703. https://doi.org/10.1111/j.1439-0310.2010.01785.x

Jiang T, Metzner W, You Y, Liu S, Lu G, Li S, Wang L, Feng J (2010b) Variation in the resting frequency of Rhinolophus pusillus in mainland China: effect of climate and implications for conservation. J Acoust Soc Am 128(4, 1):2204–2211. https://doi.org/10.1121/1.3478855

Jiang T, Wu H, Feng J (2015) Patterns and causes of geographic variation in bat echolocation pulses. Integr Zool 10(3):241–256. https://doi.org/10.1111/1749-4877.12129

Jin, Longru, Lin, Qing A, Sun, Ping K, Liu Y, Feng J (2011) Postnatal development of morphological features and vocalization in the pomona leaf-nosed bat Hipposideros pomona. Acta Theriol 56(1):13–22. https://doi.org/10.1007/s13364-010-0011-z

Jin L, Wang J, Zhang Z, Sun K, Kanwal JS, Feng J (2012) Postnatal development of morphological and vocal features in Asian particolored bat, Vespertilio sinensis. Mamm Biol 77(5):339–344. https://doi.org/10.1016/j.mambio.2012.05.001

Jones G, Van Parij SM (1993) Bimodal echolocation in pipistrelle bats: Are cryptic species present. Proc R Soc B Biol Sci 251(1331):119–125. https://doi.org/10.1098/rspb.1993.0017

Jones G, Holderied MW (2007) Bat echolocation calls: adaptation and convergent evolution. Proc R Soc B Biol Sci 274(1612):905–912. https://doi.org/10.1098/rspb.2006.0200

Jones G, Siemers BM (2011) The communicative potential of bat echolocation pulses. J Comp Physiol A 197(5):447–457. https://doi.org/10.1007/s00359-010-0565-x

Jones G, Teeling EC (2006) The evolution of echolocation in bats. Trends Ecol Evol 21(3):149–156. https://doi.org/10.1016/j.tree.2006.01.001

Jones G, Zhang S (2008) Bats in China. Retrieved 26 May 2019, from http://www.bio.bris.ac.uk/research/bats/Chinabats/index.htm?_ga=2.267154958.1676641937.1549887747-1136422446.1549887747

Kawai K (2015) In: Ohdachi SD, Ishibashi Y, Iwasa MA, Fukui D, Saitoh T (eds) The Wild Mammals of Japan, 2nd edn. Shoukadoh Publ

Kerbiriou C, Bas Y, Le Viol I, Lorrillière R, Mougnot J, Julien J-F (2019) Bat pass duration measurement: an indirect measure of distance of detection. Diversity 11(3):47. https://doi.org/10.3390/d11030047

Kingston T, Juliana S, Nurul-Ain E, Hashim R, Zubaid A (2012) The Malaysian bat conservation research unit: from a national model to an international network. Malays Appl Biol 41(2):1–10

Kingston T, Lara MC, Jones G, Akbar Z, Kunz TH, Schneider CJ (2001) Acoustic divergence in two cryptic Hipposideros species: a role for social selection? Proc R Soc B Biol Sci 268(1474):1381–1386. https://doi.org/10.1098/rspb.2001.1630

Kingston T (2010) Research priorities for bat conservation in Southeast Asia: a consensus approach. Biodivers Conserv 19(2):471–484

Kitzes J, Berlow E, Conlisk E, Erb K, Iha K, Martinez N, Newman EA, Plutzar C, Smith AB, Harte J (2017) Consumption-based conservation targeting: linking biodiversity loss to upstream demand through a global wildlife footprint. Conserv Lett 10(5):531–538. https://doi.org/10.1111/con4.12321

Li X, Liang L, Gong P, Liu Y, Liang F (2013) Bird watching in China reveals bird distribution changes. Chin Sci Bull 58(6):649–656. https://doi.org/10.1007/s11434-012-5458-7

Li Y, Shao Y, Liu Z, Liu Q, Chen Y, Zhang Y, Zhang L (2014) Plasiticity of echolocation call of Himalayan leaf nosed bat in different situations and habitats complexities. Acta Theriologica Sinica 34(3):238–244

Lin A, Jiang T, Kanwal JS, Lu G, Luo J, Wei X, Luo B, Feng J (2014) Geographical variation in echolocation vocalizations of the Himalayan leaf-nosed bat: contribution of morphological variation and cultural drift. OIKOS 124(3):364–371. https://doi.org/10.1111/oik.01604

López-Baucells A, Rocha R, Bobrowiec P, Bernard E, Palmeirim J, Meyer C (2018a) Field guide to Amazonian bats. Natl Instit Amazon Res (INPA)

López-Baucells A, Torrent L, Rocha R, Bobrowiec PED, Palmeirim JM, Meyer CFJ (2019) Stronger together: combining automated classifiers with manual post-validation optimizes the workload vs reliability trade-off of species identification in bat acoustic surveys. Ecologic\ Inform 49:45–53. https://doi.org/10.1016/j.ecoinf.2018.11.004

López-Baucells A, Torrent L, Rocha R, Pavan AC, Bobrowiec PED, Meyer CFJ (2018b) Geographical variation in the high-duty cycle echolocation of the cryptic common mustached bat Pteronotus cf. rubiginosus (Mormoopidae). Bioacoustics 27(4):341–357. https://doi.org/10.1080/09524622.2017.1357145

Ma J, Liang B, Zhang S, Metzner W (2008) Dietary composition and echolocation call design of three sympatric insectivorous bat species from China. Ecol Res 23(1):113–119. https://doi.org/10.1007/s11284-007-0344-5

Milne DJ, Armstrong M, Fisher A, Flores T, Pavey CR (2004) A comparison of three survey methods for collecting bat echolocation calls and species-accumulation rates from nightly Anabat recordings. Wildl Res 31(1):57–63. Retrieved from. https://doi.org/10.1071/WR03011

Milne, Damian J. (2002). Key to the bat calls of the Top End of the Northern Territory. Parks and Widlife Commission of the Northern Territory.

Monadjem A, Shapiro JT, Mtsetfwa F, Reside AE, Mccleery RA (2017) Acoustic call library and detection distances for bats of Swaziland. Acta Chiropterol 19(1):175–187

Murray K, Britzke E, Robbins L (2001) Variation in search-phase calls of bats. J Mammal 82:728. https://doi.org/10.1644/1545-1542(2001)082<0728:VISPCO>2.0.CO;2

O'Farrell MJ, Corben C, Gannon WL (2000) Geographic variation in the echolocation calls of the hoary bat (Lasiurus cinereus). Acta Chiropterol 2(2):185–196

O'Farrell MJ, Miller BW, Gannon WL (2006) Qualitative identification of free-flying bats using the anabat detector. J Mammal 80(1):11–23. https://doi.org/10.2307/1383203

O'Farrell MJ, Gannon WL (1999) A comparison of acoustic versus capture techniques for the inventory of bats. J Mammal 80(1):24–30. https://doi.org/10.2307/1383204

O'Farrell MJ, Miller BW (1999) Use of vocal signatures for the inventory of free-flying Neotropical bats. Biotropica 31(3):507–516. https://doi.org/10.1111/j.1744-7429.1999.tb00394.x

Obrist MK (1995) Flexible bat echolocation: the influence of individual, habitat and conspecifics on sonar signal design. Behav Ecol Sociobiol 36(3):207–219. https://doi.org/10.1007/BF00177798

Papadatou E, Butlin RK, Altringham JD (2008) Identification of bat species in Greece from their echolocation calls. Acta Chiropterol 10(1):127–143. https://doi.org/10.3161/150811008x331153

Parsons S, Jones G (2000) Acoustic identification of twelve species of echolocating bat by discriminant function analysis and artificial neural networks. J Exp Biol 203(17):2641–2656 Retrieved from https://jeb.biologists.org/content/203/17/2641

Pfalzer G, Kusch J (2003) Structure and variability of bat social calls: implications for specificity and individual recognition. J Zool 261(1):21–33. https://doi.org/10.1017/S0952836903003935

Preatoni DG, Nodari M, Chirichella R, Tosi G, Wauters LA, Martinoli A (2005) Identifying bats from time-expanded recordings of search calls: comparing classification methods. J Wildl Manag 69:1601–1614

Ratcliffe JM, Raghuram H, Marimuthu G, Fullard JH, Fenton MB (2005) Hunting in unfamiliar space: echolocation in the Indian false vampire bat, Megaderma lyra, when gleaning prey. Behav Ecol Sociobiol 58(2):157–164. https://doi.org/10.1007/s00265-005-0912-z

Russo D, Voigt CC (2016) The use of automated identification of bat echolocation calls in acoustic monitoring: a cautionary note for a sound analysis. Ecol Indic 66:598–602. https://doi.org/10.1016/j.ecolind.2016.02.036

Shen Q, Liu Q, Chen Y, Zhao J, Peng X-W, Sun Y-X et al (2015) Geographical variation in echolocation calls of least horseshoe bat (Rhinolophus pusillus) in China. Chin J Zool 50(5):716–724

Smith AT, Xie Y (2010) A guide to the mammals of China. Princeton University Press, Princeton (NJ)

Soisook P, Bumrungsri S, Satasook C, Thong VD, Bu SSH, Harrison DL, Bates PJJ (2008) A taxonomic review of Rhinolophus stheno and R. malayanus (Chiroptera: Rhinolophidae) from continental Southeast Asia: an evaluation of echolocation call frequency in discriminating between cryptic species. Acta Chiropterol 10(2):221–242. https://doi.org/10.3161/150811008X414818

QGIS Development Team (2020) QGIS Geographic Information System, Open Source Geospatial Foundation Project

Torrent L, López-Baucells A, Rocha R, Bobrowiec PED, Meyer CFJ (2018) The importance of lakes for bat conservation in Amazonian rainforests: an assessment using autonomous recorders. Remote Sens Ecol Conserv 4(4):339–351. https://doi.org/10.1002/rse2.83

Tuneu-Corral C, Puig-Montserrat X, Flaquer C, Mas M, Budinski I, López-Baucells A (2020) Ecological indices in long-term acoustic bat surveys for assessing and monitoring bats' responses to climatic and land-cover changes. Ecol Indic 110:105849. https://doi.org/10.1016/j.ecolind.2019.105849

Vaughan N, Jones G, Harris S (1997) Identification of British bat species by multivariate analysis of echolocation parameters. Bioacoustics 7(3):189–207. https://doi.org/10.1080/09524622.1997.9753331

Walters CL, Collen A, Lucas T, Mroz K, Sayer CA, Jones KE (2013) Challenges of using bioacoustics to globally monitor bats. In: Bat Evolution, Ecology, and Conservation. Springer, pp 479–499. https://doi.org/10.1007/978-1-4614-7397-8_23

Waters DA, Gannon WL (2004) Bat call libraries: management and potential use. Bat echolocation research: tools, techniques, and analysis.

Waters DA, Rydell J, Jones G (1995) Echolocation call design and limits on prey size: a case study using the aerial-hawking bat Nyctalus leisleri. Behav Ecol Sociobiol 37(5):321–328. https://doi.org/10.1007/BF00174136

Wei L, Ru B, Zhou Y, Shao W, Zhang L, Hong T et al (2009) Postnatal development of morphological features and vocalization of Rhinolophus pusillus. Zool Res 30(1):91–98. https://doi.org/10.3724/sp.j.1141.2009.01091

Wordley CFR, Foui EK, Mudappa D, Sankaran M, Altringham JD (2014) Acoustic identification of bats in the Southern Western Ghats, India. Acta Chiropterol 16(1):213–222. https://doi.org/10.3161/150811014x683408

Xu W, Xiao Y, Zhang J, Yang W, Zhang L, Hull V, Wang Z, Zheng H, Liu J, Polasky S, Jiang L, Xiao Y, Shi X, Rao E, Lu F, Wang X, Daily GC, Ouyang Z (2017) Strengthening protected areas for biodiversity and ecosystem services in China. Proc Natl Acad Sci 114(7):1601–1606. https://doi.org/10.1073/pnas.1620503114

Xu Z, Jing W, Keping S, Tinglei J, Yunlei J, Jiang F (2008) Echolocation calls of Rhinolophus ferrumequinum in relation to habitat type and environmental factors. Acta Ecol Sin 28(11):5248–5258. https://doi.org/10.1016/S1872-2032(09)60007-X

Zamora-Gutierrez V, Ortega J, Avila-Flores R, Aguilar-Rodriguez PA, Alarcón-Montano M, Avila-Torresagatón LG et al (2020) The Sonozotz project: assembling an echolocation call library for bats in a megadiverse country. Ecol Evolut 01:1–16

Zhang C, Jiang T, Lu G, Lin A, Sun K, Liu S, Feng J (2018) Geographical variation in the echolocation calls of bent-winged bats, Miniopterus fuliginosus. Zoology 131:36–44. https://doi.org/10.1016/j.zool.2018.05.005

Zhang L, Hua N, Sun S (2008) Wildlife trade, consumption and conservation awareness in southwest China. Biodivers Conserv 17(6):1493–1516. https://doi.org/10.1007/s10531-008-9358-8

Zhang L, Yin F (2014) Wildlife consumption and conservation awareness in China: a long way to go. Biodivers Conserv 23(9):2371–2381. https://doi.org/10.1007/s10531-014-0708-4

Zhao H, Zhang S, Zuo M, Jiang Z, Zhao HH, Zhang SY et al (2003) Correlations between call frequency and ear length in bats belonging to the families Rhinolophidae and Hipposideridae. J Zool 259(2):189–195. https://doi.org/10.1017/S0952836902003199
Acknowledgements
We want to thank all the people behind the Bat Monitoring Program (www.batmonitoring.org) for their involvement in this study, especially Maria Mas Navarro, for helping with the final tables and Toni Arrizabalaga, Carles Flaquer and Xavier Puig-Montserrat for their support in the study. We also want to thank Anderson Feijó for his help with the data on China's species distribution.
Availability of data and material
The datasets generated during and/or analysed during the current study are available from the corresponding author on reasonable request.
Code availability
The codes generated during and/or analysed during the current study are available from the corresponding author on reasonable request.
Funding
No funding was received for conducting this study.
Ethics declarations
Conflicts of interest/Competing interests
The authors declare no competing interests.
Teaser text
The present review compiles the current knowledge on bat echolocation in mainland China and determines knowledge gaps in this field via a Bat Knowledge Index. Also, the first known acoustic identification key of the species from continental China is provided, allowing for the acoustic identification of 114 of 135 known echolocating bat species.
Additional information
Publisher's note
Springer Nature remains neutral with regard to jurisdictional claims in published maps and institutional affiliations.
The original online version of this article was revised: The data on Figure 5 was captured as part of the article text and should have has been removed. The article has been updated.
Communicated by: Zuzanna Hałat
Supplementary Information
Supplementary data SD1 List of papers obtained from the literature review.
About this article
Cite this article
López-Bosch, D., Huang, J.CC., Wang, Y. et al. Bat echolocation in continental China: a systematic review and first acoustic identification key for the country. Mamm Res 66, 405–416 (2021). https://doi.org/10.1007/s13364-021-00570-x
Received:

Accepted:

Published:

Issue Date:
Keywords
Chiroptera

Asia

Acoustic monitoring

Recording

Call parameters